Are you frustrated by dark circles under your eyes and the high price of fancy eye cream brands? Don't be – there's plenty of (affordable) help right at your local drugstore.
To find the best drugstore eye cream for dark circles, you could purchase and try 10 different jars, but thanks to the help of our guide, you don't have to waste your money trying a bunch of products.
Here in our guide, we highlight the top drugstore products to help those under eye circles disappear, so keep reading to find one that will work great for you!
What's Causing Those Dark Circles?
The first step in tackling the annoying discoloration under your eyes is understanding what's causing them. Many people don't realize that there are several single or combined causes for the dark circles that they are experiencing.
For instance, did you know that one reason the circles look darker in the morning is that you have been lying flat all night? When you are horizontal, the veins in the area around your eyes expand and fluid accumulates in them causes the skin to darken.
Here's a quick look at some other reasons:
Aging – This leads to loss of concealing fat, collagen, and elastin under the skin.
Lack of Sleep and Fatigue – We all know that pulling all-nighters does the skin under our eyes no favors whatsoever!
Dehydration – Consuming excess alcohol or caffeine or not drinking sufficient water dries out the skin.
Genetics – Quite often, dark circles around the eyes are an inherited (treatable) condition.
Fluid Build-Up – Blood pooling in capillaries just under the skin, for any reason, causes it to appear darker.
Selecting and Using Drugstore Eye Cream for Dark Circles
Not sure which cream to use? Here are a few tips to help you narrow down the options.
Be Careful If You Have Sensitive Skin or Allergies – Drugstore creams may be affordable, but their more affordable price tags can mean ingredients of lower quality.
If you have sensitive skin or allergies, be careful with drugstore brands and make sure you do the test patch before rubbing it under your eyes to avoid an allergic reaction.
Ingredients Are Key – Creams can't work miracles on your eyes or skin, but they can contain ingredients that help reduce the appearance.
Check the label to see what the ingredients claim to do. Some may contain skin lightening ingredients while others may be tinted to help reduce the appearance while nourishing the skin from within, and brightening or illuminating serums are also great when it comes to reducing the appearance of dark circles.
Why Won't Ordinary Face Creams Help?
The skin on your face isn't the same all over. We all know that by the fact that ordinary face cream won't effectively soothe lips – you need lip balm for that.
It is the same with the thin, sensitive skin around your eyes – it needs specially formulated eye cream.
What Are the General Rules for Applying Eye Cream?
Cold compresses are known to relieve the discoloration, so try leaving your eye cream in the refrigerator for a few hours. We suggest leaving it in overnight since you will want to apply it first thing in the morning when the dark circles are most pronounced.
When you apply the cream, begin at the inner corner of each eye and massage outwards with light sweeping motions. The gentle pressure will also help to drain lymph fluid in the area.
Even the very best product won't give you instantly perfect results. So, after applying the eye cream, give your skin a few minutes to recover from the work, then apply a concealer of your choice to cover any lingering discoloration.
Best Drugstore Eye Cream for Dark Circles Reviews
Eye cream in gel texture is the gem for oily skin. Moreover, the eye cream from L'oreal has a lightweight formula, non-greasy that will fight against your dark circles and puffiness under your eyes. Made with caffeine and hyaluronic acid to moisturize the skin and prevent aging around your eyes. The plus one is it is suitable for all skin types.
Pros:
Affordable
Gel type for all skin types
Non-greasy
The eye repair cream from Cera Ve is well-known to help you reduce dark circles and puffiness under your eyes. No worry about greasy feels since this one is non-greasy and just leaves hydrating, smooth and brighter impacts for the skin. Specially formulated with Hyaluronic acid to keep the skin moist and niacinamide to brighten your skin. Guess it is the best drugstore eye cream to fight your under eyes issue.
Pros:
Non-greasy
Hydrating
Affordable price
When you are looking for an eye cream with natural ingredients, then get this All-in-one Eye Cream from LilyAna. The cream absorbs quickly to rejuvenate the delicate eye area for bright, lifted, and youthful looking eyes. By applying the cream regularly, it will minimize the appearance of fine lines and wrinkles, and lock in moisture. There are some products of eye cream that allow you to apply it at night only, LilyAna allows you to apply this cream day and night. It is time to fight against the dark circles, puffiness, and fine lines around your areas.
Pros:
Can be applied day and night
Cruelty-free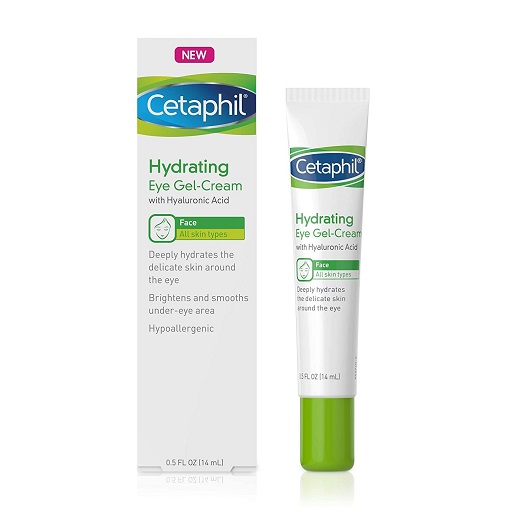 Dark circles are usually caused by dehydrated skin and lack of moisturizer around the eyes. By applying eye-gel cream from Cetaphil, the cream will hydrate the skin especially around the eyes since it is formulated with hyaluronic acid. You can feel 24 hours of instant hydration with its lightweight formula that can absorb fast. No worry for those who have sensitive skin since it is suitable for yours.
Pros:
Gel type
Hydrating
Suitable for sensitive skin
The newbie but already well-known eye cream to fight against puffiness, dark circles, and wrinkles. This eye cream from RoC will rejuvenate the delicate skin around your eyes. Made with mineral complex and hypoallergenic, let your skin experience the dramatic result yet still safe and gentle. When you think it is only for women, well why don't you recommend it for your spouse as well?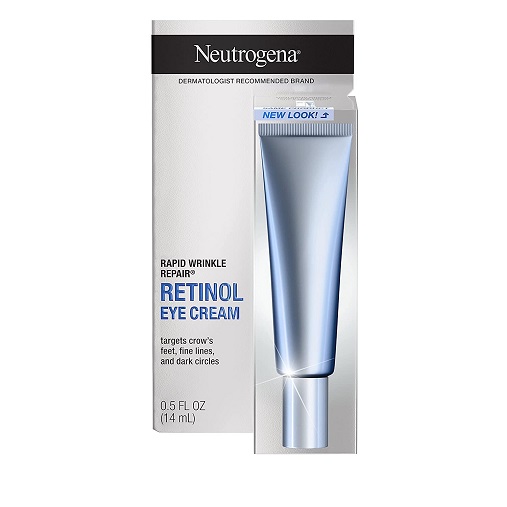 Imagine having the smooth texture of your skin just like when you are young. You can have it all with eye cream from Neutrogena Rapid Wrinkle Repair Eye Cream. It helps you fight fine lines, dullness, wrinkles, and dark circles. The eye cream with retinol to brighten the eye area and make you look younger and fresh. Feel the plumpy skin as if you were a teenager again.
Pros:
Easy to carry tube
Paraben free
Cons:
The price refers its quality
Formulated with Matrxyl 3000™ peptide to help you reduce fine lines, and hydrating the skin with its lightweight texture. The caffeine will solve the issue of dark circles and puffiness as well. No worry about how it is tested since it is cruelty free. Tube packaging will make it easier to carry this around.
Pros:
Packaging is easy to carry
Super affordable
Caffeine is the most famous as the eye cream formula
Centella Asiatica or we often call it Cica will help the irritated skin by soothing and rebuilding the skin barrier. The hibiscus esculentus will also help to reduce wrinkles and fine lines around the eyes. Complete with ceramides to help you remove dullness and dark circles around the eyes while your skin is kept hydrated. This one is suitable for all skin types.
Pros:
All skin types
Help reduce irritated skin
Rebuild the skin barrier
Cons:
Sensitive skin should check it first
Yes, it is a holy grail for those who are looking for hydrating skin. E.l.f Holy hydration! Illuminating eye cream will brighten the look of your under-eyes. It also minimizes dullness and dark circles. So that you can get a soothing and smooth skin while it is hydrated perfectly. Act as an anti-aging as well, the formula is 100% vegan and cruelty-free. It is a perfect one for you.
Pros:
No paraben
Cruelty-free
Act as anti-aging as well for your under eyes area
You can get the most delicate broad-spectrum protection with mineral eye cream from Supergoop! There is Zinc Oxide to protect your under eyes skin from UV rays. The wild butterfly ginger flower helps to protect the eyes from damage due to blue light, since you are in front of the monitor 5 days a week. Of course, there is caffeine as well to brighten and reduce the dark circles and puffiness.
Pros:
UV ray protection
Blue light protection
Cons:
The packaging is quite bulky for traveling
As a busy woman, even waiting for the skincare to absorb your skin seems long. Therefore, we recommend you with this fast- absorbing eye cream that works to all skin tones. This cream will energize and brighten under your eyes. Moreover, it is also formulated with hyaluronic acid to boost and hydrate your skin but still feel lightweight. The packaging will swipe your doubt since it is easy to carry.
Pros:
Easy to carry packaging
Affordable
Fast-absorb
Olay as the eye cream is undoubtable. This brand is well known for creating anti-aging formulas including under your eyes area. Wrinkles, dark circles, puffy eyes will go away. Moreover, it is suitable for you who are sensitive to perfume since it is fragrance-free cream and the texture has a hint of concealer too. It seamlessly blends to all skin tones. Olay Ultimate Eye Cream beats the competition, hydrating better than $100, $200 & even $400 eye creams.
Pros:
Can be used as concealer as well
Fragrance free, so it usually suitable for sensitive skin
Hydrating
Cons:
No spatula to take the cream
The eye cream that can be used as anti-inflammatory as well. The texture is lightweight, non-greasy. Your under eye skin will be moisturized by organic aloe vera, cucumber, and coffee beans. It is suitable for all skin types since it is made with natural ingredients. So that you can avoid fine lines, wrinkles and other signs of early aging.
Pros:
Affordable
Natural ingredients
Easy to apply tube
A vitamin C and collagen to brighten the under eyes due to sunlight and stress. Derma E eye cream comes to perfecting your dull skin and the caffeine will reduce puffiness and dark circles, The golden turmeric will blur the blemishes and embrace your skin's natural glow. Vitamin C helps support collagen health, improving the appearance of sun-damaged skin and brightens the skin.
Pros:
Affordable
Easy to apply
There is turmeric to solve the blemishes
An eye cream with vitamin C is what you are looking for to reduce dark circles and puffiness. It is good news for those who don't like beauty items with perfume since it is fragrance-free, but still provided with a complete-eye complex from niacinamide, caffeine, hexapeptide. All of those are complete-eye complexes. You can use it every morning and night for 93% saw visible improvement in dark circles in four weeks or less.
Does eye cream help dark circles?
Yes, by regularly applying eye cream around your eye areas, dark circles will be blurred. Also, your skin will be smoother and softer than before. Because usually, eye cream contains caffeine as the main formula to remove dark circles and hyaluronic to moisturize and hydrate your skin. Some eye creams also contain vitamin C to help your skin brighter, so that dark circles cannot be seen anymore.
What removes dark circles from eyes?
Eye cream will remove dark circles from eyes. You can apply it every morning and night before going to sleep. So that you can have fresh skin, especially around your eye area. No more puffy eyes as well. Also, don't forget to drink enough water and get enough sleep. Stay up late every day will make your dark circles worse.
Do screens cause dark circles?
Yes, if your screening time is almost a day long, or a night long, then never wonder that you will have dark circles. Screening can cause your eyes to strain and it causes your skin to dry as well. Patchy and tired skin will turn into dark circles, it can be worse if you are lacking sleep too.