Tweezers are indispensable little grooming tools that have been shaping beautiful eyebrows and relieving us of chin hairs for generations. When it comes to eyebrows specifically, however, which tweezers should you use?
We have worked our way through a ton of great tweezers and present you with a list of the best ones for your eyebrows below. So read on to see which brands our experts recommend and what features you should pay attention to before selecting a pair.
Tweezers are so common that finding a pair is quite a simple task. Finding the best pair, however, will only be easy to do if you know what to look for. While price often (but not always) will be an indicator of quality, you should look beyond the price tag and keep the following tweezer characteristics in mind.
Material – High-quality stainless steel is always a good option. Other alloys tend to carry the risk of corrosion, which can cause skin irritation and possibly infection. Some of the more expensive brands will offer tweezers coated with 2 microns of 24-karat gold. It keeps the tweezers non-reactive and makes them softer.
Length – The size of your hand will affect the length of tweezers, which will work best for you. If the tweezers are too long, they become difficult to manipulate. On the other hand if they are too short, then they and the area you are trying to pluck become hidden behind your hands.  A good average length is somewhere in the region of 3.5 inches.
Grip – The best tweezers for eyebrows are those made with a non-slip grip section to prevent them from slipping out of your hands. A grip length of about one-quarter of an inch is what you will normally find on most tweezers. Plus, some brands include small indentations for your fingers.
Shape of the Tip – This is perhaps the most important feature that a pair of tweezers can offer. Generally speaking, tweezer tips come in six styles, which are slant, pointed, pointed-slant, square, round and curved. Each has a specific use, but the first three (slant, pointed and pointed-slant) are best for plucking eyebrows. If you are new to tweezing, then you will definitely want to stick with slanted ones.
Note – All the tweezers that made our top10 are both stainless steel and slant tipped!
Top 15 Best Tweezers for Eyebrows Reviews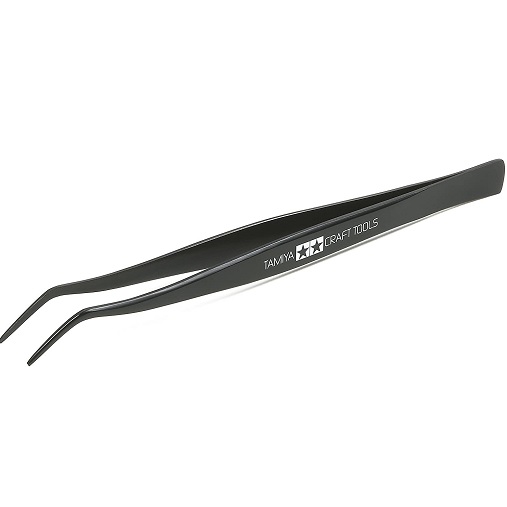 This Tamiya's stainless steel slant tweezers tops our list of the best tweezers for eyebrows. We found that they covered all the basic requirements for a great pair of tweezers, plus there are some extra qualities that give the Tamiya tweezers a definite edge over the competition.
These sleek black tweezers with slant silver tips provide excellent resistance and cushioning as you squeeze the arms together. The tips are in perfect alignment, so you can safely grasp individual hairs on the first attempt. Plus, the Tamiya is also nicely balanced so you can confidently maneuver it.
The surface of the this product gives a reassuringly firm grip, so your fingers are in no danger of slipping as you grab and pluck, even the very fine hairs.
The Tamiya is 4 inches long from end to end with a traditional ergonomic shape. Only people with very small hands should have an issue with how it feels in your grasp.
This pair of stainless steel tweezers is designed with a slant tip, with the edges of the tips going straight across for confident plucking. It does a pretty decent job, nonetheless on thicker hairs due to the built-in tension and cushioning, which allow you to wield the tweezers with precision. If you like to make a statement with your beauty tools, then the TweezerGuru's choice of black, pink or blue means you can find one, which fits right in with the rest of your equipment. 
Surgical Grade stainless steel and your pick of black or silver are great starting points for the Zizzili Basics tweezers. The tips of these 3.5 inch slanted tweezers go straight across, and along with the generous grip, they ensure you have control over grabbing and plucking stray hairs. Moreover, we like that the manufacturers really paid close attention to hygiene by making the Zizzili Basics both rust-proof and acid-proof. Plus, the tweezers also come with a handy pouch and tip guards for extra protection, too.
This is why you need to groom the brow, because you can brush the brow right away after you finish tweezing it. The brush is very soft, while the slant tweezer is coated with diamond dust to make the hair easier to pluck. For those who work mobile and need something with dual function, then grab this one for a perfect brow to complete your daily look.
If you can have two, then why only get one? The slanted tweezers from Barbasol are made of stainless steel to help you pick the unwanted hairs on your eyebrow. Also, you can see that the tip of slanted is pointed ,because it offers the easiest way to pluck the annoying hair that is usually difficult to pick up. Moreover, a non-slippery grip will also give you a comfortable feel for your finger. Moreover, it also comes with the wipe clean to sterilize the tweezers after you use it. 
A solid plum to help you pick the disturbing hairs around the brow. Now, let's define the brow with 100% precision slanted tip since it is sharp to pluck the stubborn hair. The grip is tight yet comfortable for your fingers, too. The design is pretty simple, so it is suitable for you who are looking for simplicity in style.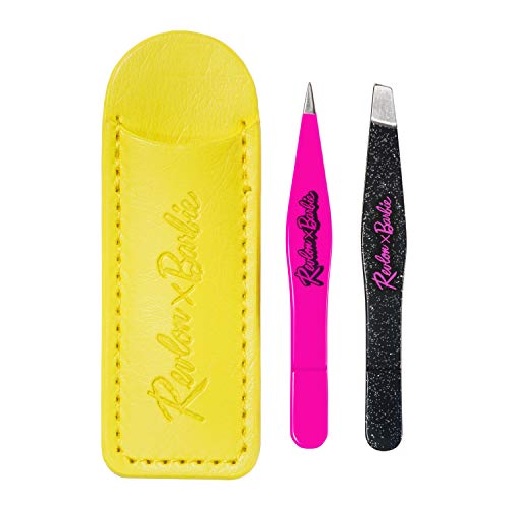 Even if you are not a fan of Barbie, guess it is still hard to turn your head from this item. Because as you can see, it is just too cute! An iconic pink and yellow of the Barbie tone colors, also the black pink version is a timeless design collaboration from Revlon that should be on this list. The tweezers are made of stainless steel with a pointed tip. Also, the pouch describes a theme of to-go beauty tools. So it is time to groom your brow before meeting up with your own version of Ken. 
Although it is just a tweezer with one color, which pure black, it doesn't hide how elegant this item looks. Every product from ABH always comes as a practical one, and for this one, it comes as tweezers made of stainless steel. It also features a custom-slanted top and calibrated tension to pick up the smallest of brow hairs. So, you can get rid of the unwanted hair no matter how short and small it is. 
Who doesn't know Sally Hansen? This brand often comes with excellent beauty tools, including this slant tip tweezer. The textured handle makes it easy to grip and won't slip when you want to tweeze the hairs. Nothing to worry about the fine hair, because you can get rid of it if you think it is unwanted and out of shape.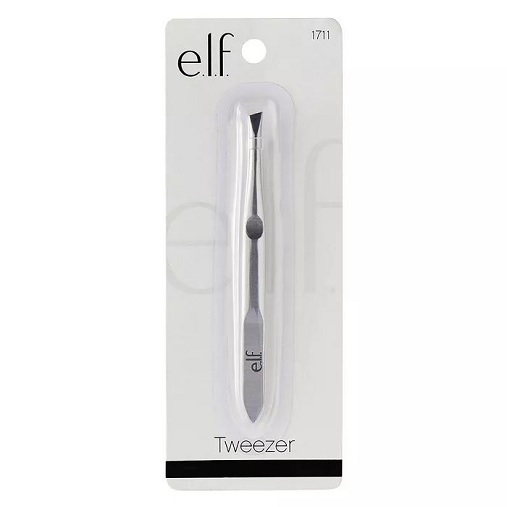 Super affordable slant tweezer from e.l.f. offers precise design made of stainless steel, featuring ergonomically grip for comfortable experience when tweezing. It won't hurt your fingers when you try to pluck the unwanted hairs. Now, you can define the eyebrows easier than you have ever before. The slant tip is also customized as well to easily pick the fine hairs. 
Contains duo tweezers as one set of precision-crafted, hand-sharpened tips with superior alignment precisely to remove unwanted hair by yourself at home. The slant tip securely grabs each hair at the root to shape & define brows. There are two types on this set that you can choose based on the hair spot you really want to get rid of. Furthermore, the simple and elegant design will also give you another peace-of-mind kind of feeling after defining the brow. 
Such a classic, award-winning product with a simple design yet top notch item to groom the brow. Tweezerman is famous for its precision to pluck the unwanted hairs to the root! Moreover, this beauty tool also features perfectly aligned, and hand-files tips that grab every hair whenever you need it. You just know that the size is just right and fit perfectly the first time you put your hands on it. 
Revlon always produces a one step ahead beauty tool for beauty junkies. Although it is only a tweezer, you can definitely see that it features perfect tensions for optimal control whenever you groom your brows. With elegant design and a textured grip, it is made for better precision of your fingers to hold. The sharp slant tip will also make it easier for you to pluck the hair in one try. 
Straight and aligned slant tips from New Style! This one comes as an affordable and simple tweezers for home-grooming. Also, the grip is pretty wide to avoid your fingers from hurting as well. Even the smallest hair can be picked with ease. The brand comes with a new tone and logo, so it is a fresh item for you!
Inside one set of Blinkeen tweezers, there are two types of items that you can use based on your preference. The pointy one and the conventional slant and tip. The colors are too cute to resist as well. Also, no more difficulty to pluck the smallest or fine hairs of your brows. Grooming will be more comfortable now because you can definitely do it at home, by yourself. The material is made of #420 stainless steel, that is often used for surgical tools to assure the product is chemical free and cause no allergy.
What is the best eyebrow tweezer?
Tweezerman is the best eyebrow tweezer. The design is ergonomic, handy, and also easy to grip. The slant tip is very sharp, while the design is simple with one vivid color. As the beginners, you can try Tweezerman before trying another product. 
Are tweezers eyebrows good?
Yes, it is good for your eyebrows. Because you can define and groom the eyebrows easily at home or whenever you want. No need to go to the salon if you only want to pick one or two unwanted hairs. You also can measure if it is hurt or not if you pluck it by yourself.
Can tweezing permanently remove hair?
Of course not. The hair will grow again, just like you pluck the hairs on your head. Because you do not use any chemical products when tweezing. So you have to tweeze again when the hairs come back.