After all of that hard work you put into covering the dark circles under your eyes and achieving a smooth, matte finish, it's obvious that you need a great product to help "lock" it all in place.
In our guide below, we'll be taking a look at some of the best under eye setting powder options and offering you a few useful tips to perfect your technique.
If you're new to setting powders or if you just want to find a different brand, you're definitely in the right place!
Choosing and Using a Setting Powder
There are a few things you need to take into consideration in order to choose the right setting powder, and keep in mind that the best under eye setting powder will also work as a setting powder for the rest of your face (and vice versa).
Skin Tone.

Let your skin tone determine the tint of the setting powder.

Those with deep brown tones will do well with a yellow-tinted setting powder (unless your concealer or foundation already has a golden undertone, then it's probably best to use a natural color or translucent powder so that you don't create yellow patches under your eyes). For those with fairer skin tones, a translucent powder or a naturally tinted powder (such as number 4) will work just fine.
Brush.

Since you're interested in a setting powder that you plan to use under the eye, you'll probably want a small brush designed specifically for setting powder. While larger brushes like kabukis or powder brushes are great for the face, they can't target the small area under your eye as well.
Real Techniques has an excellent little brush that you can use and it's very cost-efficient!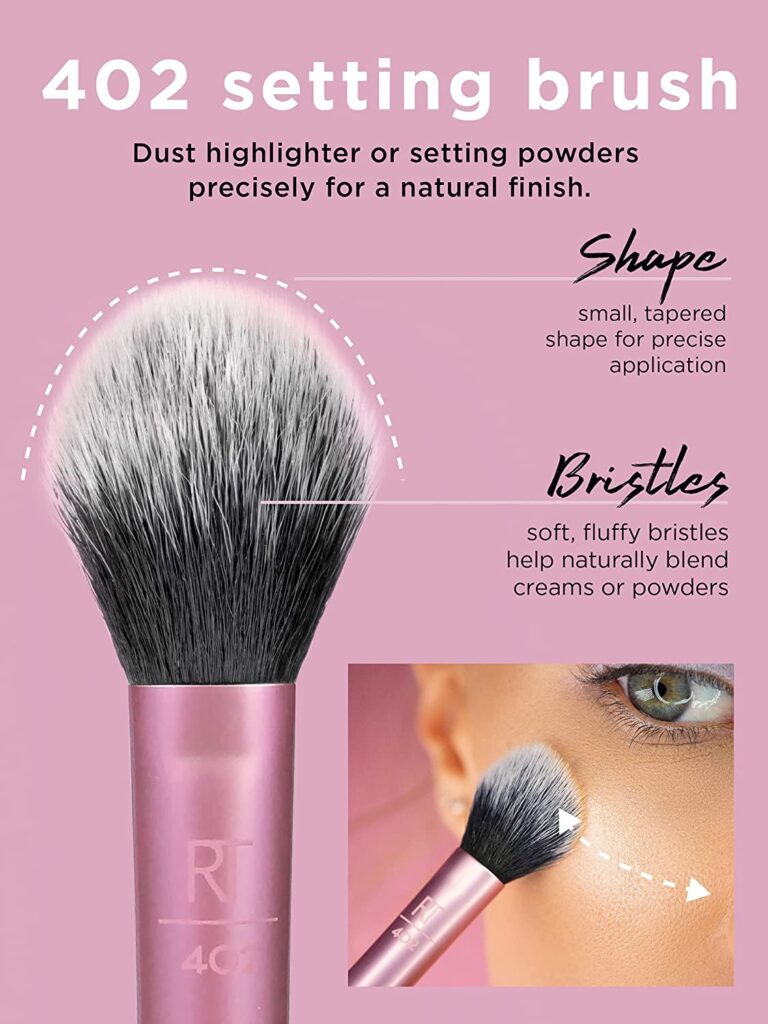 Many of you are probably already aware of what the baking technique is, but we'll provide a brief overview for those of you who don't. It's a way to set concealer under the eye, but a very particular method that isn't right for every occasion.
Here's how it works:
Apply concealer under your eyes. You'll cover a much larger area than traditional makeup techniques suggest, which means it extend out past your eye and onto your cheekbones. (You can also apply concealer to other areas you want to highlight, such as the forehead, chin and bridge of your nose).

Blend well with a quality sponge.

Apply a heavy layer of setting powder and let it sit there for about 10 minutes.

After it's done "baking" and the 10 minutes are up, gently brush away the excess powder and add the finishing touches to your look.
This is a very heavy way to set concealer under the eyes, useful when you're taking photos, being filmed or when you're on stage. You also use quite a bit of product, so it's not recommended for everyday looks.
Top 3 Best Under Eye Setting Powder Reviews
bareMinerals' Mineral Veil is still one of the best setting powders out there, whether you want to use this under the eyes and over your entire face to get a flawless look. They also make tinted Mineral Veil formulas that work to provide flawless coverage on a range of skin tones.
Sacha is an excellent choice for multicultural women. As we mentioned, lovely brown and chocolate skin tones tend to do best with a yellow-tinted setting powder, and that's exactly what this is. This provides you with a flawless matte look thanks to the finely milled powder consistency that fills in those fine lines and pores, thus creating a smooth finish.
One of the things that we like about this powder is that the main ingredients are calendula extract (that's the wonderful skin-friendly flower from which oil is extracted and used in many types of skin care products, oat flour and rice starch. This is great as an everyday setting powder. This item is a budget-friendly option (and with lighter skin tones) might be pleasantly surprised by this one!
Silky and weightless texture for finishing the makeup, blurring the fine lines or wrinkles under your eyes,  and making it perfect for your look. There are 4 shades that you can adjust based on your skin tone, although it is for the finishing one. Get a glow and mild skin with this vegan and cruelty-free beauty product.
Get a professional air-brushed look with this setting powder from IT cosmetics. Say bye bye to your pores since it can blur the pores and any imperfection including your under eye dark circle and fine line. It comes with three translucent shades that you can try. The formula is lightweight and ready to make your skin look younger.
Sometimes using setting powder causes a cakey or chalky look. But say no more with this setting powder from Rare Beauty by Selena Gomez. This loose setting powder will help you blur the fine lines especially on your under eyes without making it cakey and heavy, silky and soft natural finishing for your makeup. As for the oily skin, it can control the oil on your face. Be an optimist to get a soft radiance look with this product. 
Get a flawless look including for your under eyes with this airbrush technology. A super-luxe microfine powder that can blur away the lines, imperfections and hide the dark spots on your face. Don't worry about the heavy feels since it lets your skin breathe although you layered the makeup. Rose and almond oil will keep your skin hydrated.
Feel the smooth skin after you finish with your makeup effortlessly by tapping this best selling setting powder. The even skintone that can be felt as easily as you blend this loose setting powder. Your eye bag and dark circle under your eyes can be blurred and result in a fine and matte look. This translucent powder is suitable for all skin types. 
Make sure your makeup is set in place with this setting powder. The formula is lightweight for your skin. You won't feel there are layers after you take a look at your makeup. Also, you can feel how smooth and soft your skin will be just by adding this step to your makeup tutorial. 
It not only will solve your discoloration, but also brighten it evenly. Banana Dreams loose setting powder is very light and feathery. You cannot feel anything after patting it on your face. Apply it after the concealer, foundation, and contour are done. Make sure you don't use it too much on your under eye. Just pat smoothly to blur the fine lines. 
With green tea extract, the multi-tasking baked face powder is suitable for you who want to even the skin tone, build the foundation and set up the makeup in place. A vegan beauty product that has its name, multi-tasking, it can be a contour, bronze and a setting powder to finish your makeup step. 
Especially made with soft-focus light-reflecting particles to instantly blur imperfection. This setting powder is good for your pores, hence it is suitable for all skin types. Fine lines, wrinkles, dark circles under your eyes will be blurred effortlessly. Also, applying this one will make a long last perfect look. 
Set up the concealer under your eyes, the foundation and the contour easily with this loose setting powder. Dermablend is suitable for all skin types, including the sensitive skin. A fragrance free formula that can help control oil and shine on your face. Best match for oily and dry skin. 
Feel the luminous, silky and even finish of your makeup. Makeup Revolution offers a fragrance free and long lasting coverage. Also, you can balance out your skin tone as easily as dab on the powder and the dust just off. 
Silk extract will give you a radiant skin easily. While silk powder will hold the makeup longer. This setting powder will help you blur the pores, reduce the imperfections and smoothen the skin. Also, it is formulated with anti-pollution and blue-light ingredients to prevent you from premature wrinkling. 
It is called translucent setting powder. It is used to set up the concealer you apply under your eyes. So that your makeup look will be smooth, in place and flawless. Setting powder is not only for under eyes, but also the whole face. Give your face skin a try and feel the difference after you finish the makeup step. 
Yes, you can use setting powder for your under eyes. After you apply the concealer you can finish the step by dab the setting powder on your under eyes skin. Setting powder will help you blur the fine lines and wrinkles around your eyes although you already apply the concealer. 
Yes, yellow powder can be used as color correcting for your under eyes as well. Particularly if you do not apply the concealer, the yellow powder will be your savior. It is a versatile beauty product since it can set up your makeup and even your skin tone.