What color eyeliners are best for someone who is over 50 with blue eyes? Well, this is a challenging question! Growing old is unavoidable. Once you reach a certain age, your skin will begin to change. This transformation due to aging can be a massive challenge for hardcore makeup fans. Makeup, especially eye makeup, is a tough obstacle to conquer as the skin around the eyes ages most drastically. So, once you've entered your 50s, you'll need to reconsider your eyeliner choice.
Aging may scare you because it may limit your makeup options. But I don't think that you should feel too bad about it. After all, as everyone says all around the world, age is just a number! So, I do believe there are various ways to adapt to your skin changes.
Optimizing the color of your eyes and matching them with your eye makeup can be a great way to start. Pairing colorful eye makeup with your gorgeous blue eyes can bring out a certain character. With the right combination, I do think that you can even obscure your age.
Eye makeup, particularly eyeliner, will feel differently once you're aged as the skin of your eyelid gets loose. It won't be as easy as it used to be to create a defined look. If you haven't tried using color eyeliner to make your mature blue eyes pop, I think now is the good time to begin! Matching eyeliners will make your blue eyes appear more highlighted and lively, rejuvenating your overall look.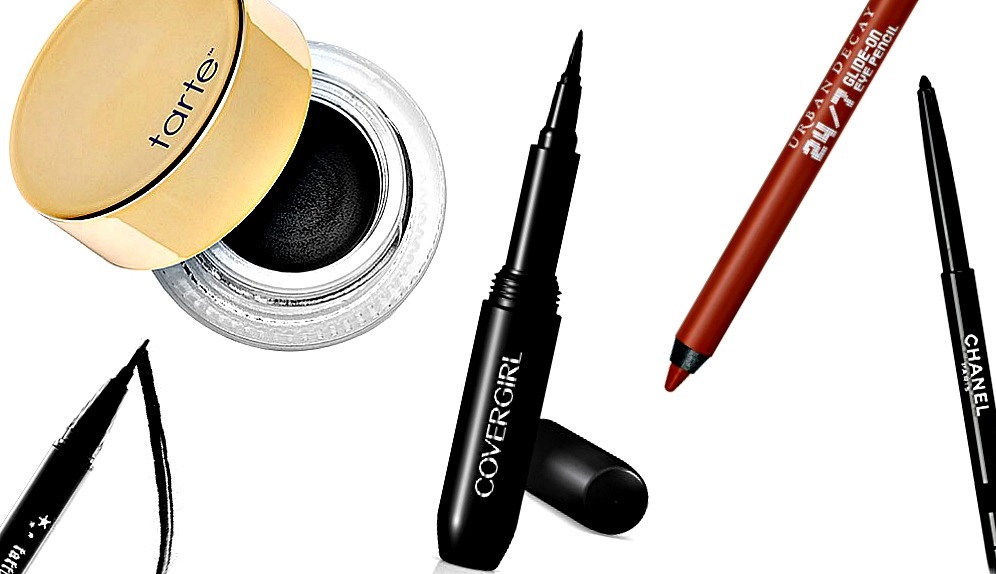 Before I explain what color eyeliners are ideal for someone with blue eyes who is over 50, let's make sure that you understand all the bases first. Because mature eyelids are harder to handle, using color liquid or pen eyeliner can be more hassle than gel or pencil eyeliner.
The tiny tip of liquid eyeliner can be difficult to fill the line. The wrinkles and fine lines on the lid can be challenging for liquid liners to make the eyeliner look evenly applied. It is even more so when the liquid eyeliners bleed and cause a big mess on your eyelids. I believe it is still possible to work it out, though, but it will need extra work and also time. 
On the other hand, by using a pencil or gel eyeliner, you can smudge and soften the lines of the eyeliner, creating a blurring effect on your eyelids. This way, your eyeliner will appear more evenly and neatly. 
Gel liners also don't bleed and get everywhere because they don't have a wet and watery consistency, so it becomes easier to manage. Therefore, this will be a great help with any eyeliner techniques you're trying to achieve, including winged cat eyes or your under-eye.
What Color Eyeliners are the Best for Mature Blue Eyes?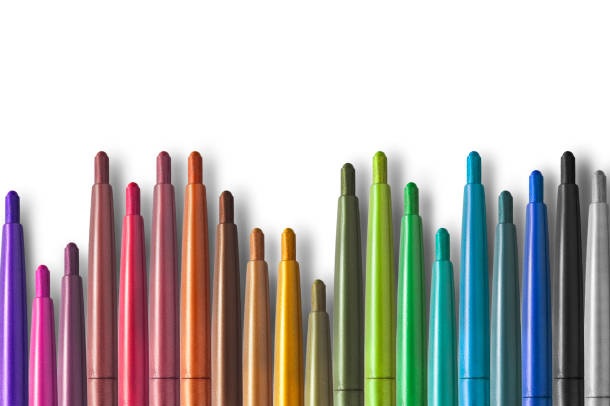 Blue eyes are best matched with brown, terracotta, and copper eyeliners. I select these colors based on the Color Wheel, a theory that is useful when you want to create a harmonious combination. Based on the Color Wheel, I believe that eyeliners with earthy tones are the best to bring out the blue on your eyes. Also, based on the theory, those colors will make your irises appear more blue. 
While blue and orange sit on the opposite side of each other, meaning it can create a good contrast. Some say that this combination can become muddy. But for me, I still think that it can work on some occasions.
I'd also like to mention silver eyeliners as a good candidate that can accentuate the blue color from your eyes. Pairing a light-colored eyeliner with classic black liner is also a great choice if you don't want anything too flashy for your mature eyes, but still want to look camera-ready. Soft shimmers can also get that simple glam look for your eyes if they are the right color for your blue eyes.
Experts say that using blue liners can also enhance the natural beauty of your eyes. You might think that blue and blue would be pointless, but some shade of blue actually can create a nice gradation to make your eyes appear bigger.
So in conclusion, what color eyeliners are the best for someone who is over 50 and has blue eyes? Sit tight because I shall discuss in details.
Brown eyeliner is something that gives a very simple look, but brown can help make your blue eyes pop. If you ask us, I do think brown is the best eyeliner for blue eyes over 50. 
With the right formula and applicator, a simple eyeliner on your mature blue eyes is more than enough for modest, classy makeup. To achieve this look, choose the right brown eyeliner for your mature blue eyes.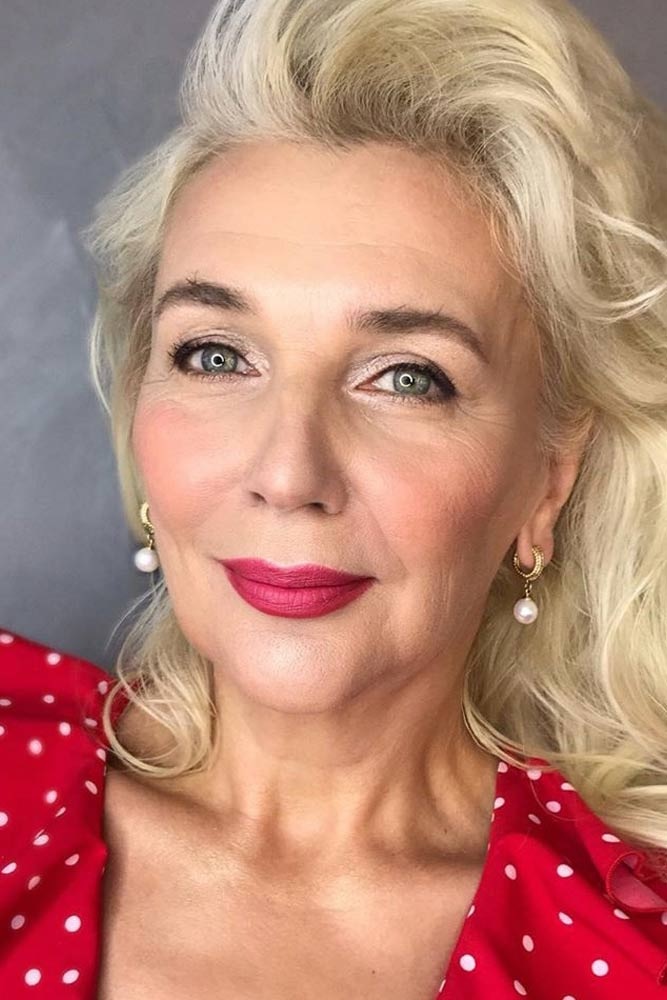 Want to look more intense without looking too gaudy? Combining two eyeliners can be a great option. By opting for a light metallic or shimmer color and natural color like black, achieving an eccentric but still simple look is uncomplicated. Simply use a lighter color on the inner corner part of your eyes, like silver or champagne. And then, as you go on, use black eyeliner and soften the lines of both colors.
See, what an easy-peasy way to enhance blue irises on mature eyes, right? Even though you are in your 50s, your blue eyes can give off a youthful impression with this eyeliner combination!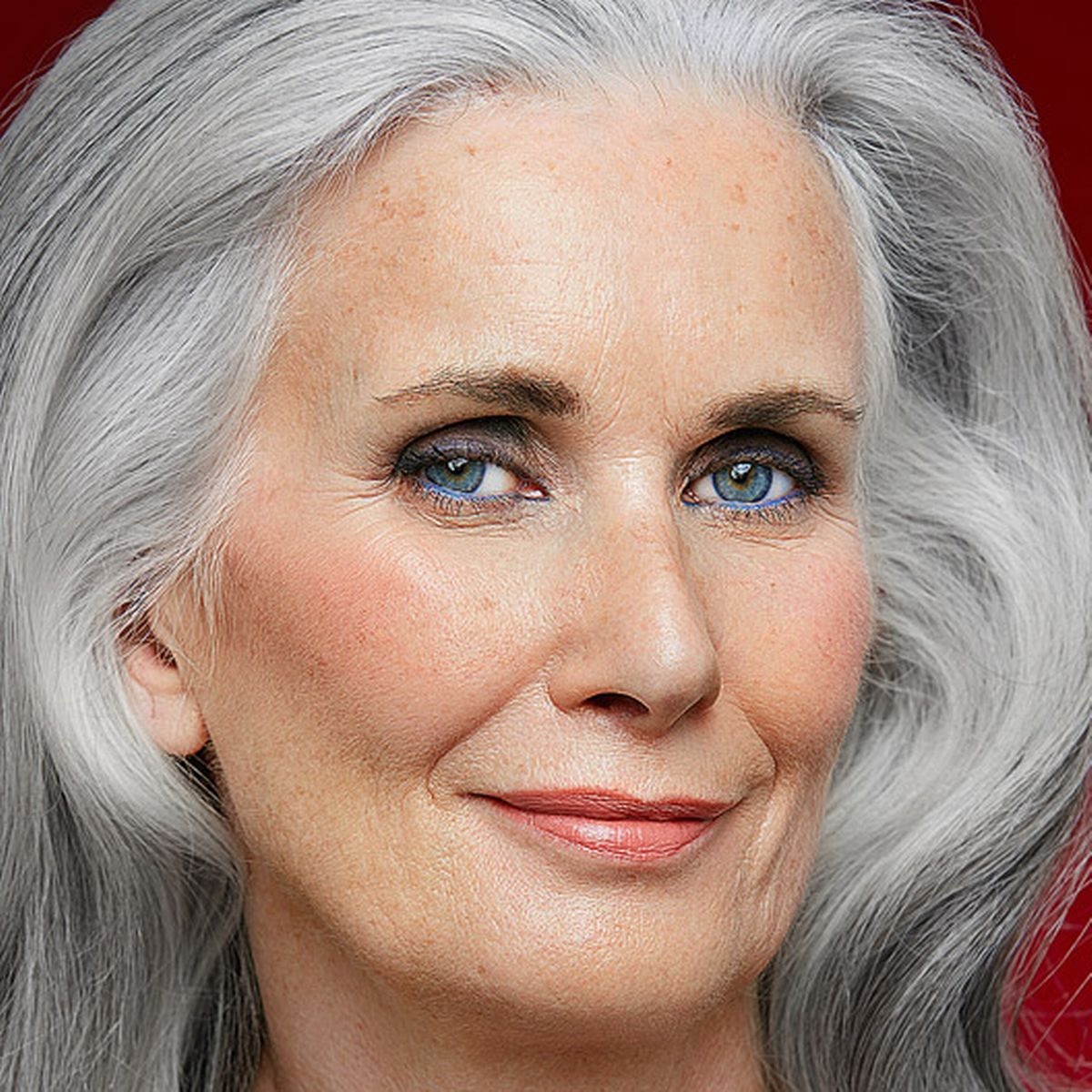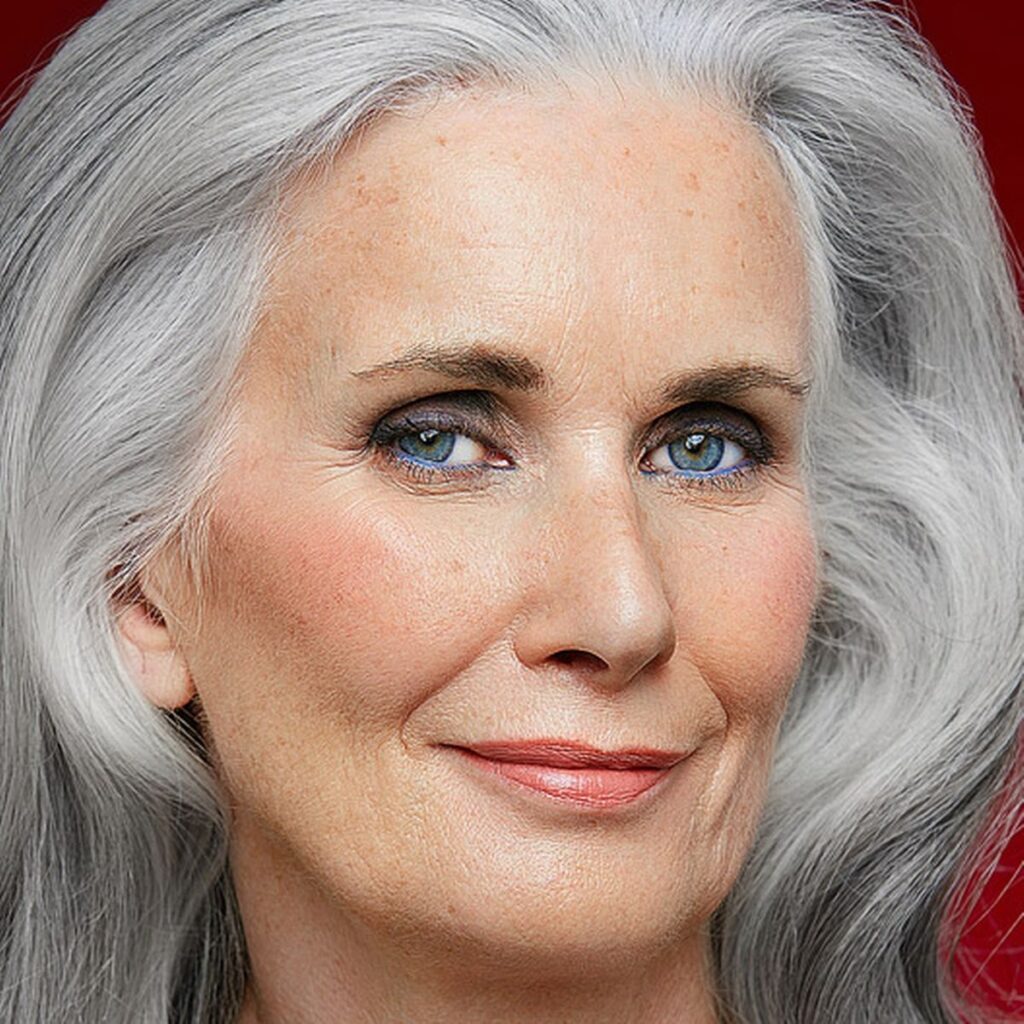 If you think blue eyeliners on mature blue eyes are extreme, fear not! This color combo can greatly enhance the blue of your eyes with just one splash of color. If you're wondering which color eyeliners are ideal to create the perfect eccentric blue, I believe this recommendation is worth trying. A little bit of blue eyeliner on the eyelid and apply a bit more on the lower lash line, and you're ready to shine!
Is wearing natural, black eyeliner so wrong? Definitely not! It brings comfort and a homely feeling to your eyes. Pairing it with your blue eyes gives a casual, simple, but still stunning and divine look. Effortless yet a beaute for your blue eyes. With black eyeliner, draw a thin line in your inner corner and drag it to the outer corner of your eyelid. Smudge the eyeliner only on the outer part lightly.
The Best Eyeliners for Ladies in Their 50s
Now that you know which colors would go together with your blue eyes, it's time to pick the brand! Not all eyeliners are suitable for ladies who are over 50s. Older women's skin may react differently to some eyeliners. Hence, you'll have to put more consideration when choosing a brand.
I believe the following eyeliners would be suitable for you!
#1 L'Oreal Paris Satin Glide Eyeliner with Mineral Pigments
For those who are over 50, this eyeliner from the trusty L'Oreal Paris would be the best choice! According to one of the reviews, the eyeliner is age perfect as it does not bleed as easily as any other brand. It is thanks to the gentle, waterproof formula that sits well for your mature skin! You won't get those smoky-eye looks, which is excellent if you want to look more youthful.
I believe that if you have a fair complexion with a slightly darker tone, the eyeliner will blend very nicely. To complement your blue eyes, choose the hazel brown or true black color. However, it does come with some cons. This eyeliner pencil can be tricky to sharpen as it is a bit more fragile. Be gentle so that you do not lose a big chunk of the tip.
Nevertheless, as one of the most well-known eye makeup brands, you can count on L'Oreal to produce high-quality, natural pigmentation that would make your blue eyes stand out!
Now, if you want more colors to choose from, the Clinique Quickliner eyeliner would be worth exploring. This brand comes in various shades of brown, gray-blue, purple, and even violet! This way, you will have more options that you can try to find out which shades are suitable for your mature skin complexion.
Yep, do not be afraid of being adventurous even though you are over 50! The Quickliner's silky smooth, water-resistant eyeliner will make you more confident and keep you stylish. As they say, you can age like wine if you are smart with your eye makeup choice. And I think that this brand can help you adapt to the new, more mature you.
Reviewers say that this eyeliner does offer one of the best and most intense pigmentations out there. However, please be aware that you should not push the crayon-like tip too hard because it is fragile. You do not want that to happen as this brand is on the pricier side.
#3 Kat Von D Tattoo Pencil Longwear Gel Eyeliner
As I've mentioned earlier, gel pencil eyeliner is ideal for someone who is over 50 because you can have an even coloration despite wrinkles on the skin. And I believe that Kat Von D (KVD) brand is up to this task, to provide you with brilliant pigmentation that allows you to be stylish all day long. Its ultrasmooth formula is fortified by excellent waterproofing ingredients, so it won't bleed or get smudgy.
The KVD also provides you with a myriad of colors! You can find an eyeliner that you like that can complement your blue eyes. The shade of natural browns, true black, and even blue, the KVD has them all! You will also have an easier time finding one that will match your skin tone, thanks to the vast color selection.
Reviewers say that if you need strong pigmentation, this brand will deliver the result that you want. You also do not need to sharpen it yourself, minimizing the risk of breaking the pencil tip. However, some users find that the KVD eyeliner can be too thick. If you want to stay subtle, it may not be a suitable choice. But if you want to frame your blue irises with intense color to make them stand out, this eyeliner is the one that you should go for!
How do You Apply Eyeliner to Mature Eyes?
Does Eyeliner Make You Look Older?
Eyeliner does not make you look older. It can bring out different auras from your eyes and define and frame your eyes, creating a focused gaze. However, the wrong eyeliner techniques can make you look older, such as wearing too much dark-colored eyeliner under your lash line.
How Can a 50 Year Old Woman Look Younger?
With makeup and the right techniques and products, a 50-year-old woman can definitely look younger. Try the eyeliner combination that I've explained above to get that youthful look. Moreover, certain skincare products with certain ingredients will also make your skin plumper and blur the fine lines. The right diet can also help make your mature skin look fresher and more energized.
How Should a 55 Year Old Woman Apply Makeup?
A 55-year-old woman should apply makeup with extra care and preparation. Your skin is your canvas, so making sure your skin is prepared and well-primed before any makeup is essential. With mature skin, it's best to stick with less products and only wear the ones that have the most effect, like a foundation to make mature skin appear more even and eyeliner to define and frame the eyes.
Just because you've reached your 50s, it does not mean that you should stop trying out makeup! Wearing colorful eyeliners is one of the best ways that you can do to stay youthful and refreshing. Just a simple streak around your eyelids and the area under your eyes can make a significant difference in how you look.
If you have blue irises, I highly recommend brown, copper, and other earth-toned eyeliners to complement your eyes. The natural colors shall make your blue eyes sparkle! Of course, if you are feeling adventurous other colors, like metallic silver, can be an alternative if you want to glamp up yourself. In any case, do not let age stop you from being creative with your eye makeup!