Some people who have striking blue eyes may think that they do not need to spice things up in their makeup routine because they already look beautiful. But that's not true! You can always try something new. I know that even if you do not apply any makeup, people will still be attracted to you, thanks to your lovely eyes. But, if you can make your peepers stand out more, then why not? One way to do it is by applying eyeliners. And here, I shall tell you What color eyeliner for blue eyes, enhancing them and making you look even more enchanting!
Experimenting with colors that go well with your blue eyes can actually be fun. Depending on the color, you can make your eyes appear brighter, more focused, or even more intense. Now, if you find the ideal color eyeliners to make the blues stand out, imagine all the powers that you, blue-eyed babes, will hold.
Excited? Not sure where to start? Don't worry – I shall help you to pick the one that suits you the most!
What Color Mascara is Best for Blue Eyes?
Choosing which color eyeliner to go with your blue eyes is not very difficult, but there are several factors that you shouldn't overlook. First, the kind of effect you want to have on your blue eyes, what event you are going to, color preference, and many more. So sit back and relax – I will guide you through this crisis and help you find the best color eyeliner for your blue eyes that will make your blue eyes pop.
How to Find the Best Eyeliner Colors to Match the Blues
Thank God for color theory because it's here to answer all of your questions. To find the best color that complements the blue eyes, you will be using the classic color wheel. You can also take notes of the colors that are the opposite of the blue one.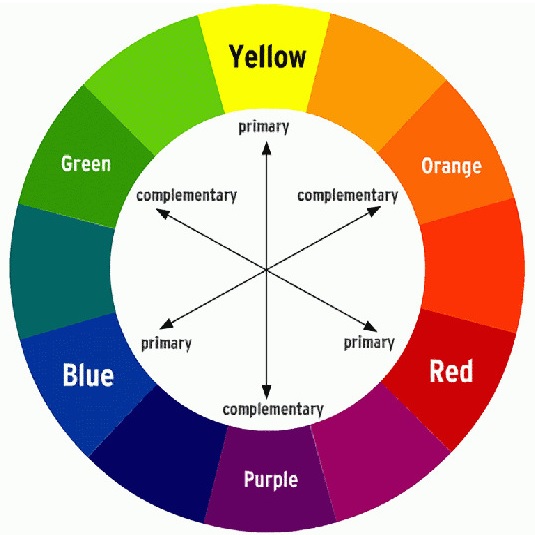 (source: impartoo.com)
Looking at the wheel, you can see that the color blue is right across the color orange. It means that the best colors to make your blue eyes pop should have orange or warm undertones. They include reds with a tint of brown. Terracotta, earthy tones, copper, gold, and similar tones are now going to be your best friends.
However, I believe that it's okay to stray from the rule sometimes. It is totally fine if you're open to more colorful options because, hey, there's no judgment here! But I do believe that the color wheel is a handy method to decide the best eyeliner color if you are unsure.
Earthy Tones for Blue Eyes
Brown, copper, and gold eyeliners make the best companion for blue eyes. These shades will not outshine the blue color but enhance it, making your eyes stand out more. Beginners typically start with black eyeliners, but if you want something other than black, I would say these are the best option. 
I also highly recommend eyeliners in other colors that don't appear too flashy so they won't clash with your azure blue eyes.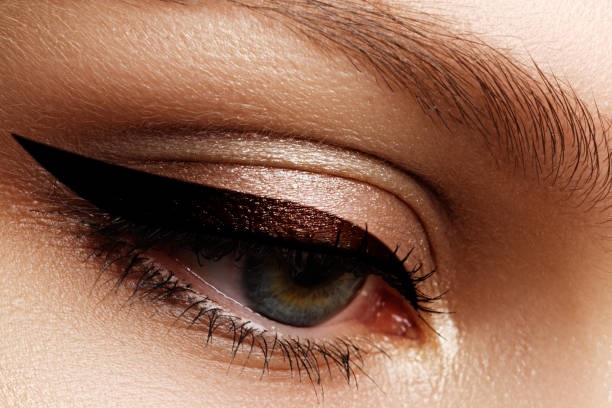 (source: media.istockphoto.com)
Simple winged eyeliner will step up the whole look on your face. And choosing the matching eyeliner color will add the right intensity to your blue eyes. If you want to capture other people's attention but do not want to appear over the top, then we think brown eyeliners certainly are the way to go. And this shade that I've recommended will offer a warm and modest vibe, outlining your naturally enchanting blue eyes. 
Once you get the hang of basic brown eyeliner, then you can try to create a bolder look with copper eyeliner on your under the eye. Framing your blue eyes with two earth tones will surely get you that enticing look with a little touch of glam, but still not too much. To get this look, you will need intense copper-colored eyeliner.
Midnight Blue and Ice Queen for Blue Eyes
Ready for something bolder to show off the blue of your eyes? If you are, then trying blue eyeliner will do! No matter which shade of blue your eyes have, light blue eyeliners will always create an icy, intimidating, and cool effect on your eyes. Meanwhile, the dark blue ones build the deep midnight sky as the dark blue will definitely bring out the brilliance in your blue eyes.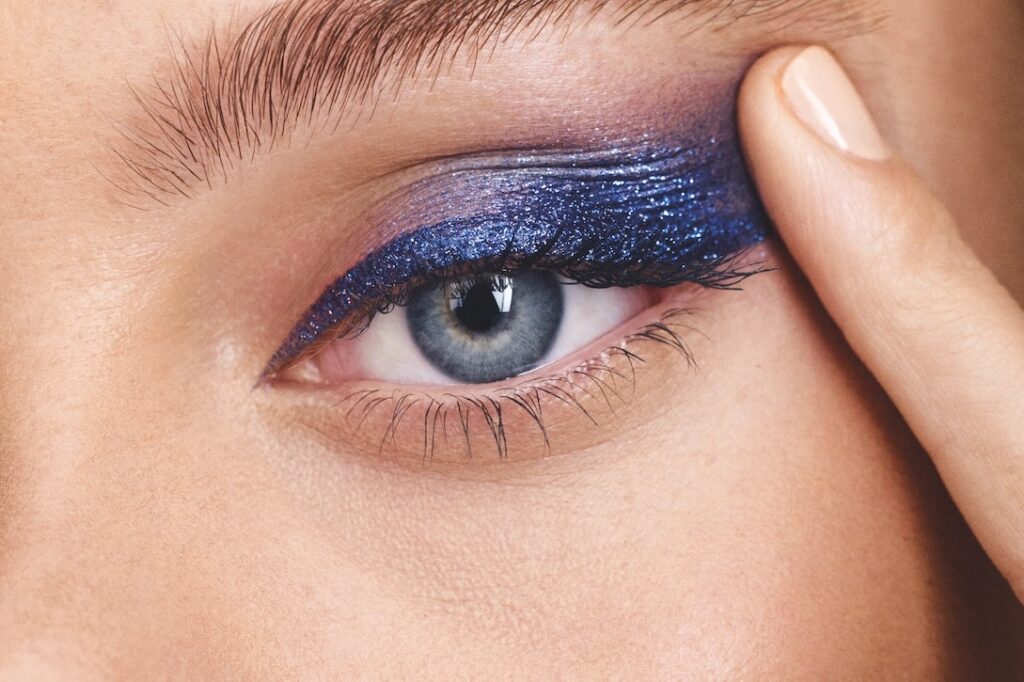 For a glam look, choosing a glittery blue eyeliner gives the effect of a starry night to your blue eyes. This style is perfect for a romantic dinner or even a formal night party. I've tried it myself and I believe that the glittery blue eyeliner really does ooze out that high-class vibe, ideal for such occasions.
To achieve the best result, first, simply create a straight line from your inner eyelid. And then, apply some more dark blue eyeliner on the outer part of your lid. After all, who says midnight stars can only be floating in the sky if we can also bring them right here in your eyes!?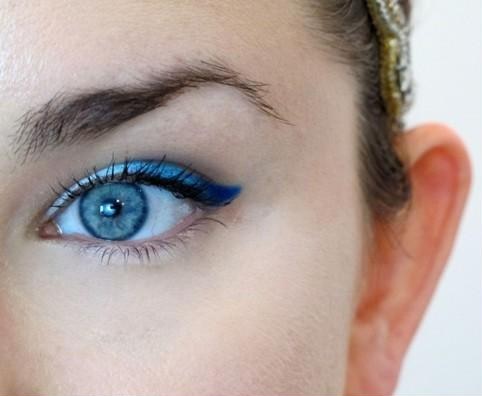 If you're aiming to get that icy queen look, eyeliner that features color gradation starting from white to blue will set the focus on your cerulean eyes. It will create a cool aura, making whoever gazes into your eyes fall for you!
In our opinion, using non-shimmer eyeliner works best for this look because the color gradation already steals the highlight. Carefully draw a thin line from your inner lid and as you go on, use light blue eyeliner and use dark blue for the tail.
To maximize the color payoff, I recommend that you draw the base with a white eyeliner first and then put the blue above the white. For this look, you will need at least three matte eyeliner colors.
Sunlight on Your Blue Eyes
Please take a look again at the color wheel that I've mentioned before. You will notice that yellow is the neighbor of the color orange, which is a contrast to the color blue. Yellow might seem a little bit extreme for a daily or formal look.
However, it all depends on how you apply the yellow liner to make your blue eyes stand out without looking too gaudy. This makeup idea below will inspire you to start wearing yellow eyeliner for your blue eyes!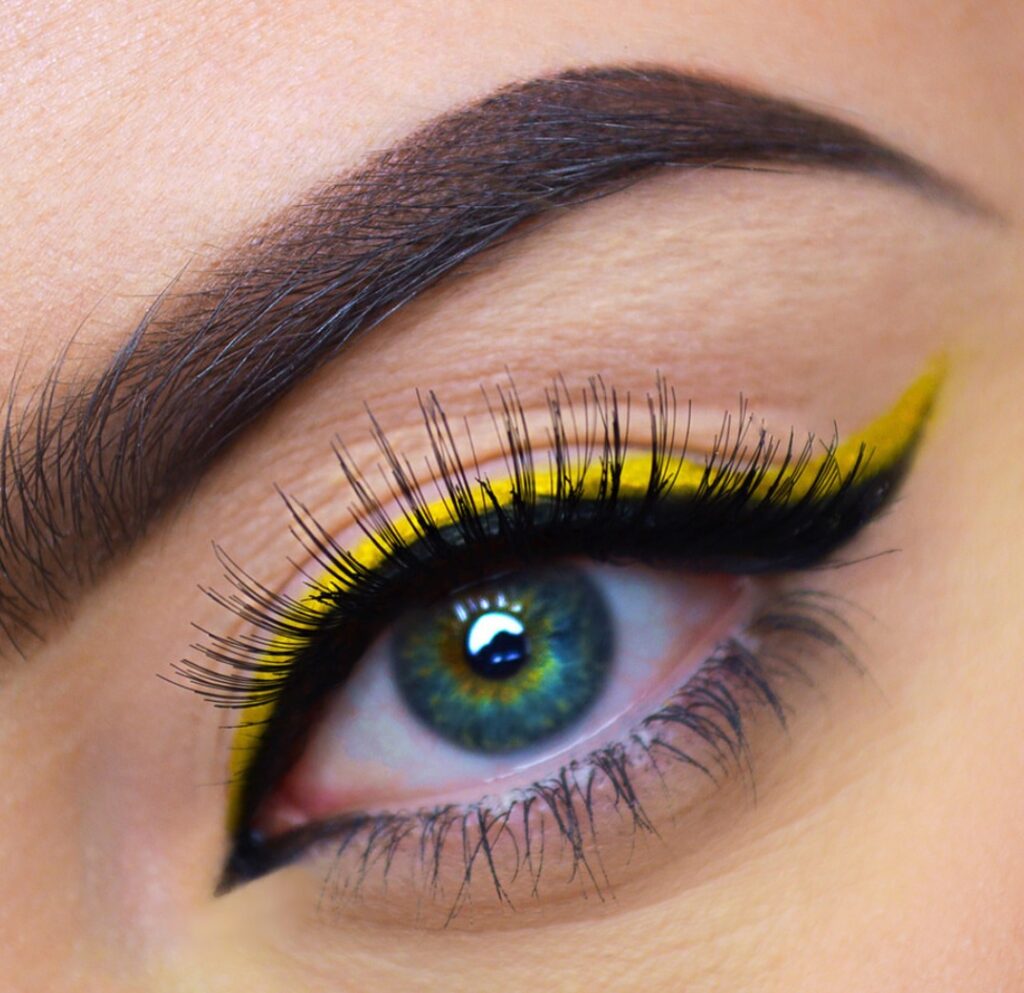 Combining yellow with an ordinary color like black can actually help your blue eyes look more intense in a proportionate way. This contrasting color combo can also be perfect if you want to experiment with fun colors but still don't have enough confidence. However, applying this eyeliner style can be a little tricky, but I believe that you can do it well if you know which color to put first. 
You will need to put the yellow eyeliner first and make it winged. Then, draw it a little thick so that the yellow will still be nicely visible when you add the black liner.
Remember not to use black liner first because it can mess up the brush of the yellow one. Moreover, if it bleeds, it will ruin the lines of the eyeliner, and the colors will get mixed up. These eyeliners will provide you with a striking combination that will stunt anyone who dares to gaze into your blue eyes!
Pastel Eyeliners for Blue Eyes
Going for a softer look with your color eyeliner can also bring out the blue in your eyes. Since these eyeliners are typically pastel-colored, your blue eyes will definitely have more ability to stand out and steal the show.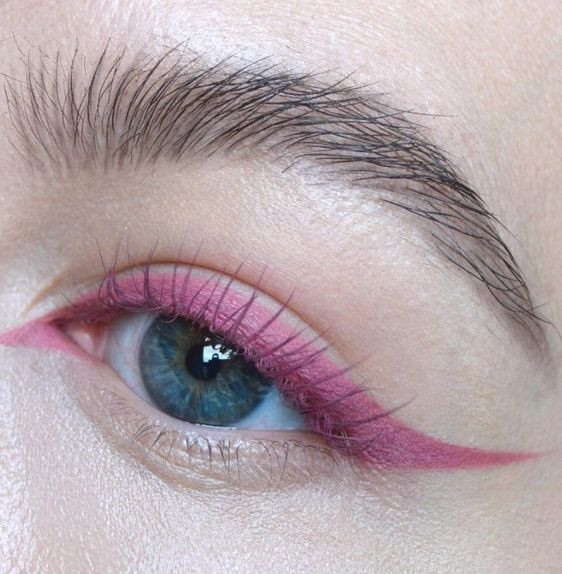 Combining pink eyeliner with your blue eyes will create a magical end result because each color has its own beauty. When you pair your blue eyes with pink, they will radiate a subtle yet feminine atmosphere. It makes your blue eyes even sexier and more irresistible. Anyone who dares to look will be enchanted and won't take their eyes off you. This look is totally worth trying as it just needs one color of eyeliner to draw your cat eyeliner with, and you're all set!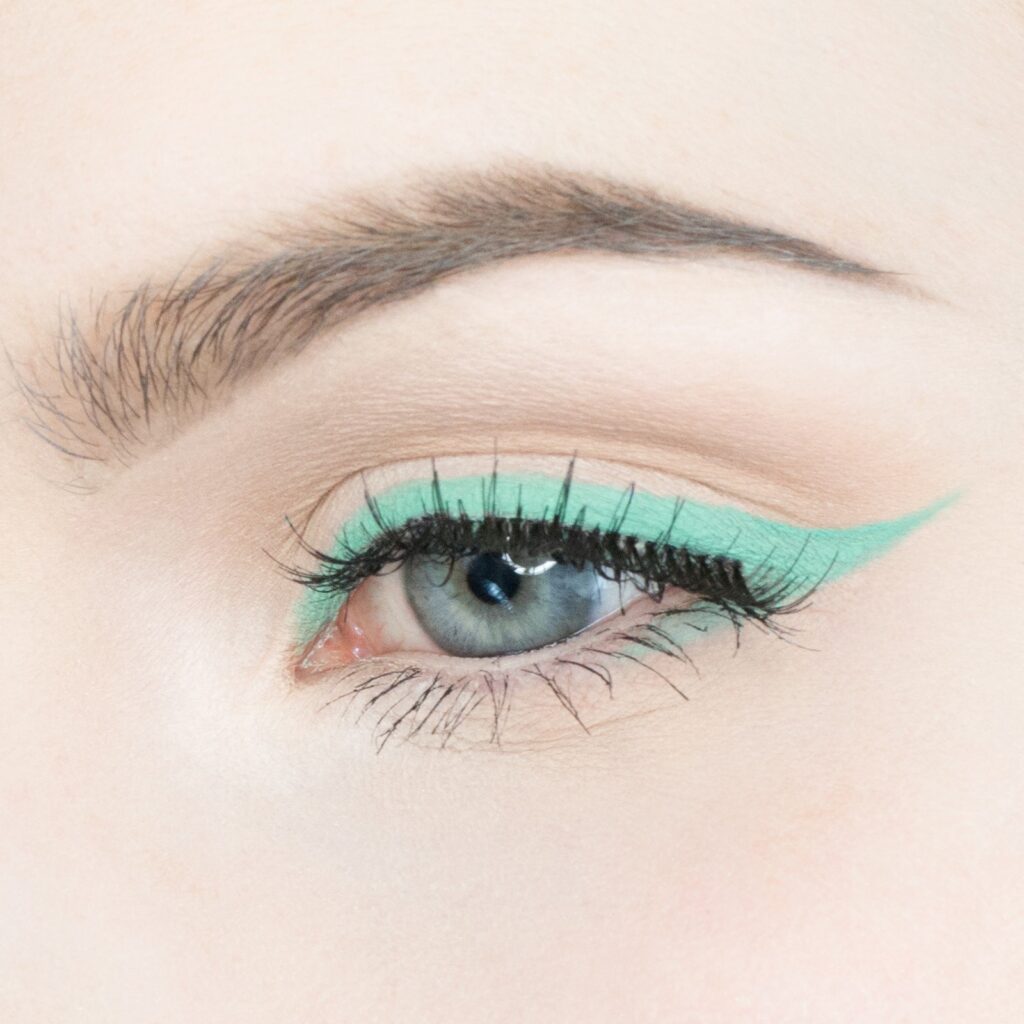 We have seen pink and blue eyeliner, now it's time for pastel green eyeliner to show off. Although it's probably not exactly the color you would usually go for, don't underestimate it– the cool tone of this color can maximize the cool aura from your blue eyes. Just a flick for a beautiful cat eye, simple but powerful!
The Best Eyeliner Brands for Blue Iris!
Now that you've learned the perfect color combo that would work with your blue eyes, it is time to choose the best eyeliner brands! Here are some of my favorite eyeliners that you can also try!
Marcelle 2-in-1 Retractable Eyeliner in copper. As I've repeatedly stated, copper eyeliner and blue eyes work really well together. Marcelle offers an excellent crayon tip that will allow you to draw on your eyes in a precise manner. Now, this brand is ideal for those who have sensitive skin because this eyeliner has a hypoallergenic formula. It is also water-resistant, so it won't get smudgy easily.
Palladio Retractable Waterproof Eyeliner in brown. If you prefer brown, this eyeliner would be an excellent choice because it has excellent rich pigmentation and tip design. The nimble eyeliner pen and well-designed crayon tip will allow you to draw the line accurately, as it is easy to glide! 
NYX Mechanical Eye Pencil in gypsy blue. If you want to make your blue eyes look even bluer, this NYX Mechanical Eye Pencil would not be a bad alternative. The brilliant matte pigmentation will provide you with an intense end result and won't compete with your already sparkling blue eyes. If you sweat easily, this brand would be ideal as it also offers smudge-free formula!
Eyeliner Colors That Do Not Go well with Blue Eyes
If you have blue eyes, I recommend that you avoid eyeliners with shades of orange. You might be thinking that orange, a bright color, would go well with sparkly blue, but in reality, the two won't mix.
Referring to the color wheel, orange and blue are opposites. I believe that if you force the two to combine, you will get that muddy, murky look! The orange color will take the brilliance out of your striking blue iris.
So, instead, opt to use yellow and black eyeliner combinations if you want something colorful around your eyes. The copper gold and brown combo will also work really well to frame your blue eyes!
Conclusion
I have compiled several eyeliner color combinations that will work well with your blue eyes. You can try eyeliner with the modest earthy tone that will make your blue eyes naturally pop or the golden and copper color that makes you look more glamorous.
Do not forget to try the striking contrast between black and yellow that will attract attention. You can also use the shade of blues to make your blue eyes even bluer! If you prefer to be more subtle, the pink and green pastel will provide you with that mild yet irresistible feminine charm.
In any case, experimenting with eyeliner color combinations is a lot of fun, and I highly encourage you to try it for yourself, especially if you have blue eyes.
Should Blue Eyes Use Brown Eyeliner?
Yes, blue eyes should wear brown eyeliner, especially if you are going for a warm look but still want to bring intensity to your blue eyes. Dark brown eyeliner is an ideal choice if you want a splash of color to help make your blue eyes shine without being too colorful. But if you want to spice things up a bit, shimmery brown eyeliner will be an exquisite option.
Is brown eyeliner better than black for blue eyes?
On its own, I believe that brown eyeliner is better for blue eyes as it will intensify the blueness of your eyes. Meanwhile, black will be a tad too dark and would take the shine out of your azure iris. However, black eyeliner can be excellent for blue eyes if you combine it with yellow! The contrast will create a refreshing charm because the combination of black, yellow, and blue is just perfect.
How Do You Make Blue Eyes Pop with Eyeliner?
Making your blue eyes pop with eyeliner is actually very easy. Since your peepers are already breathtaking on their own, you can definitely pair them with basically any color eyeliner or mascara. Different colors will bring out different auras for your blue eyes, so don't be scared to try things out.
Is Gray Eyeliner Good for Blue Eyes?
Gray eyeliner is definitely a good choice for blue eyes. Gray can make your blue eyes appear extra icey, which makes it perfect for a runway kind of day or a glamorous night party. Adding a little bit of gray glitter or shimmer to your gray eyeliner will heighten the intensity.
Should Blue Eyes Wear Blue Eyeliner?
Yes, your blue eyes should definitely wear blue eyeliner. By wearing blue eyeliner, your blue eyes can get more captivating and the white part of your eyes will appear more clean. Whether you're going for a light or dark blue eyeliner, they both have these powers for your blue eyes.
Navy eyeliner is a match made in heaven for blue eyes. No matter what kind of blue you have on your irises, navy eyeliner always delivers and clearly makes your blue eyes seem deeper and also intense. L'Oreal Paris Makeup Matte Signature Liquid Dip Eyeliner can be your go-to choice for a navy blue eyeliner.