Having a combination of striking features like blue eyes and blonde hair, sometimes you wonder if you can step up your makeup game. You would think black eyeliner is enough for your daily and special occasions, but other colors like blue or pink can help make your blue eyes look more charming and captivating while also make your blonde hair appear more enchanting. Be open for options because there are lots of choices of the best color eyeliner for blue eyes and blonde hair out there.
Therefore, for you blue-eyed blonde beauties out there, fear not because we have curated a list of the best color eyeliners to make your blue eyes and blonde hair look more gorgeous. From neutral to glam and pastel color eyeliners, we got you covered!
What Color Eyeliners are Best for Blue Eyes and Blonde Hair?
Although there is no basic rule to your makeup, certain color eyeliner draws the attention to your blue eyes and blonde hair. When pairing with them, it is well known that using muted and soft colors will help make your eyes and your hair stand out. However, it's also important to know that other colors like metallic, dark tones, or even certain shades of greens can also make your blue eyes and blonde hair be the center of attention. Other things that come into factor are the event you're going to and the time of day.
Soft colors will be best fit for laid back kind of the day, casual events, or a first date. Brown might seem a little boring, but it actually helps bring out the blue in your eyes and at the same time, matches the blonde on your hair. Meanwhile, vibrant and lively colors like dark blue are best for a night out with girlfriends, or silver with glitter eyeliner is perfect for special occasions. 
Dark and Neutral Color Eyeliners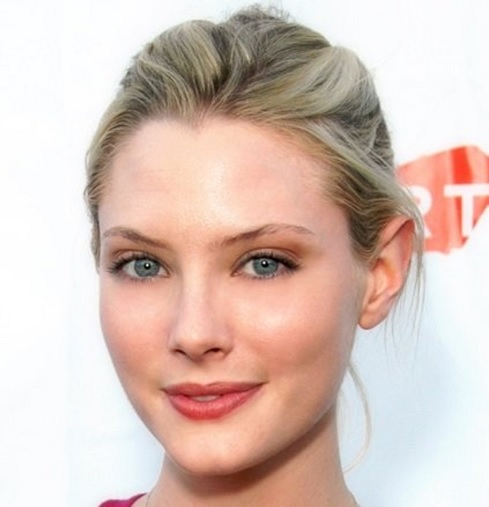 Soft and natural look always wins any day. It may be easy to create, but it always helps to enhance your natural beauty. If you're not sure where to start with soft or neutral colors, we got this covered for you. Using a pencil or gel type of eyeliner is best for this neutral look as you can soften the lines of your eyeliner and smudge it a bit for a nice fade, basically faultless for your blue eyes and blonde hair. This look is perfect for your day to day eye makeup since wearing the eyeliner alone is enough to put your blue eyes and blonde hair under the spotlight.
This unique shade of brown that has purple tint to it will help accentuate your look, making it the best color eyeliner for blue eyes and blonde hair, or one of the best at least. Formulated with high pigment and creamy matte, this eyeliner makes it super easy to create a natural-soft look and easy to manage if you want to draw a defined eyeliner. However, this one is not smudge-proof or waterproof so be on lookout.
This ultra-rich brown matte eyeliner is featured with a waterproof formula that delivers a long-lasting stay on your eyelid. This eyeliner goes on smoothly, no clumps and no need to tug your eyelid too much. Although the price is on the pricey side, we say for the formula and pigment, this eyeliner is totally worth it. 
This brown eyeliner by Melt is said to be a liquid liner in a pot for its easy-apply formula and pigment. With just one stroke of an eyeliner brush, this eyeliner delivers a creamy with best color payoff. The eyeliner also dries quickly and once it's dried, it becomes smudge-proof.
Glam Colorful Eyeliners
Once you're ready to step up your beauty game for your blue eyes and blonde hair, it's time to try metallic or glitter color eyeliners that will match your fancy night perfectly. Best metallic or glitter eyeliners to make your features stand out are basically the ones that have orange or brown tint, such as light brown, copper, gold, and terracotta. However, don't be scared to try out other colors that can also make you shine without looking too tacky, like purple or blue.
Gold Eyeliner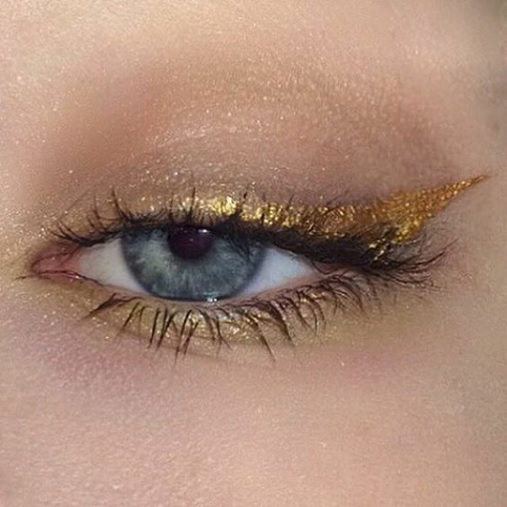 For this look, all you need is a gold-colored liquid eyeliner. Create a sharp, winged eyeliner, and pair it with a black mascara for a full effect. The yellow in the eyeliner contrasts the blue of your irises, so it makes your blue eyes stand out even more. The gold is also a great addition to your blonde hair.
With its tiny brush tip, this gold-colored eyeliner makes it easy for you to create a precise sharp winged eyeliner. This eyeliner has a clear base with gold-colored very fine glitters, so you don't need to worry about the glitter falling off your eyelids after application. Once it dries completely, it's smudge-proof and lasts all day long.
If you want to achieve a gold eyeliner with pencil eyeliner, this one is the best match for you. Although this eyeliner is gel, the intense color payoff is no joke. It is also smudge-proof and does not transfer to your under eye or skin. For the price, we say this eyeliner is a steal!
Purple Glitter Eyeliner
If you have never considered purple liners, this is the time to try it out. Purple glitter eyeliner is not only fun, but also helps accentuate the blue in your eyes. Not to mention purple is across the color yellow on the famous Color Wheel, so it will bring out the blonde from your hair. To get this look, simply wear your best liquid purple glitter eyeliner and you're all set. 
This eyeliner is featured with a buildable and quick drying formula, so it's easy to manage how much color payoff you would like to get on your eyelids without the eyeliner feeling too heavy. With its smudge-proof formula, you also don't need to worry about the glitter getting everywhere on your cheek. However, this eyeliner might not be sensitive-eye friendly.
Blue Glitter Eyeliner
Right after gold and purple glitter eyeliner, you can also try blue eyeliner. The blue in the eyeliner highlights both the blue of your irises and your blonde hair. This look is perfect for a night out or a fancy night party, so go get your glam on for a perfect party with the girls!
This glitter gel eyeliner comes in a pot that offers you a magnificent sparkle. Despite the heavy glitter, this eyeliner runs smoothly on your lids and lasts all day long once it's dry. The only downside to this eyeliner is that since it comes in a pot, you will need an eyeliner brush to apply it.
If you're looking for a blue glitter eyeliner in a liquid form, this one may just be the best match. The blue shade is the head-turner of an eyeliner. The tip has the perfect thickness to create the precise eyeliner and allows an easy apply to your eyelid. Although it's smudge-proof, this eyeliner is not waterproof. However, for the price, this eyeliner should be in your go-to makeup pouch.
Light Color Eyeliners
Wearing light-colored eyeliners can be scary at first, but once you know that different colors will enhance your blue eyes and blonde hair in certain ways, you will be unstoppable. Light purple or blue eyeliners have the power to make your eyes appear more blue, but at the same time make your blonde eyes seem brighter. Meanwhile, light pink eyeliners make you seem sweet and magical, even more when paired with your blonde hair. Other colors have the same ability to get you different auras, so gear up!
Light Pink Eyeliner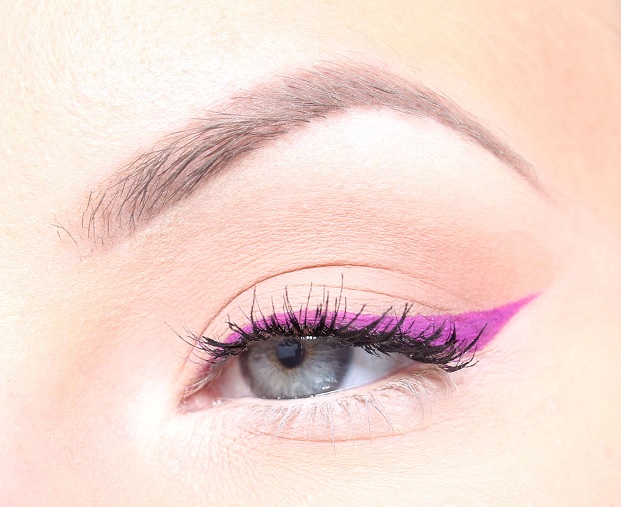 Wearing pink eyeliner can have a magnificent effect on your eyes and your look as a whole. Either you wear the eyeliner alone or add a little more splash of color with eyeshadow, this color still adds a nice pop of sweetness to your eyes. To achieve this look, you may need a white primer so the pink color will stand out nicely, or just wear it as it is for an even softer pink look.
If you are here for the ultimate baby pink eyeliner that won't make your wallet suffer, L.A. Girl has the answer for you. This eyeliner goes on smoothly and doesn't smudge easily. However, this eyeliner may not be best suited to create a sharp and defined winged eyeliner, and it takes an extra effort to make the color pops on your eyelid.
With its tiny tip, creating a precise eyeliner is easy with this eyeliner from ColourPop. With its pretty pink shade, getting the soft look for your blue eyes and blonde hair is no longer challenging. The downsides from this eyeliner are that it's not buildable, so building a vibrant payoff can get flaky.
Pastel Blue Eyeliner
Wearing pastel blue eyeliner helps accentuate the blue in your eyes, especially if your irises are on the darker blue side. Both the blue from your eyeliner and eyes will highlight the blonde of your hair, so double the damage. You can wear it on your eyelids like usual and applying it on your waterline frames your eyes, especially if you pair the pastel blue with darker colors like dark brown.
This eyeliner from Pacifica Beauty is equipped with easy-glide and best consistency, perfect for your eyes. Not only that, this eyeliner is also infused with Vitamin E and coconut oil to help take care of your skin. With its creamy formula, this eyeliner applies smoothly on your lids without you having to tug them too much. For around $10 a piece, this color is definitely a must have, making it the best color eyeliner for blue eyes and blonde hair that comes in soft shades. 
With its unique water-activated formula, ONMAY offers a soft pastel color blue eyeliner that also comes in other colors in a pack. Although this eyeliner is not waterproof, it is made smudge-proof and transfer-proof so no need to worry about the eyeliner dripping down on your cheek. Around $20 for 7 pastel colors, they perfect your vanity.
What colors make the beblue eyes and blonde hair pop?
Earth tones like brown and copper will make your blue eyes and blonde hair pop, as the earth tones frame your blue eyes nicely and match your blonde hair beautifully. However, other colors like blue and pink also highlight your features. Different colors make your blue eyes and blonde hair pop in so many ways, so don't be scared of experimenting new things.
What eyeliner color makes blue eyes pop?
Best-known eyeliner colors to make your blue eyes pop are brown colors. Darker but soft colors accentuate the blue in your eyes, making your blue eyes appear delicate and humble. Charlotte Tilbury Pillow Talk Collection has the brown shade eyeliner that compliments your blue irises perfectly, while Urban Decay Heavy Metal Glitter Eyeliner in Goldmine helps you achieve a glam look and enhance the beauty of your blue eyes even more.
What colors look best on blondes with blue eyes?
There are a lot of colors that will look best on blondes with blue eyes. While browns are the safe colors that can have the best effect without looking too much on your overall makeup look, using fun but soft colors like baby pink and blue also helps make you look sweet and soft. For more glam occasions, gold colors will look best on you, while wearing blue can also give away chic vibes to your look.
How should I wear my eyeliner with blue eyes?
With your blue eyes, wear brown color eyeliner to define your eyes without looking funky and add a little bit of shimmer for a touch of sparkle. Draw precise, winged eyeliner to create a focused and intense look that will draw attention to your blue eyes. For a more natural finish, you can smudge a bit to soften the lines. Adding a light-colored eyeliner on your waterline can also help highlight your blue eyes.