Having a combination of striking features like blue eyes and blonde hair is such a blessing, and that's because you already look naturally stunning by nature. But maybe, sometimes, you may be wondering if you can step up your make-up game to make yourself even more captivating. You probably think black eyeliner is enough for your daily and special occasions. But I believe that other colors like blue or pink can help make your blue eyes look even more charming and captivating as well, while also making your blonde hair appear more enchanting.
Be open to options because there are lots of choices of the best color eyeliner for blue eyes and blonde hair out there!
For you blue-eyed blonde beauties, I have curated a list of the best color eyeliners for you. Therefore, be ready to discover the most stunning color eyeliners to make your blue eyes and blonde hair look more gorgeous! From neutral to glam and pastel color eyeliners, I got you covered!
What Color Eyeliners are Best for Blue Eyes and Blonde Hair?
Although there is no basic rule to your makeup, there is a certain color of eyeliner that draws more attention to your blue eyes and blonde hair. For instance, the experts and professionals in the makeup world know that using makeup in muted and soft colors will help make your eyes and your hair stand out.
However, it's also important to know that other colors like metallic, dark tones, or even certain shades of greens can also make your blue eyes and blonde hair the center of attention. Other things that come into factor are the event you're going to and the time of day.
Soft colors will be best fit for laid back kind of day, casual events, or a first date. Brown might seem a little boring, but based on my experience, it actually helps bring out the blue in your eyes and, at the same time, matches the blonde on your hair. Meanwhile, vibrant and lively colors like dark blue are best for a night out with friends, and silver with glitter eyeliner is perfect for special occasions. 
Dark and Neutral Color Eyeliners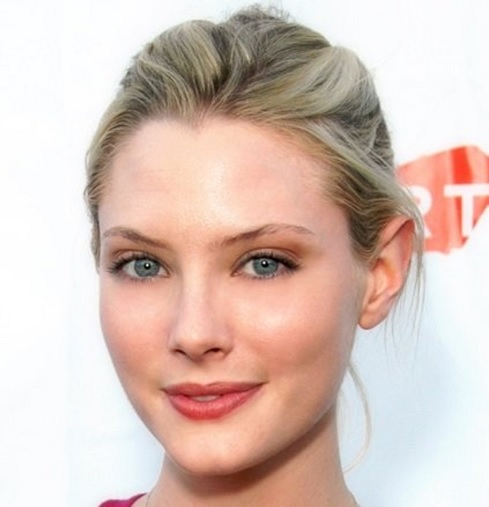 A soft and natural look always wins the day. It is easy to create, and it always helps to enhance your natural beauty. If you're unsure where to start with soft or neutral colors, check out my following advice!
It was proven that using a pencil or gel type of eyeliner is best for this neutral look as you can soften the lines of your eyeliner and smudge it a bit for a nice fade, basically faultless for your blue eyes and blonde hair. This look is perfect for your day-to-day eye makeup since wearing the eyeliner alone is enough to put your blue eyes and blonde hair under the spotlight.
Glam Colorful Eyeliners 
Once you're ready to step up your beauty game for your blue eyes and blonde hair, it's time to try metallic or glitter color eyeliners that will match your fancy night perfectly. The best metallic or glitter eyeliners to make your features stand out are basically the ones that have orange or brown tint, such as light brown, copper, gold, and terracotta.
However, don't be scared to try out other colors that can make you shine without looking too tacky, like purple or blue.
Gold Eyeliner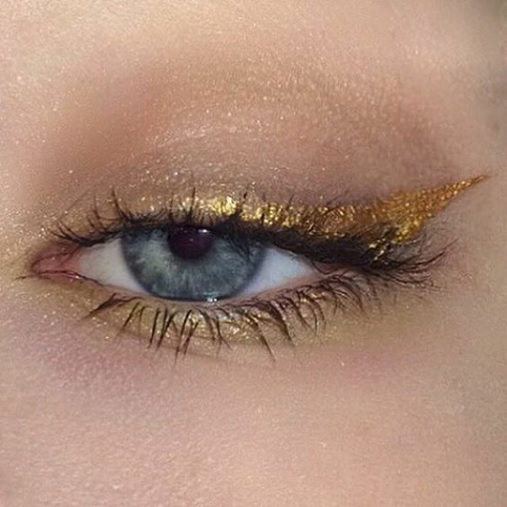 For this look, all you need is a gold-colored liquid eyeliner. Create a sharp, winged eyeliner, and pair it with black mascara for a full effect. The yellow in the eyeliner contrasts the blue of your irises, making your blue eyes stand out even more. The gold is also a great addition to your blonde hair.
Purple Glitter Eyeliner
If you have never considered purple liners, this is the time to try them out. Based on what professional makeup artists have shared, purple glitter eyeliner is not only fun but also helps accentuate the blue in your eyes. Not to mention purple is across the color yellow on the famous Color Wheel, so it will bring out the blonde from your hair.
To get this look, simply wear your best liquid purple glitter eyeliner, and you're all set. 
Blue Glitter Eyeliner
Right after gold and purple glitter eyeliner, I personally recommend you to try blue eyeliner. The blue in the eyeliner highlights both the blue of your irises and your blonde hair. In my opinion, this look is perfect for a night out or a fancy night party. So, go get your glam on for a perfect party with the girls!
Light Color Eyeliners 
Wearing light-colored eyeliners can be scary at first, but once you know that different colors will enhance your blue eyes and blonde hair in certain ways, you will absolutely want to try them out. Light purple or blue eyeliners can make your blue irises appear bluer and, at the same time, make your blonde eyes seem brighter.
Meanwhile, light pink eyeliners make you seem sweet and magical when paired with your blonde hair. Other colors have the same ability to get you different auras, so gear up!
Light Pink Eyeliner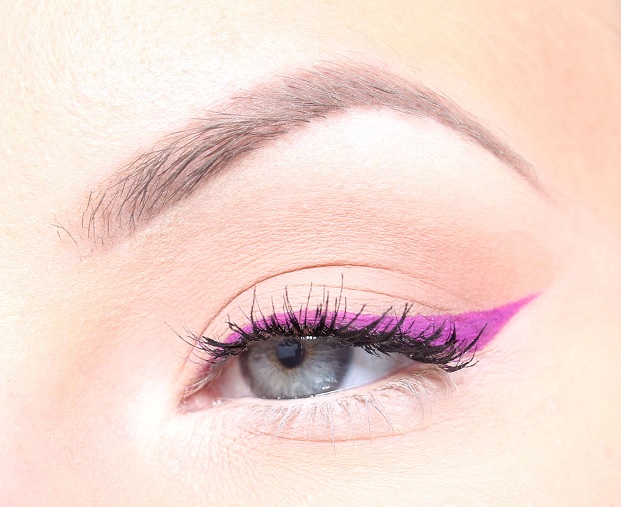 Wearing pink eyeliner can have a magnificent effect on your eyes and your overall look. Whether you wear the eyeliner alone or add a little more splash of color with eyeshadow, this color still adds a nice pop of sweetness to your eyes. To achieve this look, you may need a white primer so the pink color will stand out nicely, or wear it as it is for an even softer pink look. 
Pastel Blue Eyeliner
Wearing pastel blue eyeliner helps accentuate the blue in your eyes, especially if your irises are on the darker side of blue. Both the blue from your eyeliner and eyes will highlight the blonde of your hair, so double the damage. You can wear it on your eyelids like usual, and applying it on your waterline frames your eyes, especially if you pair the pastel blue with darker colors like dark brown.
Most Recommended Eyeliners that You Should Try!
Now that you know which color combination that can work well with your blue eyes and blonde hair, it's time to pick the best eyeliners! The following brands, which I've tried myself are my top picks, making them the most recommended eyeliners for you to try.
1. Urban Decay Heavy Metal Glitter Eyeliner
As I've previously explained, golden and silvery glitter eyeliner can work well with your blue eyes to create a glamorous look. If you are looking for an eyeliner that can provide you with a luxurious style, then I must say Urban Decay will be a good choice. The eyeliner is available in various glittery color configurations, giving you a chance to create your own unique combo.
Aside from its excellent color selection, Urban Decay also comes with top-notch formula. I think it really does make blue eyes look better and would last all day. Moreover, we suggest that you combine it with eyeshadow for an extra dramatic effect! However, please be aware of this eyeliner's shortcomings. Based on my experience, you'll need to be careful when applying the eyeliner around your eyes because it can sometimes bleed and get smudgy. If you are not careful, the glitter may get into your eyes, irritating them.
Nevertheless, the bright, refreshing color from this eyeliner, combined with your golden hair, will provide you with an enchanting high-class look that will surely mistify anyone who dares to look directly into your eyes!
2. Charlotte Tilbury Pillow Talk Collection
The best color eyeliner to pair with your blond hair and blue eyes is definitely brown! In my opinion, the natural and earthy tone creates the most harmonious balance when you put it around your blue eyes. It surely reminds you of the brown earth and the blue sky, a refreshing, breathtaking view. Now, one of the best brown eyeliners is Charlotte Tilbury Pillow Talk Collection.
This eyeliner will provide you with deep smoky berry brown. It'll make your sky-blue irises more intense and appear wider. The creamy formula allows you to create an even line in one smooth stroke. Even better, it is also less fragile compared to other brands, thanks to its excellent bendability.
On the downside, the Pillow Talk Collection may get smudgy, especially if you have oily skin, due to its creamy texture. Nonetheless, if you want brown eyeliner with an excellent color payoff, I confidently say that this brand is worth trying!
3. NYX Epic Wear Wear Waterproof Eyeliner
Do you need pastel eyeliner that won't get smudgy easily? If you do, then I highly recommend Epic Wear from NYX Cosmetics that comes in various shades of light colors. This brand will provide you with eyeliner that can last up to 36 hours, as it won't bleed as easily. This eyeliner comes in a sleek stick and sharpenable tip that will allow you to create a precise line, which is especially ideal when you want to do the waterline eyeliner trick.
I really like the NYX eyeliners because they are available in various light shades as well as matte and metallic finishes. It allows me to be versatile with my makeup style. Be it the classic wing or unique eye makeup graphics, you can count on this brand to deliver enchanting results. The high pigmentation will complement your blue eyes harmoniously. Even the light pastel shade will still shine, framing your irises with beautiful gradation.
However, please keep in mind that some reviewers claim this brand to be a bit stingy with its eyeliner volume. The pencil run out fast, especially if you use eyeliner daily. Some people with watery eyes also complain that, despite the smudge-free formula, the NYX can still bleed. I personally do not encounter these problems but it's best that you're aware of these shortcomings.
Frequently Asked Questions
What colors make the blue eyes and blonde hair pop?
Earth tones like brown and copper will make your blue eyes and blonde hair pop, as the earth tones frame your blue eyes nicely and match your blonde hair beautifully. In addition, other colors like blue and pink also highlight your features. Different colors make your blue eyes and blonde hair pop in so many ways, so don't be scared of experimenting with new things.
What eyeliner color makes blue eyes pop?
What colors look best on blondes with blue eyes?
There are a lot of colors that will look best on blondes with blue eyes. While browns are the safe colors that can have the best effect without looking too much on your overall makeup look, using fun but soft colors like baby pink and blue also helps make you look sweet and soft. For more glam occasions, gold colors will look best on you, while wearing blue can also give away chic vibes to your look.
How should I wear my eyeliner with blue eyes?
With your blue eyes, wear brown color eyeliner to define your eyes without looking funky, and add a little bit of shimmer for a touch of sparkle. Draw precise, winged eyeliner to create a focused, intense look that will direct attention to your blue eyes. In addition, I recommend that you smudge a bit to soften the lines for a more natural finish. Adding light-colored eyeliner on your waterline can also help highlight your blue eyes.
I believe that putting on eyeliner is one of the best ways to make yourself look more enchanting. With the right color combination, you can make your eyes irresistible! Now, if you have blond hair and blue eyes, you should consider eyeliners that can complement those naturally beautiful features.
I think choosing too flashy eyeliners is redundant because you already have irises and hair that sparkle. Subtle colors like brown, dark shades, and pastels are the best choice. These colors would frame your blue eyes naturally, adding a subtle gradation that will make the blue in your eyes stands out.
However, if you want to go all out to glam up yourself, glittery eyeliners can become an option too. Try golden and silver eyeliners to complement your shiny blond hair and amplify your blue eyes' luscious charm.
In any case, do not forget to try out the eyeliner brands that I've recommended. No matter which colors you pick, those eyeliners will provide the area around your eyes with captivating pigmentation, elevating your blue eyes and blond hair's beauty!