Having a pair of gorgeous blue eyes and blonde hair is one of the best gifts that God can give you. Effortlessly, you already look stunning and naturally head-turning. However, you can always step up your makeup game with colorful mascara. Suitable colored mascaras can bring out distinctive auras from your blue eyes and blonde hair and make them glow. Even the most natural color, like brown, will accentuate your features, making you look even more divine. In this article, I shall help you choose What color mascara for blue eyes and blonde hair.
If you're not sure where to begin, I will also help you discover the best mascara brands that offer the best colors, which can help put your blue eyes and blonde hair under the spotlight. From natural to light and pastel color mascaras, we have everything ready for you!
What Colored Mascara for Blue Eyes Goes Well with Blonde Hair?
Deep brown is the best mascara color that is suitable for blue eyes and blonde hair. It is especially ideal if you want a more natural look that can enhance the blueness of your irises. If your eyebrows and lashes are very light-colored, brown mascara frames your eyes and makes them appear awake and focused.
Burgundy or deep purple mascara also does this trick to your eyes, and as they are the opposite of the color yellow, your blonde hair will also look brighter. Moreover, blue is also one of the most suitable mascara colors, as it further accentuates the blueness of your eyes and contrasts with your eyelash hair. You shouldn't also forget light or pastel-colored mascara, as these colors compliment your features without standing out too much.
As a lot of experts say, there is no rule to your makeup game. And I completely agree with that because being free and creative is part of the fun. Since different colors bring different effects to your blue eyes and blonde hair, don't be afraid of trying them out!
Natural Color Mascara for Blue Eyes and Blonde Hair
The best natural mascara colors to match your blue eyes and blonde hair are dark brown and burgundy. These colored mascaras can highlight your eyes and eyelashes hair without looking too gaudy, particularly for a more laid-back day and casual events. Just a flick or two for an effortless yet pretty eye look.
Brown Mascara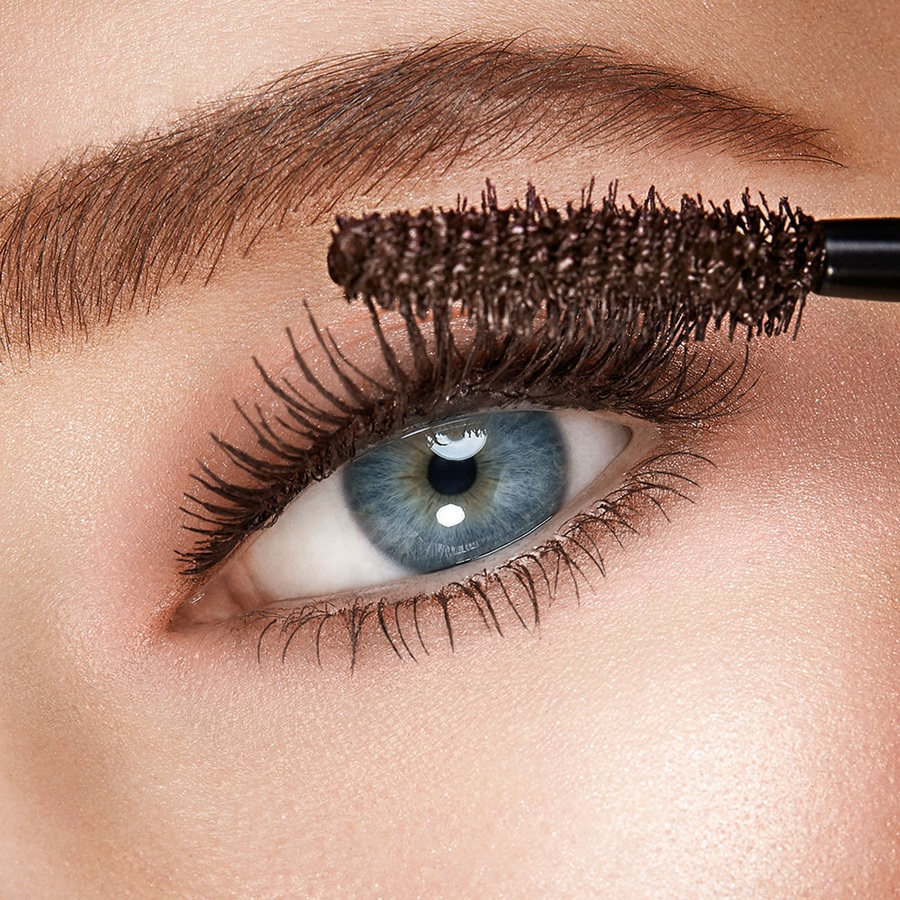 For this simple yet captivating eye look, all you need is a dark brown, chocolate shade mascara. If you think black is too dark, particularly if your skin is pale, then, yes, I believe that brown will do the trick. It won't take the shine out of your blue irises, instead, this natural color will intensify the sparkle. Simply apply to your upper and bottom lashes for maximum effect, and voila! You have that perfect look.
Burgundy Mascara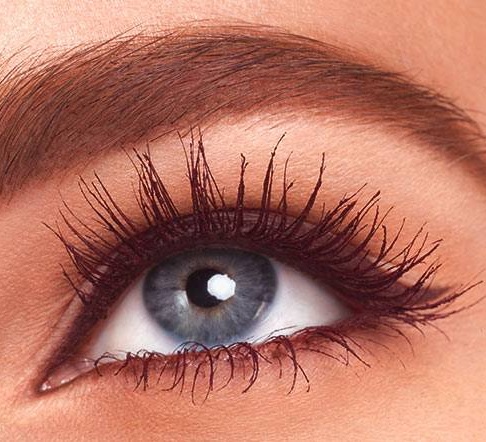 If you want a calm splash of color that compliments your blue eyes and blonde hair beautifully without looking too funky, burgundy mascara is your go-to choice. Just like brown, it will provide a natural eye look that will not compete with blue.
The burgundy will make your blue eyes appear more exquisite, but it also points out your blonde hair. I recommend that you add a little bit of your eyeliner in the same color, especially if you're feeling a little bit extra. However, mascara alone is already pretty if you are on a budget.
Ocean Blue Mascara for Blue Eyes and Blonde Hair
Having blue eyes doesn't mean that you can't wear blue mascara. After all, a little bit of color wouldn't hurt! Dark blue ones bring the best effect to your blue eyes, as they emphasize the color of your irises. In my opinion, this mascara color can create a unique gradation, from dark blue eyelashes to lighter sparkly blue irises.
Additionally, with your blonde hair, your appearance will undoubtedly become the center of attention, enchanting everyone who dares to look into your eyes directly.
Forest Green Mascara for Blue Eyes and Blonde Hair
If you have never tried green mascara, now is the time. Although it's not exactly the color that you would wear for an everyday look, wearing green mascara can add a subtle pop of color to your look.
Depending on the blue of your eyes, somehow, the green mascara will give your blue eyes a soft green tint, making them even more gorgeous than before. For this, choose emerald, dark green, or soft green colored mascara.
Light Color Mascara for Blue Eyes and Blonde Hair
Light color or pastel mascaras can bring magical effects to your blue eyes and blonde hair. No matter what color you wear on your eyes, they will still look captivating but sweet at the same time, so subtle pastel mascara will do just fine!
You can match the color with your other eye makeup or outfit as a small, nice touch to your overall look. Interested? Don't worry; I've already covered the best ones for you, blue-eyed and blonde babes!
Pink Mascara
The first pastel color that you should try is pink mascara. Yes, I know that it is a bit unorthodox, but don't cross this mascara from your list yet. Matching pink mascara with your blue eyes and blonde hair enhances their natural beauty while, at the same time, also giving you a sweet and cute touch to your makeup look.
You can wear it alone or add a little bit of eyeliner for a more defined eye look. And I do really recommend adding that eyeliner because it'll up your feminine charm. No matter what you choose, you can never go wrong with pink mascara if you want to go on a glamorous outing!
Soft Purple Mascara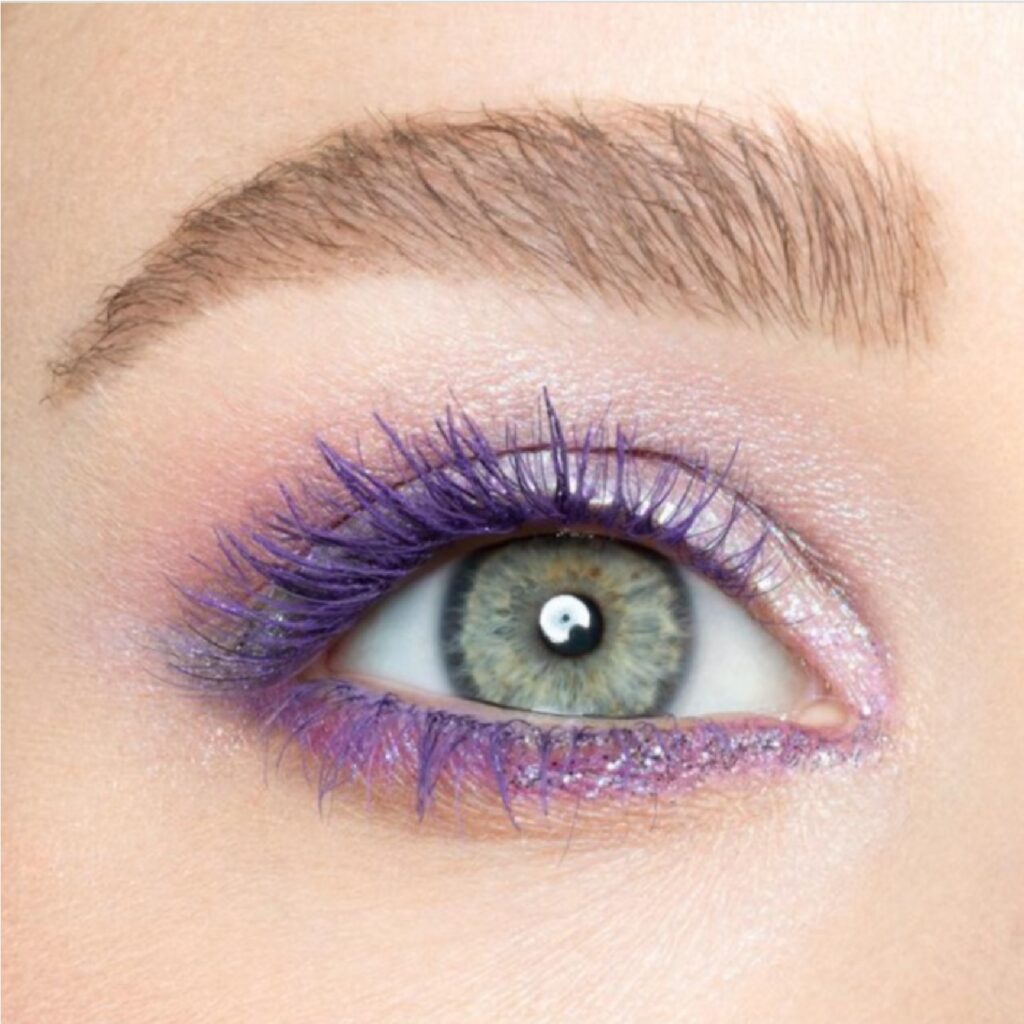 Although the soft purple, lilac, or lavender trend is over, I still believe that they have their place. So, go ahead and try them on your lashes! With these types of purple, your blue eyes and blonde hair will appear more luscious. You can add a little bit of silver eyeshadow for a glam look, but wearing the mascara alone already brings elegance.
Light Blue Mascara
Light blue mascaras are your blue eyes' best friends as they accentuate the color of your irises, no matter what kind of blue they have. At the same time, they contrast with the color of your hair and make your blonde hair glow. Make sure to apply generously on both your upper and bottom lashes for maximum results. But of course, do not forget to read some of my previous tips first on how to apply mascara properly, so it doesn't get smudgy!
Color That You Should Avoid If You Have Blue Eyes and Blonde Hair
Mascaras nowadays are getting fancier. I believe that you will be able to find all kinds of mascara that offer unique pigmentation to your eyelashes. But not all of them would go well with your blue eyes and blonde hair. Some combination simply does not work and will dilute your beauty.
The worst color that won't match your blue iris is orange. This color will also not match your golden blonde hair. The combination between blue and orange will create a muddy vibe and take the sparkle out of your beautiful peekers. In fact, if you combine blue and orange paint, you will create a brown splotch. Blue and orange are located on opposite of each other in the color wheel theory.
So, if you happen to find orange mascara, you should stay out of it.
Top Mascara Brands for Your Blue Eyes
Here are some of the best mascara brands that will complement your blue iris and blond hair. I've tried some of them, and they work beautifully to frame those sky-colored eyes!
L'Oreal Paris Voluminous Mascara in Black Brown. Now since you have pale skin and lighter hair, you may want a mascara that offers intense pigmentation to frame your blue eyes. For that, I believe that the good old L'Oreal Paris will provide you with the best look! This brand also offers various other colors in similar shades, like burgundy, for alternatives.
NYX Professional Makeup Color Mascara in Purple. If you are aiming to get that mystifying blue eyes style, NYX's purple mascara is worth trying. It offers such soft and subtle coloration. However, I think the color may not be intense enough sometimes, which is unfortunate, so you will need to apply it in layers.
Eyeko Lash Alert Color Mascara in Green. One of the best color combinations is green and blue. The green mascara will make your eyes look more lush and irresistible to look at! For that, you can trust Eyeko. This brand offers several interesting hues, including green shades. Come with an excellent brush, I really like this one, and you should try it too!
Conclusion
While your naturally blue eyes and blond hair already make you look super pretty, wearing makeup will elevate your charm. I highly recommend that you try using colored mascara to frame your blue eyes to make them stand out more. Colors like brown, shades of blue, burgundy, and pastels are excellent choices that can complement the azure irises. Not only add color to your eyelashes, but these mascaras will also make them more luscious and lengthy! Now every time someone is gazing into your deep blue eyes, they will be charmed and won't take their sights out off you, thanks to the power of mascara!
What Color Mascara is Best for Blue Eyes?
In my opinion, the best mascara color for blue eyes is dark brown for a more natural look as it frames your eye, especially if you have pale skin and light-colored lashes and eyebrows. Meanwhile, dark blue mascara is also flattering for your blue eyes, making them pop beautifully. If you're into pastel colors, soft lavender or pink will also highlight the features of your blue eyes.
What Color Looks Best on Blonde Hair and Blue Eyes?
Earth tones like brown or terracotta are the best for blonde hair and blue eyes and will do the job for practically any occasion. If you're leaning toward a more colorful look, mascaras with light colors are your next best choice especially if you don't want to look too flashy. For a more glam event, colors like dark blue or gold are also the top options.
What Color Mascara Should a Blonde Use?
A blonde should use dark brown, chocolate-colored mascara to give more definition to the eyes, as blondes usually have lighter lashes. Wearing dark blue also helps make your eyes pop, as well as blonde hair. If you're into a sweet makeup look, wearing light-colored mascara like soft pink or purple will highlight your gorgeous features nicely.
Should Blue Eyes Wear Black or Brown Mascara?
Blue eyes should wear brown mascara or darker colors like black so that the eyes appear more focused and centered. Lancôme Hypnôse Volumizing Mascara has a rich deep brown color that will suit your blue eyes flawlessly. Though black may appear too dark, it can be a good option if your hair or eyebrows are darker and help your eyes look more intense.
Should Blondes Wear Brown or Black Mascara?
Blondes can wear brown or black mascara, although it's best to wear brown instead of black. Brown, as a lighter color, is more suitable with the color of your natural lashes and eyebrows, so your lashes won't stand out too much. However, I do believe that black mascara is still a good choice, especially if you're looking for a deep and fierce look.
Is Burgundy Mascara Good for Blue Eyes?
Burgundy mascara is one of the best colors for blue eyes. It has the feeling of natural lashes color, but the subtle pop makes your blue eyes more stunning, perfect for a day out with your friends or a romantic dinner with your partner. To highlight your blue irises, I recommend L'Oreal Paris Makeup Voluminous Original Mascara for the ultimate burgundy mascara.
What is the best Purple Mascara that goes well with blue eyes?
I personally like the Eyeko Lash Alert purple mascara. This brand offers just enough pigmentation that would accentuate blue eyes and make them more glamorous and smoky. Alternatively, NYX also offers a good mascara that comes in purple. However, this brand may not be intense enough for some people. If you don't think that NYX's purple is good enough, you can layer it to get the desired pigmentation.