What Color Mascara for Blue Eyes Goes Well with Blonde Hair?
The best color mascaras for blue eyes and blonde hair are deep brown, especially for a more natural and simple look. If your eyebrows and lashes are very light-colored, brown mascara frames your eyes and makes them appear awake and focused. Burgundy or deep purple mascara also does this trick to your eyes and as they are the opposite of the color yellow, your blonde hair will also look brighter. Moreover, blue is also one of the best color mascara to pair, as they accentuate the blue in your eyes and contrast with your hair. You shouldn't also forget light or pastel colored mascara as these colors compliment your features without standing out too much. 
As a lot of people say, there is no rule to your makeup game. Since different colors bring different effects to your blue eyes and blonde hair, don't be afraid of trying them out!
Natural Color Mascara for Blue Eyes and Blonde Hair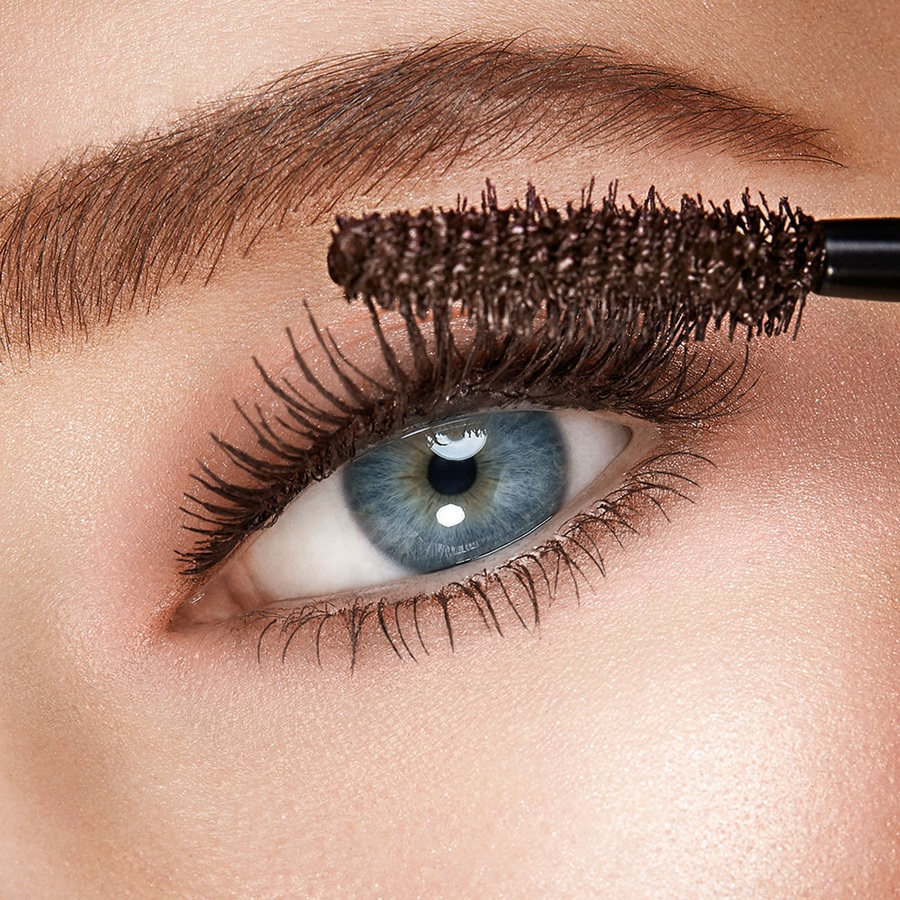 For this simple yet captivating eye look, all you need is a dark brown, chocolate shade mascara. But if you think black is too dark, particularly if your skin is pale, then brown will do the trick. Simply apply to your upper and bottom lashes for maximum effect, and voila! You have that perfect look.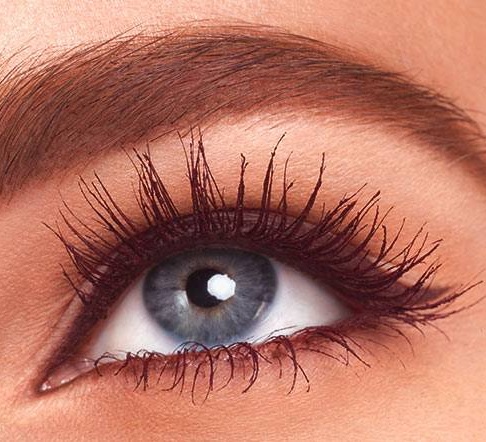 If you want a calm splash of color that compliments your blue eyes and blonde hair beautifully without looking too funky, burgundy color mascara is your go-to choice for a natural eye look. The burgundy will make your blue eyes appear more exquisite, but also points out your blonde hair. Adding a little bit of your eyeliner in the same color can also work if you're feeling a little bit extra, but mascara alone is already pretty.
Ocean Blue Mascara for Blue Eyes and Blonde Hair
Having blue eyes doesn't mean that you can't wear blue mascara. After all, a little bit of color wouldn't hurt! Dark blue ones bring the best effect to your blue eyes, as they emphasize the color of irises. Additionally, with your blonde hair, your appearance will undoubtedly become the center of attention. Below we have covered the best blue mascaras to help you achieve a simple but a stunner look. 
Forest Green Mascara for Blue Eyes and Blonde Hair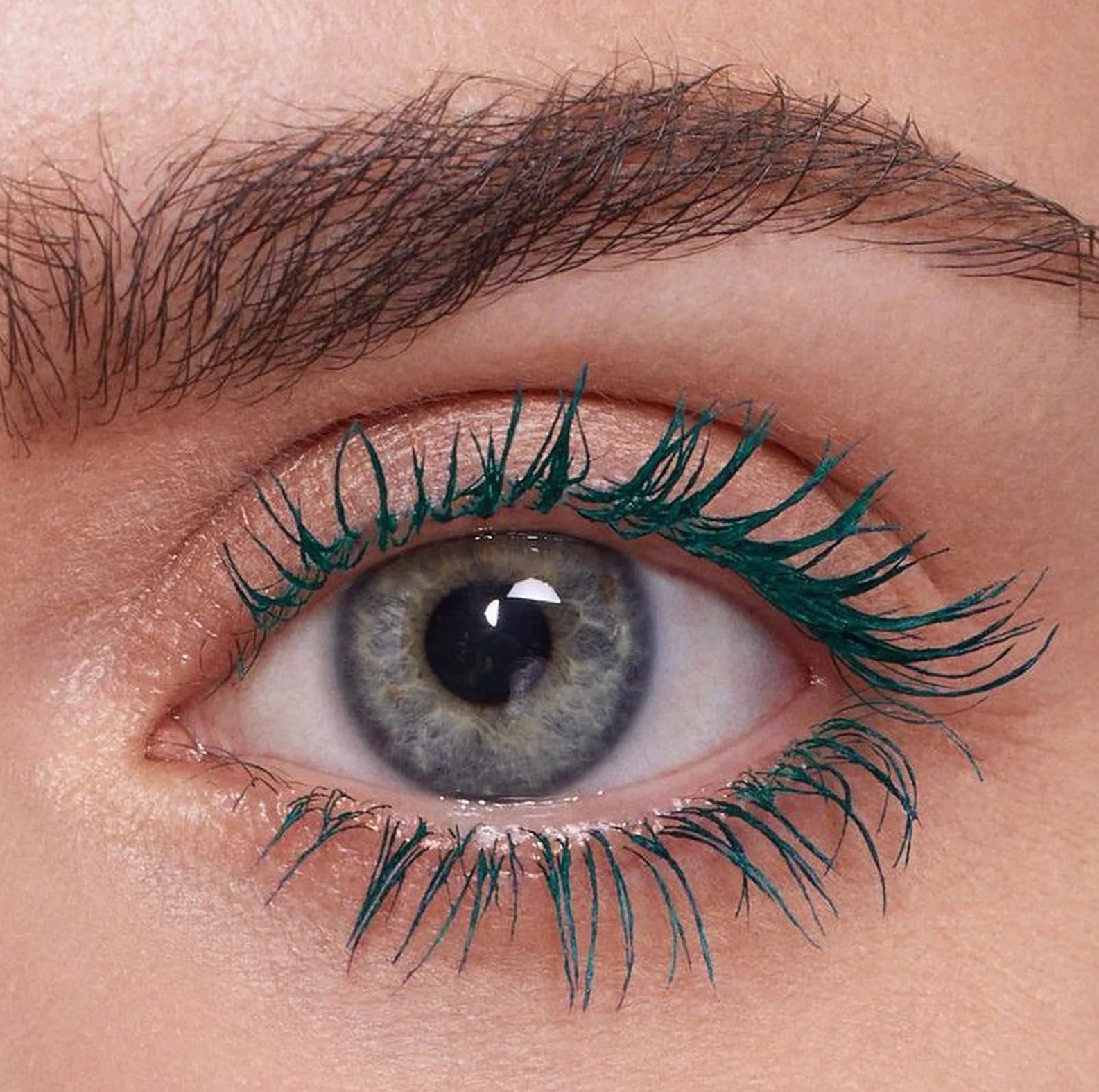 If you have never tried green mascara, now is the time. Although it's not exactly the color that you would wear for everyday look, wearing green mascara can add a subtle pop of color to your look. Depending on the blue of your eyes, somehow, the green mascara will give your blue eyes a soft green tint, making them even more gorgeous than before.For this, choose emerald, dark green, or soft green colored mascara.
Light Color Mascara for Blue Eyes and Blonde Hair
Light color or pastel mascaras can bring magical effects for your blue eyes and blonde hair. No matter what color you wear on your eyes, they will still look captivating but sweet at the same time. You can match the color with your other eye makeup or outfit as a small, nice touch to your overall look. Interested? Don't worry, we already covered the best ones for you blue-eyed and blonde babes!
The first pastel color that you should try is pink mascara. Though unexpected, don't cross this from your list yet. Matching pink mascara with your blue eyes and blonde hair enhances their natural beauty, while at the same time, it also gives you the sweet and cute touch to your makeup look. You can wear it alone or add a little bit of eyeliner for a more defined eye look. No matter what you choose, you can never go wrong with pink mascara.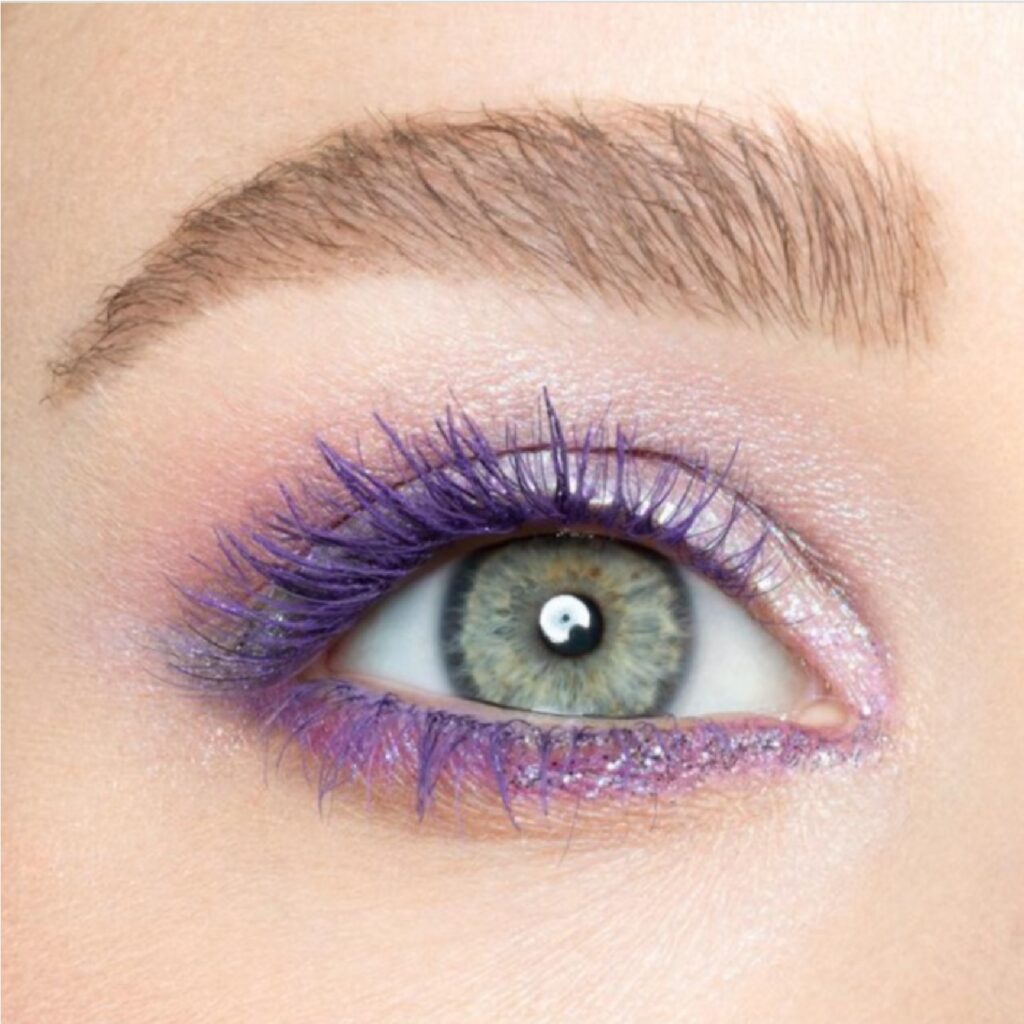 Although the soft purple, lilac, or lavender trend is over, we say go ahead and try them on your lashes. With these types of purple, your blue eyes and blonde hair will appear more stunning. You can add a little bit of silver eyeshadow for a glam look, but wearing the mascara alone already brings elegance.
Light blue mascaras are your blue eyes' best friends as they accentuate the color of your irises, no matter what kind of blue they have. At the same time, they contrast with the color of your hair and make your blonde hair glow. Make sure to apply generously on both your upper and bottom lashes for a maximum result. 
What Color Mascara is Best for Blue Eyes?
Best color mascaras for blue eyes are dark brown for a more natural look as it frames your eye, especially if you have pale skin and light-colored lashes and eyebrows. Meanwhile, dark blue mascara is also flattering for your blue eyes, making them pop beautifully. If you're into pastel colors, soft lavender or pink will also highlight the features of your blue eyes.
What Color Looks Best on Blonde Hair and Blue Eyes?
Earth tones like brown or terracotta are the best for blonde hair and blue eyes, and will do the job for practically any occasion. If you're leaning for a more colorful look, light colors are your next best choice especially if you don't want to look too flashy. For a more glam event, colors like dark blue or gold are also the top options.
What Color Mascara Should a Blonde Use?
A blonde should use dark brown, chocolate-colored mascara to give more definition to your eyes, as blondes usually have lighter lashes. Wearing dark blue also helps make your eyes pop, as well as the blonde hair. If you're into a sweet makeup look, wearing light-colored mascara like soft pink or purple will highlight your gorgeous features nicely.
Should Blue Eyes Wear Black or Brown Mascara?
Blue eyes should wear brown mascara or darker colors like black, so that the eyes appear more focused and centered. Lancôme Hypnôse Volumizing Mascara has a rich deep brown color that will suit your blue eyes flawlessly. Though black may appear too dark, it can be a good option if your hair or eyebrows are darker and help your eyes look more intense. 
Should Blondes Wear Brown or Black Mascara?
Blondes can wear brown or black mascara although it's best to wear brown instead of black. Brown, as a lighter color, is more suitable with the color of your natural lashes and eyebrows so your lashes won't stand out too much. Black mascara is still a good choice especially if you're looking for a deep and fierce look. 
Is Burgundy Mascara Good for Blue Eyes?
Burgundy mascara is one of the best colors for blue eyes. It has the feeling of a natural color lashes, but the subtle pop of color makes your blue eyes pop, perfect for a day out with your friends or romantic dinner with your partner. We recommend L'Oreal Paris Makeup Voluminous Original Mascara for the ultimate burgundy mascara for your blue eyes.