Blue outfits are universally loved! For women, blue dresses can bring elegance and grace since the cool tone symbolizes calm and confidence. With the right eye makeup, especially colored eyeshadow, you'll look even more beautiful in your lovely blue dress. Unfortunately, deciding which eyeshadow color that suits a blue dress is not always easy.
Choosing the wrong eyeshadow color when wearing a blue dress can make you look tacky. But fortunately, I have these five handy eyeshadow tips that you can follow when you wear a blue dress! I shall tell you the perfect eyeshadow color combinations that work really well with your outfit. Plus, I also have five eyeshadow recommendations that will look amazing on you when you wear a blue dress.
Which Eyeshadow Color is the Best for Blue Dress?
There are a lot of colored eyeshadows that are suitable to use when you are wearing a blue dress. To start with, I believe that a hint of pink, yellow, bronze, and copper eyeshadow will never fail to brighten the eyes.
Other great colors that are meant to be paired with blue are gray, brown, blue, rose gold, and also gold. They will never look too much when paired with blue dresses. These colors are the ones to get if you wonder which eyeshadow can blend well with your fancy outfit.
Perfect Eyeshadow Colors for Blue Dress
There are various fun shades that can complement your fashion choice. Yet, these eyeshadow colors below are like peanut butter and jelly for a blue dress; they are the perfect match. I handpicked these combinations based on various color theories and my hands-on experience with eye makeup.
1. Gray Eyeshadow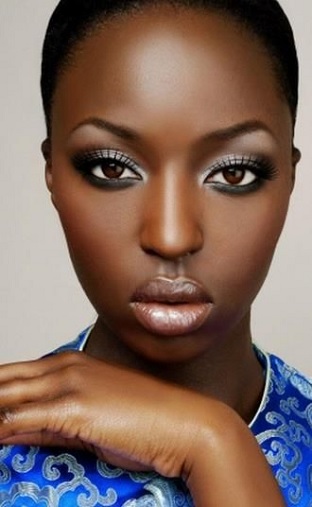 Since gray is a muted neutral tone, it will go perfectly well with blue. If you want to use this eyeshadow color, simply take both light and dark gray eyeshadow to create dimension and add depth to the eyes. Light gray eyeshadow is also perfect to use as the transition color. Meanwhile, dark gray eyeshadow, especially when it blends with the crease on your eyelids, will make the eyes look deeper. 
2. Brown Eyeshadow
You can never go wrong with brown eyeshadow. This neutral shade complements all skin tones. So, a brown eyeshadow will also combine effortlessly with your blue dress, elevating your cuteness. You can use brown eyeshadow on its own to create depth to the eyes or top it with shimmer eyeshadow to create a glam eye look. Lastly, top it with your favorite black mascara and eyeliner, and you are ready to go.
3. Blue Eyeshadow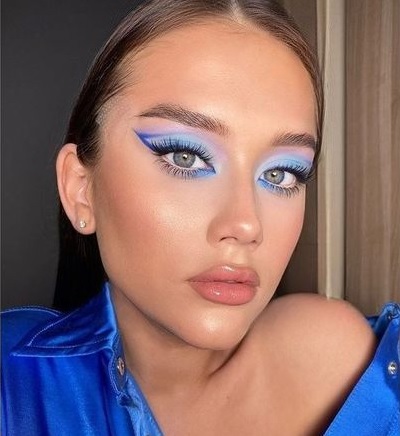 Create a fun makeup look when wearing a blue dress by popping bright blue eyeshadow. This color will make you stand out, especially when you pair this eyeshadow with blue eyeliner. If you are bored of using natural-colored eyeshadow, then blue is the perfect eyeshadow color to go.
To avoid getting a blotchy look, I recommend that you pick a lighter shade of blue for your eyeshadow, so it does not clash with the eyeliner. Finish the makeup with nude gloss and black mascara.
4. Rose Gold Eyeshadow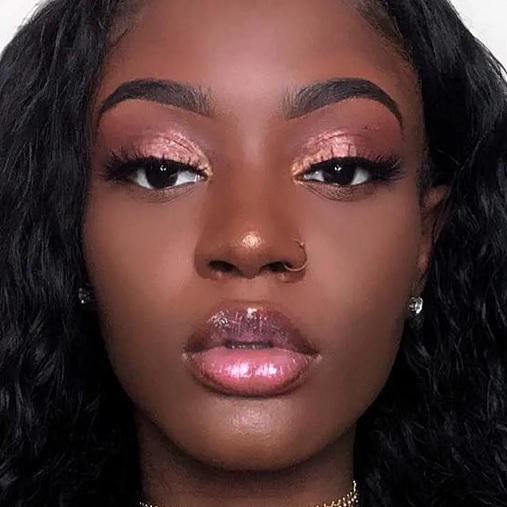 Another great eyeshadow color to choose when you are wearing a blue dress is rose gold eyeshadow. Since blue goes well with the pinkish rose gold, you'll look even more dazzling in your dress, and your eyes will look brighter too. You can apply shimmer or metallic rose gold eyeshadow to your lids to create dimension and draw attention to your eyes.
5. Gold Eyeshadow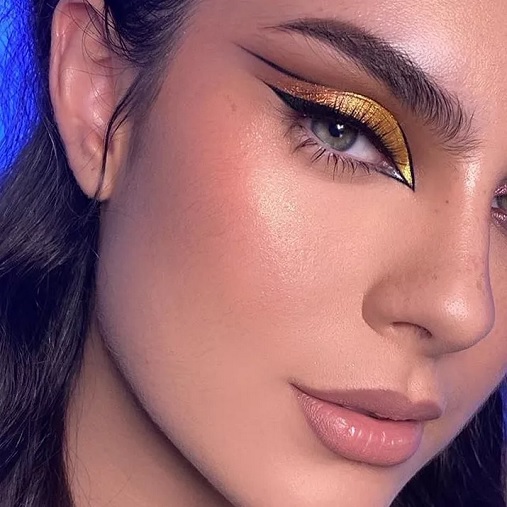 Based on the Color Wheel theory, you will find that blue and yellow are complementary colors. Therefore, blue and gold, which is the brightest shade of yellow, are just meant to be together. While a blue dress will make you look pretty, gold eyeshadow will serve you strong yet beautiful eye makeup. 
5 Eyeshadow Tips when Wearing a Blue Dress
Here are some fantastic eyeshadow tips that you can follow when wearing a blue dress. These useful tips will help you pick the right eyeshadows to complete your makeup. Keep on reading to find out what they are!
1. Choose the Right Eyeshadow Color for Your Blue Dress
It is important to choose the right eyeshadow color when wearing a blue dress to compliment your look. Choosing the wrong shade might ruin your overall appearance because of a clash of colors. If you wear a blue dress, I highly recommend eyeshadow colors such as bronze, copper, gold, black, brown, and rose gold, can never go wrong.
If you want a pop of color, rich aqua, orange or red-based eyeshadow works well with a light blue dress. Meanwhile, when wearing a navy dress you do not want to use colorful eyeshadow since it might look too much. Dark blue, metallic bronze, matte brown, and rose gold shimmer eyeshadow are perfect for this dress. So if you wonder which colored eyeshadow is ideal to complement a blue dress, these shades are the best.
2. Contrast the Eyeshadow with the Dress' Fabric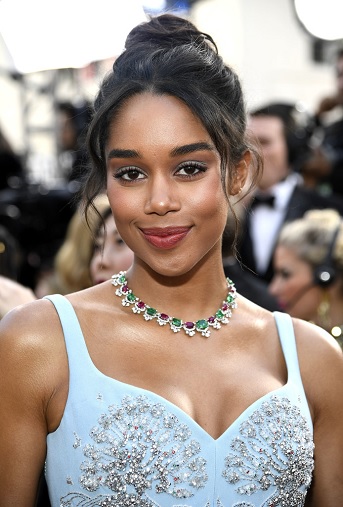 There are some rules when choosing eyeshadow for a blue dress. One of them is to contrast the eyeshadow with the dress fabric. For example, when wearing a blue dress that has many gems or rhinestones, it is better to slow down with the eye makeup by using all-matte eyeshadows.
This will give the dress a moment to shine and make you look elegant without too much going on to makeup. Meanwhile, when using blue chiffon dress, it is best to use shimmer eyeshadows to give a little sparkle to the whole look. Also, metallic eyeshadows will make you look electric when you wear a blue sequin dress.
3. Pop Some Color to the Lower Lash Line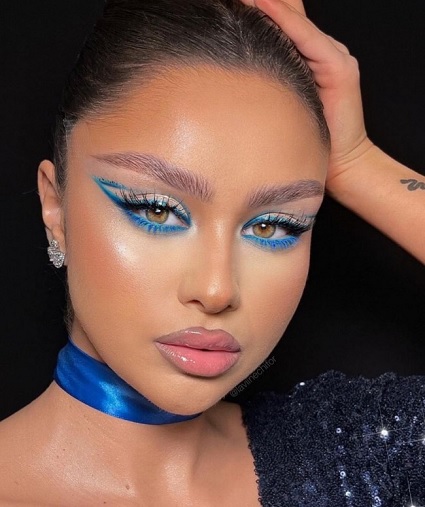 Step up your eyeshadow game by putting a pop of color on the lower lash line. It will add drama to the makeup and improve your makeup skill. When wearing a blue dress, choose bright eyeshadow colors in blue, purple, pink, or red. Try to draw the lower lash with pencil eyeliner first before blending it with the same eyeshadow color. This technique will make that pop of color more intense.
4. When in Doubt, Go for Brown and Rose Gold
It seems like most makeup restrictions do not apply to rose gold and brown eyeshadow. These eyeshadow colors fit almost every skin tone, hair color, eye color, and dress. Therefore, when you are confused about what eyeshadow to use when wearing your favorite blue dress, pick up these colors! It will look good no matter the shade or fabric of your blue dress. Do not forget to finish the eye makeup with eyeliner and mascara to define the eyes and make them look bigger.
5. Blend, blend, blend!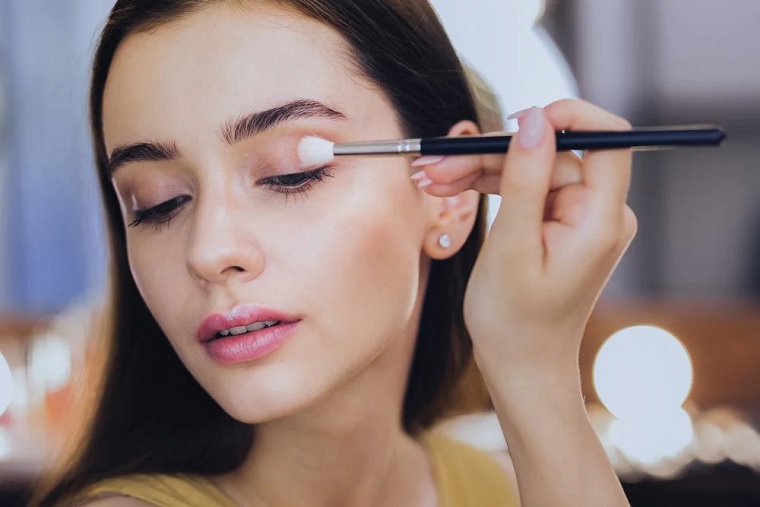 Blend your eyeshadow! No professional makeup artist will disagree with this makeup tip. No matter how beautiful your eyeshadow colors are and how good they look when you wear a blue dress, if you do not blend them right, they will not be stylish enough. Just do back-and-forth motions for quick and easy blending.
This method will allow the eyeshadows to mix together and create a smooth gradation without harsh lines. Remember not to over-blend it, though, so the eyeshadow will not disappear.  
What Color Eyeshadow is Best with a Blue Dress?
The best eyeshadow colors that match your blue dress are bronze, brown, gold, rose color, and copper.  These colors will make the eyes pop when you wear your fashionable blue outfit.
The Too Faced Born This Way The Natural Nudes Eyeshadow Palette has all of these colors, so it is the perfect palette to get. If you are looking for a good eyeshadow brand to pair with your blue dress, Too Faced has the answer for you. Though keep in mind if you want a shimmery look, this eyeshadow may be a tad weaker.
How do You Pick Eyeshadow for a Dress?
You can pick eyeshadow according to the shade and fabric of the dress. A light blue dress, for example, will look good with colorful eyeshadow such as orange, blue, purple, and warm red. Meanwhile, matte eyeshadows will make you look elegant when you wear a shiny dress with lots of rhinestones.
Does Blue Eyeshadow Go with Blue Eyes?
Yes, blue eyeshadow goes with blue eyes. In fact, blue eyeshadow can make blue eyes look brighter and more vibrant. Choose a blue eyeshadow that is darker than your eyes. That way you can pull off this eyeshadow look.
To get that style, I think you should try Dior Couleurs Couture Eyeshadow Palette "279 – Denim". The all-blue eyeshadow palette offered by Dior is perfect for your blue eyes. Some reviewers say that this eyeshadow may be a bit too shimmery, but I personally think it's fine if you apply it correctly. Price-wise, Dior is in the upper range, so keep that in mind! 
Blue eyeshadow is not tacky if you know how to use them right. Choose the right blue shade eyeshadow that compliments your eyes, hair, and dress color. For example, when you wear a navy dress do not use navy color eyeshadow since it might look too much. 
How do You Make Your Eyes Look Bluer?
Use icy eyeshadow, such as silver, to make your eyes look bluer. Since blue is a cool tone color, it will look brighter when framed with another cool tone eyeshadow. 
Try the BOBBI BROWN Long-Wear Cream Shadow Stick collection. These eyeshadows are mostly gray-toned so they are perfect for blue eyes. However, please take note that BOBBI eyeshadow may take a bit of practice to apply so you can get the look that you are aiming for.
What Color Lipstick for Blue Dress?
For a blue dress, nude lipsticks can never go wrong. Nude lipsticks are great to make your lips look fuller and will not clash with your dress color. Pick the right nude lipstick with your skin tone to give subtle attention to your lips.
Which Lipstick Goes Well with Blue Dress?
Nude lipstick goes well with a blue dress. But, if you want a pop of color, try red or deep berry lipstick. These lipstick colors will suit a blue dress. Also, pink is another pretty lipstick color that you can use when you are feeling a little fun.
Can You Wear Red Lipstick with a Light Blue Dress?
Yes, you can use red lipstick with a light blue dress. Since cool-tone lipstick looks great with anything, it also looks flattering when you wear a blue dress. Try peach or coral red lipstick for a light blue dress. If you feel bold, dark red is a great lipstick color to use.
To elevate the elegance of your blue dress, you should wear matching eyeshadow! The right eye makeup combination will amplify your charm as no one will be able to resist looking at you. I believe that you have to consider the shade and style of your blue dress before you pick your colored eye shadow.
If your dress is sparkly and shimmery, you may need to get an eyeshadow that can match the glamorous outfit. You can consider shimmer or metallic eyeshadow in gold, copper, or rose gold eyeshadows for that luxurious look. However, if you want to be more subtle, then shades of gray or darker natural tones like brown eyeshadow may be a good alternative.
Whichever colored eyeshadow that you pick, you can follow my tips to ensure that your eye makeup application technique is flawless. This way you can create a lovely gradation around your eyes that would match the loveliness of your blue outfit. I encourage you to keep experimenting with eyeshadow combinations to find the best style that works for you!