It is a universally known fact that ladies love wearing blue dresses, no matter their ages and skin tones. There is something about blue dresses that just bring confidence to the ladies and make them feel pretty.  Nevertheless, I must remind you that an outfit is not complete without the perfect makeup to go with it. So on this occasion, I have some makeup ideas that would make your blue dress look more dazzling, especially if you have dark skin.
You don't have to worry about the perfect makeup style to have when wearing a blue dress anymore. Here, I have all the answers for you. I also have some recommendations related to black-owned makeup products that will look like a dream on dark skin, complementing your blue dress. Keep on reading to find out more!
What Makeup is Best for Blue Dress Dark Skin?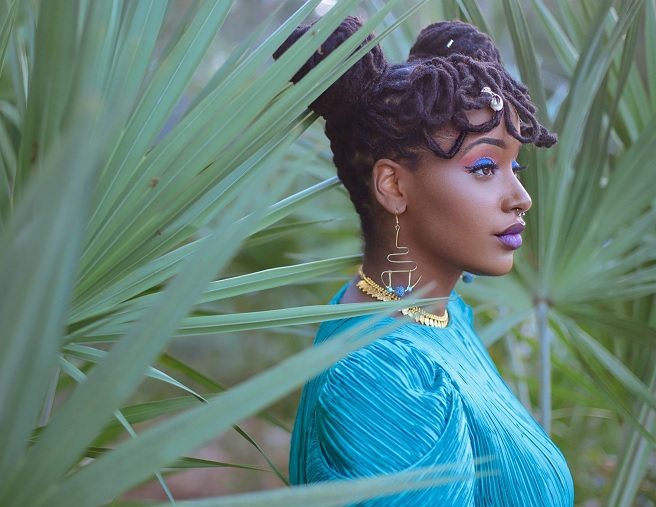 If you are hesitant about choosing the best makeup that suits dark skin and a blue dress, I shall help you pick the best one!
For dark skin goddesses who love wearing grunge or chic styles of dresses in the color blue, do not be afraid to dive into edgy makeup. Edgy makeup is the perfect makeup look to bring out the cool chic vibes in you.
Usually, this makeup is all about smokey black eyeshadow with dark lipstick. But, if you do not like too much makeup, then wearing blue lipstick is enough to make a statement. Or, you can draw winged eyeliner on your lids using bright-colored liner pens. The colors from the eye makeup will create a beautiful contrast to your blue dress and dark skin.
If you feel a little extra and want to pop colors on your eyelids to bring attention, try the bright eyeshadow look or the blue eyeshadow trend. Bright eyeshadow pigments will look gorgeous on your skin and make the eyes look brighter. Meanwhile, blue can never be wrong when paired with another blue. Therefore, blue eyeshadow is the perfect match for your blue dress. 
You can add glitters or metallic eyeliners to make the eye look more dramatic. But, if you feel like going out with a more natural look, then you can try the natural glam makeup look that usually incorporates makeup in earthy tones. Natural glam makeup will enhance your beautiful features without needing to use too many layers. You still see yourself in the mirror, just prettier.
Makeup Types for Dark Skin when Wearing a Blue Dress
There are some types of makeup that will look absolutely stunning on dark skin. From natural glam makeup to enhance your beautiful features, to edgy types of makeup to make you look like the cool it girl, I shall tell you all about them! So keep on reading to know the best type of makeup that suits dark skin and a blue dress.
Bright Eyeshadow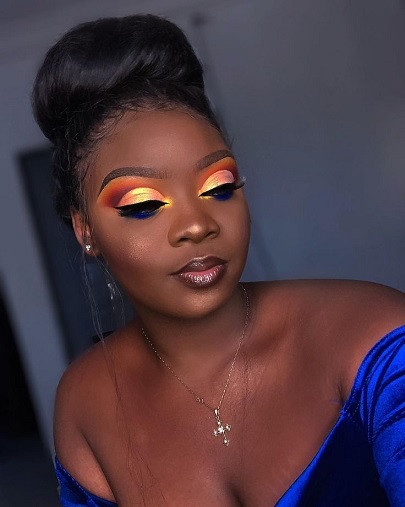 Bright eyeshadows are perfect for dark skin tones because the contrast of dark skin and bright pigment will make the color of the eyeshadow more vibrant. When wearing a blue dress, the perfect eyeshadow colors are orange, pink, gold, or blue. 
I recommend that you do a simple cut crease or halo eyeshadow technique to make the eyes look brighter, and then top it with winged eyeliner and fake lashes to make the eyes look bigger. This is the perfect makeup look to try when you feel like a little extra for a special night.
Natural Glam Makeup Look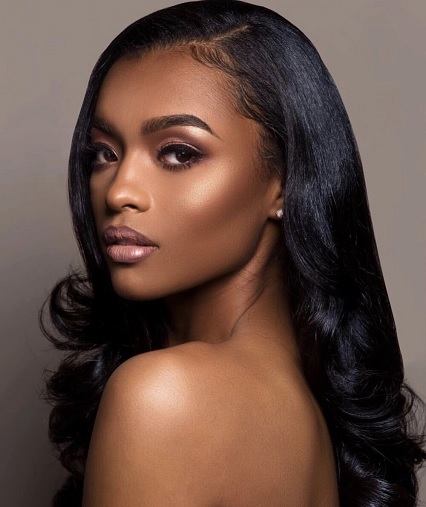 Natural glam makeup is perfect when you want to enhance your facial features without looking like a clown. The goal of this makeup look is to make you look beautiful without being too heavy. Subtle is the key to natural glam makeup. It does not mean that this makeup look is easy to create, though.
You need to practice the blending technique and choose the right shades for your skin tone. Usually, makeup artists will pick soft eyeshadow and blush colors, and nude lipstick. Also, highlighter and lipgloss are great to make the face look dewy and glowing. Remember not to go too heavy with contour when doing this makeup look since there is nothing natural about heavy contour.
White-Winged Eyeliner
Here is a great tip: do not be intimidated by white! In fact, a hint of white in your makeup will create a futuristic and cool result. Take a white liquid eyeliner and draw a graphic arrow liner to the lids. I believe that the contrast of dark skin and white eyeliner will make the eyeliner brighter and will bring attention to the eyes.
Whether wearing a simple or high-fashion blue dress, white eyeliner will bring a twist of edginess to your whole look. Although white lipstick suits almost every lipstick color, it will look absolutely amazing when paired with glossy nude lipsticks.
Dramatic Blue Eyeshadow
Everyone needs a little drama when wearing a beautiful blue dress! You can add some flair to your look with a gorgeous blue eyeshadow look, which is actually quite simple to do. Dip your blending brush into your favorite blue eyeshadow, blend and build it to the lids, and draw a beautiful line on your crease using silver metallic eyeliner.
Finish it by adding silver shimmer eyeshadow to the inner corners and use bold fake lashes to make the eyes look bigger. You can also use blue eyeliner to intensify the fanciness of your blue outfit. Just remember to use eyeshadow primer or concealer first before applying eyeshadow to make the color more vibrant on the lids. Also, you can add silver glitter on top of the silver eyeliner for more drama. 
Blue/Bold Lipstick
Want to look edgy without using tons of makeup? Try the blue lipstick trend. Blue lipstick will make head turns to you, especially when paired with a blue dress. If you are hesitant about which blue shades to use, I would say that dark blue lipstick will never disappoint.
Complete the makeup by using mascara, highlighter, bronzer, and eyebrow pencil, and you are good to go. However, avoid using too many colors on the face when you are using blue lipstick, and remember, sometimes, less is more.
What makeup looks good on dark skin?
Basically, any type of makeup looks good on dark skin. It is because dark skin has that magic that makes pigments look vibrant on their skin. If you like a natural makeup look, try the Killawatt Freestyle Highlighter from Fenty Beauty to bring an extra glow to the face.
But, if you are more of an edgy type, try the Chrome Eyeliner from Danessa Myricks Beauty to draw futuristic and cool wings on your lids. Finish the look with Pat McGrath's blush on and Mented Cosmetics' lip gloss. These are the best makeup for blue dress dark skin.
Which color eyeliner is best for dark skin?
White eyeliner color is best for blue dress dark skin, especially to create an edgy and futuristic makeup look. But, if you want to create a natural makeup look, simple dark brown or black matte eyeliner is the one to go. Check out the eyeliner collection from Danessa Myricks Beauty to find the perfect ones. The black-owned brand packed high pigments for every dark beauty out there.
What eyeshadow colors look best on dark skin?
Bright eyeshadow colors look best on blue dresses and dark skin. It is because the contrast of dark skin and bright eyeshadows will make the pigments more vibrant on the lids. Therefore, they are the best for dark skin. Juvia's Place The Nubian II Eyeshadow Palette has the best high-pigmented eyeshadows for dark skin. You get both shimmer and matte eyeshadows in one palette. From blue to brown or even white eyeshadows, this eyeshadow palette will not disappoint. 
How do you do eye makeup for dark skin?
To do eye makeup for blue dress dark skin, you need the Juvia's Place The Nubian II eyeshadow palette and chromatic eyeliner from Danessa Myrics Beauty in the shade. Use the eyeshadow palette to create simple and beautiful eye makeup, since the palette is super creamy, pigmented, and easy to blend. Then, use the chromatic eyeliner to draw winged liners on the lids to add a little twist of drama. Finish the makeup by adding a few layers of mascara and you are good to go.
If you have a dark skin tone, wearing a blue dress would make you look super elegant. Even more so when you add some eye makeup to complement your all-blue style! 
There are various types of makeup that can complement your dark skin and blue dress. You can use the combination of bright eye makeup if you wear a fancy blue outfit, creating a balanced look. If you want to be more subtle, natural shades would be your friend but choose a color that contrasts your dark skin tone! And lastly, blue on blue look is something that you have to try! Use different shades of blue to create a brilliant gradation around your eyes. Your darker skin tone will be amplified by the color.
Finally, I highly recommend that you all check out my makeup recommendation that I've explained above! Try them at home and see for yourself how good they'll make you! Do not hesitate to try the products that I've mentioned too. And most importantly, stay tuned for my next eye makeup tips and tricks.