When in comes to finding the best glam makeup look black girl can choose, the options depend on the occasion that you are about to attend. Some people often feel confuse in deciding what appearance to choose for certain occasions. In general, there are two popular categories of glam look, which are soft glam look and and full glam look. If you have a dark skin, or your skin tends to be dark, you can accentuate the features of your face by applying the right cosmetics.
Both soft and full glam makeup are focus on your eyes, lips and cheek, and both can feature either natural or bold look. If you are a fan of natural look, then the soft glam is for you. However, if you like to accentuate your look or go to a party, then full glam is the perfect choice. In addition, these looks can also show your real personality. To get better understanding about the soft and full glam makeup look black girls, make sure you keep scrolling down!
Glam Makeup Look for Black Girl
Glam makeup look, either the soft or full glam, can transform your appearance into something more elegant and gorgeous. In order to achieve the desired result, you have to play with makeup products for your eyes, cheek, and lips. Those areas should be highlighted based on your desired look. So, products like eyeshadow, eyeliner, blush, highlighter, and lipstick are mandatory.
Soft and Full Glam Makeup Look for Black Girl
In this article, we will enlighten you with the best recommendations of soft and full glam makeup looks that you can try for any occasion. These styles can help find the most suitable look for particular events or occasions. Without further ado, let's take a look at the recommendations below.
Soft Blush on Cheek
In creating a soft glam look, we need to make sure that the look should be aesthetic, but still soft and neutral. Although it doesn't mean to be excessive, you can focus on the cheek and lips, and flawless blending can make your face looks fresh. Use pink shade of blush on your cheekbones with COVERGIRL Cheekers Blendable Powder Blush and apply nude lipstick from L'Oreal Paris Colour Riche Lipcolour with lipgloss from Maybelline Lifter Gloss for the final touch. For the eyes, pick the best eyeshadow with soft shades and sweep it evenly on your eyelids.
Day to Evening Occasion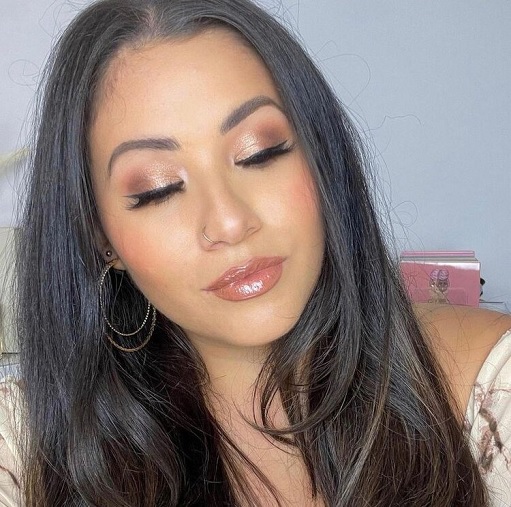 If you plan on having a soft glam look from day to night, try this one. Use your eye makeup product to create buttery eyeshadow, and continue with blend and blend. At first, it may look weird for you but you can start it by sweeping it from sharp edges till you get a soft diffused look. However, it can be difficult at first, but once you know how to do it, it can definitely help you achieve the best result of soft glam makeup look.
Radiant Look with Fluttery Lashes
This is one example of the radiant skin look that is suitable for soft glam makeup look black girls want to have. You can make fluttery lashes and complete them with soft neutral eyeshadow from Urban Decay Naked3 Eyeshadow Palette. If you are attending a casual meeting or need a simple look to work, then this style is suitable for you. Or, if you want to hangout with your friends after work, you only need to apply luminous skin base and ultra-glossy lip gloss from Lip Gloss by Revlon.
Soft and Glowing Face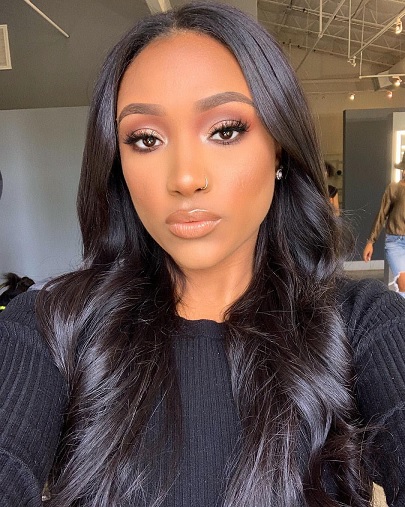 Dewy makeup look describes something breathable, flawless glam, soft, and more focus on the perfect base. You can apply dewy makeup look to have the soft glam look by creating fluffy brows, accentuating the glowing skin, and having glossy lips. This makeup look soft without excessive effect or angles because you only need to blend the makeup on your skin to achieve a smooth feature. Just make sure you start the dewy makeup look by using a luminous base.
Dare with Bold Lipstick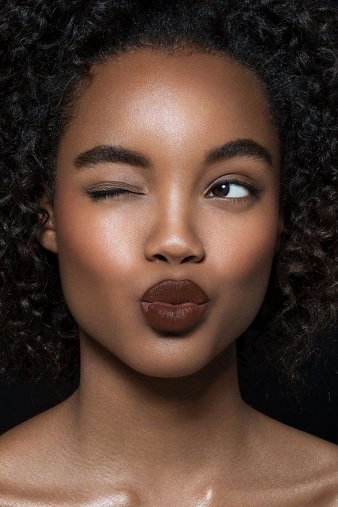 Creating a glam makeup look doesn't mean you can't go for bold lipstick. However, you can focus on your check and make it stands out. This appearance comes with the perfect matted skin, which requires you to add an extra touch by applying highlighter and blush on your cheek with fluffy eyeshadow. Choose dark shade lipstick like NYX PROFESSIONAL MAKEUP Soft Matte Lip Cream to make it look more gorgeous.
Simple, yet Glam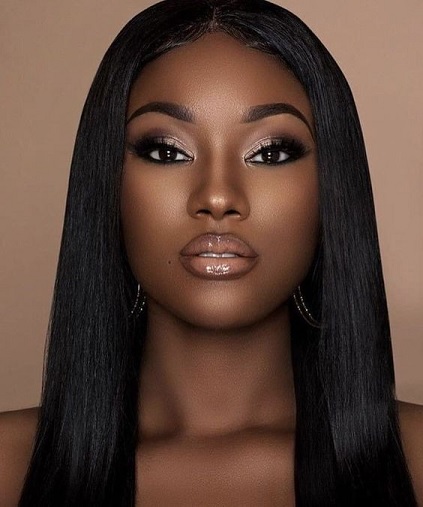 This one is the simplest glam makeup look black girl would love because you can play and rely on cosmetics with neutral shade. The combination of smokey eyes, shiny pink lipstick, the equal amount of highlighter, and the black skin tone make this a simple option that offers you a glam look.
Soft Look with Bright Lipstick
This one is another perfect matte skin option with pink highlighter and blush. The thick, fluffy eyebrow and the balanced highlighter can make the face looks perfect for glam makeup look black girls would love. In order to add more bright color on your face, don't hesitate to apply orange lipstick from NYX PROFESSIONAL MAKEUP Liquid Suede Cream Lipstick.
Natural Glam Makeup Look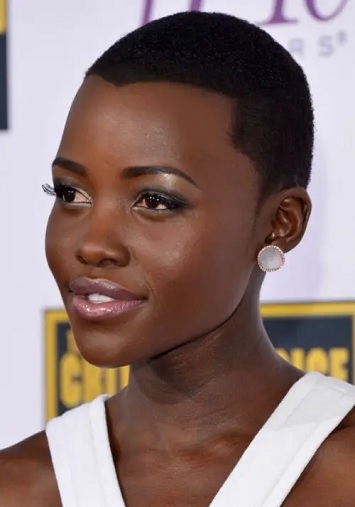 Deciding a glam makeup look doesn't mean you can't be stylish. As a matter of fact, you can create any makeup look that features soft, simple, yet glamor appearance. First of all, focus on using gray smokey eyes by using Pure Ziva™ Navy Blue Grey Eyeshadow. Then, you can make your appearance looks more natural by using long eyelashes, shiny pink lipstick, and additional highlighter touch.
Tropical Makeup Look
If you are looking for chic tropical makeup, then this one's for you. Here, you will need an appropriate amount of blush on the cheek. In addition, you also need long lashes, with black eyeliner from stila Stay All Day Waterproof Liquid Eye Liner and a shiny pink lipstick from Maybelline Color Sensational Lipstick. Next, you can style your hair with accessories.
Edgy Makeup with Black Eyeshadow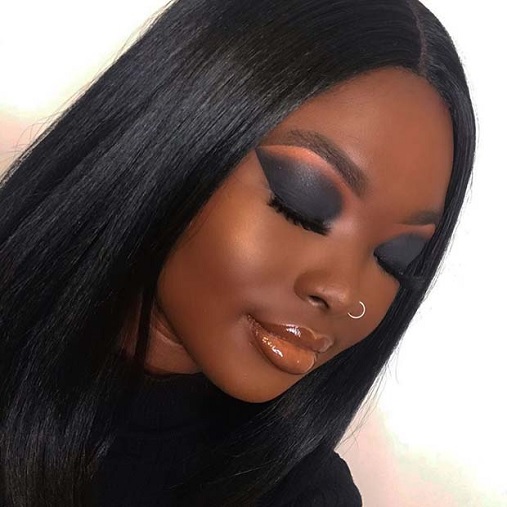 Edgy eye makeup with black eyeshadow from Julep Eyeshadow 101 Crème to Powder Waterproof Eyeshadow Stick looks so amazing. This makeup is a full glam makeup look black girls would definitely love, which accentuates bold eyes. The usage of dark color for an edgy look is great and you can pair it with warm and glossy lipstick. In order to make it look tidy and stands out, keep the lips neutral so that you can pop up your eyes.
Play with Bold Eyeliner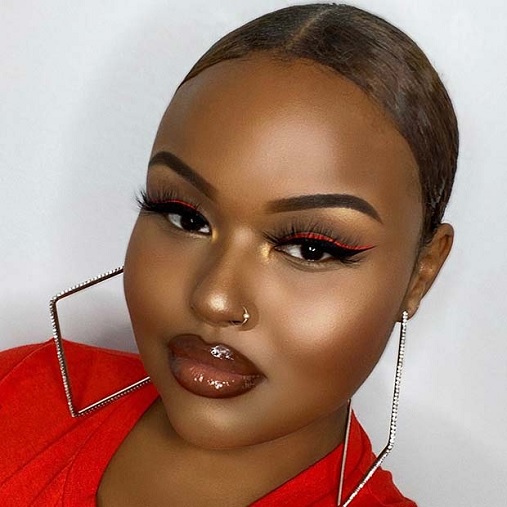 If you are dreaming of a full glam makeup look with bold eyeliner, then this is for you. For this style, apply black eyeliner from NYX PROFESSIONAL MAKEUP Mechanical Eyeliner Pencil and add it with a red liner from DNM Liquid Eyeliner Pen over it. Although this is a simple idea, the result is outstanding. Use blush and highlighter on your cheek to create a feature of your face. And lastly, you can finish it with brown lipstick and lip gloss.
Glam Makeup Look with Pink Eyeshadow
The next full glam makeup look black girl is by using a pink tone on face. The glam pink will look fun, vibrant, and fabulous. All you have to do is mixing and blending purple and pink tone eyeshadow from DE'LANCI Pink Eyeshadow Palette together, and pairing it with long eyelashes. This makeup style is suitable for summer, spring, and even for special occasions such as weddings.
Show the Feature of Your Face
If a richer and darker lip color is your favorite shade, then this look is for you. You need to show off the features of your face using certain shades. For the eyes, choose silver shimmery eyeshadow from L'Oreal Paris Infallible 24HR Shadow and pick a stunning dark red lipstick from Maybelline Color Sensational Lipstick. This look is perfect for any season, either it's winter or fall.
How do Black Girls do Soft Glam Makeup?
Black girls can do soft glam makeup by creating glamorous look that still comes natural and glowing. Follow the steps below.
Base
Avoid full coverage foundation and pick lightweight skin tint instead to enhance the skin. This way can cover any redness or blemish on your skin and leave you with a healthy and natural looking skin. To get a better result, wet your sponge and use it to apply the foundation.
Contouring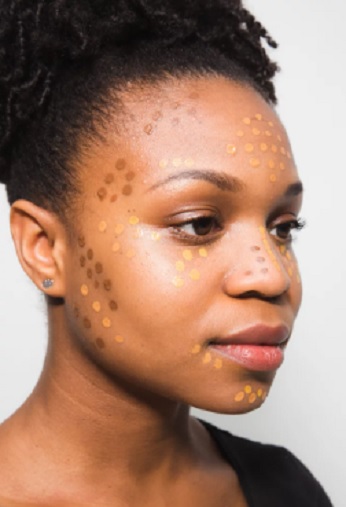 Make a subtle contour on your face by using a light cream to shape features without making your face look heavy. It can also define your bone structure and bring out the warmth of your skin tone with subtle glow. If you are a beginner in contouring world, then it's better to use a stick product and swipe it underneath cheekbones, nose, forehead, or depending on the feature that you are going to shape by using a brush. For additional touch, blush on the apple of cheek by using powder blush to enhance the soft look on your face. For a glowing effect, add a shimmer on it.
Eye Makeup
The next step to achieve the soft glam makeup look black girl would love is by focusing on your eyes. For this one, you will need to create fluffy and defined brows by using a brow pencil to create natural hair strokes and make it fluffy and full. You also need diffused eye makeup for a soft glam look by using liquid eyeliner and eyeshadow. Choose neutral shade like brown over the lid and add a shimmer to pop your eyes. This touch offers you a subtle yet glam look. End it by using fluttery and soft lashes. You can apply mascara to curl and lengthen the lashes, too.
Lips
Choose nude shade lipsticks with matte finish for soft glam makeup look black girls. However, if you want a simple look, you also can apply only light gloss to get a fuller look and plump lips.
What is the Difference Between Full Glam and Soft Glam?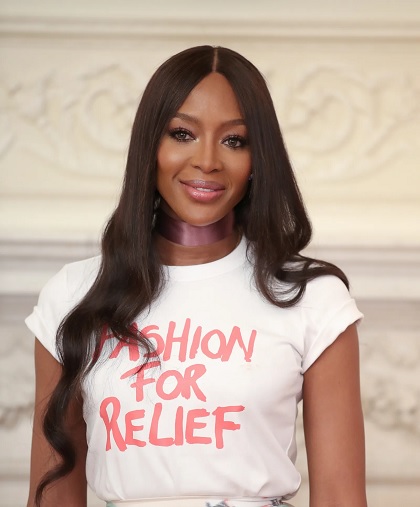 The difference between full glam and soft glam can be seen by the final result. Full glam makeup consists of blinding highlighter, applying a lot of glitter, multicolor eyeshadow, graphic eyeliner, and carved-out brows. Meanwhile, soft glam makeup consists of neutral and natural lip, diffused eyeshadow, brushed-through brows, and glowing skin. The soft glam has a softer and lighter look compared to full glam.
How do Black Girls Cover Black Eyes?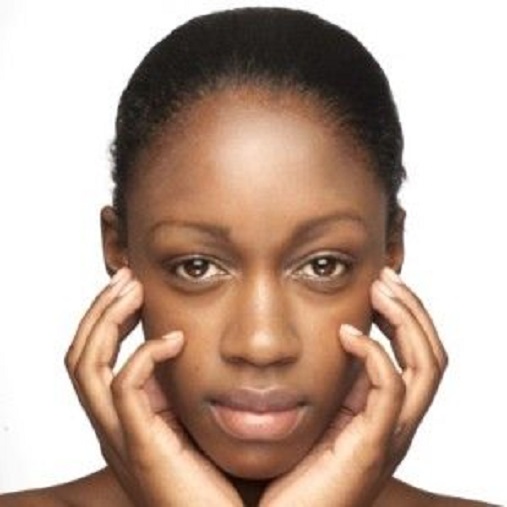 Black girls can cover black eyes by applying concealer. Use green concealer to reduce the purple and red tone on your face. Apply it over the black eyes by making a triangle under your eyes while pointing toward the cheek. Blend it evenly within the triangle. Next, apply a concealer that matches your skin tone as the first coat. Create an upside down triangle under your eyes and blend it evenly to the skin and make sure you cover all the green concealer you applied before. To make the skin tone looks smooth, apply concealer to cover black eyes so that you will not find any bruises there.
How do Black Girls Use Liquid Highlighter?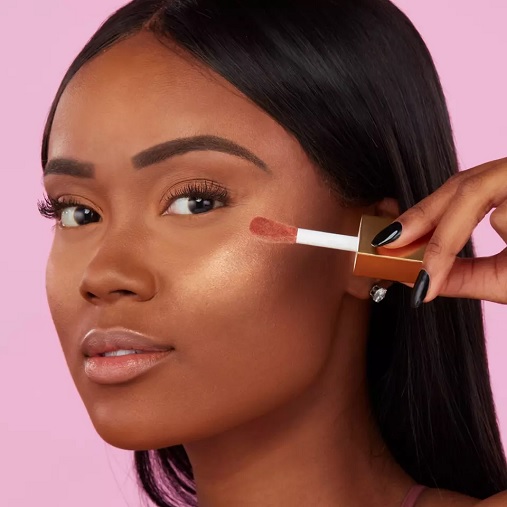 Black girls can use liquid highlighter by applying 3 drops of liquid highlighter to the top of cheekbones. Tap it with a small highlighter brush and blend it quickly. To avoid too much intense effect, drop a few liquid highlighters onto the back of your hand and apply to other high points on your face you want to highlight. Then, sweep the brush over the brow and finish it by applying to the tip and top of the nose.