A combination of blue eyes and a warm skin tone really does make you stand out, especially when you successfully match your hair color with them. Having blue eyes and lighter skin is an advantage since it makes you look charming by nature. Now multiply it with a matching hair color that'll make you even more gorgeous. However, which hair dye can blend perfectly with your blue irises and amplify the beauty of your skin tone?
Picking the suitable hair color will not only make your appearance look fantastic, but it can also bring out your eyes and skin complexion. And so, in this article, I shall tell you all I know about the best hair color for blue eyes and warm skin tone, as well as the best product recommendation for you.
What Hair Color is Best for Blue Eyes and Warm Skin Tone?
Some hair colors that are best for blue eyes and warm skin tones include honey blonde, golden blonde, warm brown, ginger, chocolate brown, chestnut, and also burgundy. Those colors can help you to emphasize and enhance your blue eyes. These shades will add charisma and elegance to your overall appearance. In addition, those colors can make you look prettier as well.
Best Color Hair for Blue Eyes and Warm Skin Tone
Choosing the best hair color that matches blue eyes and a warm skin tone needs to consider the shade. This is important because your blue eyes already stand out, and you only need to match them with your skin tone.
Brown Shades Hair Color
Talking about matching hair color for blue eyes and warm skin tone, warm brown, chestnut brown, and light chocolate brown are the best shades for you to consider. These colors are not only suitable for a warm skin tone, but they can also be perfect if you want to play safe with your appearance. I suggest that you avoid ashy shades since these colors are more suitable for a cool skin tone.
Blonde Shades Color Hair
If you are wondering which hair color is the most fitting for blue eyes, then blonde is definitely the answer. In fact, when you have blue eyes and a warm skin tone, picking golden blonde, sandy blonde, and the honey blonde are more suggested. Those colors will not only complement your blue eyes, but they can also make your skin tone look more gorgeous. You will be happier with your look since choosing those shades can make you look stunning.
Ginger Color Hair
Warm skin tone and ginger hair color are like a soulmate. This combination will not only match your blue eyes, but it can also highlight the gold color on your skin to make your complexion more glowing. Furthermore, ginger color hair can create contrast in your blue eyes so they can complement one another. 
Burgundy
If you like to add more pop to your blue eyes, you can try burgundy color hair. This color can be a perfect choice because purple and red undertones can draw warmth to your skin tone. Whether you have dark or fair skin complexion, burgundy, and blue eyes can definitely highlight your beauty. 
What Color of Hair Makes Blue Eyes Pop?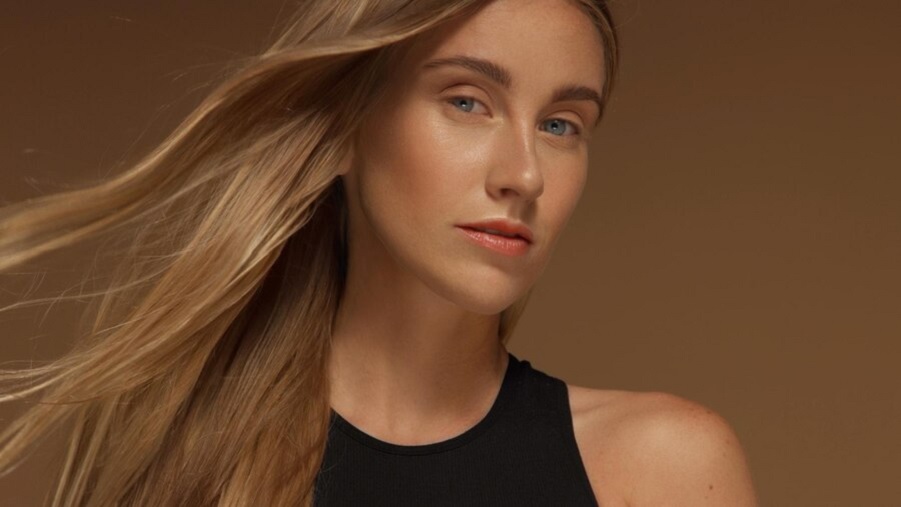 Hair color that will make blue eyes pop are coppery reds, warm blondes, and brunette hues. Those hair colors offer you perfect contrast to make your blue eyes pop. In addition, those colors also make your blue eyes look more flashy. So, if you plan to make your appearance stands out, pick one of those hair colors.
Is blue hair good for a warm skin tone?
No, blue hair is not good for a warm skin tone. This color is more suitable for those who have a cool skin tone. the blue color itself is well-known as a bold color. However, if you like to do any experiment, you can try blue until you get the perfect shades in order to achieve a high-impact look. 
Does gray hair make blue eyes pop?
No, gray hair doesn't make your blue eyes pop. Blue eyes can pop more when you choose the color that will make them more flashy. Colors like coppery reds, warm blondes, and rich brunette hue are the perfect ones. Those colors will create obvious contrast and will make your blue eyes pop.
What hair color is best for warm undertones?
The best hair colors for warm undertones are warm brown, golden blonde, ginger, honey blonde, and burgundy. Those colors will help you bring warmth to your skin, mimicking the sun-kissed glow, and cover the tired complexion. If you have blue eyes with warm-toned skin, you can choose shades like chestnut, chocolate brown, and sandy blonde. Just stay away from ash blonde.
What hair color looks good on warm skin tones?
Hair colors that look good on warm skin tones are warm browns, golden blonde, ginger, and burgundy because they can bring out the warmth on your skin. However, all brown shades are suitable for warm-tone skin unless ashy shade. If you want to get a contrasting look on your warm skin tone, you can choose red hair.
What is a warm skin tone?
Warm skin tone is a condition when the veins on your arm are green in the sunlight while your palm is facing up to the sun. Warm-tone skin also can be determined when you hold a white paper against your face with good lighting and a mirror. If your skin looks yellow against white, it means you have a warm skin tone.
The Best Hair Dyes to Match Blue Eyes and Warm Skin Tone!
Now that you are already familiar with the best hair color combination that will match your skin tone and blue irises, it's time to pick the dye! I highly recommend the following hair dyes because they'll give your hair a long-lasting color and full-color coverage in intense pigmentation! Not just that, these dyes can nourish and prevent breakage as well. 
1. Garnier Nutrisse Nourishing Color Creme
When it comes to hair-enhancing products, you can always use the Garnier brand! This company has been around for a long time, doing a lot of research to help you get those silky smooth hair. Garnier also has an excellent hair dye that would last for a long time and provide beautiful coloration. Every strand of your hair will be coated evenly, thanks to Garnier's full-color boost formula.
The Nutrisse from Garnier is a type of color creme that comes in light blond and various shades of light browns, ideal to complement your warm skin tone and sky blue eyes. Moreover, the creme contains nourishing grape seed oil that will make your hairstyle healthy and in style! It won't make your hair fall out nor make your scalp dry, unlike some no-name brands.
Although, please keep in mind this dye may smell unpleasant when you first apply it. But I don't think it's a big deal because once the dye sets, you can make your hair smell nice again.
2. Herbatint Permanent Haircolor Gel
Getting an itchy scalp is one of the most common side effects when you decide to color your hair. This is because the skin on your head may be allergic to the chemical components included in the dye. So, if you have a sensitive scalp, I recommend Herbatint Permanent Hair Gel! Dermatologists have tested the coloring formula, so you can rest easy when using this brand.
Herbatint uses herbal ingredients that do not include allergens like paraben, ammonia, alcohol, gluten, and GMOs. This way, the dye gel won't irritate your sensitive scalp, and you can color your hair confidently. Incorporating meadowfoam, birch extract, and aloe vera, this hair coloring will also moisturize your hair!
Available in chestnutty brown and rich blondes, you can make your hair look rich and lush, making your hair pop and complementing your warm complexion. Unlike Garnier, Herbatint is odorless, which is excellent, but the application process may be a tad messier. Use the included conditioner pouch and gloves to make things less messy!
3. REVLON Colorsilk Beautiful Color
Now, if you want more color options for your hair, you can choose Revlon's Color Silk as the best alternative. I believe there are 41 shades available, so you have more shades to experiment with. Find one that will blend with your warm skin complexion and make your eyes bluer!
Revlon uses 3D gel technology that will make the color of your hair pop more with its multidimensional shading. Enriched with keratin and amino acid, the gel will also make your hair stronger! This product is also odorless, thanks to its ammonia-free formula. Revlon is also relatively cheaper yet delivers a lot of value, especially when it comes to how long-lasting it is and how rich the coloration is.
I believe this dye is also ideal for older people as well because of its excellent gray hair coverage! But please be mindful that this product may turn your hair a bit brassy.
It can be a bit tricky to find the ideal hair color when you have blue eyes and warm skin tones. Blue is a cool color, so the opposite trait makes things a tad more challenging. But not impossible.
I believe that colors like brown, shades of blond, burgundy, and ginger are ideal for your hair. These colors will not overpower your blue irises whilst balancing your warm complexion. Using these colors for your hair will provide you with a natural like that will make the blue eyes pop more, creating an enchanting vibe.
In any case, do not stop experimenting with your hair color to find the one that strikes your fancy. And finally, do not forget to try out the products that I've recommended when you've decided on the color for your hair!