Although mascara is the last touch to your makeup, it can be such a game-changer to your look and it works as a fine addition that never goes wrong. Whether you are getting somewhere casual that needs a natural look, candle-light fanciness, or literally just running late, the right mascara will highlight both your lashes and your day perfectly. For blue eye owners, we may have every way here for you to bedazzle your eyes even more with color mascara. Enhance that natural beauty of yours, be different, and own it! To be able to do that, you need to know what color mascara for blue eyes that will come perfect for you.
We know black mascaras and wear them daily, but we should not forget about color mascaras, too. Not just to give away the fun to your whole look, they are also famous to make the color of your eyes pop, not to mention that they can be complementary to your eye makeup and outfit as well. You can always go for the simple, but why not for a bit of a challenge?
What Color Mascara is Best for Blue Eyes?
Blue eyes already have the advantage of stealing people's attention, so trying color mascara can be a little confusing. You don't want to appear too flashy or too muted with pink mascara or brown mascara, but black mascaras are just out of option. Don't worry, we got you covered by choosing the best color mascaras for your blue eyes.
Before choosing the mascara, it's important to understand the benefit of priming your lashes. No matter the color you choose for your eyes, skipping out on preparing your lashes can decrease the color intensity of your mascara. Priming your eyelashes can make the lashes more long-wearing, appear more vibrant, and can also make your individual lashes appear longer. Choose a lash primer that has white color in it, as using a white base on your lashes will help make the color mascara appear more vivid without layering too much product, avoiding clumps and saving more product for the next occasion. You can also use white primer to adjust the intensity of the color mascara.
Are there any rules for wearing color mascara for blue eyes? The answer is definitely not. Although some people use what we call a Color Theory to help decide what color to bring out the best from another color, every color mascara that you apply on your blue eyes will have different effects on your look.
This theory is basically what changes the way we see a color reacts to other colors when paired or mixed. Using this color wheel, finding the colors that will compliment your eyes is easy. According to the wheel, blue is a contrast to orange tones, so the colors that have orange or brown tones to it will be the best match for your blue eyes. However, don't be scared to experiment as different colors will bring out different auras from your blue eyes. Still hesitant? Sit down and please enjoy the ride of color mascara inspirations for your blue eyes.
Color Mascara Inspo for Your Blue Eyes
If you are wondering where to begin with your color mascara and unsure about what to get for your blue eyes, don't be confused — check the inspo below to see which one would suit you best. Whether it's for a beginner, humble, natural, or funky and artistic look, we have it all for you.
If you prefer a clean and simple looking eye makeup, the ultimate pair blue mascara on blue eyes always goes hard as this combination enhances and brings out the blueness even more from your eyes. No need to put other eye makeup products and you're already camera ready. Here are the best blue mascaras to help you achieve this look as easy as 1, 2, 3.
Looking for that perfect blue mascara to go with your blue eyes? Golden Rose Perfect Lashes Blue Mascara offers an intense electric blue color that brings out the blueness in your eyes. With non-sticky formula and easy to remove, this mascara helps you achieve the simple, yet still a stunner look. You can use this with or without the lash primer. Some reviews say that this one is especially made for blue eyes. However, if you are looking for a waterproof formula that will last you all day long, this one might not be the best match.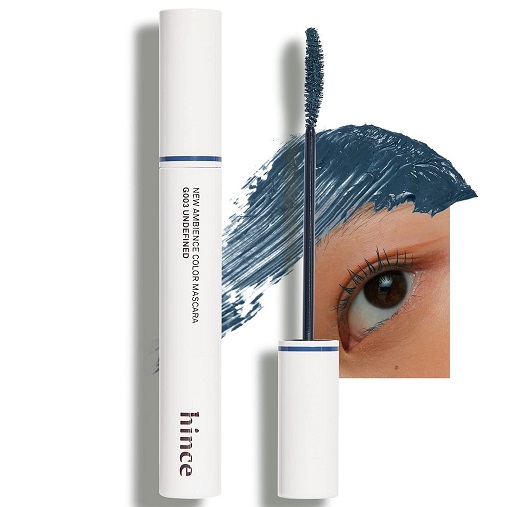 If you are searching for a not-so striking blue mascara as a companion for your blue eyes, Hince has a dark blue shade color mascara that even though the blue is not as intense, the mascara will still give you that fun and enhance the natural blueness of your eyes, making this perfect for more formal attire. With waterproof formula, Hince New Ambience Color Mascara lasts you all day.
What's more to love from this product is the applicator that evens out your lashes and separates each one of them. If you have sensitive eyes, this one is something that is perfect for you. Not only in blue, Hince has quite a range of color mascara for you to try and spice things up, such as deep green and orange. Due to its waterproof formula, it can be difficult to remove without an oil-based cleanser so be prepared!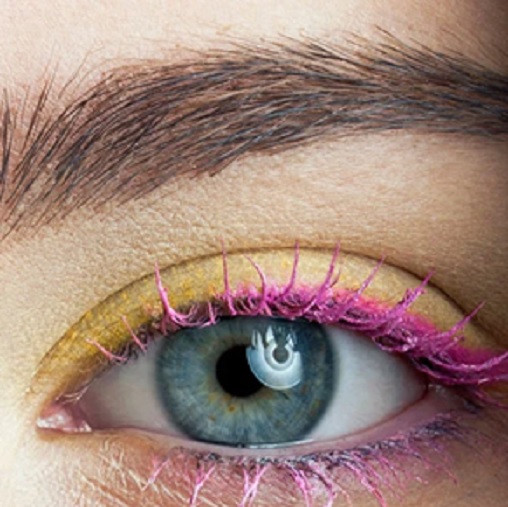 Meanwhile, if you are leaning for a bolder look but still looking sweet, the best choice should lie within pink mascaras. Pink always comes off better paired with blue, and the same goes for your eyes. This color combo gives off a pretty and lovely look that will fit nicely with your outfit or just for your fashion statement. To get this divine beauty for your blue eyes, here are the pink mascaras to pair.
With its pink shade, NYX Professional Color Mascara in Pink Petals will bring out the blueness in your little peepers. Although it does take a bit to dry on the lashes and not have the waterproof formula, the light pink color is very hard to be missed. This mascara does come with a pricey tag, however, the pink shade is a great addition to your makeup bag and your vanity. Add a little bit of yellow or dark pink eyeshadow and the stage is yours.
This is a hot pink mascara that has the all-day staying power, accompanying you without budging through the sweat. This mascara is highly pigmented, adds length, and volumizes your lashes. With or without the presence of eyeshadow, the pink will already steal the attention of people around you.
Having tried vibrant and intense mascaras, now is the time to try out pastel mascara for your blue eyes. Pastel colors make your blue eyes stand out due to their soft and muted characteristics. Add the matching color of your choice to your eyelids.
Baby blues and blue eyes sound like a match made in heaven. This head-turner baby blue color mascara is hypoallergenic and ophthalmologist tested, so no need to worry for sensitive peepers. As this one is not waterproof, cleansing with water is enough with no makeup remover needed. $14.95 for such a unique blue shade, this one is a must have.
If you're looking for another color, this light lavender colored mascara with fiber brush and vegan formula will help your blues appear more divine than ever. Not only featured with the stunning pastel color choice, this mascara can do so much more with volumizing power with no clumps. Since it's pastel, you will need lash primer to help bring out the color payoff of the mascara.
Remember the color wheel? Combining yellow and white mascaras on your blue eyes will create a dramatic look as the yellow and white work together to accentuate the color of your irises. This look is perfect for a summer party or just for lying around on the sand at the beach. Don't be scared to add some splash of color!
This yellow mascara will remind you of the warmth of sunshine. Although it's not waterproof, tong-lasting formula stays on during your party all day and night. Also, being free from paraben, alcohol, and silicones, sensitive eyes can rest worry-free. Apply this color to your upper lashes to create that sunshine look on your blue eyes.
To create the absolute sunshine look on your blue eyes, you will need Maydear Cosmetics Professional Mascara in white. Despite not being waterproof, this mascara lasts long and stays on your lashes. With the vibrant color and intense pigmentation, this white mascara really pops under the sunlight.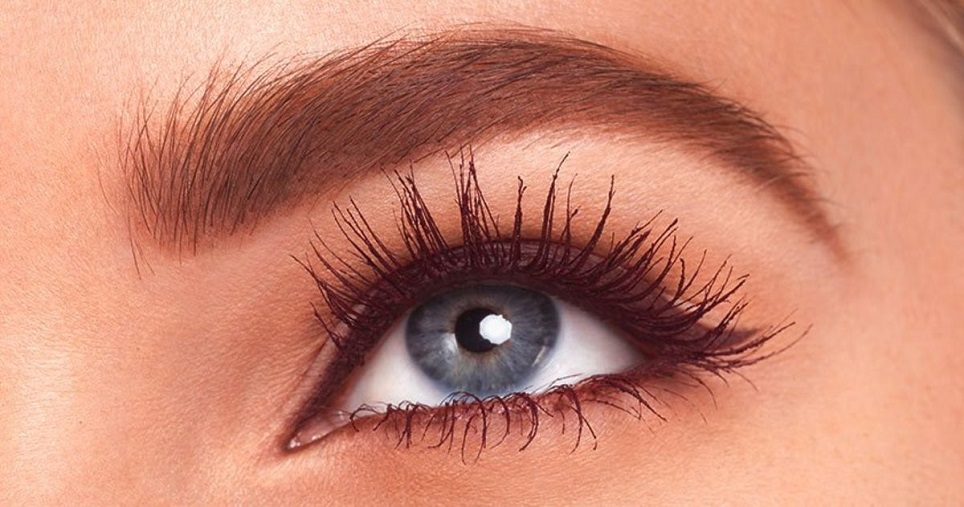 After all those fun colors, we will always come back to the simple and elegant brown mascara. Add brown winged eyeliner on your lids and done! This look is a classic that never fails to heighten the sharp gaze of your blue eyes. Here are brown mascaras that will help you perfect this humble look.
Made with technology brush, this mascara features a lash-lifting feature to give an instant lengthening and long lasting volume. It is formulated with two types of wax, which are carnauba wax and microcrystalline wax, which helps texture to the formula for volume and length. This Charlotte Tilbury mascara also helps condition your lashes, so they separate nicely and create thicker look for every individual lashes. However, since the brand is on high-end side, a tube is priced around $29. Even so, the pigmentation and the lightweight feel on your eyes do not disappoint.
With the deep brown color, Blinc Amplified Tubing Mascara serves the purpose of getting that elegant and humble look on your blue eyes. Although it is not waterproof, this mascara is water-resistant and sweat-proof, perfect to go as your companion during the whole day and warm water is used to wash away the mascara. It's also buildable and you can apply again after it dries up. However, it flakes up after a while and is a little bit pricey as it's a high-end brand.
Want to go to a party and become the ultimate stunner in the crowd? You can try combining 3 to 4 colors at once, from blue, pink, purple and black, creating the picturesque color gradation. Your blue eyes are ready to steal the attention, why not buckle up and get prepared for some extra love? As we have covered the other colors, get ready for violet and the perfect black mascara.
As we have covered other colors, you may need to check this one out, a deep violet colored mascara, the dainty addition to your makeup look. Violet is one of the colors that has the ability to intensify blue eyes. This one also does not need eyelash curler as the lifting power is on point and thickens your lashes. This mascara also stays and lasts long on your lashes. The downside is that since it's a deep violet, you may need lash primer to help the color come out.
The black mascara that you use for a typical day can also be used as an addition to a fun color combo. Meet Lancome, with their no-flaking and smudge-proof formula, this mascara can stay beautifully for a long day. It also helps lengthens your lashes dramatically. Although it is sold for $27 per tube, with their 4.5 stars, you should not miss out on this product. Moreover, who doesn't love a classic black mascara to amplify your day?
Should blue eyes wear black or brown mascara?
Depends on the attire and event you're attending, your blue eyes should wear black or brown mascara. However, there is nothing wrong with trying a new look to go with your formal look. Try Hince New Ambience Color Mascara in Undefined will help intensify your blue eyes, without looking too funky.
Does brown mascara make blue eyes pop?
Brown mascara does make your blue eyes pop as brown is on a softer side, so it helps enhance the blue eyes. Charlotte Tilbury Pillow Talk Push Up Lashes Volumizing & Lengthening Mascara has the best dark brown shade, makes your blue eyes appear flashier but not stand out too much. Flawless for your chill kind of day.
Will blue mascara make blue eyes pop?
Yes, blue mascara will help make blue eyes pop no problem as it helps accentuate the blue of the irises. Imagine wearing a blue hat and blue shirt with white pants – your outfit begins to highlight the blue. The same goes for your eyes!
What does blue mascara do for blue eyes?
Blue mascara will highlight the whites of the eyes, making the blue irises look even bluer and alive. Your lashes basically compliment your blue eyes, making your eyes even harder to miss. Whether it's dark blue mascara or light blue mascara, your blue eyes will still thank them!
Should you always wear black mascara?
You shouldn't always wear black mascara. It all depends on the makeup look that you are trying to achieve, as well as the kind of event you are going to. Black mascara gets you a natural look, but trying color mascaras can be life-changing. Just ensure to make the color appropriate for the event and you're set to go.