The rare combination of brown hair and blue eyes is something that is envied by a lot of women. The contrast between dark hair and bright eyes makes whoever has them look captivating and more attractive to others. Yet, you can do more by putting on eye makeup, like eyeliner! If you need help picking the right makeup, I shall provide you with an extensive guide. This way, you'll know which color eyeliner best suits your gorgeous blue eyes and brown hair!
While it is true that makeup can make people look more attractive, picking the wrong shade will give the opposite effect. That is why it is important to know which products to use to enhance your face. Here, I will give some tips on choosing the right eyeliner for brown hair and blue eyes beauties. I also have several eyeliner recommendations that will suit you!
What Color Eyeliner Is Best For Blue Eyes Brown Hair?
Some eyeliner colors are great for blue-eyed brunettes. You can choose either dark or bright-colored eyeliner to make those stunning eyes look brighter.
For dark eyeliners, go for black and dark brown. These eyeliners are great for making the eyes look bigger and making the blue irises stand out. If you want to go with colored eyeliner, warm red, silver, blue, or orange will make a beautiful contrast to the eye color. Silver eyeliner, for example, will make blue eyes look more icy, and dark/navy blue will make the eyes look brighter.
Eyeliner Colors Suitable For Blue Eyed Brunettes
If you are wondering what color eyeliner is ideal for blue eyes and brown hair, you can follow the following guide! The great thing about having brown hair is it can handle most eyeliner colors. Now, if you have blue eyes, there are some eyeliner colors that will pop them even more. You can choose from dark to colored eyeliners according to your mood.
Dark Eyeliner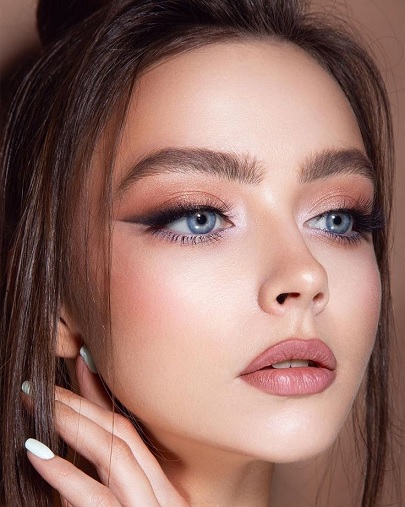 Dark eyeliner is perfect to use when you want to look dramatic without being too much. From a simple winged liner to dramatic cat eyes, dark eyeliner will make your blue eyes look bigger while adding drama. The perfect eyeliner colors to choose for blue eyes are black, dark brown, and gray.
Use black eyeliner when you want to make bold eye makeup. Meanwhile, dark brown and gray eyeliner is going to give the eye shape a beautiful definition with a softer look. Line the upper and lower lash line using these dark eyeliner colors. For the lower lash line, though, only apply a little product using pencil eyeliner. These eyeliner colors will make those baby blue eyes look stunning.
Colored Eyeliner
There are some colored eyeliners that suit blue eyes. To make blue eyes look even bluer, blue eyeliner is going to do the job perfectly. While some might think that lining blue eyes with blue eyeliner is just wrong, the truth is it can look really good and flattering for the eyes. Just remember to pick a blue shade that is darker than your eyes.
Another great color that goes well with blue eyes is red eyeliner which is tinted with a brownish color, and silver eyeliner. In my opinion, these colors will make blue eyes look even more piercing, icy, and intense. Furthermore, warm colors such as gold, orange, and yellow eyeliner will make cool blue eyes appear brighter.
Makeup Tips For Blue-Eyed Brunettes
Those who are born with brown hair have it easy since many makeup palettes and lipsticks can go well with their hair color. For blue eyes, some eyeshadow color will enhance their eyes and make them more flattering. Check out the makeup tips below to make your brown hair and blue eyes look even more gorgeous.
Eyeshadow colors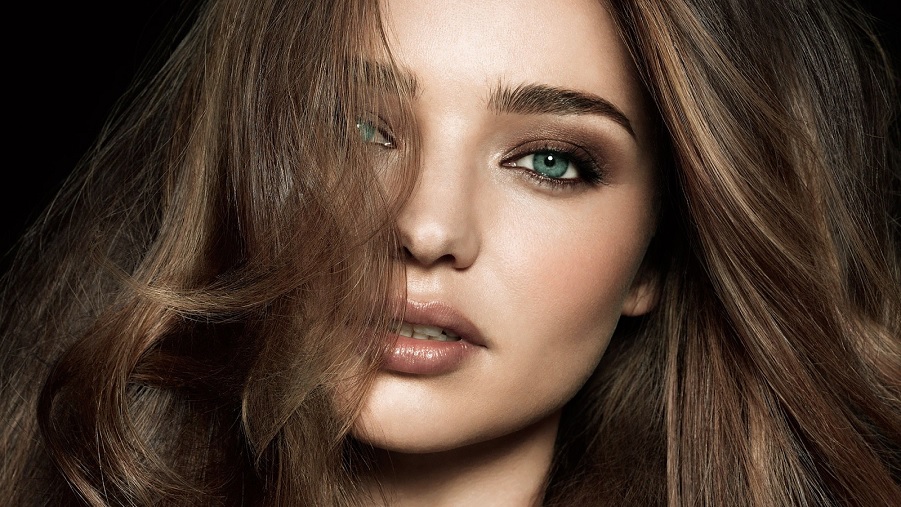 The right eyeshadow color will make your blue eyes pop and be more stunning. When picking them, it is important to match the eyeshadow with the skin tone. For tanned skin, gold, champagne, and rose gold eyeshadows will make the eyes really stand out. Meanwhile, for lighter skin, shades like copper, coral, and bronze eyeshadows will do the trick perfectly.
Other eyeshadow colors that will complement blue eyes are blue, turquoise, gray, silver, peach, and warm orange shades. You can choose matte, shimmer, or metallic type of eyeshadow. I also recommend that you add a few layers of black mascara or fake lashes for the finishing touch to make the eyes look bigger.
Lipstick
There is nothing more stunning than a blue-eyed brunette wearing bold red lipstick. Red lipstick will make them look gorgeous while being classy. Although, yes, almost every lipstick color complements brown hair, a pop of red lipstick will bring attention to those blue eyes.
For a fun and flirty lipstick color, you can never go wrong with electric pink lipstick. Meanwhile, for an everyday look, I love the idea of using pinkish nude lipstick since blue-eyed people look great in pink tones. Matte, satin, or glossy, these lipstick colors will brighten your blue eyes even more and compliment your brown hair.
Blush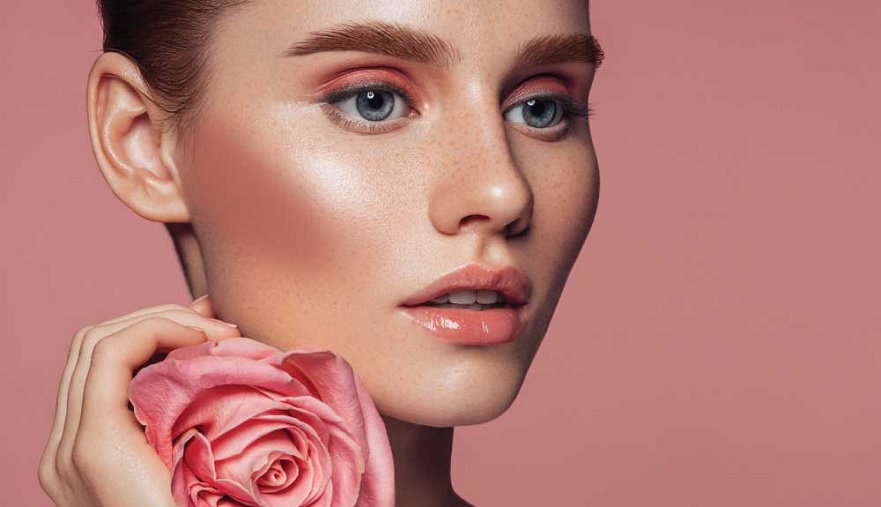 Generally, brown hair looks great with a rose, mauve, and hot pink blush. The darker the hair, the brighter the blush that they can handle. Since dark hair can make your complexion look pale, these rosy colors blush will add warmth to your face and make it appear more youthful.
Furthermore, it is important for brown-haired people to steer clear of orange blush if they don't have a clear and smooth complexion. This is because orange blush emphasizes the face's discoloration and makes the redness stand out.
Eyebrows
Eyebrows should not be the same color as your hair. When picking eyebrow products, choose one or two shades lighter or darker than your natural hair. Usually, makeup artists will use a lighter eyebrow color to make their clients look younger and more natural. Meanwhile, to create a bold, dramatic, and intense look, they will make the eyebrows look darker than the natural hair.
You can choose eyebrow products for brown-haired beauties according to your occasion or mood. For daily activities, I suggest that you use an eyebrow pencil that is lighter than your natural hair to freshen and frame your face. Try to purchase eyebrow products labeled light brown, natural brown, soft brown, or taupe in the stores.
But, if you want to create strong eyebrows to even out dramatic makeup, try to find eyebrow products labeled dark brown, ash brown, or ebony. Also, avoid black eyebrow products since they are too harsh for the face and will create a huge difference from your natural brown hair. 
Colored Eyeliners for Women with Brown Hair & Blue Eyes!
Now that you've chosen the best color combination that'll go with your hair and eyes, it's time to select the eyeliner brands! There are hundreds of products that will offer you a lovely result, but I believe these three are the most suitable for you.
#1 Maybelline Eyestudio Eyeliner
As one of the leading eye makeup producers, you can always count on Maybelline New York to deliver quality. The Eyestudio from Maybelline will deliver precise eyeliner that will last all day and won't smudge as easily, thanks to its waterproof formula. 
When it comes to pigmentation, this eyeliner is available in excellent forest brown and black, ideal for those who wish to make their blue eyes stand out. I personally like this eyeliner because of its affordable price and its availability.
However, please note that due to its liquid formula, you have to make sure that you store it properly. Some negative reviewers say that if you leave the cap off, which easily falls out, the eyeliner tip would dry quickly. Regardless of its shortcoming, for your money, I think the Maybelline product is still worth exploring!
#2 NYX PROFESSIONAL MAKEUP Epic Wear Eyeliner Stick
While brown and black are staple colors when you have blue eyes, some might want to explore other brighter shades. And for that, I recommend the NYX Professional Epic Ware eyeliner. Available in tons of colorful hues, you can try blue, gold, silver, and other warm or cool blue shades. There are even glittery, metallic ones if you want to glam up yourself, making your blue irises sparkle and contrasting with your brown hair.
Because of its color selection, you can create those smokey eyes look or the classic winged eye, depending on your mood. You can even do that graphic artsy liner for that unique style, especially when you feel playful. Combine it with the makeup tips that I've explained above for the best result.
I like NYX because this brand knows how to deliver the best pigmentation. Its thick formula will last all day, and its striking coloration, no matter which shades, will catch everyone's attention. However, I feel that sometimes NYX can bleed a little, especially when your skin around your eyes is oily. NYX is a tad pricier too. Keep these weaknesses in mind! 
#3 Stila Stay All Day Waterproof Liquid Eye Liner
Now, if you are a fan of that cat eye eyeliner style, I recommend that you choose Stila! This eyeliner pen comes with an excellent tip that will allow you to draw that kind of style precisely, and it is easy to use for beginners and pros alike. In my opinion, Stila offers the best brown pigmentation to enable you to get that bold and dramatic effect. It'll really suit your brown hair and blue eyes!
Stila is also waterproof, which means that sweat won't make the eyeliner get smudgy. You can count on staying stylish all day with this product, as no eyeliner will drip into your eyes. As I've mentioned, Stila's pen tip can handle precise thin line very well. If you need to make a bold wider line, you can just draw in an angle, making this eyeliner pen very versatile.
Yet, I'd like to warn you that Stila may not be ideal for those who have sensitive skin. It may slightly irritate you, giving a tingly sensation around your eyes. So, please check the ingredient before you apply it on your skin to see whether you are allergic or not.
Frequently Asked Questions
What lipstick goes well with brown hair?
Red lipstick goes well with brown hair. For brown hair, red lipstick will be very flattering. Red lipstick will make them look classy and sexy without being tacky. They can choose either a warm or cool red lipstick, according to their skin tone. 
Since brown hair can make the complexion look pale, rose color products will complement them by bringing warmth to the face. For those who are not a red lipstick kind of girl, nude pink lipstick is another shade that will look good on them.
How do you rock brown hair?
You can rock your brown hair by doing a simple hair-do such as a high ponytail, simple bun, or braids. Also, you can let them hang loose after styling them with a curling iron to give your beautiful brown hair more volume, which will make them look more attractive. 
But, what will make your look complete is when you finish your hair styling with perfect makeup. A simple makeup look, for example, will make you look more glamorous when paired with a high ponytail hair-do.
Should blue eyes wear brown eyeliner?
Yes, blue eyes should definitely wear brown eyeliner, especially when you want to make your eyes look bigger without being too harsh. Brown eyeliner will give a soft and natural effect to the eyes while making them look bigger. Also, warm brown eyeliner is such a contrast to icy blue eyes, and that will make them pop even more.
I've highlighted the top three eyeliners that will be able to deliver those effects: Maybelline, NYX, and Stila. For an alternative, Lancôme DRAMA LIQUI-PENCIL in the shade 02 – French Chocolate is going to help you create this look while doing its job perfectly. These brands are the answers if you ever wonder what color eyeliner is ideal for those who have blue eyes and brown hair suits.
Having a pair of blue eyes and brown hair is such a blessing. These features will make anyone who has it look naturally striking. Yet, you can always elevate your look to the next level with eyeliner. I believe that color eyeliners that feature shades of brown, red, black, or blue are ideal to make your eyes appear bluer. Be it warm or cool tone; your brown hair will match naturally with anything.
Do not be afraid of experimenting with colored eyeliners. If you feel playful, try the glittery ones or the ones with a metallic finish. And do not forget to try out the eyeliner products that I've recommended. Now that you know which color eyeliner is the best for someone who has blue eyes and brown hair, you should not hesitate to try them all!