Brown hair and blue eyes are a rare and unique combination that are envied by a lot of women. The contrast between dark hair and bright eyes make them look captivating and more attractive to others. If you need help to pick the right makeup, we will be the eyeliner and makeup guide for the blue-eyed brunettes. You will not have to worry about things like what color eyeliner for blue eyes brown hair, blushes or lipstick colors that will suit your unique and gorgeous features.
While it is true that makeup can make people look more attractive, picking the wrong shade of makeup color will give the opposite effect. That is why it is important to know which products to use to enhance the face. Here, we will give some tips on choosing the right eyeliner for brown hair and blue eyes beauties. We also have 5 eyeliners recommendations for them.
What Color Eyeliner Is Best For Blue Eyes Brown Hair?
Some eyeliner colors are great for blue-eyed brunettes. You can choose either dark or bright colored eyeliner to make those stunning eyes look brighter. For dark eyeliners, go for black and dark brown. These eyeliners are great to make the eyes look bigger and make the blue irises stand out. If you want to go with colored eyeliner, warm red, silver, blue, or orange are going to make a beautiful contrast to the eye color. Silver eyeliner, for example, is going to make blue eyes look more icy and dark/navy blue will make the eyes look brighter.
Eyeliner Colors Suitable For Blue Eyed Brunettes
If you are wondering what color eyeliner for blue eyes brown hair to make you look more stunning, we can help to guide you. Great thing about having brown hair is they can handle most eyeliner colors. Now, if you have blue eyes, there are some eyeliner colors that will pop them even more. You can choose from dark to colored eyeliners according to your mood.
Dark Eyeliner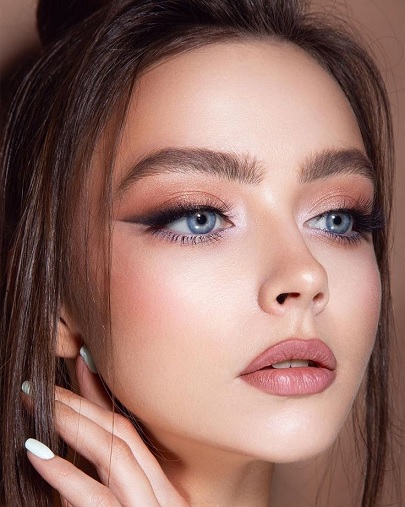 Dark eyeliner is perfect to use when you want to look dramatic without being too much. From a simple winged liner to dramatic cat eyes, dark eyeliner will make your blue eyes look bigger while adding drama. The perfect eyeliner colors to choose for blue eyes are black, dark brown, and gray.
Use black eyeliner when you want to make bold eye makeup. Meanwhile, dark brown and gray eyeliner is going to give the eye shape a beautiful definition with a softer look. Line the upper and lower lash line using these dark eyeliner colors. For the lower lash line, though, only apply a little product using pencil eyeliner. These eyeliner colors will make those baby blue eyes look stunning.
Colored Eyeliner
There are some colored eyeliners that suit blue eyes. To make blue eyes look even bluer, blue eyeliner is going to do the job perfectly. While some might think that lining blue eyes with blue eyeliner is just wrong, the truth is it can look really good and flattering for the eyes. Just remember to pick a blue shade that is darker than your eyes.
Another great color that goes well with blue eyes are red eyeliner that is tinted with a brownish color and silver eyeliner. These colors will make blue eyes look even more piercing, icy, and intense Furthermore, warm colors such as gold, orange, and yellow eyeliner will make cool blue eyes appear brighter.
Makeup Tips For Blue Eyed Brunettes
Those who are born with brown hair have it easy since many makeup palettes and lipsticks can go well with their hair color. For blue eyes, some eyeshadow color will enhance their eyes and make them more flattering. Check out the makeup tips below to make your brown hair and blue eyes look even more gorgeous.
Eyeshadow colors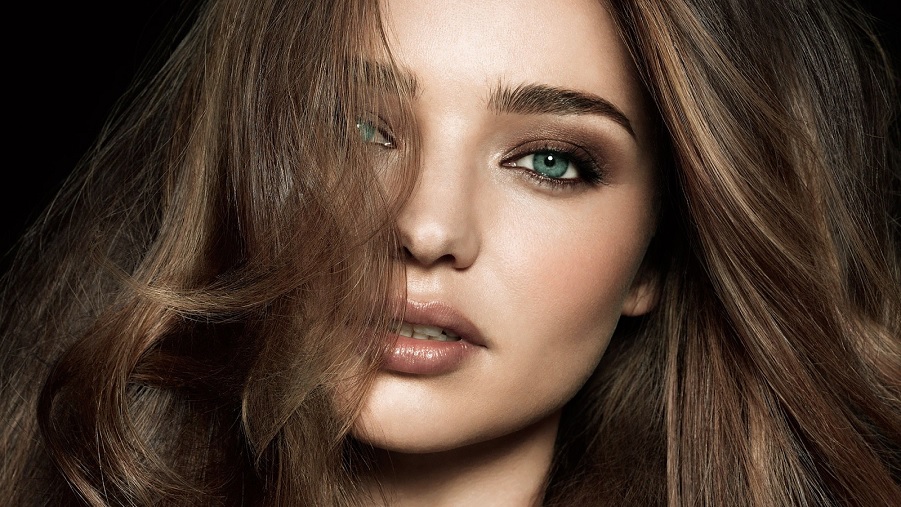 The right eyeshadow color will make your blue eyes pop and more stunning. When picking them, it is important to match the eyeshadow with the skin tone. For tanned skin, gold, champagne and rose gold eyeshadows will make the eyes really stand out. Meanwhile for lighter skin, shades like copper, coral, and bronze eyeshadows will do the trick perfectly.
Other eyeshadow colors that will complement blue eyes are blue, turquoise, gray, silver, peach, and warm orange shades. You can choose from matte, shimmer to metallic type of eyeshadow in these colors. Do not forget to add a few layers of black mascara or fake lashes for the finishing touch to make the eyes look bigger.
Lipstick
There is nothing more stunning than a blue-eyed brunette wearing bold red lipstick. Red lipstick will make them look gorgeous while being classy. Although, yes, almost every lipstick color complements brown hair, a pop of red lipstick will bring attention to those blue eyes.
For a fun and flirty lipstick color, you can never go wrong with electric pink lipstick. Meanwhile, for everyday look, go with pinkish nude lipstick since blue-eyed people look great in pink tones. Matte, satin, or glossy, these lipstick colors will brighten your blue eyes even more and compliment your brown hair.
Blush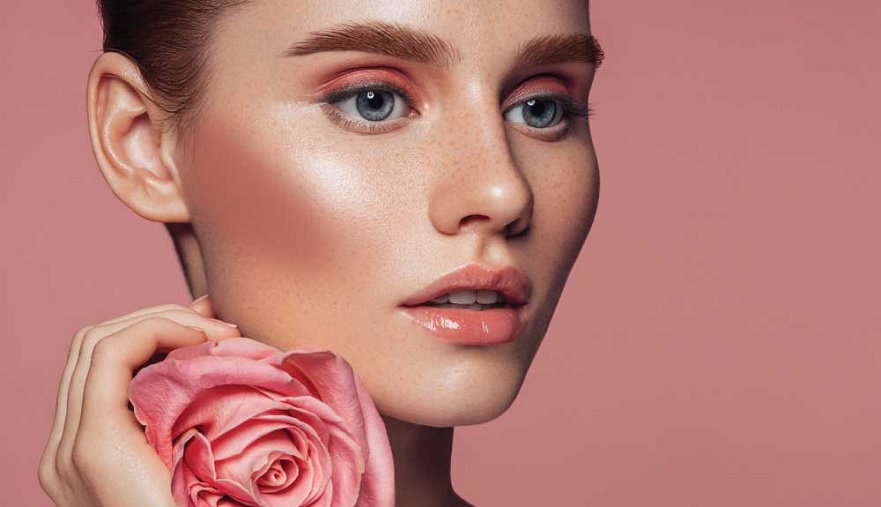 Generally brown hair looks great with rose, mauve, and hot pink blush. The darker the hair, the brighter the blush that they can handle. Since dark hair can make your complexion look pale, these rosey colors blush will add warmth to your face and make it appear more youthful. Furthermore, it is important for brown-haired people to steer clear from orange blush if they don't have a clear and smooth complexion. This is because orange blush will emphasize the discoloration on the face and make the redness stand out.
Eyebrows
Eyebrows should not be the same color as your hair. When picking eyebrow products, choose products that are one or two shades lighter or darker than the natural hair. Usually, makeup artists will give a lighter eyebrow color to make their clients look younger and natural. Meanwhile, to create a bold, dramatic, and strong look they will make the eyebrows look darker than the natural hair.
For brown-haired beauties, you can choose eyebrow products according to your occasion or mood. For daily activities, we suggest you use eyebrow pencil that is lighter than your natural hair to freshen and frame your face. Try to purchase eyebrow products that are labeled light brown, natural brown, soft brown, or taupe in the stores. But, if you want to create strong eyebrows to even out dramatic makeup, try to find eyebrow products that are labeled dark brown, ash brown, or ebony. Also, try to avoid black eyebrow products since it is too harsh for the face and will create a huge difference from your natural brown hair.
5 Gel and Pencil Eyeliner Recommendation for Blue Eyes and Brown Hair
Eyeliners are important to make the blue eyes stand out and grab attention. For blue-eyed brunettes, you can choose from dark to colored eyeliners to line your eyes. We have 5 gel and pencil eyeliner recommendations for blue eyes so you will not have to wonder about what color eyeliner for blue eye brown hair anymore. These eyeliners will be a great investment and addition for your makeup collection.
The 4.7 out of 5 stars Long-Wear Gel Eyeliner by Bobbi Brown is one of the best gel eyeliner in the market. The eyeliner can stay up to 8 hours, even on heavy work-out sessions at the gym, without smudging, creasing, or fading. The eyeliner is paraben, fragrance, and nickel free so it is safe for the eyes. Cost for $28.00, this powerful little tube of eyeliner is definitely worth the money.
One satisfied review on Ulta claims that she loved the products since it brings out the color of her eyes, lasts all day, and is easy to apply. Although if you have oily skin, one of the ingredients in this eyeliner is cyclopentasiloxane, a silicone emollient which will make the eyeliner not stay long on your oily lids. But overall, this award-winning eyeliner is the perfect one to get if you want to know what color eyeliner for blue eyes brown hair to make you look more stunning.
Pros
Last up to 8 hours without smudging
Water proof
Paraben, fragrance, and nickel free
Cons
Does not stay on oily lids
Blue eyeliner is the perfect weapon to make your baby blue eyes look even more blue. If you want to know what color eyeliner for blue eyes brown hair, the Urban Decay 24/7 Glide-One Eyeliner in the shade Chaos is perfect. The eyeliner consistency is smooth and velvety so that it is super easy to apply to the lash line. The shade Chaos is blue eyeliner with a cool undertone. It is matte but has a little hint of shimmer.
Reasonably priced at $ 22.00 for each, this award-winning eyeliner is infused with vitamin E, cottonseed oil and jojoba oil that will moisturize lash areas while not making them smudge. Plus, it's cruelty-free and paraben-free. A review left on Ulta said that she would buy this eyeliner again and recommend it to a friend since it goes on easily and does not smear.
Pros
Waterproof
Has great ingredients such as jojoba oil, vitamin E, and cottonseed oil
Cruelty-free and paraben-free
Smooth, easy to apply, and pigmented
Cons
The shimmer does not last throughout the day, leaving only the matte effect
Frame your eyes with gold eyeliner to make your gorgeous blue eyes look even more piercing. Sephora Ultimate Eyeliner Pencil in the shade Metallic Gold is the one you need to get. The eyeliner is smooth and glides easily when applied. It also gives vibrant color without making those annoying skipping lines that we just hate.
This warm-toned eyeliner has metallic sheen that you can build for a more intense result. It can stay up to 8 hours and is waterproof. One of the ingredients in the eyeliner to hold the pigments is Trimethylsiloxysilicate which is harmless, non-irritating and safe for the eyes. The eyeliner is also super affordable, only $ 13.00 for each. A review left on Sephora said that she is very satisfied with this product since the eyeliner is really easy to apply and lasts more than 8 hours of her work day.
Pros
Long lasting and waterproof
Safe ingredients
Affordable price
Buildable, intense result, easy to apply
Cons
Might break if you put too much pressure when applied
One of the most popular products from NYX is their Retractable Eye Liner. The beautiful eyeliner has a special place in our hearts until this day. First, you can not beat the price range of this eyeliner. With only $6.50, you can get it from Ulta. Second, this eyeliner is creamy and stuffed with intense pigments that will last all day through sweat and humid air.
For your gorgeous blue eyes, use the shade Silver to make them look more icy and piercing. One review on Ulta said that this cruelty free eyeliner stays put while the texture is smooth and goes on easily. Although they get a high rating on Ulta, 4,2 out of 5 stars, we do not recommend you to get this eyeliner if you are allergic to wax ingredients since it is made with synthetic beeswax.
Pros
Super affordable price
Highly pigmented, gildes easily, and creamy
Cruelty-free
Cons
Not recommended for those who allergic with synthetic beeswax
Brown eyeliner is perfect to use for a blue-eyed brunette who wants to line their eyes without looking too dramatic. The brown eyeliner color will create a soft and natural effect since it blends with their natural hair color. Lancôme Drama Liquid-Pencil in the shade 02 – French Chocolate is the perfect choice to line your lash line. The eyeliner promises an intense result with just one stroke that will last up to 24 hours.
The ingredients are made without parabens and sulfates so it will not harm the eyes. The price for each of this eyeliner is $22.00, which is pretty standard for a high end and high quality eyeliner. It is no wonder why this eyeliner pencil is getting 4.7 out of 5 stars in Sephora. One satisfied review left on the website said that this is the best eyeliner pencil that she has ever used because it glides like butter and locks in place.
Pros
Intense color result
No parabens and sulfates
Last up to 24 hours
Cons
The super creamy formula makes it a little had to sharpen the eyeliner
What lipstick goes well with brown hair?
Red lipstick goes well with brown hair. For brown hair, red lipstick will be very flattering. Red lipstick will make them look classy and sexy without being tacky. They can choose either a warm or cool red lipstick, according to the skin tone. Since brown hair can make the complexion looking pale, rose color products will complement them by bringing warmth to the face. For those who are not a red lipstick kind of girl, nude pink lipstick is another shade that will look good on them.
How do you rock brown hair?
You can rock your brown hair by doing a simple hair-do such as a high ponytail, simple bun, or braids. Also, you can let them hang loose after styling them with curling iron to give your beautiful brown hair more volume which will make them look more attractive. But, what will make your look complete is when you finish your hair styling with perfect makeup. Simple makeup look, for example, will make you look more glamorous when paired with high ponytail hair-do.
Should blue eyes wear brown eyeliner?
Yes, blue eyes should definitely wear brown eyeliner. Especially when you want to make your eyes look bigger without being too harsh. Brown eyeliner will give a soft and natural effect to the eyes while making them look bigger. Also, warm brown eyeliner is such a contrast to icy blue eyes that will make them pop even more. Lancôme DRAMA LIQUI-PENCIL in the shade 02 – French Chocolate is going to help you create this look while doing its job perfectly. This eyeliner is the answer if you ever wonder what color eyeliner for blue eye brown hair that suits them well.