The best makeup for black dress dark skin is not impossible to achieve. Whether you want to go for a simpler, natural makeup, or even jump straight to bold, eccentric, and impactful makeup, the key is in not overdoing it. You also need to make sure that each color compliments the other very well.
Black dress may easily be one of the best choices to wear on any occasion. It is also one of the styles that will never go out of trend amongst fashionable people. There is a myth that a person with dark skin wearing a black dress will only make their skin look pale and ashy, but this couldn't be further from the truth. People who understand style and fashion would say that black is the fiercest color for a dark skinned woman to wear, as it symbolizes class and power.
How do you do eye makeup for dark skin when wearing black dress?
Doing eye makeup for black dress and dark skin has always been proven to be a challenge for most. It is extremely important to have a skill in picking out the right sets of shades to suit your skin color. Plus, it will also ultimately make your complexion stand out when wearing a black dress. Here we will provide a leverage on how to apply eye makeup for black dress and dark skin.
A. Primer
Without a doubt, primer is the photoshop for your face. It is the most important step to apply to your eye area before putting in any other makeup. It acts as a preparatory makeup, a canvas to smoothen out and provide coverage for your skin, so that the makeup you will apply will last longer and don't lose its grip early.
Primers are an absolute must to apply before anything, as to not make your face look dull and ashy when you start to put on your makeup. It also does not affect which color of dress you wear as primers are usually white or transparent and your skin absorbs them almost immediately. Therefore, it would not hinder your appearance if you are wearing a black dress with dark skin.
We'd recommend using the Hangover Primer by Too Faced. It is perfect for dark skin with all skin types whether normal, dry, or a combination of both. Not only does it set out as a canvas for your face, it also helps replenish, hydrate, smoothen, and brighten your complexion.
2. Concealer/Foundation
After putting on your primer, the next important thing to know is finding the right concealer/foundation. And the best way to do that is knowing your undertone. With all the foundations being released in the market, it could be tricky to find which one is best for you. However, if you already know your undertone, it would intricately be easier to find your shade.
For a natural look, generously apply foundation to the back of your hand and slowly dab it around your face with your fingers. This simple and no-fuss approach of applying your foundation with your fingers will provide a skin-like makeup result. It means that you are caressing and massaging the foundation slowly onto your skin.
When wearing a black dress with dark skin, knowing which shades of black and the type of black dress that you are wearing will affect the amount of foundation/concealer that you will apply. If you are wearing a simple, casual, everyday black dress, then a few little drops to your face would do. Vice versa, if you want to look extravagant with your long and sexy black dress, be generous with your foundation or concealer for a worry-free, long-lasting look to your special occasion. Below we'll show you a few products for the right undertone for dark skin.
For Medium Deep – Cool Undertone Dark Skin
Total Control Drop Foundation by NYX is perfect for dark skin with cool undertones. It provides medium to full coverage without using too much of the product. By just a couple of drops to your brush, or beauty blender, or just even your hands, it will already form a very nice layer of balanced color to your skin.
For Warm Undertone
Acclaimed as one of the friendliest products for women with warm undertones, the Lock-It Full-Coverage Long-Wear Matte Liquid Foundation by Kat Von D will have your skin shine with tones of peach and golden.
For Very Deep Skin with Neutral Undertones
If you have a deeper skin with neutral undertones, we cannot recommend Fenty Beauty's Pro Filt'r Soft Matte Longwear Liquid Foundation enough. It provides a buildable long-wear foundation with a soft matte finish. This Allure Best of Beauty award winner is also an oily free product that is adjusted to withstand sweat and humidity. It is perfect for your day-to-day activities.
3. Seal It All with Loose Setting Powder
Seal all your finished makeup routine with a loose setting powder. It helps lock your foundation and concealer so it could last longer. Plus, you don't have to worry one bit of it smudging in between your activities.
4. Contouring Your Brows with a Contour Palette 
Aside from defining your cheekbones and sculpting other undefined parts of your face, you can also use your contour palette on your eyebrows to frame your face. Plus, it will also fill in the gaps of your eyebrows to make up for a thick eyebrow effect.
5. Choose the Right Eyeshadow
Now that you've passed the first two steps, the next one for black dress dark skin is picking a good eyeshadow. Basically any eyeshadow works well with dark skin, especially in a black dress dark skin, with an acceptance of two or three maximum color combinations. Below we'll recommend some of the best eyeshadows to play around with the combinations with.
The first recommendation in our eyeshadow list is the Master Mattes Eyeshadow Palette. Its universal shades are made with easy buildable. Having said so, you will have the freedom to go from natural to bold and dramatic, without compromising the quality.
Pair your primed eye with the Soft Glam Eyeshadow Palette, perfect to go with your daily and nightlife and everything in between. It features 14 shades of matte to shimmer glam finishes. From natural, duo chrome, or even glossy metallic finishes, it gives you the fully-pigmented and easy to blend colors to play with. It also comes with a double-ended shadow brush that makes it easier for application.
Which Lipstick is Good for Dark Skin in Black Dress?
Any color of lipstick is good for black dress and dark skin. There are some of the best ones that would definitely rock your black dress dark skin and total look depending on the occasion. For the dark-skinned, usually nude lipsticks with brown and peach tones would be amazing to wear on a day to day basis. The best part is that it is also a perfect match for black dresses in general. Below are some of the highly recommended lipsticks that will fit your skin color and your choice of black dress that you can check out.
Starting in our list is the weightless Stunna Lip Paint by Fenty Beauty. It is a product that is perfect for people with low-maintenance but still want a performing finish. It is a little pricey for the quantity you will get, but it will definitely be worth your bucks.
Luxurious and rich is what L'oreal Colour Riche Lipstick is about. Incomparable in terms of its creamy and elegant distribution of color and hydration, this lipstick is packed with natural ingredients such as Omega 3, Vitamin E, and Argan Oil that helps plump and soften your lips.
Maybelline Color Sensational Lipstick is perfect for dark skin tones in black dress. It's highly pigmented formula slides into your lips easily and will leave your lips fully hydrated, conditioned, and nurtured all day long.
A vibrant lipstick with rich creaminess in the shade of red. It will compliment your dark skin complexion, especially with the Revlon Super Lustrous Lipstick. This lipstick won't disappoint with its microfine pigments that are lightweight to the lips. Plus, it is also infused with vitamin E and avocado oil to help nurture them, too.
Looking for a long-wear, waterproof lipstick on a beach occasion? Worry not cause the Always on Longwear by Smashbox's got your back. This lipstick comes in velvety liquid matte formula infused with a primer oil complex. It will make you feel comfortable and weightless while wearing it. Best part? It is all skin tone friendly because it's free of parabens and phthalates. So rock your look on a hot sunny day without worries! To apply, first use the flat side of the wand to create the first layer and let it dry. Top it up again to make your lips even more defined and full for maximum effect.
Which are Considered Cool Makeup Colors for Dark Skin when Applying Makeup?
When it comes to choosing the cool makeup colors for black dress and dark skin, any kind of color works. The key to deliver the look is confidence, and ofcourse, how you choose to project that confidence. Whether you are aiming for nude, natural color combinations of makeup, to the bold shades of red, purple, or blue thrown in your makeup combination, the whole thing will only work if you embrace the uniqueness that you bring out.
Below we'll give you some perfect examples for black dress dark skin combinations that will make heads turn day in and day out.
1. Silver Metallic Eyeshadow paired with Nude Lips
First in our list is a classy bombshell look of silver metallic look paired with a simple nude lip color to finish. Compliment your eye area with shades of gray and silver. Then, finalize it with a sultry smokey eyeliner look with a false lashes to seal it all off. This look is fail proof and will give you a badass vibe that one would dream for.
Why it's so good: This look sits perfectly for skin with a darker tone. The eyeshadow combination will bring out the intensity of your eyes, while the lips accompanied with the nude color will bring out the elegance of your black dress and dark skin.
2. Sheer Orange Blush paired Bold Red Lipstick
We all know that red is the new black. It's rightfully so when it compliments your dark skin tone and gives a youthful glow. Start with simple neutral eyeshadow with a string of neat eyeliner across your bottom eyelids. Then pair it with a sheer orange/amber/tangerine blush across your cheek to give it an innocent touch, but go off with a bang with the boldest red lipstick that you own. You'll thank us later!
Why it's so good: This look is simple yet classy. It doesn't take too much time to achieve, as well as a beginner friendly routine to follow. Pair it with a black dress dark skin and your face complexion will stand out effortlessly, and the red lips will ooze with boldness and fearlessness. Wear it on every occasion and it won't ever go out of trend!
3. Blue Eyeshadows paired with Peach Pink Lipstick
If you're feeling adventurous and want to play with lively colors, then this look is perfect for you! A few shades of electric sheer blue on your eyelids and a few touches of highlighter to pop the color out. Accompany it with light strawberry lipstick since it may be one of the easiest looks to achieve while also looking chic and daring at the same time.
Why it's so good: While it is on the adventurous side, this look is still an easier routine to follow, and a beginning step to explore if you are starting to experiment with lighter colors. It will also compliment your black dress with dark skin with contrasting colors so that your makeup can shine all the way through.
4. Rainbows of Red Look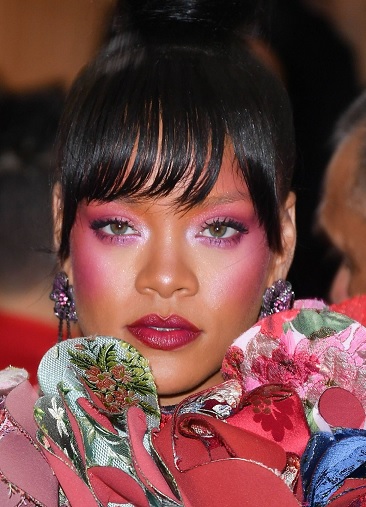 Step up your makeup routine if you're not afraid to take risks and create a makeup look that is anything but ordinary. This rainbow starts with a generous amount of candy red colors. Pair it with highlighter around the inner eye area and finish with a striking blush of red and of course, bold red lipstick. This makeup look will highlight the features of your face exponentially and will make you the spotlight!
Why it's so good: This look is perfect if you are going to special events, parties, or even to your favorite concert. When paired with a black dress with dark skin, your deep skin tone will shine through. It will definitely give it a glow that you never knew could happen!
5. Pink on Pink Matte Combo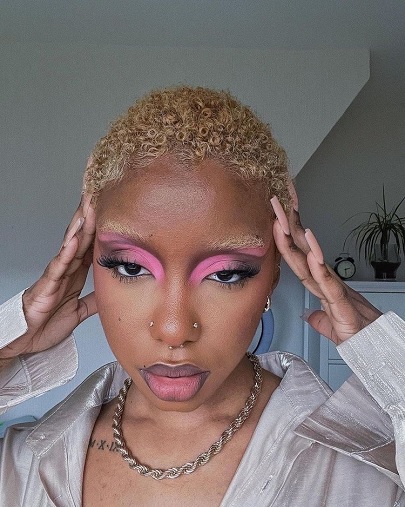 Bring out the inner pink rock in you with the pink eyeshadow on pink lips. Begin your eyeshadow with a shade of sheer black color then topped with a bold matte pink surrounding your eyelids till right under your eyebrows. To make your look hard to miss, define your lips with a grayish black lip liner and finish it off with a matte pink lipstick. This gradient look is simple with pink as its main character, a look that you must definitely try.
Why it's so good: This look is that it's perfect to sport during a special occasion with black dress and dark skin without going overboard. It's also a must try look when you're out to party, as this sends a not so subtle way to grab someone's attention at the club.
Which Pink Lipstick Suits Dark Skin and Black Dress?
Trademark shades like hot pinks and fuchsia would complement your black dress dark skin with ease. It would make a perfect combination with your chosen black dress. Avoid pale pink lipsticks as it could make your look evidently pallid, and would not make your black dress dark skin stand out. Opt for delicate pink shades with purple and red berry hues that would go perfect for day and night occasions.
We rounded up some of the best lipstick out there to maximize your complexion and bring out the best of your skin tone.
Voted as Allure Best of Beauty awar winner, Rihanna's Fenty Beauty Gloss bomb Lip Cream does not disappoint. This lip cream contains a creamy color with a sparkling shine. It would leave your lips plump and your overall appearance like a superstar. 
If you're looking for a resistant, long-wearing lipstick that focuses on boldness and is made with a vegan, non-toxic formula, then the Everlasting Longwear Liquid Lipstick by Kat Von D might just be the product for you.
Does Brown Lipstick Suit Dark Skin?
Yes, brown lipstick suits women with dark skin complexions. Nowadays, as you search endless aisles of makeup products and finding brown lipstick with the right shade could be a bit tricky. However, keep in mind to always look for warmer hues in order to add "richness to your complexion", said by pro makeup artist Jonet WIlliamson.
If you are wearing a black dress dark skin, it is important to highlight this few important tips as you look for a brown lipstick:
If you have a lighter skin tone, try to avoid brown lipsticks that are the closest to your natural skin tone. It will risk looking ashy, pale, and washed out. Try a brown lipstick with brighter undertones such as tangerine or maroon undertones that will make your complexion stand out.
Rusty and copper browns are your best friend. They are universally friendly for all dark skin tones, and rocks any type of black dress you wear it with.
Avoid brown lipsticks with too much shimmer. They will end up looking like ash.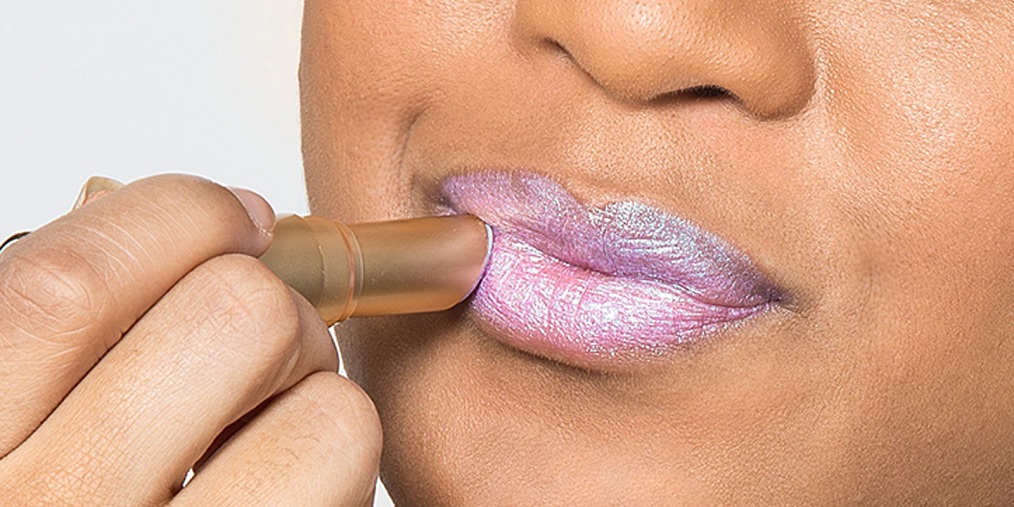 With all that being said, here we compiled the top three recommended brown lipsticks. They would rock your lips to a whole other level!
The Always on Longwear by Smashbox is one of the hottest makeup products that you definitely need to have. One review says that this lipstick is rich in color and does not dry, despite being matte and waterproof. The secret? It is infused with primer oil complex, jojoba blend, apricot, and sunflower oil, which will leave your lips plump and hydrated all day long.
If you're aiming for a lighter brown color that leans towards nude, then the New York SuperStay Matte Ink Un-nude by Maybelline is for you. Highly pigmented with rich matte formula, this liquid lipstick will ensure a super pigmented finish to your lips. Plus, it can last for up to 16 hours.
The Liquid Suede Cream is definitely for people who are looking for a simple, everyday brown lipstick. This product will not let you down. Packed with avocado oil and vitamin E, it will ensure long-wear and give a velvety, soft finish to your lips.
What do You Need to Achieve a Natural Makeup Look for a Darker Skin Tone?
For people with a choice of black dress and dark skin, the simplest products you will need to achieve a natural makeup. It consists of contour palette, foundation, concealer, loose setting powder, and a mascara. These are the fundamental makeup collections that you can use whether you've just started entering the world of makeup. It is also recommended for a quick run and want a simple and easy makeup yet still provide a flawless look to your appearance.