Through this article, I shall provide helpful tips and guides for those of you who need to know what eyeshadow goes with a black dress. I will also provide some recommendations of the best eye makeup products to buy so that you won't look dull. A good makeup selection won't suck the life out of your skin, instead, it will rejuvenate and elevate your natural beauty!
Black dresses have always been a symbol of timelessness, class, and chic. Simply put, they never go out of style. It signifies elegance and flattery, yet at the same time, sophisticated and worthy of respect. On the other side, it also hides the perception of the mass of your body.
Women (or men!) who wear black dresses lead a colorful life, whether you choose to wear them without anything, or by expressing creativity through accessories, jewelry, and of course, makeup!
What eyeshadow goes with a black dress?
Black dresses go easily with any other color of eyeshadow, as long as you do not overdo it. It gives the chance to experiment with different colors ranging from subtle, and nude to a bold finish. Below, I have listed some of the best eyeshadow styles you'll commonly associate with a black dress.
Peachy Eyeshadow Look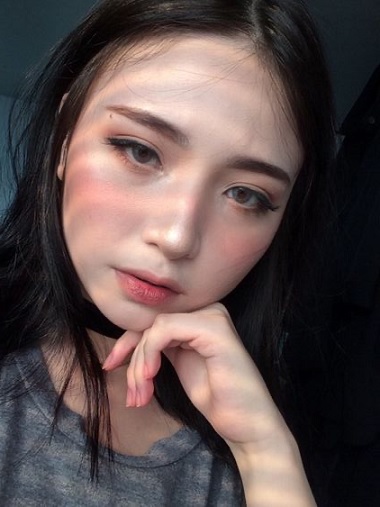 The peachy eyeshadow look is without a doubt one of the best makeup looks that you can nail with a black dress every single time. Its simple and innocent look will provide a nice complementary addition to your elegant black dress. Plus, it is very easy and simple to do. If you are looking for a simple, everyday go-to makeup look that doesn't take too much time, then this look is for you. 
Aesthetic Brown Eyeshadow Makeup Look
The best thing about achieving this aesthetic brown eyeshadow makeup look is that it will never be dull. When paired with a black dress, it just stands out even more. The color brown is a combination of all primary colors, which gives freedom for a wide range of palettes and makeup products to work with to achieve this look. 
Nude Makeup Look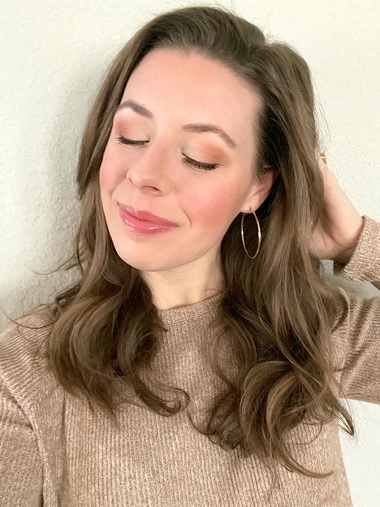 In your search to know what eyeshadow goes with a black dress, the best makeup to support that is to go with a nude eyeshadow makeup look. This makeup look is done by giving subtle, natural touches of makeup to your eyes. In simpler words, the nude makeup look uses skin-tone-inspired shades. 
Rainbow Eyeshadow Makeup Look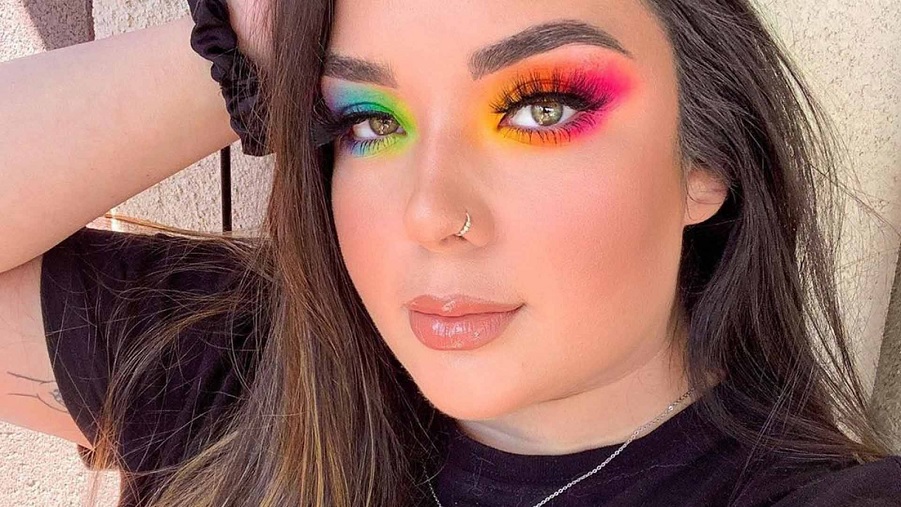 Another way of creatively expressing your creativity and beauty that goes terrific with a black dress is the ultimate rainbow makeup look. Though working with colorful shades may be intimidating, it is a great way to experiment and express yourself. The color will stand out even more, creating a unique contrast with your black dress.
Jet Black Smokey Eye Makeup Look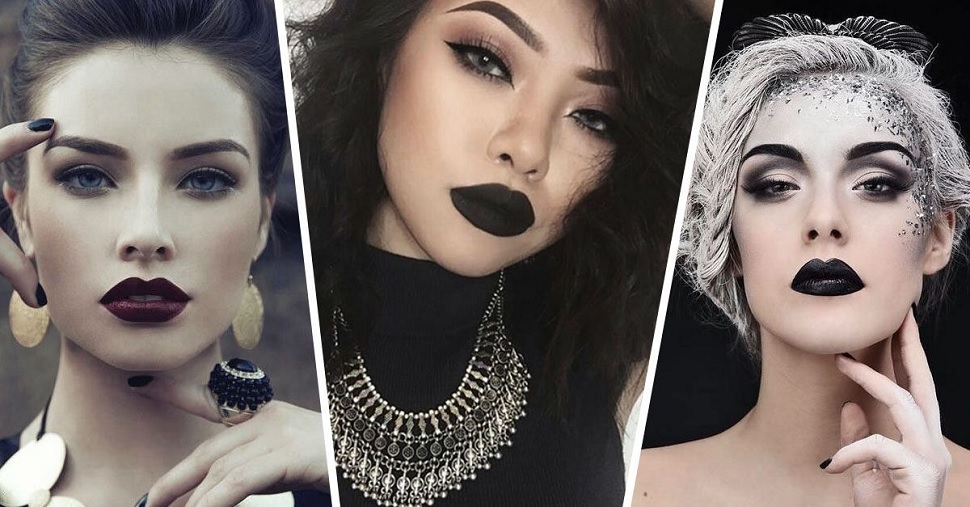 When it comes to which eyeshadow goes with a black dress, you can always count on a dramatic look of black makeup on a black dress. Deep dark colored lips, with dark, smoky eyes will have people look at you in amazement. Whether you want to add emphasis to your eyes with a touch of eyeliner, or your favorite dark eyeshadow palette, you can rely on your favorite makeup products, as this palette is easily available. 
Tips for Applying Eyeshadow to Match Your Black Dress
Do you especially like the smokey moody eyeshadow style? I do too! Here are some handy eyeshadow tricks which I've learned over the years that you can try too!
First, you will need a primer for your eyeshadow. Alternatively, a tinted cream base will work too.
Then, prepare a deep gray or charcoal eyeshadow. Buff it lightly on your entire lids and into the lash line!
Next, it's time to add a darker layer with a deeper shade of charcoal or even plain black eyeshadow to the outer corner, into the crease, and lower lash line.
Pro tip: use a small crease brush to do it.
Blend the color well using the small and fluffy brush for a precise application to create a transition or gradation effect.
The last step is to tidy up the messy bits using a cotton round and a dash of makeup remover.
Apply concealer in the area under your eyes for a finishing touch!
Frequently Asked Questions
Should Your Eyeshadow Match Your Dress?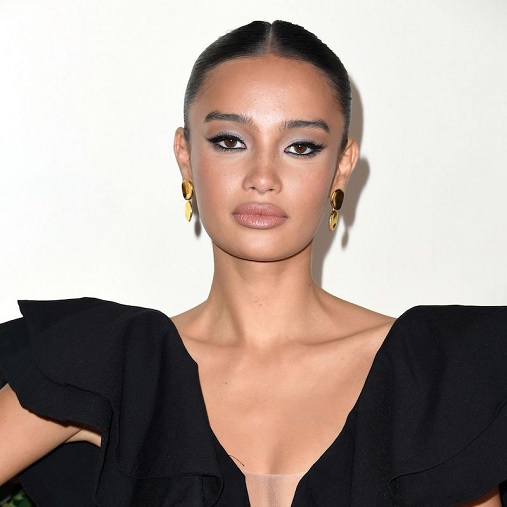 No, your eyeshadow should not match your dress. The creativity and freedom to mix and match the colors are entirely up to you! There are, however, a couple of special ones  I've already mentioned before here that will give you the perfect combination.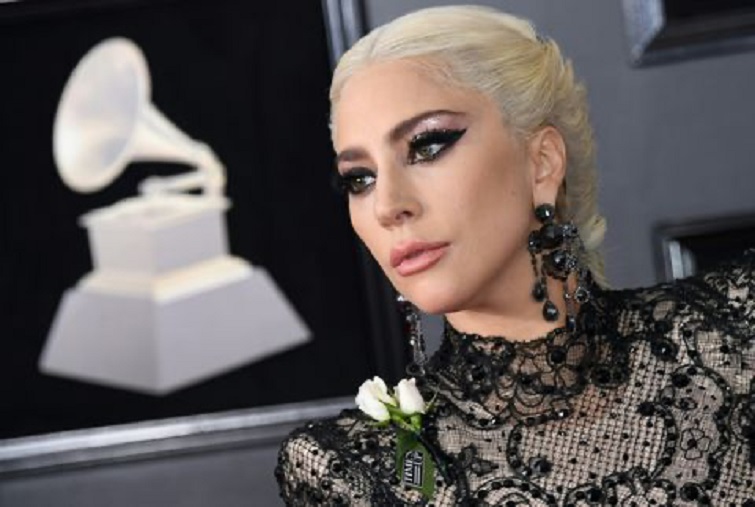 The beauty in makeup is that there are no rules, so go out there and experiment, you might just produce your own signature look that people will absolutely compliment you for!
Does Brown Lipstick Go with Black Dress?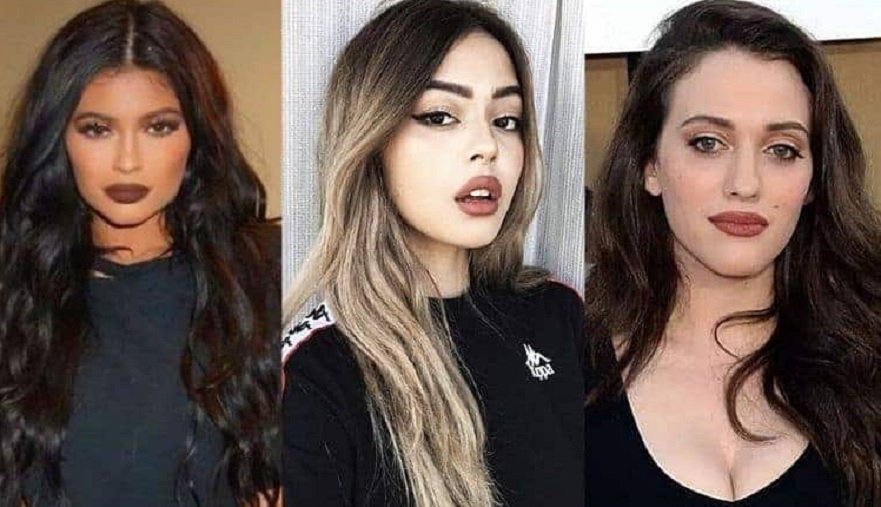 Yes, brown lipstick goes amazingly well with a black dress, and no one can say otherwise! Whether you opt for a lighter shade of warm-tanned shade of brown lipstick, or a deep hickory shade, these combinations are foolproof. Brown lipstick will never go out of trend as it is one of the most-used shades in the market, whether for everyday use or even rocking the red carpet look.
How do you make black eyeshadow look good?
Here is how an expert makeup artist makes black eye shadow look stunning! First of all, you need to focus on the area around your lids. Do a gentle sweeping movement with your eyeshadow across your eyelids and above the crease.
Next, you need an eyeliner pen to touch it up. Use a smudgeable eyeliner, yes, a creamy eyeliner pen that can smudge, along the thin area below the waterline. Then, dab a finishing gloss on your lid directly using your fingers and rub the area gently! It'll create an excellent dark gradation. 
Lastly, I recommend adding mascara or falsies as a finishing touch to get that dramatic vibe!
Should you start with lighter or darker eyeshadow?
When it comes to eye makeup, the ability to create a subtle and smooth gradation is an essential skill to master. This is even more true with eyeshadow! When you are about to apply eyeshadow, remember that you need to start with the lightest shade first, starting from the top part of the eyelid! Then you can go bolder with the darker shade as you reach the area around the crease.
For the crease, be sure to add a thin layer of light brown eyeshadow. Top it off with medium brown, and finish it with dark brown or even black eyeshadow. By adding the lighter shade first, you will have a lot more leeway when you are about to blend the darker shade later. The layering method is how experts do it, and you can emulate this technique at home with practice!
In my opinion, a black dress is one of the easiest outfits to stylize. You can easily combine it with all types of accessories and colors, and the black background will those enhancements look more dazzling.  The neutral dark color is a like a canvas that is ready to be drawn on. However, even though it is not difficult to create a good combo with this type of dress, you still need to put some thought into your eye makeup selection, especially the eyeshadow!
You can try the peachy and nude styles to create a soft and subtle impression that will balance the intensity of your black dress. These two styles will brighten up your face even more, as they contrast your dark outfit. If you want to appear more mysterious, then darker eye shadows in the natural brown style and smokey jet black will be a good choice. This style will make your face more dramatic, reminiscent of the gothic style, which goes well with your black dress. 
Of course, if you are feeling playful, colorful eyeshadow is also an option. A splash of color around your face will make you stand out among the crowd and create a fresh style that gives off a cheerful vibe, balancing the intensity of the all-black outfit. The pigmentation on your face will be more vibrant because as your black dress acts as a dark background.
I highly recommend that you try my makeup style recommendations which I've already briefly explained above. They are easy to emulate, even if you are new to eyeshadow, yet still provide you with unmatched mysterious elegance, as if the makeup is done by professionals. You can also expand on the idea and create your own unique makeup combination!