Prom is an embodiment of every young teen's fantasies. For most of them, it is a special night where they wished it could last forever. It's full of endless pictures, get togethers, and not to mention, the fun dancing night ensues. Let's be honest here, who wouldn't want to look their best in doing so, right? Girls would do absolutely everything to make their look perfect, from head to toe, and from hairdo to heels. When it comes to prom dress, some girls prefer a dress with bright colors, and a blue dress is definitely one of the most brilliant choices. To look even more stunning, the perfect prom makeup for blue dress is also necessary. 
It could be really worrisome to gather information about styling yourself, or finding the perfect combination for the perfect makeup for blue prom dress. But just relax and don't be stressed out, because we will guarantee you a good time with our prom make up tips and tricks below.
Which Prom Makeup is Best for a Blue Dress?
If you have no clue on where to start in finding inspiration for a prom dress, then you can start with a blue dress. The blue color represents a calm, innocent, and also a gentle aura with the power to captivate people. There is also something ethereal about blue dresses, which is why most Disney princesses such as Cinderella, Belle, and also Alice primarily use the iconic blue dresses. Most people would agree that blue dresses symbolize the color of the sky, and that it's calming yet empowering.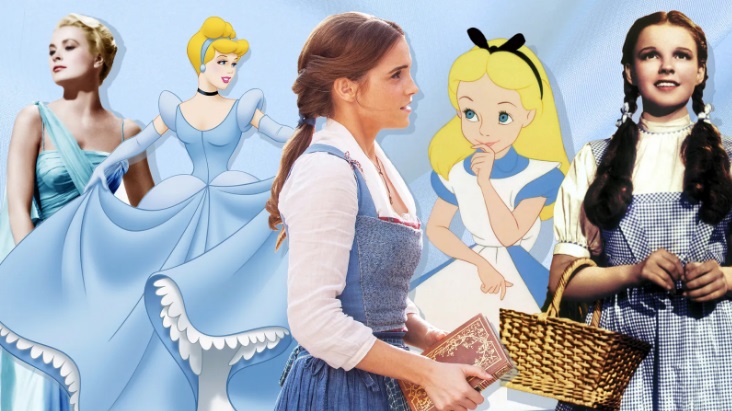 If you've already found the ultimate blue dress for your prom night, then the next thing you need is the ultimate makeup style to pair it with. Here are the few recommended styles of prom makeup for blue dress.
Peach-based makeup definitely goes very well with blue as it contrasts both colors, yet at the same time compliment each other. The light tones that the peach makeup style brings will make your blue dress stand out, plus it's also very easy to do. You will undoubtedly look fresh and gorgeous for your special prom night with super minimum effort. As a recommended prom makeup for blue dress, not only does it look flawless, this peachy makeup look is suitable for all skin tones. To find out more about peachy makeup style, here are a few of the recommended makeup products that you can find to achieve the peachy makeup look.
Fierce and Dramatic Blue Makeup Style
If you have a lighter shade of blue dress hanging beautifully by your closet, and wanting to go full power on your makeup for your prom, then this dramatic and fierce look is definitely the one for you. The gradient blue matte eyeshadow look paired with long false eyelashes. Also, a touch of dark eyeliner with the silver highlighter finish will definitely give you a badass vibe. However, be careful not to overdo it because it is already a dramatic smokey eye to begin with. Therefore, it is recommended to only use 3 color tones for one color. To find out more about this makeup style, here are the few recommended products to give you a banging look!
Red is the Power Makeup Style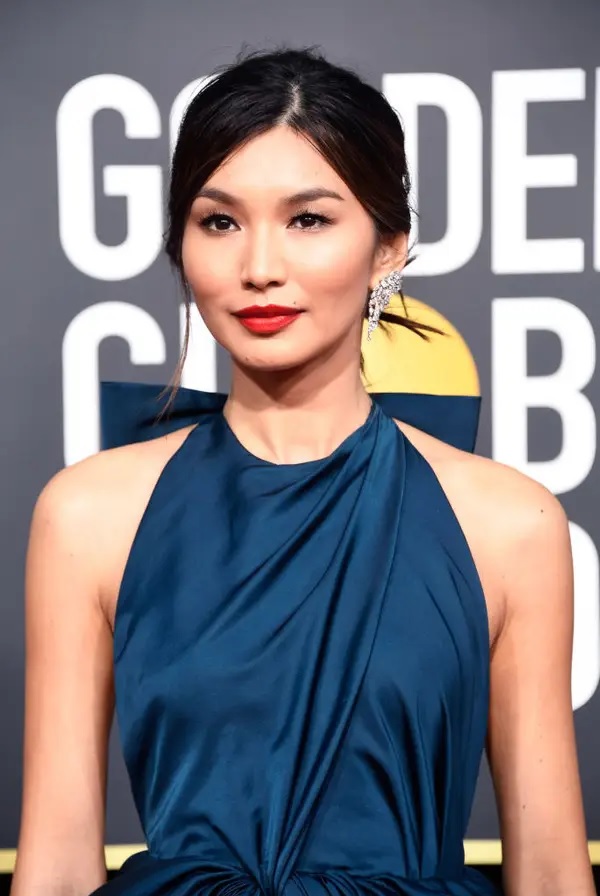 If you've decided to go simple for your eye and cheek makeup for your special prom night, then you can finish it off with an iconic bold red lipstick to seal the look altogether. The striking bold red lipstick pairs exceptionally well with blue dress, which creates a powerful appearance that is perfect for your prom night.
Natural Light Pink Makeup Style
We would definitely recommend the Light Pink that would look adorable for prom. This tone of makeup will definitely highlight the features of your face naturally. Moreover, the final blush of pink to your cheek will also give your face a glowing effect. This look is equally beautiful should you decide to use or not use false eyelashes. Last but not least, in order to perfect the look, simply finish it with a light pink or a nude color lipstick. Here are the recommended products to achieve that look.
Can I Wear Red Lipstick With a Blue Dress?
Yes, definitely. You can definitely wear red lipstick with a blue dress. In fact, we actually recommend you to do so, because it makes up for an extremely beautiful complexion as a whole. It represents a bold and also fearless look, but still daringly feminine. Furthermore, it also serves a fresh look without being too loud, and it is truly a sight to behold. Pro tip: For a maximum bold look, go for a darker shade of blue for your dress.
What Color Eye Makeup Goes With Blue Dress?
As mentioned before, blue dresses allow a wide range of colors to use to achieve a beautiful eye makeup look. With the right combination of tones, it could easily transform your appearance, making it perfect for an unforgettable night. We have listed the best color for eye makeup options that go super well with blue dress as below.
1. Glitter Peach Eye Makeup Look
Cute and endearing, yet bold and striking. This peach-based tones with glitter finish eye makeup look gives a shining, shimmering, splendid effect to your face, and best part? It suits perfectly with a blue dress. Lastly, top it all off with a little eyeliner wing with false lashes, and we can guarantee heads will be turning to your direction through your magical prom night.
2. Blue Hue Eye Makeup Look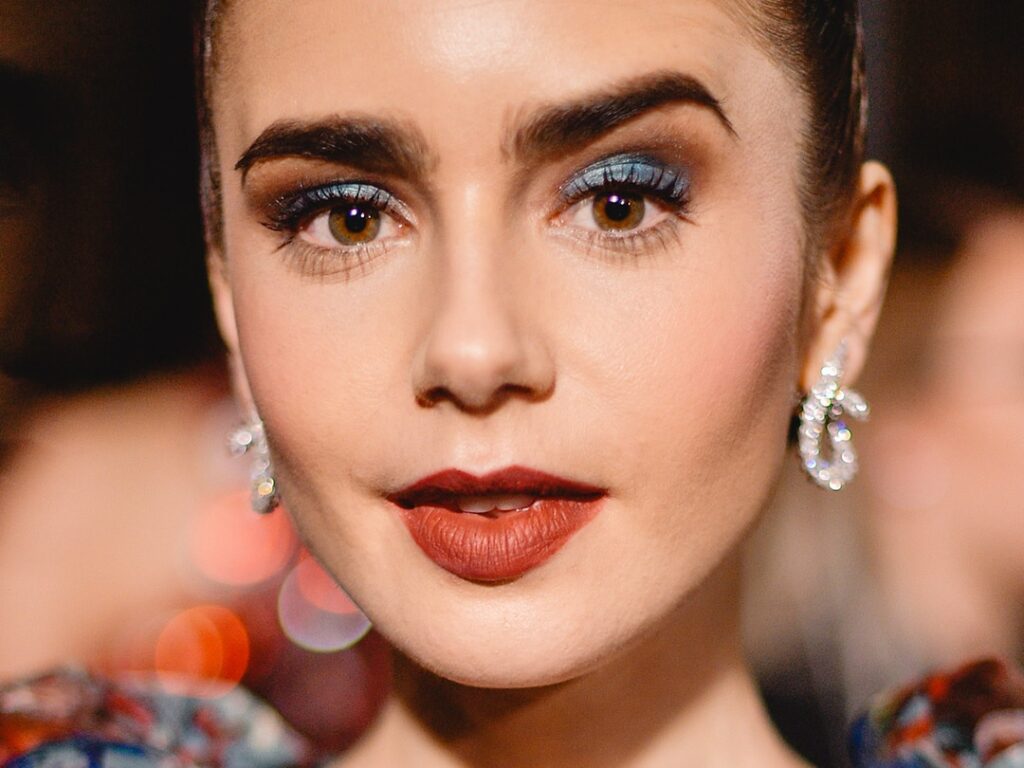 Blue on blue? Why not? The shades of blue that are available in the makeup markets now come in many different shades. It's also a favorable tone of color to play with for all skin types and tones. If you want to go for subtle, princess-like vibes, then you can opt for a lighter shade of blue eyeshadow makeup. Or, if you decide that you want a full-blown dramatic look that aims for the prom queen crown, then pack up a dark blue matte eyeshadow on your eyelids.
3. Smokey Eye Makeup Look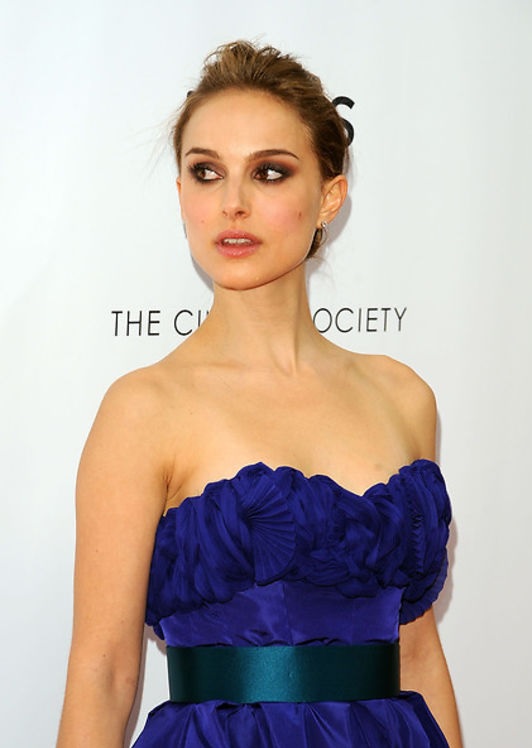 It is without a doubt that the smokey eye look takes your makeup game to the next level. With strokes of black eyeshadow, finished with a touch of brown hues and black eyeliner enhanced with a highlighter, it would definitely make your eyes stand out. You can also pair this look with a navy blue dress or even a cerulean dress, because it would still make a perfect combination, for sure.
4. Gold Metallic Eye Makeup Look
Another eye makeup look that shows simplicity in elegance is the gold metallic eye makeup look. To steal the look, simply start off by brushing a shade of natural-looking brown shadow. Then add some finishing with a sweep of gold metallic shade and a few touches of highlighter for an exquisite finish. As a result, this entire look will become more graceful, especially when completed with some long false lashes.
How Do You Pick Eyeshadow For a Dress?
There are a few rules to pick the right eyeshadow for a dress. It is very important to know the concept of complementary colors, or color theory, in which colors that are opposite on the color wheel. This applies to the world of makeup as well, because it helps you to coordinate which color suits the other color the best, without seeming like a clown.
Let's say for example we pick a beautiful dark green dress for prom. An ideal eyeshadow color that would compliment this dress color very well is the red or orange shade. With the help of the opposing color, it will definitely make your eye makeup pop out against the dress color.
This does not mean that you can not wear the same exact color for both your dress and makeup. After all, makeup is all about the "you do you" attitude. However, in some instances, wearing the same makeup color as your dress might not stand out, because your makeup would just get lost in the mix.
Another easy way to match your eyeshadow with your dress is by choosing the opposing shades for the same color. For example, if you are wearing a dark blue dress, then opt for a very light blue makeup color, and vice versa.
Does Eyeshadow Have to Match Your Outfit?
While it is not necessary to have your eyeshadows matching your outfit, it is definitely a good idea to coordinate the color of your eyeshadow to any outfit that you will be wearing. Say you are wearing a light pink dress with a few light colored accessories attached to it. What you can do is coordinate the colors of your eyeshadows with tones ranging from rose gold to scarlet, which doesn't venture too far from the color of your outfit. Undoubtedly, it will bring out the expressiveness of your whole look instead of just matching your light pink dress with another light pink eyeshadow.