If you ever thought that white eyeshadow looks are too much for your everyday look, this is the time to reconsider. It's all about how you do the overall eye makeup that matters and also how you utilize it however you want. Whether it's matte or sparkly white, creating makeup looks with white eyeshadows can actually be fun.
Spicing things up with white eyeshadow looks can highlight your lids and make the easiest yet dazzling look, whether it's for your daily makeup or for formal and special occasions. Moreover, white eyeshadows can also make your eyes appear bigger and more alert. If you still have some doubts, don't worry, I have the guide here on how to create the loveliest makeup looks with white eyeshadow for you to try out!
What You Should Prepare Beforehand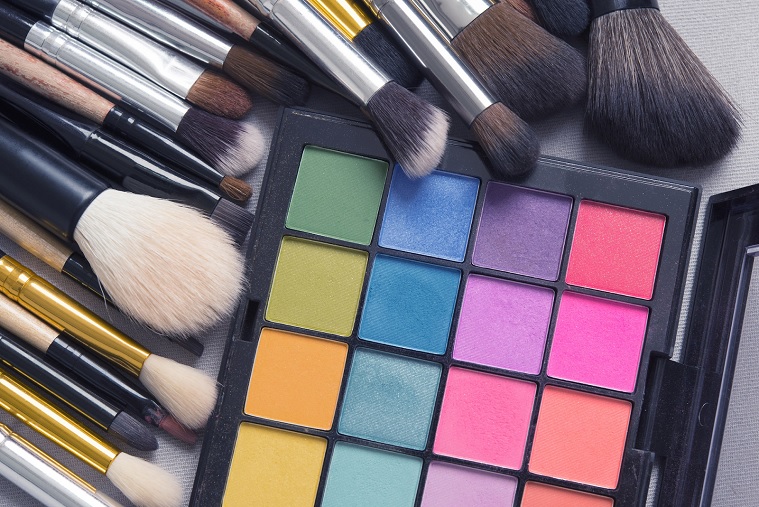 Before diving into white eyeshadows, there are some tips and tricks that you need to know. White eyeshadows are sometimes a pain to deal with since you would want to make the white color pop off nicely. Here are some tips that I've tested myself to help you get ready for your white eyeshadows:
Eyeshadow primer before anything else. Get your canvas ready before you start painting. This way, your white eyeshadow will apply evenly.
Invest in the best eyeshadow brushes. There are several types of eyeshadow brushes for different applications. As you will use them for a long time and for different reasons, it's best to invest in them as the best ones are more durable and softer than others. 
Double white for double damage. You can apply white cream shadow as the base before applying white powder eyeshadow so that the color will be more intense. Your eyelids will feel a little bit heavier but this way, the eyeshadow will also last longer.
What are the best white eyeshadow looks?
Now that you know how to get yourself prepared, let's get into the best eyeshadow looks with white eyeshadow that you have to test out. Starting from the easy ones for your everyday look, to party makeup look for your fancy nights, I got you covered!
1. Soft Cut-crease with White Eyeshadow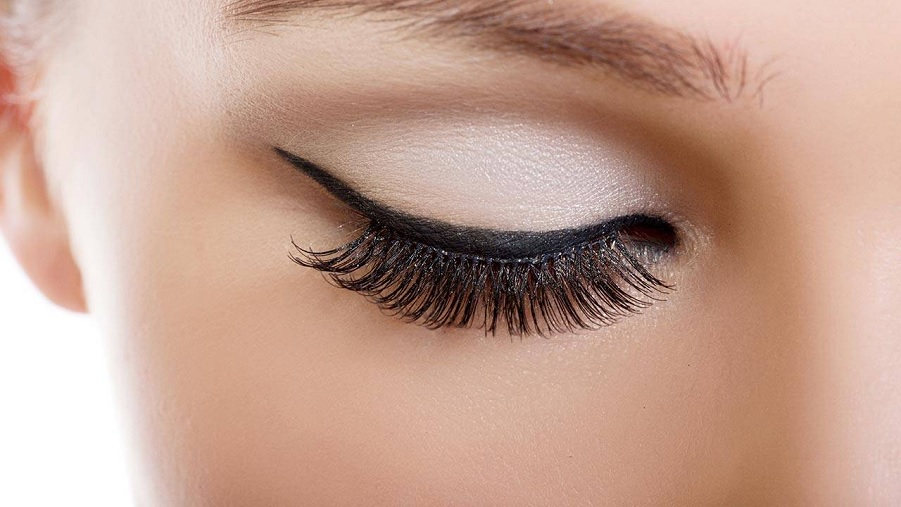 To create this look, pro makeup artists suggest that you use the softest white eyeshadow that is easily blendable, brown eyeshadow, and matte gel eyeliner for a soft and delicate finish. Start with your brown eyeshadow on the upper part of your lid and blend, add white eyeshadow on your overall lid, and finish with sharp, winged eyeliner.
This look is perfect for your daily makeup as it's easy to make and suitable for every occasion. To get this simple and convenient eye look, I recommend that you try Graftobian Ultrasilk Matte Eye Shadow with its rich color and smooth-to-apply formula.
2. Smokey Black and White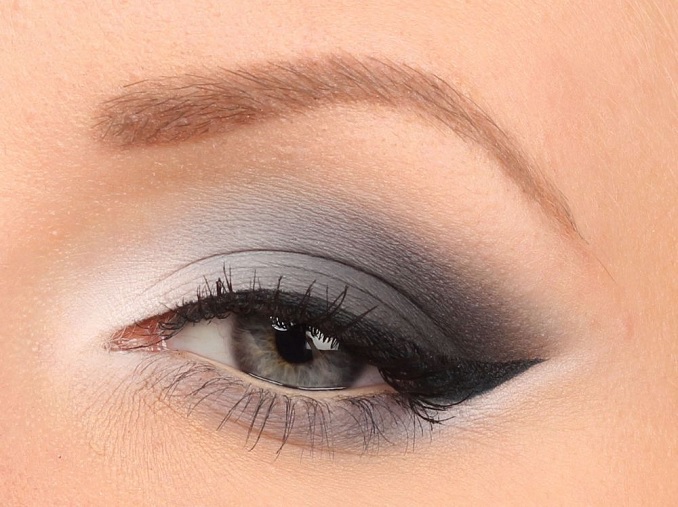 Who says smokey eyes can't be achieved with white eyeshadow? For this look, you will need several eyeshadow colors to create the transition. Start by applying the white eyeshadow to the inner corner of your eyes, and go with gray and darker gray or black as you go on to the outer corner. Make sure to blend to create a seamless color transition. Top off this eye look by applying some of the light gray eyeshadow under your eyes and add a winged liner.
MAC Eyeshadow Gesso has a creamy and highly pigmented formula, yet blendable. Applying this eyeshadow is also less messy as it has minimal fallout. Pair this white eyeshadow with Natasha Denona Mini Xenon Eyeshadow Palette and you're ready to go!
3. All-white Halo Eyes 
If you're looking into something simpler to get the best white eyeshadow looks, try this all-white halo eyeshadow that only has one color of eyeshadow. To create this look flawlessly, I suggest that you use Mehron E.Y, E Powder Eyeshadow in Snow White for a creamy formula. This eyeshadow also doesn't cake or crease your eyelids.
Before applying this powder eyeshadow, make sure that you wear eyeshadow primer first to ensure a maximum color payoff!
4. Half-cut-crease with shimmers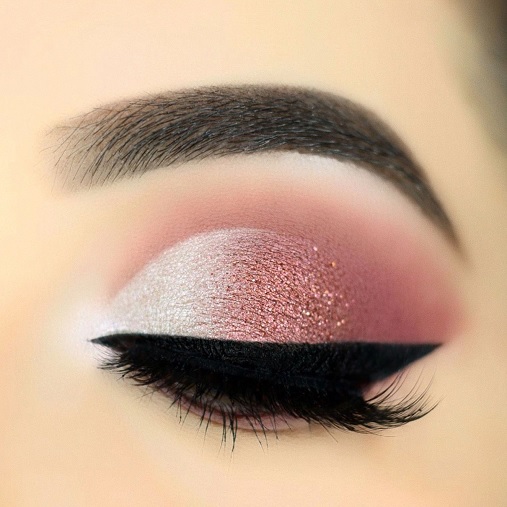 Thinking of something more glam with white eyeshadow? You can use pearly white shimmery eyeshadow and pair it with another shimmery color. Use pink matte eyeshadow as the base, and add your white shimmer eyeshadow on the inner corner of your eye with a half-cut crease technique.
And then as you go on to the outer corner, add pink shimmer. Pair Almay Eyeshadow Palette in Unicorn with Kaja Beauty Bento Bouncy Eyeshadow Trio in Glowing Guava to achieve this look effortlessly.
5. Bold Cut-crease with White Eyeshadow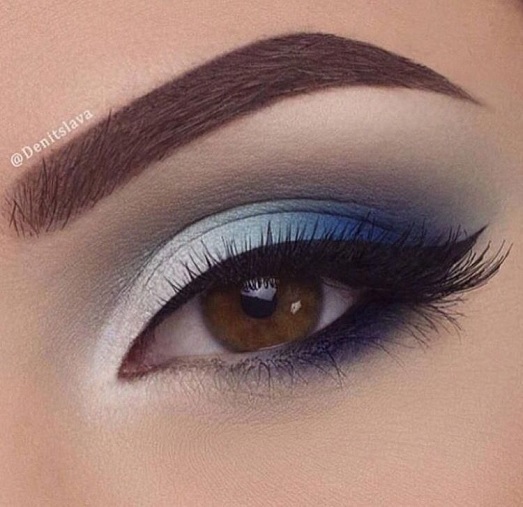 This gorgeous white and blue eyeshadow soft crease creates a contrasted color, perfect to make the color of your eyes pop. For this look, you will need several colors to create a flawless transition. Use dark gray eyeshadow on your crease area, add white eyeshadow on your inner corner, and use shades of blue as you go on to the outer part of the eye. On your under-eye, add a darker blue to frame and define your eye.
This eyeshadow is perfect for a formal evening or holiday look. Pat McGrath Labs Mothership I Eyeshadow Palette in Subliminal will help create the eye look easily with its richly pigmented shadows.
6. Red and White Wine Look
If you're into daring colors like red berry or wine eyeshadow, combining red with white creates a breathtaking eye makeup look. To achieve this, makeup specialists suggest that you prepare several shades of red. First off, let's start with lighter red all over your eyelid but leave a bit of space for the white. This is important so that you don't have to do extra work to cover up the red with your white eyeshadow.
Once the lighter red is done, continue with applying deeper red to the crease area. Cut your crease with your concealer and add white eyeshadow. Make sure to add the first shade of lighter red to connect the white area with the darker red. I believe that Anastasia Beverly Hills Norvina® Mini Pro Pigment Palette Vol.1 has the prettiest berry color eyeshadow to pair with your white eyeshadow, so you should try this one!
7. Fourth of July Look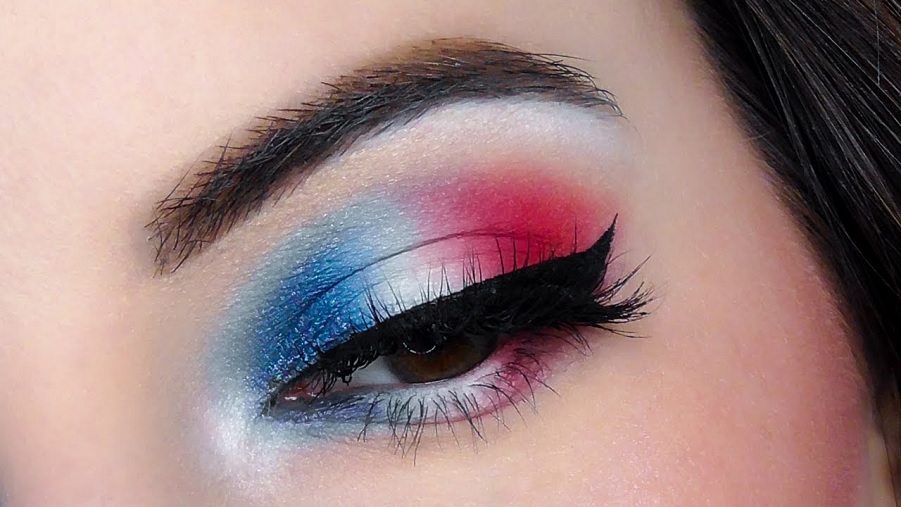 For a festive event, you surely need a festive eye makeup look to complete. This eye look is relatively easy for you to try. Grab blue, white, and red eyeshadow and you're ready to go! To make all the colors pop, use a white eye pencil as a base on your overall lids.
I highly suggest the NYX Professional Makeup Jumbo Eye Pencil in Milk and apply the blue and red on both corners.
8. Editorial White Colorblock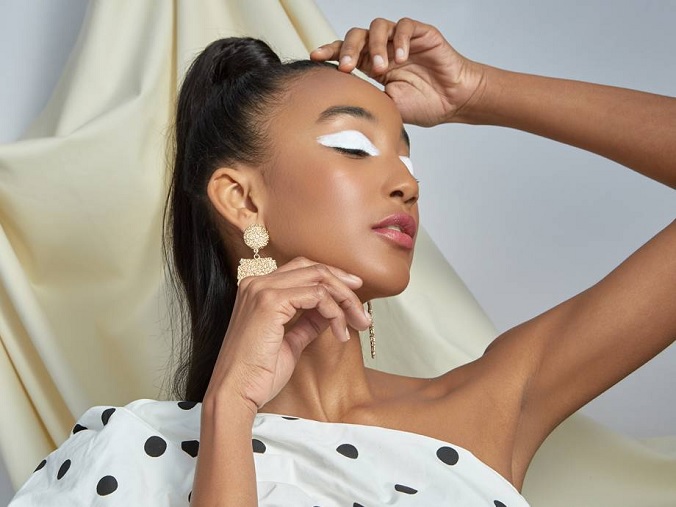 If you have never tried the color block technique with white eyeshadow, this is the time! This technique is a cool way to wear your funky eyeshadows, perfect for a quirky kind of day. Just wear your favorite eyeshadow base and apply your white eyeshadow, shape it however you like with a flat brush.
Alternatively, you can also use cream eyeshadow instead like Kisshine Matte Eyeshadow Cream. With only a little bit of white, you can create the perfect color-block eyeshadow look. 
9. Sunset eyeshadow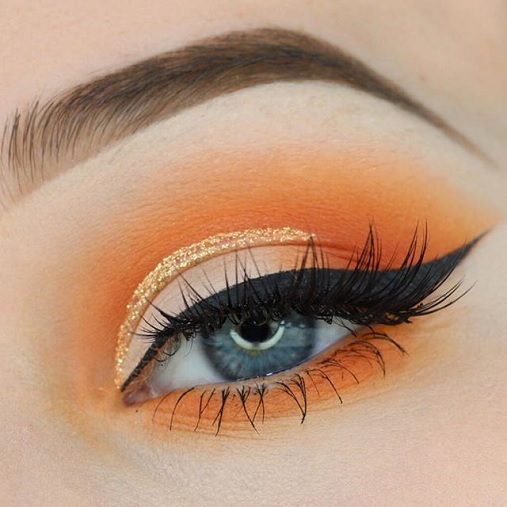 With two shades of orange and a little bit of white on the inner corner, this look is perfect for a fun day event. You can also add a sharp, winged liner to complete the look, but without eyeliner, this color combo is more than enough to steal attention. This color also makes the color of your eyes pop, especially if you have blue eyes.
Make sure to apply a little bit of concealer or eyeshadow base before applying the white eyeshadow to intensify the white color. For this look, the Too Faced Light My Fire Mini Eyeshadow Palette makes creating an orangey makeup look easy!
10. Glamorous Forest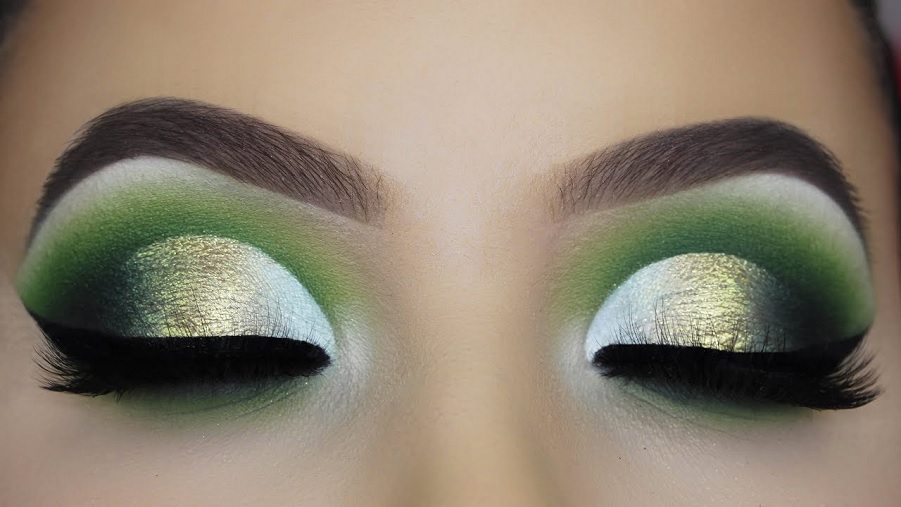 If you're up to more challenges, it's time to pair your green eyeshadow with white. This look needs skillful hands, but with a bit of trial and error, you can master it with no problem. You will need deeper green and light green eyeshadow for this look. Then, top it off with your favorite white eyeshadow.
Before the white eyeshadow, cut your crease with your concealer or white eyeshadow base so the white color appears more vivid. To make the color transition look flawless, add shimmery eyeshadow and you're all set. For this eye makeup, Melt Cosmetics Gemini Eyeshadow Palette is the most suitable palette that meets all your needs.
11. Purple and White Smokey Eyes
Purple and white eyeshadow can be the best combination ever. Apply your favorite white eyeshadow on the inner corner and middle part of your eyelids, and add purple eyeshadow as you go. This dreamy smokey-eye look is quite easy to achieve.
Use your fluffy eyeshadow brush with Anastasia Beverly Hills Norvina® Pro Pigment Palette Vol. 5 for the perfect match. 
12. Timeless Sparkly Glam Look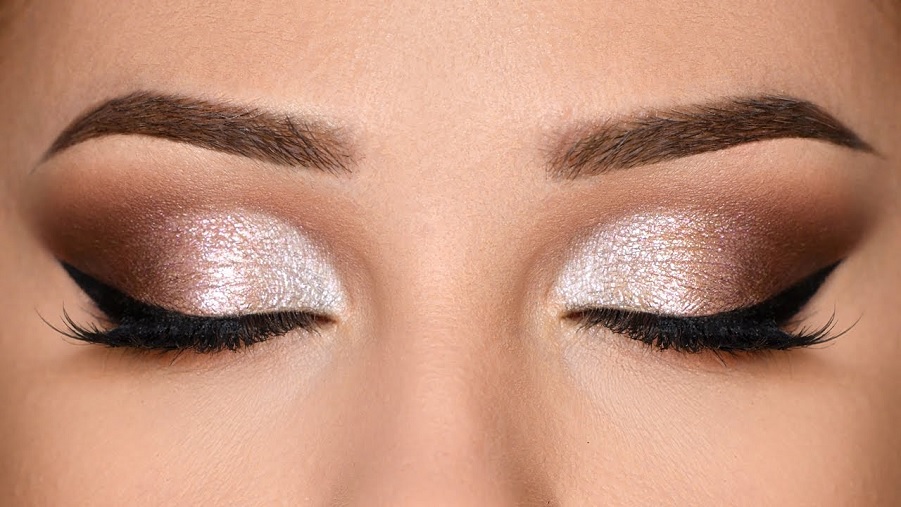 If you are digging for the classic, timeless sparkly look, you can pair your usual brown eyeshadow with sparkling white eyeshadow. This look is basically wearable for any occasion and you can even tone down the colors for a simpler finish. After applying brown eyeshadow, go with your white glitter eyeshadow and add a bit of champagne, bronze, or light brown shimmer eyeshadow to seamlessly connect both colors.
For this heavenly combo, use Make Up For Ever Star Lit Diamond Powder and Charlotte Tilbury's Eyes to Mesmerize Cream Eyeshadow in Chocolate Bronze. 
How do You Wear White Eyeshadow?
You can wear white eyeshadow by itself or by adding darker colors to create a beautiful color transition. You can also add a little bit of brown to create a soft smokey eye or cut crease for an everyday makeup look. Make sure to prime so that the white eyeshadow can pop off perfectly. 
What is the Purpose of White Eyeshadow?
The purpose of white eyeshadow is to make your eyes appear bigger. It also helps highlight the color of your eyes, no matter what color they are. You can also wear white eyeshadow as is, or use it as a base for another white eyeshadow to intensify the color. White eyeshadow also works as a base for light-colored eyeshadows.
Does White Eyeshadow Make Your Eyes Look Bigger?
Yes, white eyeshadow makes your eyes look bigger. Wearing white eyeshadow along with black eyeliner under your upper lash line and ivory or skin-colored eyeliner on your lower line will help create the illusion of bigger eyes. Pair this combo with dark eyeliner to help intensify your eyes and voila!
How do You Make White Eyeshadow Stand Out?
Make your white eyeshadow stand out by applying eyeshadow primer beforehand. This will ensure the product and pigment stick nicely to your eyelids, making the white eyeshadow pop. You can also double the use of white eyeshadow by applying cream shadow or eye pencil under the powder eyeshadow to intensify the color, like NYX Professional Makeup Jumbo Eye Pencil in Milk shade.
Is White Eyeshadow Good?
Yes, white eyeshadow is good as it's quite versatile. White is a neutral color so you can pair it however you like. You can wear it alone on your eyelids, combine it with other colors and use white to highlight the middle part of your lids and many more. You can also use it as a base for other eyeshadow colors. 
Can I Use White Eyeshadow as a Highlighter?
Yes, you can use white eyeshadows as highlighter. However, there are a few things that you should take notes on. Use white eyeshadows that have a slight shimmer in them, nothing too crazy. Also, if your skin is light or pale colored, this trick will work seamlessly. However, with darker skin colors, champagne or gold eyeshadows might work better.
Final Thoughts
White eyeshadow is often overlooked by makeup enthusiasts. I do admit that utilizing this type of shade is not easy as white is very neutral. However, after continuous research, I find that white eyeshadow is, in fact, super duper fun and provides you with opportunities to create new unique styles. White eyeshadow allows you to create magnificent color transformation or gradation that would frame your eyes in mesmerizing hues.
I have provided you with 12 white eyeshadow styles that you can emulate at home. Some of them are simple enough that you can get down right to it while some others require practice. I personally love the simple smokey black and white style and the subtle soft-cut crease style as these two are not that difficult to do, yet provide such a mature and elegant look. Other style that incorporate shimmery and glitter fancy colored eyeshadows are also fun to try too, especially when you want to show off!
Either way, whichever style that you decide to choose, I recommend that you apply you eye shadow with confidence and conviction to get the best result. Do not forget to try the products that I've mentioned too as they'll help you to get the look that you desire!