To create a makeup look that will last, you need to prime your skin with the right products.
Not only do they help keep your foundation firmly in place, but also to prevent carefully applied eyeshadow from melting away after an hour.
Are you wondering who makes the best eyeshadow primer on the market today?
Find out which brands made the cut when our team of experts put them to the ultimate test and learn more about how to choose one with the help of this useful buying guide.
How to Choose the Right Eyeshadow Primer
There isn't just one single best eyeshadow primer out there because everyone is different, so to help ensure that you choose the right one for your needs, we will offer you a few shopping tips to keep you on track.
Tint. Primers come in different tints, so before you purchase one, be sure you know what color is coming out of the tube.
Clear formulas are great for everyone, but not all of them offer you the staying power you need.
Others may work great but only come in a single shade – most often light – which can show through too much on those with darker skin tones.
There are two products on our list that come in different shades: NYX Cosmetics' Eye Shadow Base and e.l.f. Cosmetics' Shadow Lock Eyelid Primer. The latter is also great if you have oily lids!
Application. Many come in a tube that requires you to squeeze product onto your finger. As the more hygienic option, we recommend one like this.
Other products like the two we just mentioned and L'Oréal Paris' Magic De-Crease Eyelid Primer have a wand that you dip back into the product. In this case, each application can also cause you to pick up traces of oil on your lids that end up going in the tube when you close it.
We know that this is exactly what happens every time you apply mascara, but mascara is only touching your lashes and not your skin.
We wouldn't eliminate a product because of this small detail, but it is something to think about as you compare them.
Useful Tips for Those with Oily Lids
The best eyeshadow primers for oily lids are Elizabeth Mott Thank Me Later Eye Shadow Primer, LORAC Behind the Scenes Eye Shadow Primer, and e.l.f. Cosmetics Shadow Lock Eyelid Primer. These three products have proven their worth in the battle against oil, and there is something for every budget.
Oil is one of the biggest enemies of your eyeshadow, but did you know that there are some things you can do to help combat the oil?
You Might Need to Change Your Skincare Products. Using the wrong products for your skin type can cause pimples, redness and excess sebum production.
Avoid Cream Eyeshadows. Creamy eyeshadows can create a soupy mess on your lids, so if yours are excessively oily, be sure to use powders rather than creams.
These are a few simple things you can try to help keep the oil under control, but we also realize that some things are out of your control.
Hormones can also have a big impact on the body's sebum production, and if you have certain allergies (whether to pollen, dust, skin care products or makeup), your body might be producing more sebum than normal.
Top 15 Best Eyeshadow Primer Reviews
Elizabeth Mott's "Thank Me Later" Shadow Primer continues to dominate the category. What makes it even more lovable is the fact that it is a cruelty-free product, which many of you are starting to look for now to help promote better treatment of animals. It dries clear and dries quickly, which is nice so that you don't have to sit around waiting for it to set. You can easily get 8 to 10 hours of staying power when you use this as a base, and for most of us who wear makeup, that is more than enough.
If you have super oily lids and you're looking for mineral-based makeup, then check out Prime Time from bareMinerals. One of the main selling points of the Thank Me Later primer was the fact that it is cruelty-free, but we are happy to report that this product is not tested on animals, either. If you need a product that will keep your shadow looking as flawless at 8 hours as it did at 8 minutes, Prime Time won't disappoint.
Some of you probably want to know who makes the best drugstore eyeshadow primer, and we would have to say that Milani stands out above the rest. Personally, we prefer natural products, but they are usually more expensive, and sometimes we can't have it all. If we had to choose a non-natural eyeshadow primer that works extremely well and doesn't cost a fortune, Milani is the clear winner.
This primer helps smoothen your lids, and since the formula is so light, it absorbs quickly into your skin without looking like a thick layer of glue. This one is cheap and effective, and even if you don't plan to use any shadow, it still works well as a regular primer. The items from e.l.f always save your budget with the maximum quality ever.
We have mixed feelings about LORAC's Behind the Scenes Eye Shadow Primer. Ultimately, it did make the list because we know that it works. If you have sensitive eyes, this might be one of the few products on the list that you can use. It doesn't contain any fragrance or oil, and it is also paraben-free. We love that it goes on sheer rather than looking like you are wearing white eyeshadow, and it seems to work well for the majority of users who try it.
Pros:
Suitable for sensitive skin
Vegan
Cons:
Pretty expensive but the quality is no joke
Eyeshadow primer with crease-proof wear that can stay up to 24 hours. You can create a smooth base for shadow since it contains shea butter care complex. No dry eyelid, non-greasy and suitable for all skin tones. It is your time to pop your eyeshadow color beautifully only by adding the primer to your eyelids.
Pros:
24 hours wearing
Crease-proof
Non-greasy formula
Tube packaging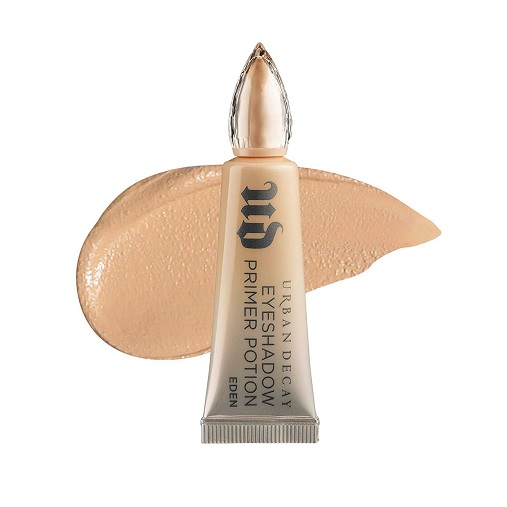 The award-winning primer from Urban Decay is really worth trying for a vibrant and crease-free eyelook. Also, the eyeshadow will last all day long if you apply it before the shadow. Moreover, if you are afraid that your eyeshadow will fade, say no more because there is polymer technology to create a perfect eye makeup base. No matter the finishes of your shadow, this primer will give a vivid color for your eye look.
Pros:
Award winning products
Crease-free, no-fade
Tube packaging for portable carrying
Cons:
Expensive for the beginners, but worth for the quality
Liquid primer is complete with the applicators to keep the right amount for applying it. When you are looking for the eyeshadow primer that can stay away from smudge, crease, or cakey look, you can count on NARS. Easily blended for instant matte finish since it dries in seconds! Moreover, it contains a special anti-inflammatory deep-sea extract and rice bran extract, a powerful antioxidant that nourishes, soothes and protects. So that your eyelids are not only flawless but also nourished.
Pros:
There is an applicator
Smudge-proof, crease-proof, anti-cakey
Liquid type with anti inflammatory, deep sea extract, and rice bean extract
Cons:
A bit expensive for beginners
If you are bored of the liquid type on your eyeshadow primer, you can turn into a cream type from NYX. Your eyelid will be smooth, and the colors of your eyeshadows will stay intense and long lasting. No worries if you are concerned about animals since the product is not tested on animals.
Pros:
Cream type will avoid too much apply on the eyelids
Easy to carry packaging
Cons:
No spatula to take the eyeshadow primer, so make sure your hand is clean.
You can get a smooth, flawless and clear finish effortlessly by applying photofocus primer from Wet n Wild. It brightens the eyelid and protects the eyeshadow color on the lids beautifully. Wet n Wild always comes with an affordable price, so no need to worry about the price!
Let's create a smooth base with this silky eyeshadow primer from Sephora. The primer will boost the colors of your eyeshadow and lock it to stay still. The finish is radiant natural matte that is suitable for all skin types. No worry for the vegans since it is free from paraben and the ingredients are all natural. Non sticky, non-greasy, the crease and fade will stay away too!
Pros:
Liquid type
Tube with applicator
Vegan
Paraben free
Cons:
Easy to blend, gluten-free, cruelty-free and vegan! The Too Faced eyeshadow primer got an upgrade for their best-selling eye products. The improved formula will intensify the colors and lock eyeshadow perfectly for 24 hours wearing. Fade-resistant, crease-free, oh is there anything you wish for? About the skin type? It goes well for all skin types!
Pros:
Liquid type
Beautiful packaging
Best-selling product
Cons:
Pretty expensive yet worth to try
Vegan products are always a good idea. The cruelty-free eyeshadow primer that locks on your shadow and intensifies the colors for 24 hours wearing. Eyeshadow primer from Smashbox is what you are looking for. No paraben, SLS, and SLES will make you feel relieved especially if you have sensitive skin around the eyelid. Although it is vegan, doesn't mean the quality is poor, since it can glide easily and smoothly as the base on your lids. The sweat- and humidity-resistant formula prevents budging, fading, and creasing becomes complete factors to choose this item.
Pros:
Sweat and humid-proof
Vegan
24 hours wearing
Fade-proof, crease-free
Such a lightweight eyeshadow primer to extend the shadow wearing and the vibrancy of the color. The formula helps you to avoid the crease and fade. No worry about the skin tones since this sheer nude works on all skin tones. Containing antioxidants, sunflower seed oil and vitamin E to nourish your eyelids and keep it moist. Silicone free and cruelty-free, so it is pretty suitable for sensitive skin and those who are concerned about animals.
Pros:
Lightweight
Suitable for all skin tones
Silicone free, cruelty free
Cons:
The color is sheer, not people like sheer finish as the base
Beautiful and aesthetic packaging comes together with a high quality of this soft and creamy eyeshadow primer. Your eyeshadow will be locked beautifully after the primer is applied. The formula will prevent creasing, smudging or fading. Containing pomegranate seed, your eyelid will be smooth and moist. As the name, Stuck On You, yes the eyeshadow will stick beautifully on your eyelids.
Pros:
Cream type for easier applying
Soft and creamy
Cons:
What is the eyeshadow primer for?
To help pop the eyeshadow color when you apply the full makeup. Eyeshadow primer helps lock the color with no crease or fade after all. You can choose the liquid or cream type as the primer. Also, if you are a beginner, you can select an affordable price product before trying for the luxurious one.
Is eyeshadow primer necessary?
Yes, if you want your eye makeup looks perfect. Isn't it such a waste when you just apply the eyeshadow but the color is not that vibrant just because you skip eyeshadow primer? Then, the answer is yes, you need eyeshadow primer in your makeup step.
How do I prepare my eyelids for eyeshadow?
Clean your eyelid using cleanser, then after it dries, you can apply a small amount of eyeshadow primer. Remember, only a small amount in order to smoothen the eyelids as the canvas before you create a beautiful look on it using eyeshadow. Then, you can get a vivid, stay still, and long lasting eye makeup only by adding the eyeshadow primer on the lids.