Having brown skin, the use of white eyeshadows are probably a bit unfamiliar for you, and you're probably wondering if there are any good white eyeshadow looks on brown skin. Deep skin tones are typically paired with warm tones like gold, copper, bronze, or warm pink. Lighter colors or cool tones, especially whites, are more challenging as they tend to make your eyelids seem ashy. However, there are certain ways to wear white eyeshadows so they can pop off nicely on your eyes.
There are quite a range of white eyeshadow looks that you can try that won't make your makeup look grayish. Either it's a true white or ivory and broken whites, this is the time to rock and own them. If you're unsure where to start, here we have curated the list of the prettiest white eyeshadow looks for your brown skin, and also the best product recommendations to experiment with!
What You Should Prepare Beforehand
White eyeshadows are a bit tricky and if not handled properly, it can end up disastrous and you may end up hating them while they can actually be your new best friends. Before trying out white eyeshadow looks, there are tips and tricks that you should take notes of. Check them out below!
1. Eyeshadow Primer is a Must
The goal of this primer is to make your eyeshadow stick nicely for an even application. This way, the white eyeshadows won't come out patchy for an even finish on your brown skin. Make sure to let the primer sink into the skin perfectly before you start applying any eyeshadow.
2. Cream or Liquid Eyeshadow before Powder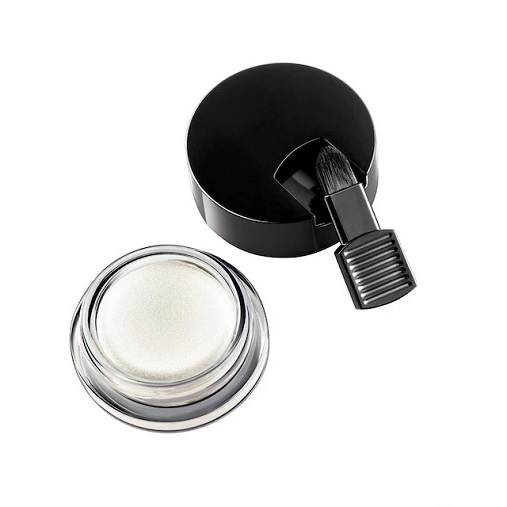 Cream shadows have better color payoff than the powder ones. You can use them alone or as a base for your powder eyeshadow to create a more intense white. This way, you don't need to put the extra effort in blending or getting more product on your eyelids and time-saving!
3. There are More than One Shade of White Do you know that there are several shades of white? If you're a beginner, shades of whites like off-white, whitesmoke, or ivory will pop easier as true white eyeshadow can be tricky and harder to handle.
4. Spray your Brush with Setting Spray
Getting more product on your brush means getting more product on your eyes. This also helps the eyeshadow to stay longer and appear more vibrant. However, this trick works better on a flat brush, and it's better to avoid this technique if you're using fluffy brush as it can mess up your eyeshadow look with wet patches.
5. Use the 'Stamp then Blend' Technique
If you've never done this before, then it's about time that you try this one out. You can stamp your white eyeshadow on your eyelids first using flat brush or your finger, and use a fluffy eyeshadow brush to blend them. This way, every time you blend, the center part of your eyelids where the white eyeshadow lies won't fade easily and get brushed away.
What are the Best White Eyeshadow Looks on Brown Skin?
Now that you know how to prepare yourself and how to handle white eyeshadows, let us bring you to the next step.. Here we have white eyeshadow looks inspo on brown skin that you can try to intensify your skin and your eyes.
Warm Simple Soft Cut-Crease
This simple, yet stunning look is most suitable for basically every occasion. Whether it's for a casual or formal event, you can never go wrong with this eyeshadow look. Use 2 shades of brown as your base and cut your crease with your favorite concealer before adding your white eyeshadow. Apply your white eyeshadow using a flat brush for a precise cut crease finish. You can also use a cream-based eye pencil that guarantees better color payoff than powder-based product. Anastasia Beverly Hills Norvina Chroma Stix Makeup Pencils is an ultra-pigmented, smudge-proof, and waterproof eye pencil that's perfect for this pretty look.
White Colorblock Cat Eye
Editorial eye makeup with white eyeshadow may be a little bit challenging, especially if it's your first time playing with white eyeshadow. For this look, you will need the best formula so that the eyeshadow won't look patchy and uneven. You can go for broken white eyeshadow instead of an actual white eyeshadow if you don't feel up for the challenge just yet. Sephora Colorful Waterproof Eyeshadow & Eyeliner Multi-Stick in Let it Snow will help you achieve this look easily.
Fade Off Eyeshadow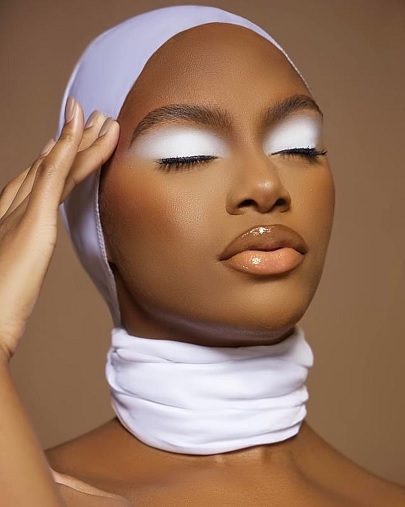 If you prefer your eyeshadow to have soft, blurred, or fading edges, then this look is perfect for you. This eyeshadow technique may be a little bit trickier than others as you should be able to pull off the flawless fade. You may also need two types of eyeshadow, pencil or cream eye shadow, and put the powder eyeshadow on top and blend to the outer part of your eyelids. For the white base, use JORDANA 12 Hr Made To Last Eyeshadow Pencil in Eternal White and apply Violet Voss Tie Dye for Eyeshadow Palette afterwards. Be patient while blending and take your time!
Summertime Eye Look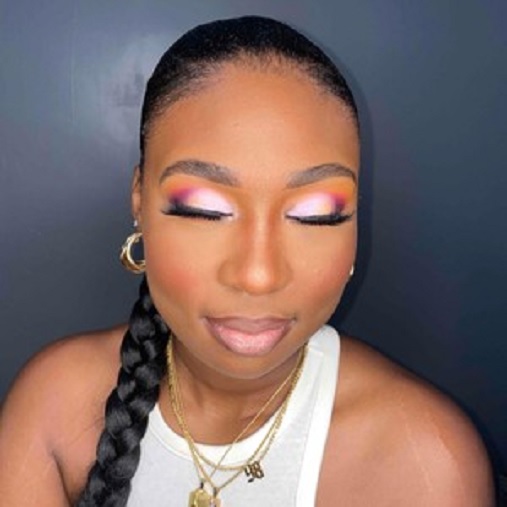 If you want to pull off some fun color eyeshadows with white eyeshadow, this combo is godly. Although this does need a little bit of skill, this look is totally worth it. To achieve this, you will need an orange eyeshadow, a little bit of blue and purple, and apply the white eyeshadow all over. Anastasia Beverly Hills Norvina® Pro Pigment Palette Vol. 1 is your absolute go-to choice for this eye look. For the bushy eyebrow finish, you can try Kosas Air Brow Tinted Clean Volumizing Eyebrow Gel.
Warm Glam Off-White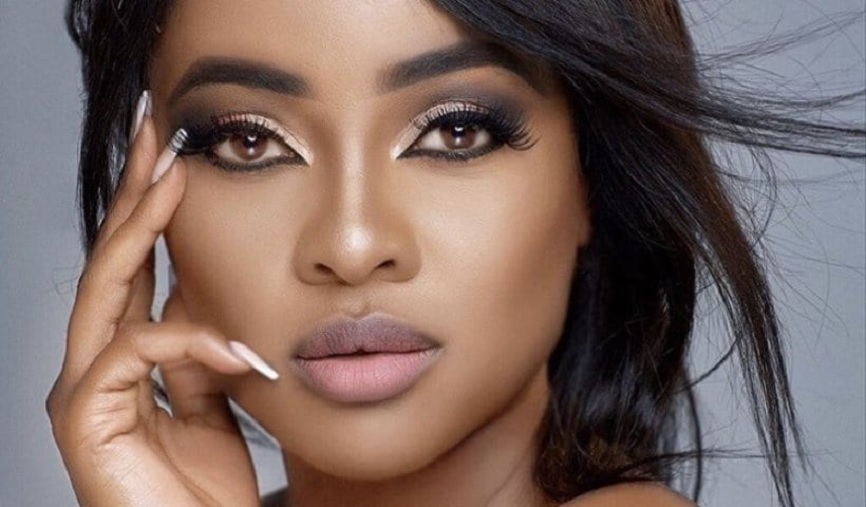 You can pull off Omuhle Gela's eye look by using ivory or off-white eyeshadow. This way, your eyes will look warmer than when you're wearing true white eyeshadow. You will need gray and off-white eyeshadow to get this look. Use the shade "White Peach" from Too Faced Sweet Peach Eyeshadow Palette, pair it with Pat McGrath Labs Mothership I Eyeshadow Palette and voila! To have more dramatic and defined eyes, apply your favorite black eyeliner and use it to frame your peepers.
White Silver Eye Queen
Looking for something simple but impactful on your brown skin? You can try silver eyeshadow! For this look, make sure that you choose metallic silver that has white tint to it and don't use silver/metallic shadows with colorful glitters or chromatic effect. Cream eyeshadow will do this look best, like Erinde Cream Eyeshadow in "White Satin". To get this look altogether, don't forget to take care if your eyebrows as well by brushing them out with Patrick TA Brow Lamination Gel.
Glam Monochrome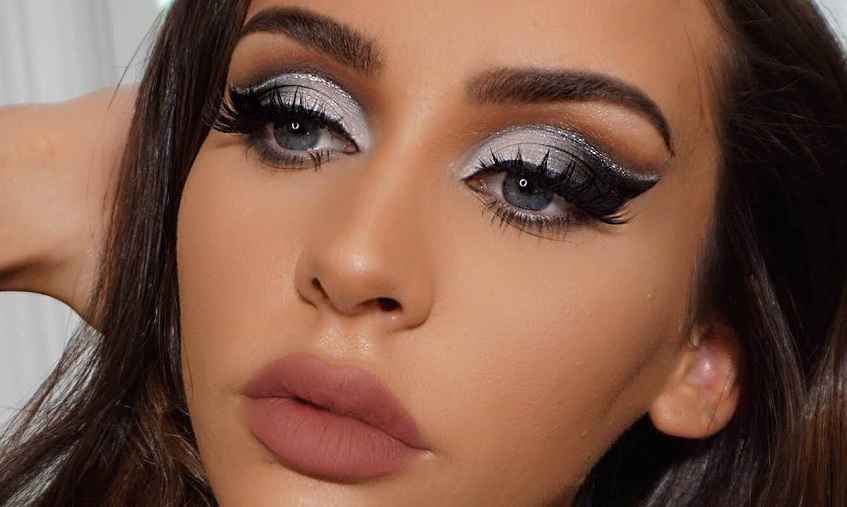 If you want to wow people with a full glam monochrome eye look, this inspo will definitely serve this purpose. With winged cut crease technique and white to black color transition, there is probably no better way to steal people's attention. Simply apply brown eyeshadow under your eyebrows, add the white as you cut your crease and apply black eyeshadow. Lawless Mini The One Talc-Free Eyeshadow Palette has the colors you need in one product. For this technique, you may also need to use concealer to clean up the mess and create the perfect edges for your winged look. As a finishing touch, draw a line using Urban Decay Heavy Metal Glitter Eyeliner on the line of your cut crease.
Pastel Eye
Ultra soft cut crease with pastel and white eyeshadow on your pretty brown skin? Say no more! This look is suitable for every occasion and you can adjust the pastel color with whatever color you want to match your outfit. You can try pink or baby blue eyeshadow from Natasha Denona Pastel Eyeshadow Palette. Also, typically, if you start your cut crease eye makeup with the outer part of your eyelids, you will need to do the inner part first as you need to create a soft and seamless transition. Lastly, wear Lancome Lash Idole Lash-Lifting and Volumizing Mascara to get your lashes dolled up!
Violet Themed Shadow
Looking to combine your favorite violet eyeshadow with white eyeshadow? This look can be your answer, truly perfect for a party. Apply your white eyeshadow first before applying the white one. This way, the violet color will pop nicely and won't look patchy. Finish the look with a thin, winged eyeliner from Sephora Long Lasting Eyeliner High Precision Brush. Choose your favorite violet color from Athr Beauty Moonlight Crystal Eyeshadow Palette. Don't be scared of experimenting!
Valentine Eyes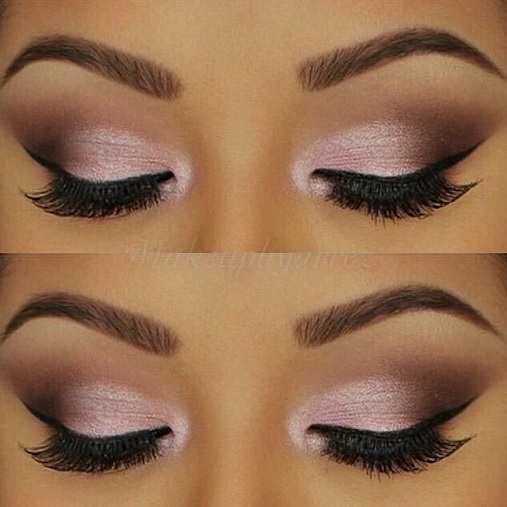 You can add sheer pink eyeshadow on top of your white eyeshadow for a subtle pink look, gorgeous for a date with your loved one. You can basically wear this eyeshadow look with any color of your warm-toned outfit. This look is also quite simple and doable for everyday makeup. Wear your favorite white eyeshadow and put the pink from Viseart Midsomomer Petit Pro Eyeshadow Palette. Don't forget to keep your eyebrows on point with Benefit Cosmetics Precisely My Brow Pencil Waterproof Eyebrow Definer.
Subtle Chromatic Eyes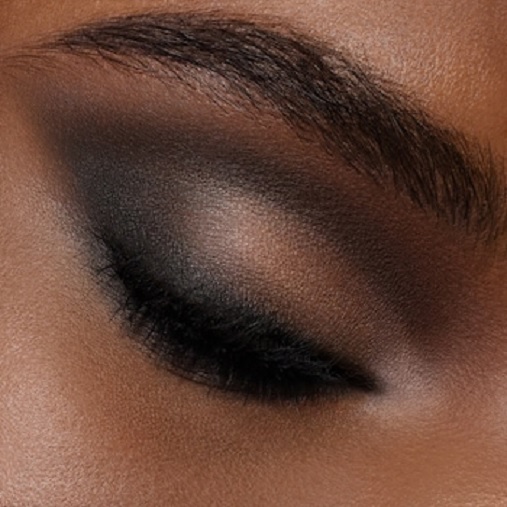 If you want to jump into white eyeshadow look but not feeling the white, you can try this subtle monochrome look. Most of this eyeshadow look uses black eyeshadow with a little bit of white eyeshadow on your inner corner, and mostly exposes your brown eyelids. This look is perfect for a more natural look but still a bold and a statement look. Smoothly brush black eyeshadow from Urban Decay 24/7 in Blackout on your eyelids and pat your inner corner lightly with Make Up For Ever Artist Color Pencil: Eye, Lip & Brow Pencil in All Around White.
Party on Full Glam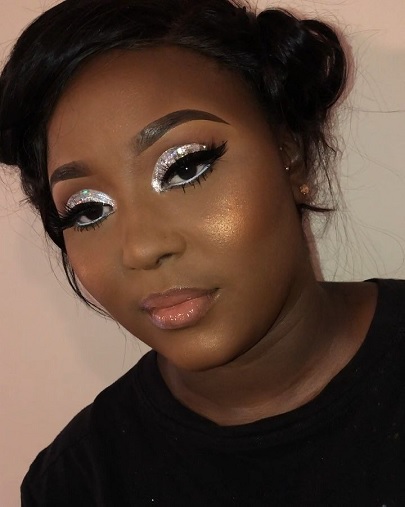 Need to go to a party with a full glam eye makeup and white eyeshadow? Worry not, this one will definitely make people turn their heads! Despite the glam, this look is quite easy to achieve as you only need white eyeshadow and white glitter shadow. Valentino Dreamdust Glitter Eyeshadow creates this sparkle easily. You can also define your eyes more with cat eye technique using a black eyeliner and make your lashes appear fluffy with Diorshow Iconic Overcurl Mascara.
What eyeshadow looks good on brown skin?
Every eyeshadow looks good on brown skin. You can always experiment with light colors, even the white ones. Certain colors pop off and make your skin glow, while some warm colors bring subtlety and class. The key is to be confident and don't be scared of trying new things!
How do you pop eyeshadow on brown skin?
Pop your eyeshadow on brown skin by wearing primer before applying any eyeshadow. This way, you can optimize the color payoff and the eyeshadow will stay a lot longer. You can also apply white or ivory eyeshadow before applying any color eyeshadow so that the eyeshadow will appear true to color on your eyes.
How do you make eyeshadow pop without primer?
You can make your eyeshadow pop without primer by using an eyeshadow base or cream eyeshadow. If you don't have any of these, any face primer will do, as well as setting spray. These products will help everything blend together and stay longer. You can also use any white eyeshadow to make lighter color eyeshadow pop.