Did you know that white eyeshadow looks with glitter would look absolutely dazzling if you use it for a party? Even though white eyeshadow is probably the least used color on your palette, I believe that it still has its uses. Since the color white itself is already an uncommon color for your eyeshadow look, adding glitter will totally add to the glam. You can also pair these two with another eyeshadow for a pop of color. 
The absolute key to mastering white eyeshadow looks with glitter is to never be scared of experimenting, as there are endless choices, styles, and finishes that you can try. There are no rules when it comes to makeup, and you can be as creative as you like. If you are unsure where to start, don't worry, as I shall help you find inspirations related to white eyeshadow looks that will help you start things out!
Tricks and Tips for Glitter Eyeshadow
Glitter eyeshadow is tricky; sometimes it pops off nicely and sometimes the glitter just flakes off your eyelids after some time and you never really know why. Here are some useful tips and tricks to get your glam on:
Dealing with glitter means that you should never forget to apply primer first. Getting them sticky is the best way to get the glitter to stick evenly for a blinding finish. If you have oily eyelids or simply want the glitter to stay longer, you can use eyelash glue instead.
2. Setting spray before application
I highly recommend that you wet your brush before using it to apply your glitter. This way, more products will get picked up and will be applied to your eyes. If you don't have a setting spray, you can use your primer or priming water.
3. Powder before the shimmer
Since glitter is difficult to remove once it lands, you will be extra careful when applying it to your face. Avoid this mess by applying face powder and don't brush it away before you're done with your glitter. This way, you can brush off the glitter along with the powder easily. It's better to finish your eye look first before you start your foundation so you can avoid messing up your whole face makeup with a glittery mess. 
4. Apply with a flat brush or finger
To apply your glitter eyeshadow and get an intense result, you will need to use a flat brush or your finger. Only use a fluffy eyeshadow brush if you are looking for a subtle shimmer finish.
What is the best white eyeshadow look with glitter?
Now that you know how to handle glitter eyeshadow, you can try out white eyeshadow looks with glitter that will get your eyes ready for a party. Here, I have compiled the best white eyeshadow looks with glitter to go get your glam on with:
1. Easy Pearl Glittery Eyes
This look is probably the easiest white eyeshadow look with glitter. Despite being super effortless and basically time-saving, this technique is absolutely dazzling. Even professional makeup artists will do this style often. Other than parties, you can also wear this look for your typical casual day.
Wear your brown eyeshadow very lightly with a fluffy brush before topping it off with a bit of white eyeshadow afterward. For the finishing touch, apply white glitter eyeshadow and sharp winged liner. To own this look you can try Stila Glitter & Glow Liquid Eyeshadow and apply it using your finger for a more blinding finish. 
2. White Sparkle with Liner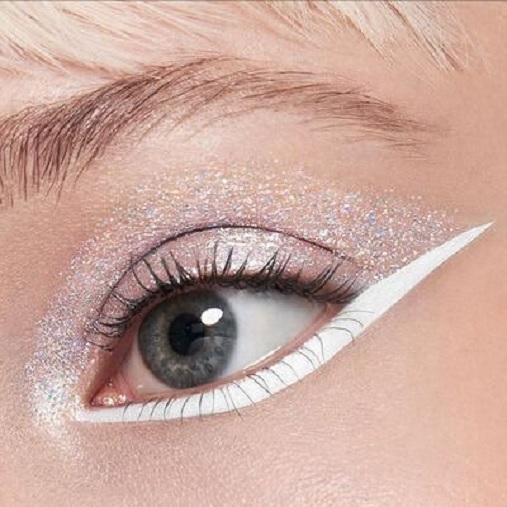 If your party allows you for a unique or unconventional eye look, this one is definitely what you should do. Apply your white glitter shadow on your eyelid and add white eyeliner from Sephora Colorful Wink It Felt Tip Liquid Waterproof Eyeliner to frame your eyes. Finish off with black mascara like Too Faced Better than Sex Volumizing and Lengthening Mascara to intensify your eyes and voila!
3. Mesmerizing Red Wine with Silver Shadow
Have a red dress ready for a party? Then this look will be a perfect match. With a deep red eyeshadow paired with white and silver shadow in the middle, all eyes will be locked on you. Apply your red eyeshadow all over and then add white eyeshadow in the middle. For this look, you will need cream eyeshadow like Anastasia Beverly Hills Norvina® Chroma Stix Makeup Pencil so that the red will be perfectly covered before you can use silver eyeshadow like Hourglass Curator™ Eyeshadow in Ice.
4. Pretty in Love
If you're planning to go to a valentine's day party with your loved one or with your besties, then this look will be worth it as the highlight of your day. This look may be a little bit tricky so the concealer will be required to do its job. Rare Beauty Liquid Touch Brightening Concealer can definitely do this. To create the tiny heart on your inner corner, make a tiny heart with a piece of paper and stick it there and start applying your eyeshadow on top. Once done, remove the paper and your tiny little heart is ready.
5. Stunning Neutral Monochrome
Monochrome eye look never looked this stunning before. No matter which color outfit you will be wearing, this eye look will absolutely guarantees an ideal match anyway. Apply white and black eyeshadow like your typical smokey eye technique and then add white glitter eyeshadow on top of your white eyeshadow for a dazzling finish like Wet n Wild Color Icon Glitter in Bleached. Moreover, you can also use some face gems on the black area. The party is definitely on, now!
6. Enchanting Frosted Forest
Pop the color of your eyes with a combination of white, silver, and also green eyeshadow. This combo can make your eyes appear lively and more intense. With a white eyeliner pencil applied on your bottom waterline, your eyes will definitely look bigger; faultless for a party. Athr Beauty Moonlight Crystal Eyeshadow Palette has all the colors you need for this eyeshadow look. In addition, don't forget to wear your favorite fake lashes for a dramatic finish. 
7. Luxurious in Glitter
When going to a party, you should never miss out on trying out this look. This eye look is not as difficult as it looks as you just need a simple neutral eyeshadow color for your base, champagne metallic eyeshadow, white eyeshadow on your inner corner, and glitter eyeshadow Valentino Dreamdust Glitter Eyeshadow in Silver Spark. Finish the look with white eyeliner from Sephora Eyeliner Pencil To Go and you're done!
8. Pastel Ice Queen
This one is a bit extra, but if your party allows it, you should try this look. The color gradation from white to sky blue and an out-of-the-box additional blue glitter streak on your eyebrows will definitely become a head-turner. The blue eyeshadow from Natasha Denona Pastel Eyeshadow Palette would be an immaculate choice to perfect this look. 
9. Mystical Half and Half
This half-and-half-eye look is definitely not for everyone. However, if you do this right, you will definitely become the center of attention. Start by applying white eyeshadow from the first half beginning from your inner corner and finish the rest with black eyeshadow. Then, apply silver eyeshadow using a flat brush for a precise and clean application. Natasha Denona Mini Xenon Eyeshadow Palette is highly recommended to achieve this out-of-ordinary makeup. 
10. Starry Night on Eyes
You have seen glitter on lids, but wearing glitter as your eyeliner and crease is an absolute glam look. You can start by applying white eyeshadow on your inner corner, a tiny bit of brown, and then use gray and black eyeshadow as you go on. As the finishing touch as well as the star of the show, slowly apply silver glitter eyeliner from Urban Decay Heavy Metal Glitter Eyeliner on your eye and crease. 
11. Elsa-Inspired Look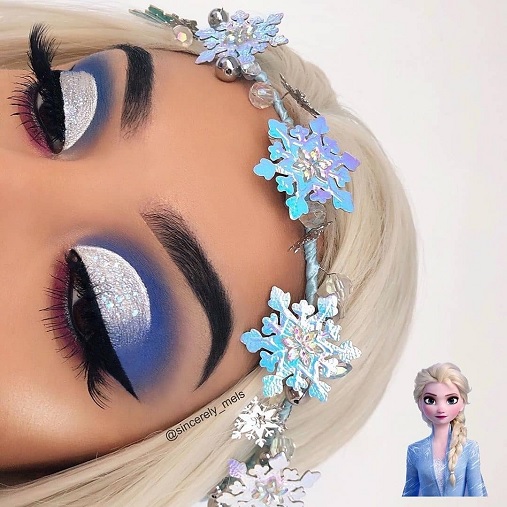 There seems to be a trend of wearing your makeup inspired by a movie these days. If you've never seen or tried this Elsa-inspired eye makeup, then you should hop in. A party definitely calls for this exquisite rich blue eyeshadow combined with white eyeshadow and a glitter look. Wear a blue eyeshadow from INC.redible Lid Slick Eye Pigment in Dose of Ego and cut your crease with cream white eyeshadow from Makeup For Ever Flash Color Palette, then cover the white part with your eyeshadow.
12. Golden Sparkle on Eyes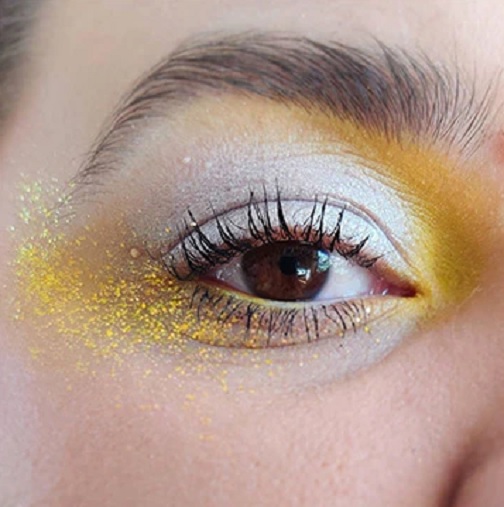 Going to a summer party? This look is definitely your answer. This eye look is also very simple and can be achieved in just under five minutes. Apply your white eyeshadow all over your eyelids and add the golden eyeshadow on the bottom part of your other corner. You will need a true golden eyeshadow, like Makeup By Mario Master Crystal Reflector™ in Citrine. To finish it off, apply your favorite mascara and brush your eyebrows for a natural finish.
13. Soft Shimmer
If you are looking for a soft eyeshadow look with glitter eyeliner, you should try this lavender and white sparkle look. You can easily change the color of your glitter eyeliner to match your outfit or your eye color, whichever you like. For this look, you will need eyeliner from EpiLynx Lasting Glitter Eyeliner. In addition, don't forget to apply a white eye pencil on your bottom lash line to create a bigger eye effect like Haus Labs Optic Intensity Eco Gel Eyeliner Pencil. 
How do You Make Glitter Eyeshadow Pop?
You can make glitter eyeshadow pop by using eyeshadow primer or the same color or white eyeshadow underneath the glitter. This way, more glitter will get stuck on your eyelid and it will also appear more vibrant. For a strong sparkle, you can also use eyelash glue. Make sure to wet your brush before applying the glitter, too!
How do You Wear Glitter Eyeshadow?
You can wear glitter eyeshadow by wearing it alone on your eyelids for a simple finish. For an intense pop of color, you can spice it up with another color like a smokey eye, and wear the glitter on the inner corner part of your eyes. Wear the glitter using a flat brush or your finger so more glitter will be applied.
Where do You Put Glitter on Eyes?
You can put glitter anywhere on your eyes. If you're in a hurry and want something easy, you can just put it on your eyelids. You can put it on your inner corner for a sweet finish or under your eyebrows if you're feeling extra. You can also apply the glitter to your crease. There are endless ways you can try!
How do You do Glitter Eyelids?
You can do glitter eyelids by putting on primer first. Glitter tends to flake off after a while, so this step is important so the glitter won't get everywhere on your face. Once the primer dries, you can start applying glitter on your eyelids. Easy peasy!
Conclusion
White eyeshadow is often overlooked by makeup artists. After all, it is not easy to apply beautifully, especially when you have a lighter skin tone. However, I believe that this type of eyeshadow will be a plus for you if you know how to combine it. White is an excellent color to create that stunning transformation from dark to bright. It offers a more pronounced effect when you combine it with different eyeshadow shades.
When you want to glam up yourself, a touch of white eyeshadow with glitter will add more class, making your gaze look luscious. I highly recommend that you try all of the styles above at home! See for yourself how good they are and find out which one suits you the most!