White eyeshadow looks on dark skin might sound unusual. This color is difficult to handle and most of the time, it doesn't pop quite nicely as other colors do so it's a bit scary and such a risky color to play with. Most of the time, you will hear experts say something along the lines of "the key to perfecting eye makeup on dark skin is to use warm tones". But how about white eyeshadow? 
I believe that if you know how to handle white eyeshadow just right and know which look you're going for, you can master white eyeshadow looks in no time and wear it for casual occasions to formal and dinner parties. It is a bit intimidating to try something unfamiliar, I know. But worry not! I have the best recommendation when it comes to white eyeshadow looks that'll look great on ladies with dark skin So sit tight and let's discover these new styles together!
How to Make the Best of White Eyeshadow Looks on Dark Skin
Since you're going to challenge the hardest color eyeshadow, let's make sure that you got all the knowledge and tools. Let's go!
1. Apply quality eyeshadow primer, base, and concealer
Before we can play around with white eyeshadow, it's important to apply primer, base, or concealer. The white pigment will stick better, resulting in maximum color payoff. 
2. Spray the eyeshadow brush with setting spray 
Before you start applying the white eyeshadow, make sure to spray your eyeshadow brush with a setting spray. We want to make sure the eyeshadow really sticks to your brush, and this is one way to do it. 
3. Apply with a flat brush and blend with a fluffy brush
No matter how good the pigment in your white eyeshadow is, it's an absolute must to apply the white eyeshadow with a flat brush. This is to guarantee that more eyeshadow will be picked up by the brush. Just when you need to blend the edges, you can use a fluffy brush. 
4. Eye pencil and liquid eyeshadows < powder eyeshadows
Liquid and gel products contain more pigment than powder ones, so it's better to use these as a main eyeshadow. If the eyeshadow looks you're trying to achieve needs some blending, then you can apply the powder on top so you can blend the edges. 
Tip: If you don't have liquid or cream eyeshadow, you can use your concealer instead and then apply white powder eyeshadow on top. 
What is the Best White Eyeshadow Look on Dark Skin?
Now that you know the best way to make your white eyeshadow pop on your skin, it's time to look for some captivating white eyeshadow looks that suit your dark skin. Whether you're going for a simple look, glam, or sparkly, I got you covered!
1. Dainty in White
This look features the contrast of dark purple and white eyeshadow. With the help of eyeliner, this eye makeup is perfect to accompany your night party or gala dinner. Apply the dark purple eyeshadow from Danessa Myricks Vision Flush Brush, Eyeshadow, and Lip Color first before you can start with your white eyeshadow and blend the color in the middle for a smooth transition. For the white eyeshadow, you can use the color Bleach Dye from Violet Voss Tie Dye Eyeshadow Palette. 
2. Futuristic with White Metallic
If you're in a bit of a hurry, this look is perfect as this eye makeup only takes about 5-10 minutes of your time and you will still look stunning. I recommend that you use the white eyeshadow as your base and top it off with metallic eyeshadow from Sephora Colorful Eyeshadow in shade To the Moon and Back. Apply the eyeshadow on your eyelid only and blend a bit. Perfect for a lazy day when you still need to be dazzling!
3. Bold Neutral Cut-Crease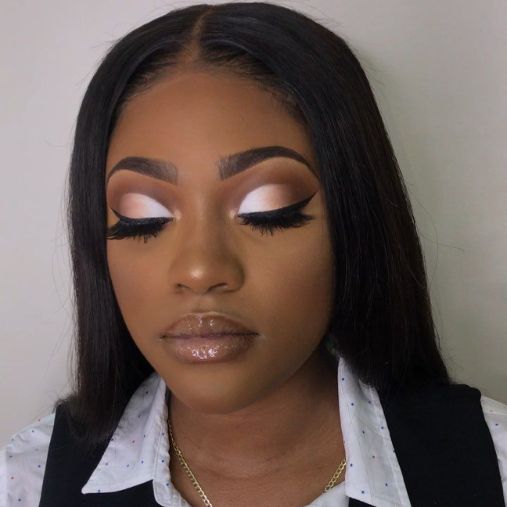 Talking about the best white eyeshadow looks on dark skin, this one is perfect for a day event with your colleague or if you're just feeling extra for work. Once you finish applying the brown eyeshadow, cut the crease with your concealer or white cream eyeshadow like Stila Double Dip Suede Shade and Glitter Liquid Eyeshadow in White Out. To ensure a flawless color transition, use white powder eyeshadow from NYX Cosmetics Hot Singles Eye Shadow in Whipped Cream on top of the liquid eyeshadow. Finish the look with your favorite eyeliner and done!
4. Confident in All-White
Feeling unique? This look is your answer, especially if your skin is on the darker side as it will create a magical effect. You only need white eyeshadow for this eye makeup. Since you need to blend the eyeshadow very smoothly, you will need a powder eyeshadow with high pigment to ensure a smooth finish like MAC Eye Shadow Gesso. Finish the makeup with black mascara for a defined look and deep burgundy lip gloss like KVD Beauty XO Vinyl Lip Cream.
5. Sweet in Graphic White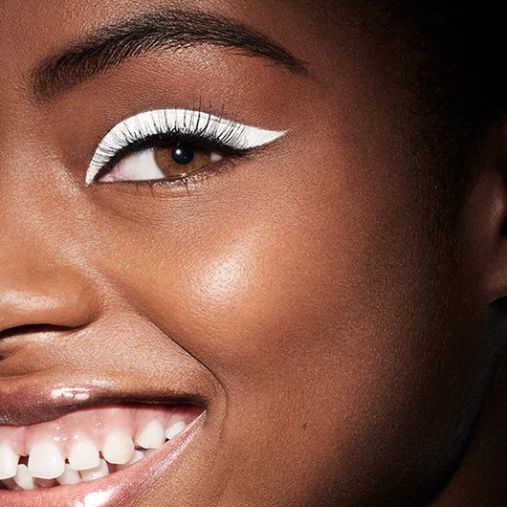 Wear your eyeshadow like you would wear your eyeliner. I've tried this look myself and it is super simple but still looks sweet, especially if you wear your mascara to define your beautiful eyes. This eye makeup accentuates the color of your eyes even if you don't wear any additional makeup. I believe that Anastasia Beverly Hills Norvina Chroma Stix Makeup Pencil can help you achieve this eye look easily. Don't forget to wear your lip gloss for juicy lips!
6. Chic in Colors
If you are looking for eye makeup to match your outfit, then you can try out this style. You will need to apply white eyeshadow all over as your base so the blue eyeshadow will pop and then you can start applying the blue and purple, and add the last touch of white eyeshadow in the inner corner as a cute finish. Violet Voss Sugar Crystal Eyeshadow Palette is a great choice for this eye look. You can also switch and try other colors to fit your mood!
7. Delicate in Rose Petals
Feeling for a mellow makeup day? You can try the combo of soft pink and white eyeshadow. This look compliments your skin any day on any occasion. Simply wear your white eyeshadow and then add more pink as you go on. Natasha Denona Mini Love Eyeshadow Palette helps you achieve this eye look easily. In addition, complete your makeup by adding MLBB color lip gloss and you're ready to bewitch the people around you. 
8. Burning Passion with White Fire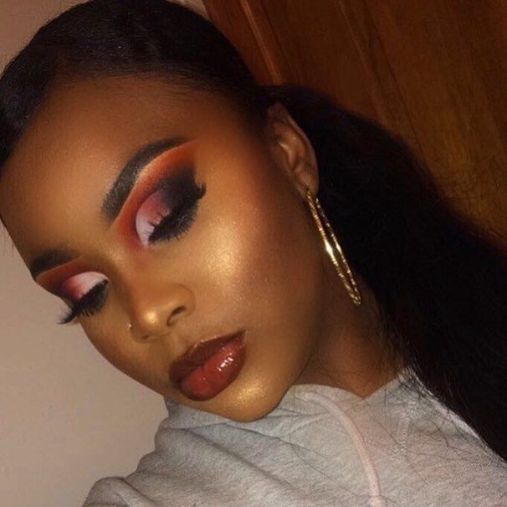 The combo of white, red, black, and orange sounds too much for dark skin, but don't say no unless you try it! This combo flatters the glow of your skin and shows off your passion. Although this one may be a bit difficult to create for beginners, the end result is worth the time and effort. Afflano True Red Eyeshadow Palette would be your go-to choice to complete this eye makeup.
9. Glamorous in Pearl
Purple and white pearl eyeshadow is also a great choice if you want impactful eye makeup on your skin. This color pair intensifies the color of your eyes and is suitable for formal and night events. Anastasia Beverly Hills Norvina ® Pro Pigment Vol. 5 should be your ultimate option for this eye makeup. Last but not least, don't forget to add a sharp, winged liner for a dramatic finish. 
10. Into the Sun
Now is the time to put some sunshine on your eyes. The blend of orange, white, and yellow brings freshness and elegance to your whole look. Simply apply your white eyeshadow and orange shades from Huda Beauty Color Block Obsessions Eyeshadow Palette, and then add golden shimmer or highlighter under your eyebrows for a neon, flashlight effect. What an infallible choice for summer!
11. Sparkly Garden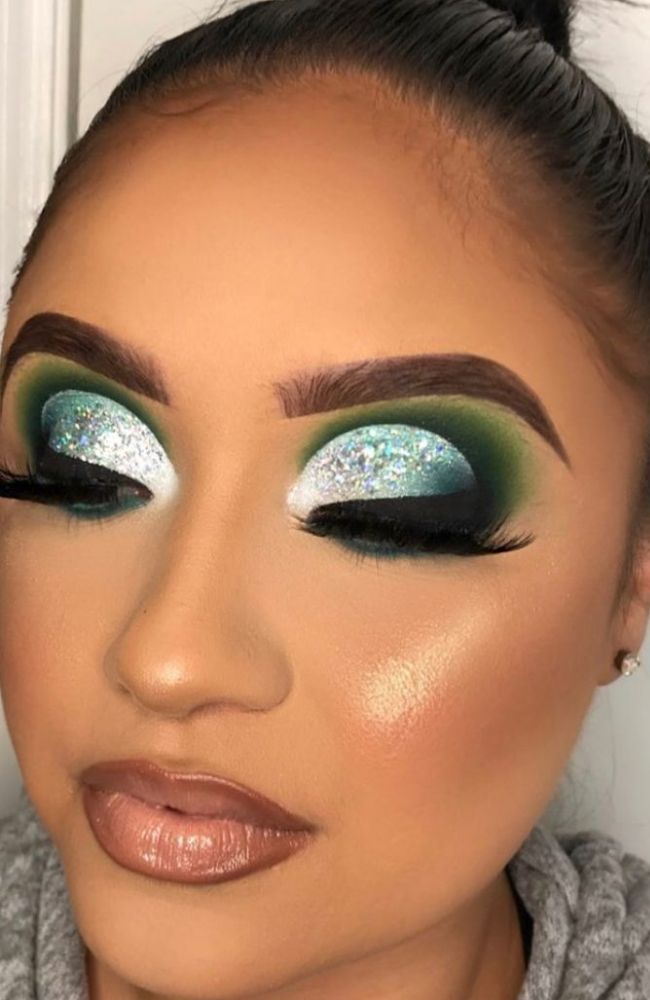 If you love green, you should definitely try out this fresh yet charming look. Although this eye makeup may be a little too bold according to some pro artists, you can always tone down the green eyeshadow however you like. For this, Urban Decay Naked Wild West Eyeshadow Palette and Make Up For Ever Starlit Diamond Powder will do.  
12. Glowing in Radiance
Yellow never fails to make your skin glow as this color radiates the warmness in you. A fun look, yet still elegant and graceful. You can always wear this eye makeup anytime, whether it's during a daytime event or a night out with your girlfriends. Perfecting this radiant makeup is easy with Too Faced Light My Fire Eyeshadow Palette. This look is best paired with long and thick fake lashes. 
13. Sky on Eyes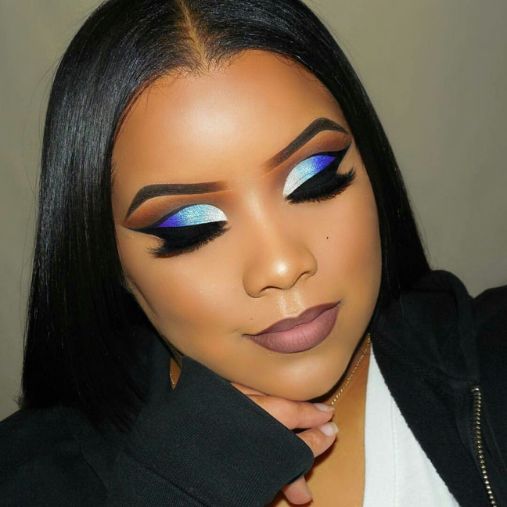 Blue is your skin's best friend to create a high impact. You can try a bold cut-crease look with white to dark blue color transition, which resembles the sky. Simply apply your white eyeshadow and start applying the blue as you move. And then, cover all colors with glitter eyeshadow from the One/Size Patrick Starr Visionary Eyeshadow Palette. To complete the look, wear your favorite black mascara and eyeliner to add more effect. 
14. Monochromatic Queen
The last white eyeshadow looks that you should try on your dark skin is this simple yet classy monochromatic eye makeup, perfect for any day and any occasion. This extreme contrast will make your eyes look magnetizing. Define your eyes with the cat eye technique to mesmerize the people around you. Simply use Natasha Denona Glam Eyeshadow Palette and you're all set for the look!
What comes as the best eyeshadow looks on dark skin?
Every eyeshadow looks good on dark skin. It all depends on how you mix and match the color and which technique you will be using. From classic warm tones to cool tones like white, you are going to look magnificent anyway! The key is not to be scared of exploring new ideas to inspire you. 
How do you blend eyeshadow on dark skin?
How you blend eyeshadow on dark skin depends on the look you're aiming for. If you're looking for smokey eyes, go for the darkest color to blend on the outer part of your lids. This is to create depth in the crease. As you fill the inner part, go for the brighter color. To make these eyeshadows pop on your dark skin, remember that you may need to use the stamp-then-blend technique; the first step is to apply the eyeshadow with a flat brush and then blend the edges with a fluffy brush. 
What kind of makeup suits dark skin?
The best makeup that suits dark skin is the one that makes your skin glow. There are ways to help you understand how to accentuate the beautiful features that you already have:
1. Foundation 
Finding your undertone will help you find your best foundation shade so you won't look ashy. This way, you can also find the colors that compliment your skin. Don't forget to test your foundation to see how 'bad' they oxidize!
2. Blush
Being a dark skin girl, finding a blush that pops on your cheek can be challenging and difficult. For blush, look for rich and deep colors in a form of cream or liquid as these forms hold more pigment than powder. It's also better to match your blush with your lipstick's undertone. 
3. Eyes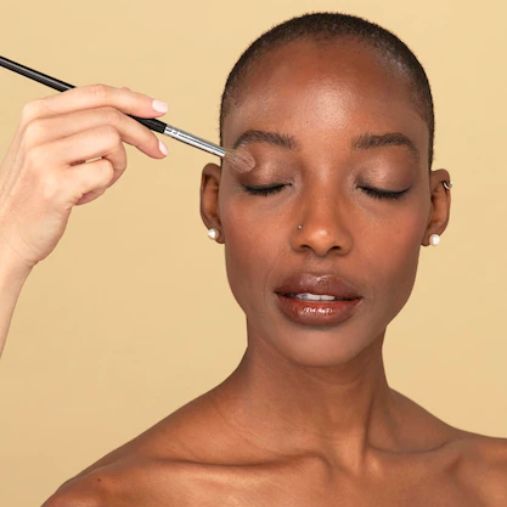 Any colors will compliment your skin, so don't be scared of trying out funky colors like metallic blue or cool tones like white. For your eyes to really pop, finish your eye makeup with eyeliner and mascara. 
4. Lips
Generally, the best lipstick shades for dark skin are mauve, pink with dark undertones, red, rust, or deep maroon. If your complexion is on the darker side, it's easier to match these dark and more saturated colors. However, you can never go wrong with nude shades as they will make your skin appear more radiant. 
What is the purpose of white eyeshadow?
A lot of beginners often overlook white eyeshadow. However, experts will tell you that it is actually a staple to highlight the areas of your face, especially around the eyes. It does not have that much effect on its own, but combine it with various color palettes, you can create a unique gradation. A simple swipe of white eyeshadow will level up the beauty of your colored eye makeup significantly! It's all about attention to detail.
Why put white eyeshadow in corner of the eyes?
If you look closely at the 14 eyeshadow styles that I've highlighted above, you will notice that some of them use white eyeshadow is often used in the corner of the eyes. This is intentional because white eyeshadow is really good to brighten up the eye and create that lovely chic finish! You can apply it to the inner corner of your eyes before you add some eyeliner.
Conclusion
A lot of people say that finding a way to match a white eyeshadow on dark skin is not easy. Yet, here, I've proved that this notion is not true. It can be a bit tricky but there are a lot of methods to do it if you are creative enough. And here I've presented 14 styles that incorporate white eyeshadow which will blend really well on your dark skin.
Now if you have a darker skin complexion, do not be afraid of using white eyeshadow! I encourage you to try each of these styles at home and see for yourself how beautiful they are! Find out which eyeshadow style suits you the most, and do not hesitate to follow my eye makeup tips closely to get the most satisfying look!