The show Euphoria is one of the hot topics these days. From the plot of the story, the characters, visuals, styles, and most importantly the makeup, we just can't get enough of everything about Euphoria. One of the most aesthetically pleasing things from the show is undoubtedly Cassie Euphoria's makeup. If you want to do your makeup like Cassie Howard, in this article we have 30 Cassie Euphoria makeup that are inspired by her look. We will help you recreate the makeup look, in order to look iconic just like her. So keep on reading to find out more!
30 Makeup Ideas Inspired by Cassie Howard
Cassie's signature colors are blue and baby pink that match her sweet, sentimental, and feminine character perfectly. That is why most of her wardrobes, including her makeup looks, are dominated by blue and baby pink. So be ready to get inspired by her look by checking out 30 Cassie Euphoria makeup ideas below.
1. Pink Eyeshadows, Winged Rhinestones, and Pink Lipstick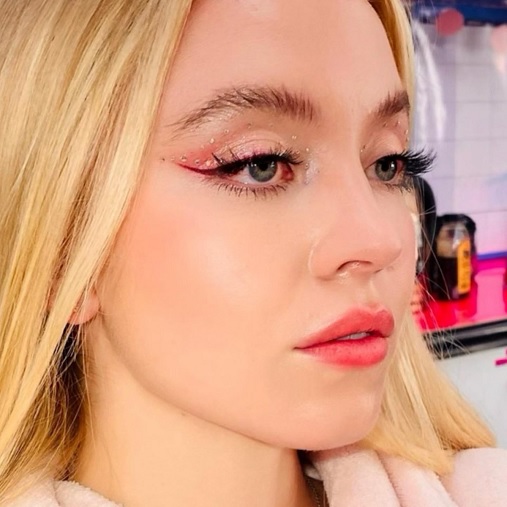 We just love everything about this look. Feather brows, soft pink cut crease, winged eyeliner, wispy falsies, pink lipstick, the subtle glow, and of course, the blush on the cheeks. The look brings out her feminine, sweet, and dramatic personality, especially with the cute little gems above her crease, just perfect! This is most likely the prettiest Cassie Euphoria makeup look that is begging for us to recreate.
2. Blue Eyeshadow and Graphic Eyeliner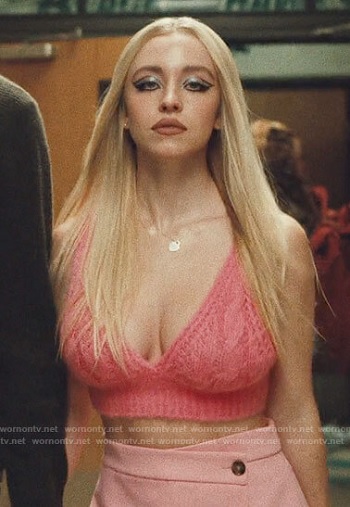 Another notable look from Cassie was this killer graphic eyeliner that makes her eyes look bigger and more dramatic. You can recreate this look by blending light blue eyeshadow on your lid to the crease, then use a dark blue eyeshadow or pencil liner to draw a thick line on the upper lash line. Then, take a black eyeliner to draw the graphic eyeliner, and apply mascara on the lashes and white eyeliner on the lower lash line to make the eyes look bigger. As the final step, finish this look with nude lipstick, clear lip gloss, peach blush, and highlighters on the cheeks to bring glow to the face.
3. Gray Eyeshadow and Bottom False Eyelashes
This simple look is quite easy to recreate. For the eyes, you can use gray matte and silver shimmer eyeshadows by blending the matte eyeshadow first to the lids and crease. Take the silver shimmer, apply it from the front to the middle of your lids, and apply mascara to the lashes. The key to obtaining this Cassie Euphoria makeup look is to use a bottom false eyelashes to create a dramatic look to the eyes. Then, apply nude lipstick and bronzer. You can take a black pencil eyeliner and draw a tight line to the upper lash line.
4. Bright Red Lipstick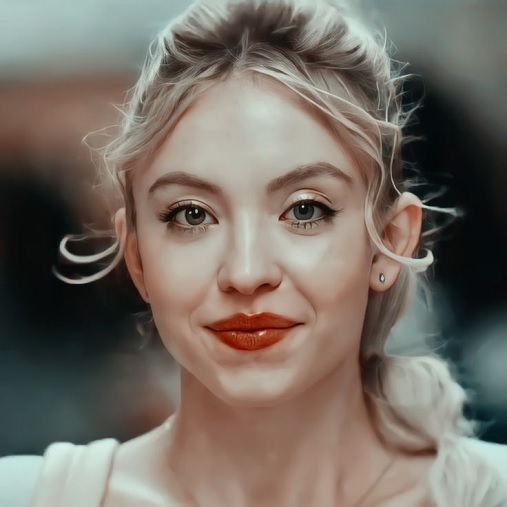 Bright red lipstick is the look that will never do you wrong. It is simple, yet it can boost your confidence in an instant. Pick any red lipstick that suits your skin color and add a swipe of clear gloss on your lips to make it appear juicier. Then, you can do a simple flick-eyeliner and add a little shimmery champagne eyeshadow on your eyelids and you are ready to go.
5. Pink Romantic Look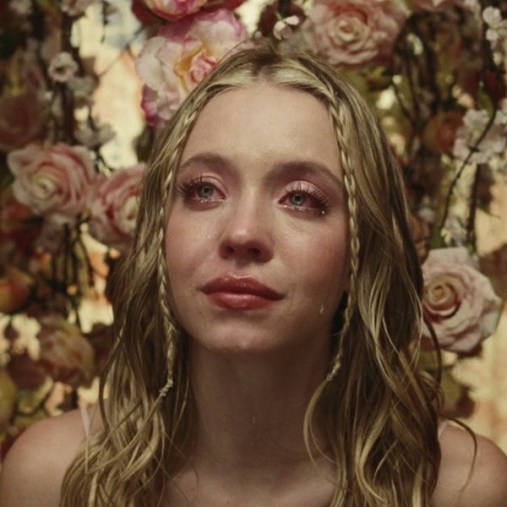 Bronzer, pink eyeshadows, and nude lipstick are the key to creating a romantic Cassie Euphoria makeup look. Bronzer is important to bring warmth to the face while a pop of soft pink eyeshadow will grab attention straight to the eyes. Remember, this look is not complete without pink or peach blush on the cheeks. Also, the warmth of soft brown and pink will make your face look sweeter and soft.
6. White Rhinestones for Minimal Dramatic Look
Add a little twist to your makeup look by adding two little rhinestones. The little gems will make your makeup look dramatic and eye-catching. Just do your everyday natural makeup look, and add two little rhinestones on the outer v of your eyes. This Cassie Euphoria makeup look is super simple and effortless!
7. White Eyeliner
This one is another one of Cassie Euphoria makeup iconic looks. The white eyeliner was her way to imitate Maddie's edgy makeup. The brown matte lipstick is perfect to complete this adorable makeup look, too. Also, notice how the makeup artist did not give her tons of blush and strong eyebrows to keep her innocent and sweet personality shown on the screen. Definitely a must-try look for every Cassie's fan out there.
8. Icy Eyeshadow
Step up your makeup game by trying this icy eyeshadow look. Dip your brush into a shimmer cool tone blue eyeshadow and blend it to the crease and the lower lash line. Use a sliver metallic eyeliner to create a cat eye to your eyes. Then, finish it with falsies and some gems to make the look more eye-catching.
9. Simple Blue Eyeshadow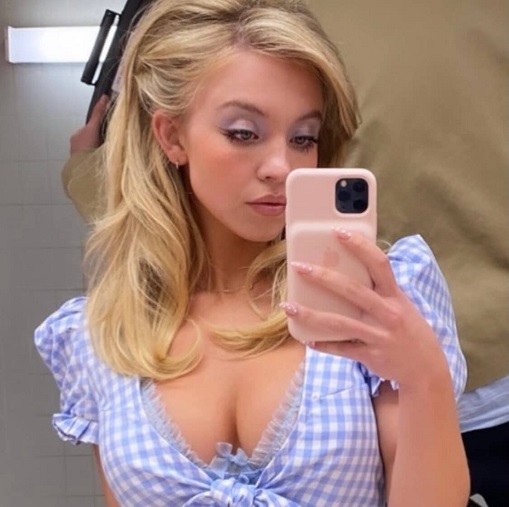 The simple icy blue eyeshadow from Cassie Euphoria makeup look is pretty easy to do. Blend a matte blue eyeshadow on your crease, up to your brow bone, then add a shimmery blue eyeshadow to the lids. Apply mascara and a thin eyeliner and you are done with the eye makeup. You can use peach blush and nude lipgloss to complete the look.
10. Smokey Eyeliner
Smokey eyeliner look is great to bring confidence and fierceness to your face. In this look, you can see a subtle pink eyeshadow on Cassie's eyelids and nude pink lipstick on her lips to balance the heavy eyeliner. Don't be afraid to go bold with your eyeliners!
11. Winged Gems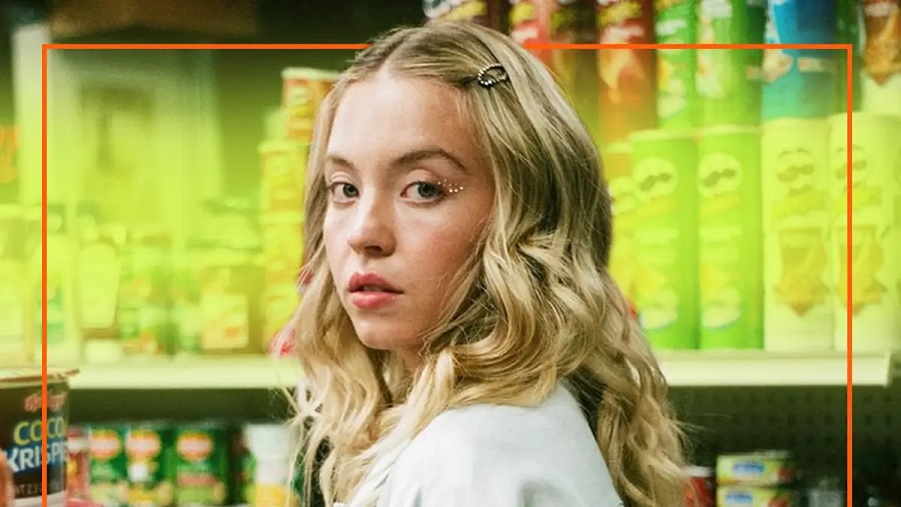 Winged gems can make your bare face look more innocent. Especially, when you go out at night, the lights will catch the gems and light up the eyes. Stick to subtle foundation, eyebrows, and lips if you want to recreate this look.
12. Blue Eyeshadow and Eed Lipstick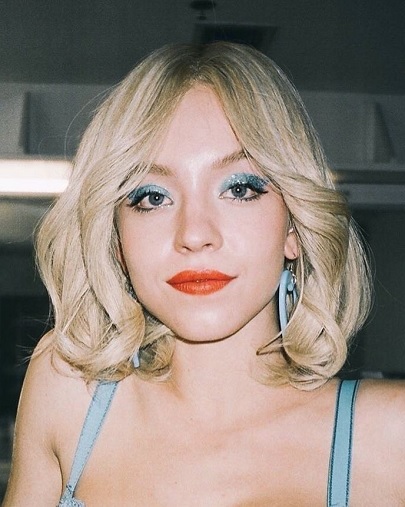 Is it 60's or 80's makeup inspired? we are not sure. But Cassie's blue eyeshadow and red lipstick were snatched! The little gems on the lids make the whole Cassie Euphoria makeup look really pretty and unique. Try this look if you are bored with your regular makeup.
13. Feather Eyebrows and Pastel Blue Eyeshadow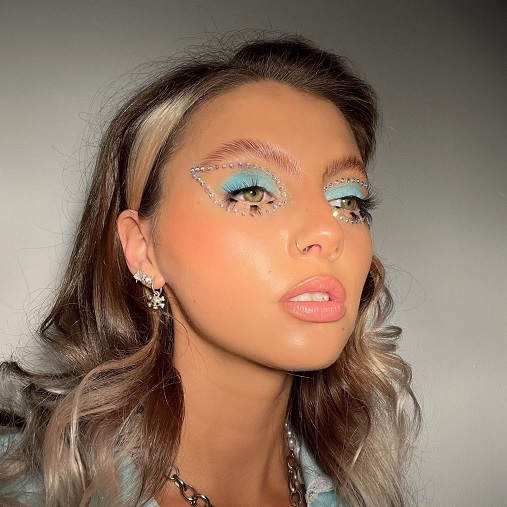 Feather eyebrows and pastel eyeshadows are trending everywhere these days. Try to create your own Cassie Euphoria makeup look using them. Don't forget to add little gems around your eyes to make it look more like Cassie!
14. Classy Red Lips for Formal Events
Grab the attention when you walk into the room with your alluring red lips. Add a flick of black eyeliner to make your eyes pop. Also, your favorite intense highlighter will bring that extra glow to your face and make the look more captivating when doing this Cassie Euphoria makeup look.
15. Soft Glam
The purpose of soft glam makeup is to enhance your face while adding glow to it. This is another look that you can try when attending parties. A pro tip when doing this look; make sure you blend your makeup to create a flawless complexion. Also, don't be afraid to play with the highlighter on your shoulders to make them glow when they catch the lights.
16. Pink Lipstick for Natural Look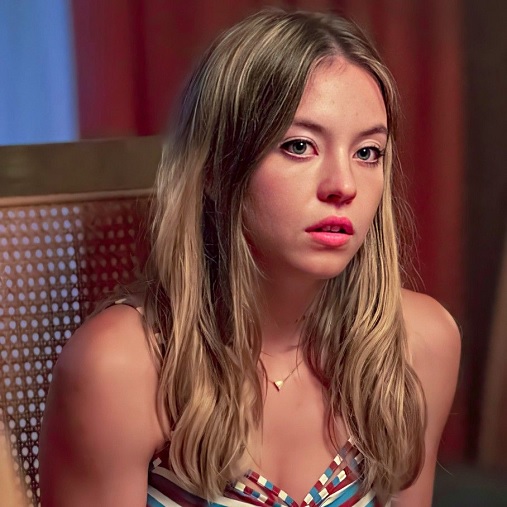 The right shade of pink lipstick can make your face look youthful and bring forward the innocent look. For an everyday natural look, stick with light foundation or tinted moisturizer to avoid looking too heavy on the complexion. Then, apply pink blush on the cheeks. You can use your pink lipstick as a blush to make them match.
17. Little Gems Under the Eyebrows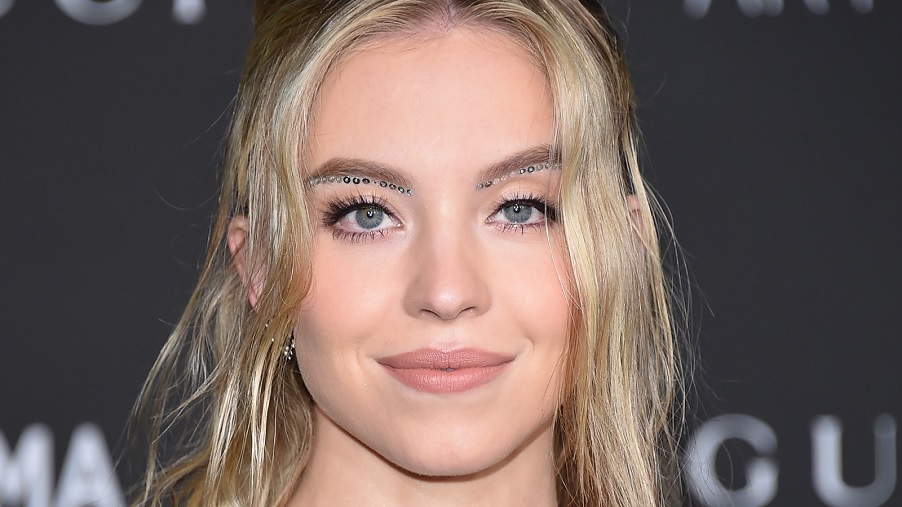 This is such a unique makeup look from Sydney Sweeny as she stepped on the red carpet. The little rhinestones were glued on under her brows and created such a cute twist to her soft makeup glam. We also love the glossy nude lipstick and the wispy eyelashes. A really fun Cassie Euphoria makeup idea to try!
18. Bronzed Look
Bronzed look is the perfect Cassie Euphoria makeup look to try to make you look sexier with warm bronze colors. The warmth from the color will make your face look even more alluring. Apply bronzer on your temple and cheeks to make your face glow with the sun-kissed effect. Finished the look with highlighters and warm nude lipstick.
19. The "No Makeup Makeup Look"
Remember Cassie's "no makeup makeup look" for prom? Minimal makeup can turn heads when you step into a crowded room full with bright full makeups. Stick with tinted moisturizer and light concealer when trying to create this look. Go light with the eyebrows, eyeshadow, and lipstick. Sometimes, less is just more.
20. 60's Inspired Look
Cassie's style of eyeliners on the show sometimes reminds us of the 60's makeup look. Try to make your own twist of Cassie Euphoria makeup look. Draw a simple black curved line above your crease to recreate this look. Don't be afraid to practice your skill and express yourself by trying the 60's makeup style.
21. Black Winged Eyeliner
You can never go wrong with black winged eyeliner. Look at how gorgeous Sydney Sweeney, the actress who played as Cassie in Euphoria, with winged eyeliners. They brought attention to her eyes and added drama to her simple glam makeup. The eyebrows were also filled on point to frame her face nicely. Definitely one of her must-tried looks.
22. Another Blue and Pink Makeup Look
This is one of the inspired looks from Cassie Euphoria makeup. The pink blush on that connected with the pink eyeshadows in the crease framed the face so prettily. Also, the blue is such a pretty pop of color to the eyes. The little rhinestones on the eyes add dramatic twinkles to the look. For the lips, you can use a pink lipstick and apply a white highlighter on your cupid's bow and the middle of your bottom lip using a small brush to make them appear fuller.
23. Wing-Shaped Pink Eyeshadow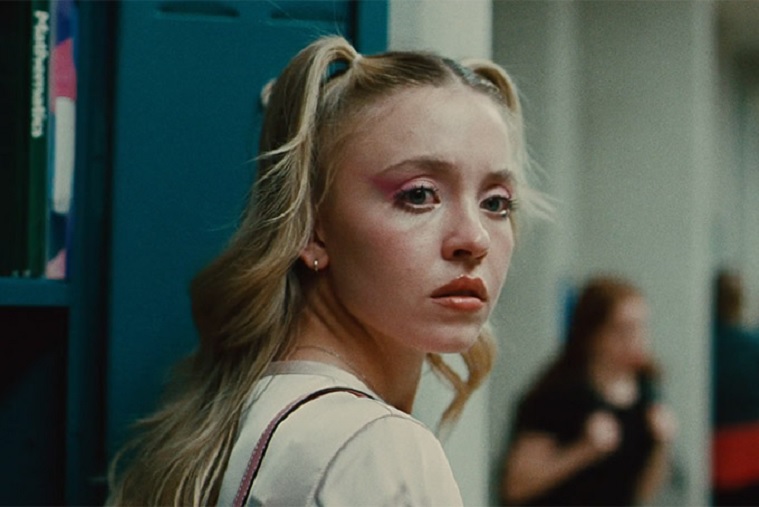 The pink winged eyeshadow was such a cute look on the show. Cassie Euphoria makeup is done minimalistic in this scene, save for the pink winged eyeshadow. The eyebrows were done lightly to bring forward her innocent personality to the screen. They are a nice contrast to her soft yet dramatic eyeshadow. Definitely an easy and must-try makeup look.
24. Blue Eyeliner and Peach Eyeshadow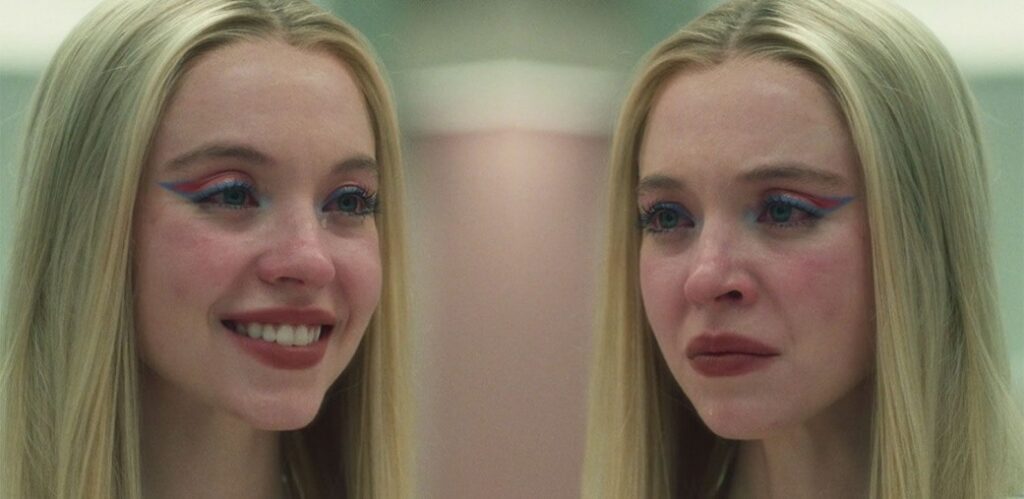 One of the most unforgettable scenes from Euphoria season 2 was the fighting scene between Maddie and Cassie when attending Lexi's play. The blue eyeliner and peach eyeshadows combo were such a statement of how much Cassie was trying to copy Maddie's style. The brown lipstick adds a hint of boldness to her character.
25. Pink Cut Crease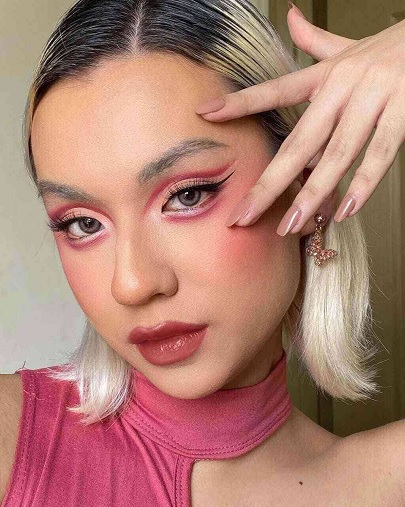 Pink cut crease is another look that reminds us of Cassie Euphoria makeup look. Try to do this makeup look and step up your skill. Use a nude brown lipstick on the lips and top it with lip oil to make your lips look plump and juicy.
26. Heavy Blue Rhinestones
Fantasy of Cassie Euphoria makeup looks are always great to experiment with. Look at how pretty Sydney Sweeny is with blue rhinestones on her face and smokey navy eyeshadow. The nude lipstick is perfect to make the lips look fuller while still letting the eye makeup shine. This is definitely one of her looks that you must try if you want to test your makeup skill.
27. Brown Lipstick
Nude brown lipstick is the one to go when you are having a chill relaxing time with your friends, like Cassie Euphoria makeup on this scene. The nude lipstick color makes her lips appear fuller while the filled eyebrows frame her face lovelily. Don't forget to wear sunscreen first before applying your makeup to make sure your skin is always protected under the sun.
28. Smokey Under Eye
Strong eyebrows and smokey under eye? Yes, please. This look brought forward a fierce persona from Cassie Euphoria makeup that we rarely see on screen. This makeup look is the perfect one to recreate if you are bored with her usual pink and blue eyeshadow. The "colorless" lips are perfect to bring attention straight to the eyes.
29. Natural Everyday Look
Natural everyday look is the look that we need to master. In this scene, Cassie Euphoria makeup was made light, with a shimmery eyeshadow on the lids and crease. The eyebrows are filled perfectly and the nude glossy lips were very pretty. Try this look for your daily natural look. Don't forget to add a hint of peachy blush to your cheeks to bring that youthful color to the face.
30. Feminine Makeup Look
When attempting a feminine makeup look, you do not want to go too bold since you want to keep the makeup looking soft and nicely blended. You can see how nice Cassie Euphoria makeup was when doing this look. Blend a shimmery eyeshadow to the lids to give a little twinkle to the eyes.