If you're wondering about how to apply mascara to get the best result, there are certain steps that you need to do to maximize the use of your mascara. Certain tips and tricks will help to lengthen and thicken your mascara, no matter what brand of mascara you wear. To get the perfect results, it's also better to combine your ways with the best mascara because some types of mascara brushes make a lot of difference. 
Whether you've been in the game for a while or a beginner, we have the best tips and tricks on how to apply your mascara like a pro and to make your lashes fluffier than ever. Plus, we also have a list of mascara recommendations that will make it easy for you to achieve falsies-like lashes. So sit tight and enjoy the ride!
How Should You Apply Your Mascara?
Let's look back and see if you have covered all the basics on how to apply mascara properly. Whether you're new at this or have dived in for some time, these steps will definitely guarantee you the most flawless lashes of all time.  
Some people seem to think that this step is not as important as the others, but you shouldn't. Making sure your lashes are clean and dry is one of the keys to apply your mascara smoothly. There are a couple of reasons why this is important but first and foremost is for sanitary reasons. Mascara will stay on your lashes and get real close to your eyes. So if your lashes are dirty, there will be bacterial buildup that can be harmful. Other than hygiene, think of this step as a way to prepare the canvas before you start painting!
The next step to apply your mascara is to curl your lashes using a lash curler. This will help your mascara to stick better to your lashes, as well as to lift your lashes. For this step, always remember to choose a lash curler that has the best shape and size to ensure peak results. Investing in a quality lash curler is not a must, but it definitely makes a difference. 
Step 3: Prime your lashes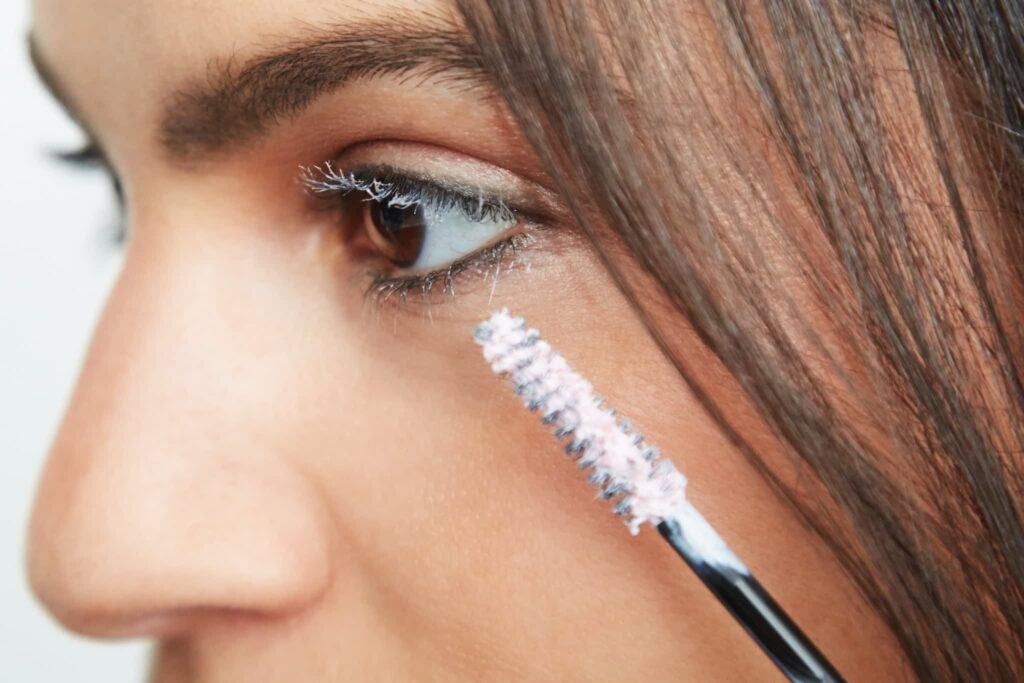 If you want to get the maximum effect, priming your lashes is a step you shouldn't skip before you apply your mascara. This can help thicken and lengthen your mascara tremendously. If you plan to wear color mascara, white lash primer will help bring out more color payoff. Swipe once or twice and wait for the primer to dry completely before going to the next step. If you prefer a more natural finish with your mascara, you can skip this step. 
Step 4: Apply your mascara from root to tip of your upper lashes
Take your favorite mascara and get prepped to coat your upper lashes first. Start swiping from the root of your lashes and as you go up, wiggle the wand of your mascara to coat all individual lashes. Repeat this step to get the level of thickness you desire. Use the wand vertically to reach the inner and outer part of your lashes so that all hairs are coated evenly.
Step 5: Apply your mascara to bottom lashes for a more defined look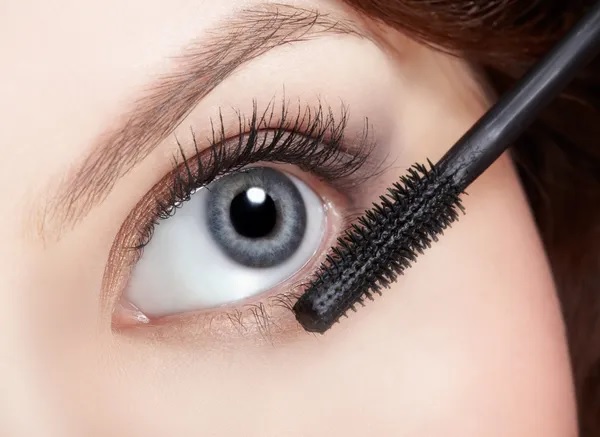 While you're at it, don't forget to coat your lower lashes as well. Since the hairs are way more delicate than your upper lashes, hold your wand vertically and use the product on the tip of the mascara wand so that your lower lashes don't appear clumpy. Do this same technique as you do on your upper lashes: from the root to the tip.
Step 6: Clean any smudges
If you have smudges around your lids and eyes after you apply your mascara, don't worry because they tend to happen anyway. You would want to wait for them to completely dry as you don't want to smear wet smudges all around. Once dried, take a cotton bud and apply a bit of makeup remover, then press on the smudges to dissolve them. Wait for a few seconds and start wiping in small sections and voila!
5 Pro Tips to Step Up your Mascara Game
If you're wondering how to make your mascara game even better, there are several simple tips that you can add to your mascara routine. Here are 5 tips on how to apply mascara like a pro:
Warm up your lash curler.

Warm your lash curler with your hair dryer or dip it in warm water and wipe before use. Warm curler lifts your lashes better and the lift will also last longer. 

Blink while you apply your mascara

. Doing this a few times is the key to get the volume quickly. Be careful if you're wearing eyeshadow as you might get some product on your lids.

Wipe off excess product.

While taking out the product from the tube, wipe it off on the edge of the tube before applying to avoid clumps.

Apply translucent powder between coats.

This will help make your lashes appear fuller. Use a small, fluffy brush to get a thin layer or powder.

Invest in better tools and mascara.

It's better to invest in quality tools than ridiculously priced mascara, but remember: you get what you pay for!
10 Top Mascara for Flawless Lashes
Once you get a hold of how to apply mascara, you will need to be equipped with the best mascara there is. If you're not sure where to start, we have curated the list of the best mascara for flawless lashes, from high-end to drugstore products. 
This mascara from Rare Beauty makes your lashes look like they're wearing false lashes. With its uniquely shaped brush, it can grasp all individual lashes, creating the perfectly coated lashes. It also doesn't flake off or smudge once it's completely dried up even on oily lids. For $20, you should try this one out. 
If you already have naturally long but straight and thin lashes, this mascara works wonders to provide the thickness and curl that hold up throughout the day. This mascara from Saie is also suitable if you prefer natural looking lashes. The formula also won't make your eyes watery. The only downside is that this mascara is not waterproof so it will smudge after some time. 
If you're looking to beautify your lashes and take care of them at the same time, this mascara from ONE/SIZE does the magic. With 3 oils added to its formula, this mascara helps to nourish, soften, strengthen, and condition your lashes. However, due to the shape of the brush, it might get a little bit difficult to coat your lashes evenly. 
This mascara has been around for a while for a reason. Whether you're going for a natural finish or falsies-like, it has both in the store for you as it has a lightweight but buildable formula. It also lengthens your lashes even if they are naturally short. This mascara is not waterproof and easy to wash with water, suitable for your everyday use but might be a bit messy to handle on your busy and active days. 
This mascara from Buxom is the type that defines, lengthens, and lifts without clumping. Due to its hourglass-shaped brush, it makes reaching out every corner of your lashes easy when you apply your mascara. It's also infused with vitamins and antioxidants to nourish your lashes. The downside is that this mascara is not waterproof and easily gets washed away upon contact with water, but should be perfect if you're looking for something that doesn't dry out your lashes and easy removal. 
This mascara from Dior is equipped with curved brush to ensure maximum curl on your lashes. With lipid complex combined with pseudo-ceramid added to the formula, it strengthens your lashes and boosts the development of keratin, preventing breakage. It greatly defines your lashes and makes you look like you're wearing falsies. It's also waterproof and has great staying power so you will need the best eye makeup removal. The downsides are the price tag and since this mascara is designed to stay on your lashes all day long, it flakes off after a while.
If you're a beginner and looking for something good within your budget, this Sky High Mascara from Maybelline is the best thing to splurge on. The brush is slender with short bristles, making it easy for you to grab your lashes from the root. One coat is enough for a natural look and add another coat for a more defined look. However, this mascara is washable so don't wear it on a rainy day!
Your very first strokes from this mascara should be enough to blow your mind. It lengthens, separates, and curls your lashes dramatically. If your lashes are naturally short and straight, then this one is a must have. Furthermore, it's ophthalmologist tested and suitable for contact lens users. Although it's not waterproof, this one is still the perfect option for a drugstore brand. 
If you're looking for something completely flake-free and smudgeproof, this mascara is the perfect choice for you as it truly lives up to its name. With its soft texture, you don't need to worry about getting clumps while building up the product for a more dramatic look. For only $13, this one is a must have whether you're a beginner or a pro. Although it's water-resistant, this mascara is still not waterproof so be careful!
Due to this mascara's super plush 100% vegan brush, getting your lashes long and separated is not a pain anymore. It is infused with coconut oil, vitamin B, and kelp extract to hydrate and nourish your lashes in every stroke. It's also waterproof and won't budge a bit once dried. The ingredients are also gentle and perfect for sensitive peepers so you won't get your eyes irritated.
How to apply your mascara naturally?
You can apply your mascara naturally by avoiding mascara buildup. The key is to only flick once or twice to get a natural finish. You can also skip several steps like priming your lashes or using a lash curler. To achieve this, you will need a mascara that has a short brush and  doesn't dramatically lengthens or thickens your lashes in one stroke like Heimish Dailism Smudge Stop Mascara. 
What is the correct way to apply mascara?
The correct way on how to apply mascara is that before using the mascara, make sure your lashes are clean and ready to go. You should also curl and prime your lashes first. Start applying the mascara from the root to the tip and apply vertically using the tip of the wand on the edges so all your individual lashes are coated evenly. 
How do you use mascara for beginners?
For beginners, use your mascara after you prime your lashes to get a fuller look easily. Use the primer the same way as you would wear the mascara, and apply your mascara starting from the root and wiggle the wand as you go up to the tip. If you have a lash curler, you can also use it before the primer so that your lashes will appear curled and lifted. 
Do you put mascara on top and bottom?
Yes, you need to apply your mascara on top and bottom lashes for a more defined look. For your bottom lashes, hold the mascara wand vertically and only use the product at the tip of the wand to reach your bottom lashes and go from the root to the tip. While for your top lashes, this vertical wand technique is useful to coat your inner and outer lashes of the eyes.