The concept of too much glitter does not exist. In fact, we need glitters and shiny little rhinestones to bring the prettiest drama and that magical sparkle to the face. Looking for glittery makeup ideas? Worry not, for we have some Euphoria makeup looks glitter ideas for you.
Here, we have 40 makeup ideas that are inspired by the TV show. If you are a fan of the show, then you will definitely want to check our list below. On the other hand, perhaps you are not a fan of the show but need some makeup ideas to break from your usual boring daily makeup look, our list will still work for you, too. Just keep on reading to find more!
40 Glittery Makeup Ideas Inspired by Euphoria
The show Euphoria's makeup style use a lot of glitters and rhinestones as part of their characters's make up style. They brought forward teenagers' dramatic, cool, and innocent sides on the screen. Want to see more of Euphoria makeup looks glitter ideas? Check out the makeup ideas below!
1. Jules' Angelic Glitter
Let's start with this dreamy angelic look of Jules. The gold glitter, from her cheekbones to eyebrows, and the pink eyeshadows that framed her eyes look so magical and sparkly. The barely there natural pink lipstick also helps the makeup to be focused on her eyes and cheekbones. Plus, her pale complexion adds the angelic accent to her as well. Definitely a must try Euphoria makeup looks glitter idea.
2. Purple Glitter
Lexi's purple glittery eyeshadow look is really cute. Especially with the little stars above her crease. To make a sharp eyeshadow or eyeliner, you can use scotch tape underneath your bottom lashes and angle it towards your temple. Then, use a metallic purple shimmer on the lid to bring that pretty sparkle to the eyes when you blink.
3. Little Rhinestones Above the Crease
Rhinestones on the eyes will emphasize the eye makeup. It will bring attention to your eyes. We love everything from this makeup look; the blue and pink eyeshadows, the bold falsies, winged eyeliner, feathery eyebrows, and the glossy nude lips. Also, the complexion does not look too heavy to keep the makeup look young and fresh.
4. Sparkly Navy Eyeshadow
Try this sparkly navy eyeshadow makeup to look bold. You can use a matte blue eyeshadow before coating it with blue glitters. Use a black pencil eyeliner on the lower lash line and make sure you blend it until there is no harsh line. Go back to the blue glitter and coat the black eyeliner with it. Use a red lipstick to complete this look.
5. Glossy Glitter Eyelook
We have to admit, Rue was rocking this glossy glitter eyelook. The peach eyeshadow looks so pretty on her. To recreate this look, add glossy peach eyeshadow on your eyelids. The glossy effect will create a captivating look, especially when it catches the light.
6. Little Gems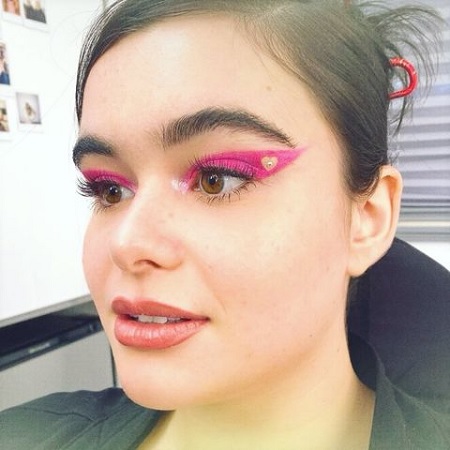 Little gems on the eyes are such a cute and edgy look. Especially, when paired with pink matte eyeshadow, the way Kat's makeup looks in the picture above. Add a pretty pinkish highlighter on the inner corner of the eyes to make it even prettier.
7. Glitter Tears
This makeup look is inspired by Rue's glittery tears and star shaped gems on the show. One of a must-try makeup look to recreate from Euphoria! Use a metallic pink eyeshadow on the eyelids first before you go crazy with the glitters and star-shaped little gems. Another Euphoria makeup looks glitter that you must try.
8. Metallic Blue Eyeshadow and Rhinestones
We have to admit that most of Maddie's makeup looks are baddies. Check out this one; heavy rhinestones that frames her eyes, intense metallic blue eyeshadow, long lashes, glossy lips, and feather eyebrows. Plus, the little star on her cheekbones just make her makeup look more intriguing.
9. Green Rhinestone on the Outer Corner
If you are looking for a little twist to your simple makeup look, try to recreate Jules' makeup look. Start with pink matte eyeshadow on the lids to crease, black winged eyeliner, and pink lipgloss. Then, add one emerald rhinestone on each side of your outer corner.
10. Bat Wings Eyeliner
If you want to look fierce and bolder than your daily makeup look, try this bat wings eyeliner look. The tail of the eyeliners shaped like bat wings, which make Lexi looks fierce. The shimmery glitters on her lids make her eyes look prettier when hit by the lights.
11. Winged Shaped Little Pearls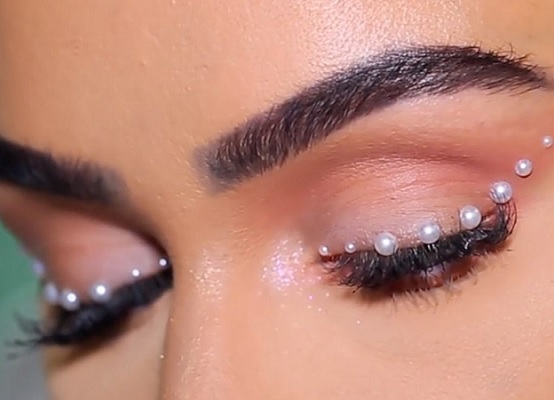 Bring a little drama to your soft eyelook by adding little pearls on the lids. Arrange them like wings on both of the lids. The pearls are such a unique and pretty addition to your soft glam makeup look.
12. Blue Cat-Eyes
If you are the cat-eye type of girl, try Kat's eye makeup look. The pastel blue eyeshadow is such a pretty pair with this seductive and chic eyeliner. Coat your lids with blue metallic glitter eyeshadow to bring that shine to your eyes.
13. Cassie's Glitter Eyeliner
The green metallic eyeliner brings attention to Cassie's eyes. It is such a unique and fresh look to try. Paired it with nude lipstick to make the metallic eyeliner as the focus of your makeup. What's fun about this look is you can go bolder and darker with your eyebrows without looking "too much" since there is not that much going on.
14. Glitter Freckles
The Euphoria makeup looks glitter freckles is another unique look that you can retry. Use purple color glitters and paired it with pink eyeshadow to avoid color clash. Finish this look with clear gloss and you are ready to take some cool pictures.
15. Pearly Eyebrow Bone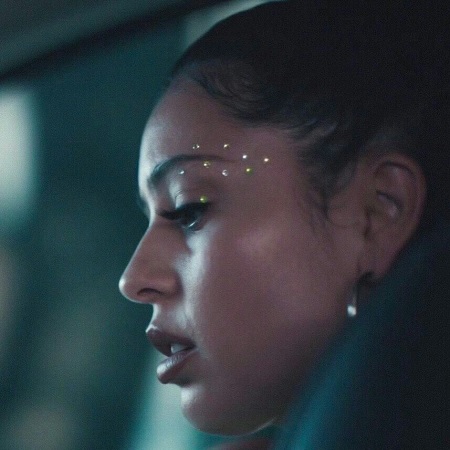 The pretty bright little rhinestones are such a pretty contrast to Maddie's tan skin. Instead of sticking them to your crease or lids, stick them around the end of your eyebrows. Immediately, they will give pretty twinkles to your face.
16. Jules' Full Glitter Makeup
This one is definitely not for your daily makeup look. But, it is fun to try when you want to take some cool pictures with your friends. You can use gold glitters all over your face after doing your basic makeup. Be careful with your eyes, though!
17. Blue Eyeliner and Little Chains
If you want to have sparkle on your eyes without a heavy amount of glitters, try using a shimmer eyeshadow on your lids. It will give a subtle glow under the light. Get a little chain and stick it on top of your eyeliner to bring edginess to this makeup look.
18. Full Blue
This frosty look that is inspired by Euphoria is another makeup look that you must try. The high glow from the glitters is so dreamy and pretty. Do a winged eyeliner to make your eyes look bigger and sexie. Plus, the glossy and juicy frosty lip gloss is the perfect match for the eyeshadow.
19. Silver Glitter on the Lower Lashline
If you want to have a subtle glittery look, try to put a little amount of glitter on your lower lash line. You can blend a light brown matte eyeshadow first before applying the glitter to make your eyes look bigger. Draw a winged eyeliner on the upper lash line to balance the look.
20. Blue Cat-Eye Eyeliner and Little Pearls on the Lower Lashline
This is another cool and unique look from the show that you can try to recreate. After blending a pretty pink or brown eyeshadow on the lid, draw a sharp cat-eyed eyeliner using blue eyeliner. Then stick little gems on your lower lash line. Finish this look with nude brown lipstick, a little over your lipline.
21. Pink, Blue, and Gold Glitter
Barbie Ferreira is that pretty girl who can pull off any makeup look and make it look edgy, like this one. Pink, blue, and gold are unusual combinations for makeup but somehow it looks okay with her. Channel your inner cool girl and try this look.
22. Subtle Glow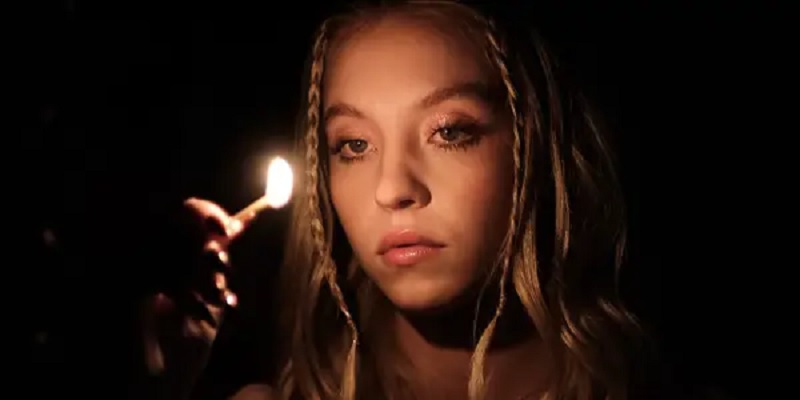 We love a subtle glitter on eyelids that twinkles when hit by the light. If you love it too, then this makeup look is the one for you. Soft eyebrows, juicy glossy lips, subtle pink shimmery eyeshadow, and a hint of peach blush is going to make you look so pretty.
23. Smokey Black and Silver Eyeshadow
Want to have a little twist to your bold and smokey eye look? Try adding a little rhinestones on the outer corner of your eyes. Especially with this silver and black look, the little rhinestones will definitely add drama to your eyes.
24. Rhinestones on the Crease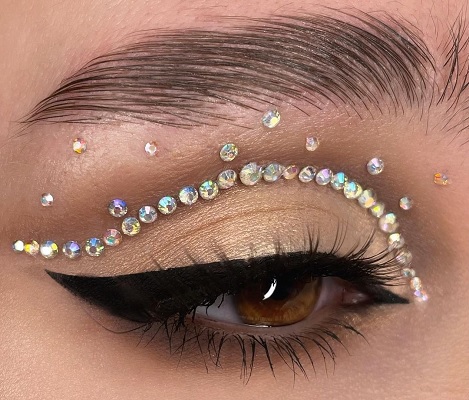 Cut crease using concealer is such a basic makeup technique. But adding rhinestones on the crease will make your makeup skills more points. You can finish this look by drawing a cat eye using your eyeliner and adding beautiful fake lashes.
25. Silver Glitters on the Lower Lashline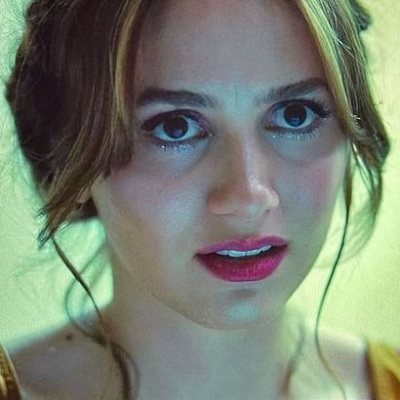 This one is similar to Cassie's look that we previously discussed. But instead of wearing nude lipstick, Lexi is wearing a red one. Also, her pink blush brought a pretty and healthy color to her face, which added to her youthful look.
26. Tears of Glitter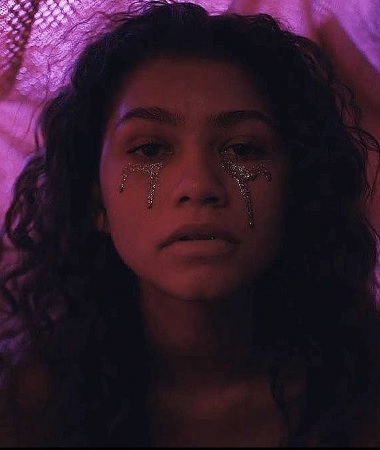 Another cool Euphoria makeup looks glitter that you can try with your friends is this glittery tear. This is such a unique and pretty makeup look to take some instagram pictures with. Be careful of the glitters, though. We do not want it to get in our eyes. Safety first, ladies!
27. Little Gems Everywhere
There are simply never too many gems to put on your face and hair. Check out how sexy and out-of-this-world Maddy looks with this elegant fantasy makeup. The foxy eyes and curled baby hair give us an alluring siren vibe.
28. Smokey Blue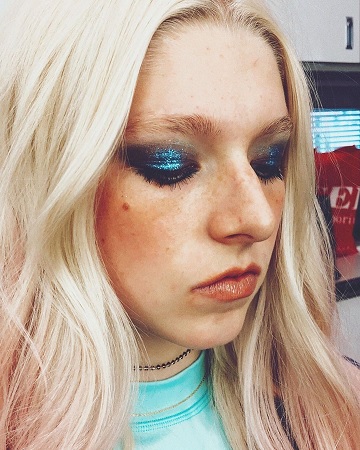 Bored with the usual black or brown eyeshadow to make a smokey eyelook? Try using dark blue eyeshadow instead. Blend it on your lids, to the crease, and add a heavy amount of blue glitter on top of it. Use peach blush and brown lipstick to make this smokey look not too heavy on your face.
29. Smokey Eyeshadow and the Silver Tears
Heavy eyeliner on the upper and lower lash line create a pretty smokey eyeshadow to Rue's eyelook. We also love her bushy eyebrows in this look. For a little twist, the glitter tears brought a sparkle to her face. Talk about being dramatic.
30. Blue Icy Look
Ice princess look? Yes, please. Sydney Sweeny looked absolutely amazing with this blue eyeshadow look. Plus, the little blue gems on her lids turned this look from meh to wow. We also love the little white gems on her face. It is all about the details, ladies!
31. Frosty Pink
Don't you get the early 2000s vibe with this pretty frosty pink eyeshadow? Love how simple yet pretty this eye makeup looks. The bold mascara and feathery eyebrows are also amazing suits. One word to describe this look: Gorgeous!
32. Double Eyeliner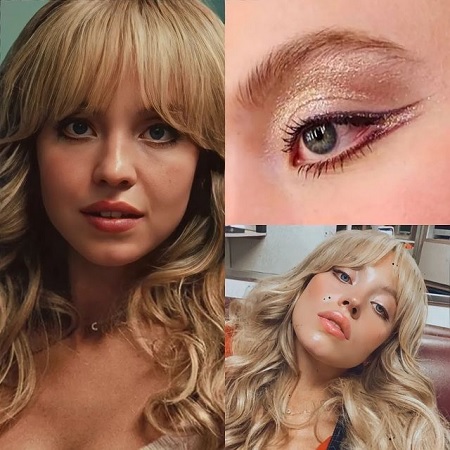 Sultry and sexy, that is what this look is all about. Use a brown eyeliner to create double eyeliner on your upper and lower lash lines. Before that, dip your eyeshadow brush to gold shimmer eyeshadow and apply it to the lids. Such a stunning look!
33. Edgy Eyes
Want to look edgy but scared of glitters? Use rhinestones instead. For this edgy look, less is more. Kat was only using one tiny little orange rhinestone on each side of her cheek but you can see how big that little gem brought to her face. Especially with the orange and black eyeliners.
34. Butterfly Wings
Let's move on to this beautiful butterfly makeup look. Pastel blue and pink are such a perfect color combos. The little gems around the eyebrows makes this fantasy look even cooler. Definitely a must try makeup look to practice your makeup skill!
35. Rhinestones on the Eyebrows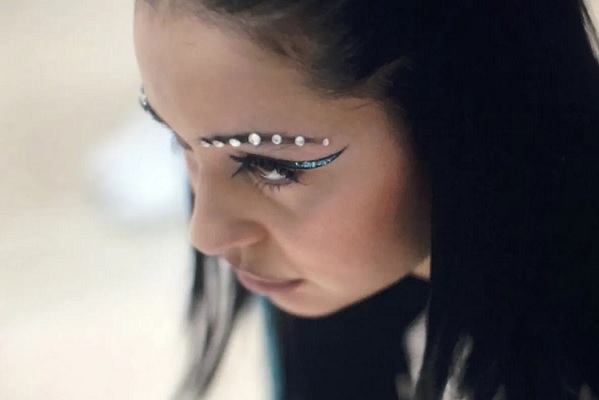 There is really a no boring makeup look for Maddy. Look at how unique the rhinestones arranged on her eyebrows to create a creative look that we are obsessed with. Plus, the metallic blue glitters and the sharp eyeliners makes her look more fierce and stylish.
36. Glowy Look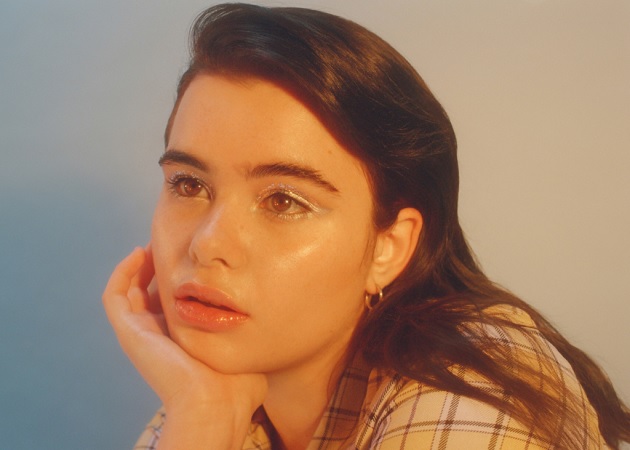 Try this simple yet stunning makeup look that uses blue glitter and silver metallic around the lids. We love how clean this makeup looks. Add highlighter to your cheeks to bring glow to the face. Complete it by using lipgloss or lip oil on the lips.
37. Silver Glam
Dramatically glamorous, that is what this makeup looks about. The shimmering silver eyeshadow on the lids will bring forward the classical beauty in you. Try to do the foxy eye with the eyeliner and lashes to make you look sultry when recreating this makeup look.
38. Connected Glitters on the Nose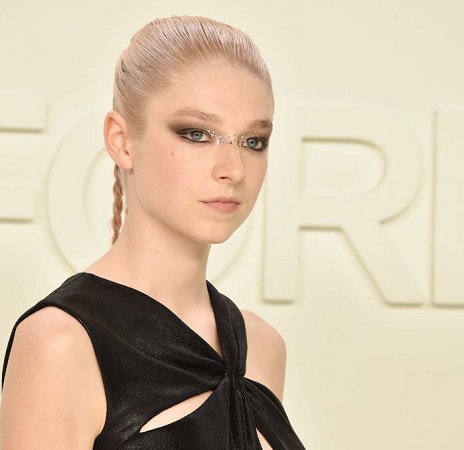 We love how Hunter Schafer loves to experiment with her makeup. Take this one, for example; smoking foxy eyes, silver glitters on the bridge of her nose, nude lipstick, and light eyebrows. We just love the complete makeup look of this.
39. Blue and Purple Eyelook
We never knew that the color purple and blue could look beautiful together until the queen, Zendaya, showed us that it is. This is another level of cut crease that is absolutely stunning. The bold eyebrows help to bring forward her fierceness. We love you, queen!
40. Double Eyeliner and Silver Glitter
The last in our list is definitely not an easy look to recreate. But, girls, is this makeup look not the best ever? Look at how sharp the red and black eyeliner around Kat's crease is. Plus, the glittery silver eyeliner below that red and black eyeliner is just so perfect that we just want to compliment the makeup artist that created this look.