If you have watched Euphoria, then you must have noticed that there are lots of Euphoria makeup looks that you can try out and recreate. Starting from the simple one to the unique and unconventional type of makeup, it's all there and you just can't seem to get enough of them.
Ever wonder if you can be like the characters, too? Don't worry, we curated the best 40 euphoria makeup looks from all the characters for you, including tips on how to recreate them on your own. So sit tight and enjoy the show!
40 Best Euphoria Makeup Looks to Recreate
Each character has their own signature euphoria makeup, and it can be difficult for us to choose from one another. From the simple, wearable for daily look to party and halloween-ready look, below are the best looks worn by characters of Euphoria.
1. Simple Smokey Silver Shadow
This look on Cassie Howard paired with nude lipstick is such an attention stealer. You can wear this look for both casual events or just for a simple and easy go-to school makeup look. You can just apply your silver or gray eyeshadow, and then add darker gray or black as you go. To finish up the eye look, wear your favorite, darkest mascara on your upper and bottom lashes. Lastly, don't forget to keep your eyebrows on fleek for a maximum effect.
2. Festive Golden Eyes
Looking for something that isn't difficult to try out for a festive event? With your favorite deep orange or terracotta eyeshadow color, you can apply and create the halo effect all around your eyes. For the golden flakes, you can use gold paper or decorative face tattoos, and make sure you apply some on your eyebrows, too. What a super easy festival ready kind of euphoria makeup!
3. Red Lines on Eyes
The combination of red shadows and nude lipstick is something that you can try for any day. For this look, you can apply your red eye pencil or apply your eyeshadow with a flat and pointed brush. Then, continue by sticking some face stickers on your inner corner for a unique addition. Lastly, finish off your Euphoria makeup look with a nude purple lipstick and black mascara.
4. Orange Graphic Liner
This look is probably one of the easiest euphoria makeup looks that you can try out. With your favorite orange eyeliner, draw a winged graphic liner and you're ready to rock. For this makeup, simply brush your eyebrows lightly; nothing too flashy as it will take the attention from your graphic liners. Continue by applying mascara on your bottom lashes and make it thicker than your upper lashes. Gorgeous!
5. Tricolor on Eyes
Jules' euphoria makeup looks just never stop to amaze us, and this one is no different. However, this look is quite easy to recreate as you only need 3 colors of eyeshadow, which are red, pink, and lime green. It's absolutely perfect for your eccentric kind of day. To complete the look, apply your favorite subtle pink blush and clear lipgloss for the effortless finish.
6. Double Winged Eyes with Brick Lips
If you're not in the mood of having colorful eyeshadow on your face, then this makeup on Maddie would be your choice. With double winged eyeliner and on-fleek lashes, this look is ready for any day, at any time. For this look, you will need a liquid eyeliner with a sharp brush to ensure a precise finish. The, you can top it off with your favorite black mascara and red brick lipstick.
7. Effortless No Makeup-Makeup Look
Cassie brought us a clean makeup trend by showing up with this euphoria makeup look. To recreate the look, just apply champagne-colored eyeshadow all over your lids to create the oily, shiny effect on your eyes, and then add your eyeliner and draw a thin line. For your eyebrows, simply brush them up for a bushy eyebrow finish. Lastly, wear your favorite MLBB lipstick to finish this makeup look, and voila! you're ready to go.
8. Soft Cut Crease with Dark Lips
Soft cut crease paired with dark lipstick will definitely grab people's attention. To steal the look, apply your soft brown eyeshadow as the base of your crease, and then add your gold eyeshadow to cut your crease. Paint your lips with brown or muted red lipstick for a dramatic finish. In short, sharp and winged liner is basically the key to this look, so don't forget to add it to your look!
9. Triple Color Liner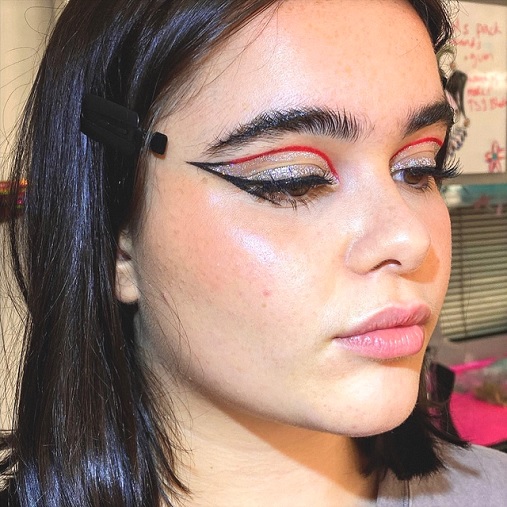 If you're looking to try out more graphic liners, then you need to try Kat's tricolor liner look. By using black, red, and silver glitter liner, your eyes will be ready to captivate those around you. Since your eyes are already the star of the look, pair this eye look with pink lipstick and subtle-colored blush. As a final step, add some highlighter to give more definition so your overall complexion won't look flat.
10. Golden Eyebrows
Obviously, this Jules' golden eyebrow euphoria makeup is not going to be easy-peasy to recreate, but it's worth a try! Cut up some golden flakes and attach some on your face, forming a flower just below your eyes and on your cheekbones. Cut up some more for your eyebrows and you're basically done. To add more definition on your eyes, apply your mascara on both your upper and bottom lashes.
11. Red Lips and Blue Shadow
Who says blue eyeshadow and red lips can't go together? This gorgeous euphoria makeup look is suitable even for your everyday makeup, because it perfectly accentuates your face features. Apply your blue eyeshadow around your eyes and then add mascara to frame them. Lastly, complete the look by adding red lipstick. Such a pretty contrast!
12. Green Eyes with Berry Lips
Another cute and uncommon contrast makeup on Kat to try out. To have this look, as you go with your green eyeshadow, create a winged form to sweeten up the eye look. You can also add a thin line of eyeliner so that your eyes will look more defined nicely. For the last touch, wear glossy, berry-colored lipstick to pair with your green eyes. Simple, yet captivating!
13. Bold Eyes with Bold Lips
Pairing bold silver cut crease with bold, dark lips? Absolutely! With silver and gray eyeshadow, use the cut crease technique and add false lashes for phenomenal eye makeup. Once you're done, add the star of the show which is the bold lipstick. It can be red or deep brown – your choice!
14. White Dots on Face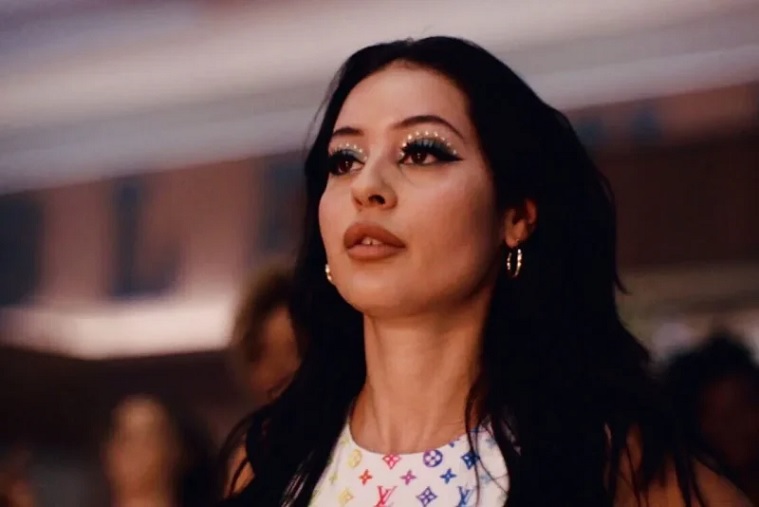 It's time to get creative and step up your makeup game with unconventional ideas. This euphoria makeup look looks festive enough, but still very fitting for your daily makeup. Apply your dark blue eyeshadow on your eyelids and apply white eyeliner in little dots all over your crease. Add nude brown lipstick as the finishing touch.
15. Simply Bold in Blue
If you're looking to wear your blue eyeshadow in a simple way for a simple day, this look is the answer. Start by wearing blue eyeshadow all over your eyelids and then blend as you go to create seamless eyeshadow finish. Moreover, don't forget to add mascara to intensify the eyes and glossy lips, too. Quite simple but enough to steal attention, don't you think?
16. Classic Easy-Breezy Red Lips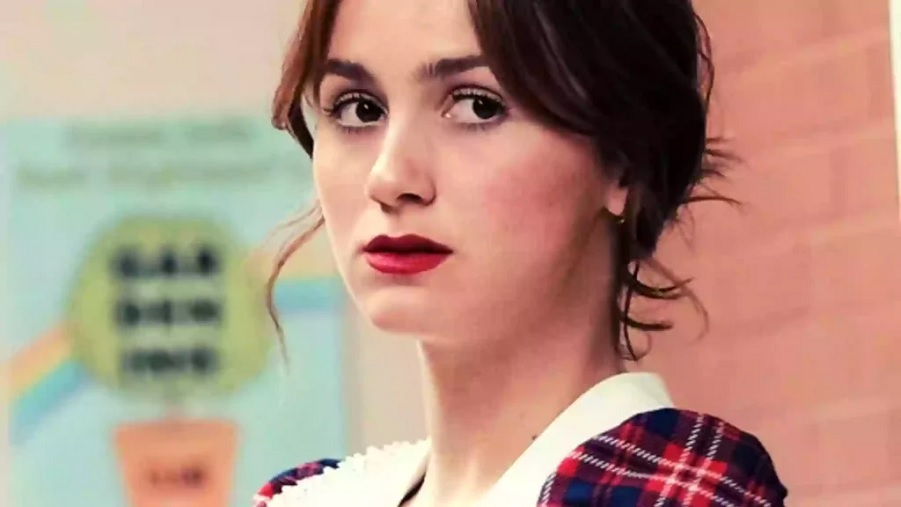 This classic red lips look on Lexi will make you look super sexy. Not only for daily use, you can also wear this euphoria makeup look for school or even formal events. This extremely simple look only needs mascara, on-fleek eyebrows, and red lipstick. You also need to add a little bit of blush to make your skin appear more lively.
17. Metallic Halo Eyes
Who is Jules without her eccentric euphoria makeup? Though this one is not for everyone, you definitely need to consider this look for birthday parties or Halloween. With green metallic face stickers, create the halo around your eyes. To finish up, add matte, nude lipstick and you're done!
18. Red and Green Combo
If you have never tried red and green combo euphoria makeup, then you should see how pretty it looks on Kat. To recreate the look, apply green eyeshadow all over your lids and a bit on your under eye as well. Draw your eyebrows with on-fleek style to appear bold and apply glossy red lipstick afterwards. Lastly, don't forget to bronze up your face!
19. Double Sword Liners
Though this one needs some special skills to create, don't say no to a challenge yet. Grab your favorite eyeliner with the sharpest tip as it will guarantee the best results. Firstly, draw a thin line on your upper lash line and draw a wing on your inner corner just like you would on your outer corner. Once done, add another wing underneath the first one and finish the look with nude lipstick and on-fleek eyebrows. Uniquely beautiful!
20. Focused eye look
We just gotta love this simple euphoria makeup style that will be suitable for every occasion on your schedule. Firstly, apply a bit of silver eyeshadow on your eyelids, just under your crease. Then, apply eyeliner on your upper and bottom lash line and draw a wing. Take your pointed brush and take a bit of the same silver eyeshadow and put it on your inner corner. To finish the look, apply your brown-ish nude lipstick and you're good to go!
21. Golden Half Round Liners
Grab people's attention with this euphoria makeup style on Jules, as she has the best Euphoria makeup looks for you to own. With only one streak of gold eyeliner, you are ready to rock the world around you. Pair your golden eyes with pink lips and bushy eyebrows for a picturesque finish.
22. Pink Metallic with Gems
You can never get disappointed when looking at Jules. To recreate this euphoria makeup look, you only need to apply pink metallic eyeshadow on your eyelids, while making sure not to apply beyond your crease. Then, sraw a very thin line using eyeliner and attach a gem at the end of the wing. Easy and date ready!
23. Graphic Cat Eye with Nudes
It is time for bold colors to shine! This euphoria makeup will be quite easy for you to recreate and stun the people around you with. Draw graphic cat eye liners with dark blue eyeliner and wear a pair of false lashes for maximum damage. For the lips, grab your most favorite brown nude lipstick and you're basically done with the makeup look. Pretty easy, isn't it?
24. Rhinestone Liners
Try this rhinestone eye euphoria makeup look for your parties or just when you're feeling kind of extra. Apply brown eyeshadow on your crease to create deeper definition, and on your upper lash line, stick rhinestones and line them up in a way as you would draw cat eyes. For the last touch, apply your deep red lipstick to balance the look.
25. Starry Face
You just can't miss out on this look on Rue. Being one of the most stunning Euphoria makeup looks, this makeup is breathtakingly sweet and gorgeous to wear for night parties. Wear pink or deep pink eyeshadow on your eyelids and top it off with holographic eyeshadow to create a 'wet' finish. Lip gloss can also do this trick. Then, stick the little stars just above your crease and all around your cheeks.
26. Turquoise and Lemons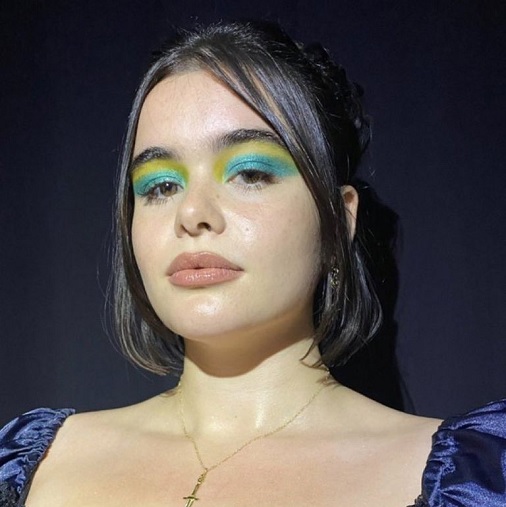 Let's try a double color combo on eyes like this one, beautiful for a day to day look. Though this one appears easy, the key is not to let the colors bleed. Apply the turquoise eyeshadow first and then add the yellow one just above. Don't add any eyeliner and instead, wear mascara on your upper and bottom lashes.
27. Pretty in Purple Lips
Feeling grunge and up for a gothic type of look? Kat got one here for you. Apply dark purple eyeshadow only at the outer part of your eyes, and then add light purple under the dark one. Freshen up the look with a glossy, dark purple lipstick.
28. Neon on Eyes
Let's try cheerful and bright colors like neon pink on Jules. Other than just applying neon pink eyeshadow on the lids and bottom lash liner, Jules got black hearts and dot rhinestones to decorate the corners on her eyes. This look is quite unconventional for casual events, but if you're up to it, this makeup will not disappoint you.
29. Simple white Liners
Some more color eyeliners? Yes, please! Cassie here got a white eyeliner drawn with cat eye style. Don't forget to apply mascara on your upper and bottom lashes, and finish the look with rosey lips. Being one of the simplest yet adorable euphoria makeup looks, this one is perfect for any day, any time!
30. Pink and Silver Peepers
Let's recreate this look and get ready for a date with your loved one. To recreate the look, you only need silver eyeshadow on half of your eyelids and add neon pink on the other half. Finish the look with mascara and bushy eyebrows, and as for the lips, you can go natural with lip-colored lipstick.
31. Lavender and Orange Combo
Ever try crazy combination colors like lavender and orange? Now is your time. To get this look, apply lavender eyeshadow on your eyes, just right on your crease, and then grab an orange eyeliner or eyeshadow and apply in cat eye style. Doll up your eyelashes with mascara for a deep gaze effect, and you can finish this euphoria makeup look with nude lipstick.
32. Hearts on Eyes
You can't be ready for your valentine date if you're not having this euphoria makeup look. Before you can start applying your pink eyeshadow, you will need to put a heart sticker. Once it's attached nicely, you can begin your eyeshadow in a winged form. For this look, liquid eyeshadow may work best. Once you're done with the eyeshadow, remove the sticker and you will get that teeny-tiny heart on your eyes!
33. Messy but Pretty Colorful Look
The art of this euphoria makeup look is that it doesn't look like you intentionally make it happen, but it looks well put together. For this look, you need to apply purple eyeshadow under your eyebrows, just a bit to add a definition to your nose. Under your eyes, flick a red eyeliner and brush a bit of yellow eyeshadow. This look is definitely not for everyone, but surely everyone will love it!
34. Bling on Eyes
Another euphoria makeup with gems? Here you go! To recreate this gorgeous look, apply purple eyeshadow under your crease and draw cat-eyed eyeliner with darker purple. Once you're all set with the lashes too, add gems on your under eye and all around your eyebrows. Exquisite!
35. Glitter with Graphic Liners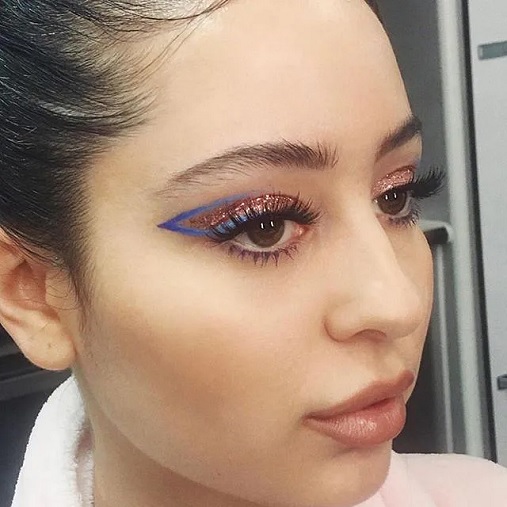 Pink and blue combo never fails, especially when it's for a euphoria makeup look. Apply pink glitter eyeshadow in a winged form and draw the eyeliner using a blue eyeliner just right outside the pink eyeshadow. To make a more deathly finish, apply mascara on both bottom and upper lashes. Lastly, finish up the look with subtle-colored lips like a pink lipgloss.
36. Doodle Eye
Looking to step up your eyeliner game more? You can try out this euphoria makeup look on Rue. Grab eyeliner with a sharp tip to ensure precise results and start doodling on your eyes. Don't forget to add one or two gems around your eyes, too!
37. Passionate Orange with Black Liners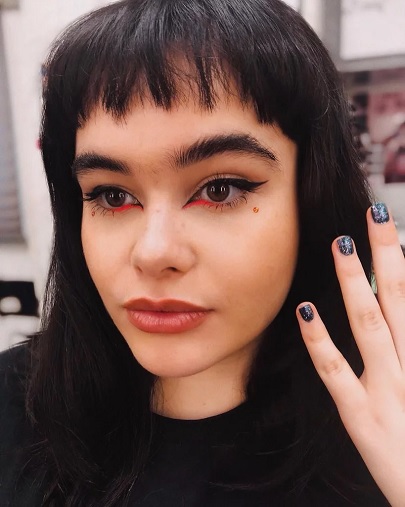 Orange is always in trend. Once you're done with your usual eye cat eyeliner, draw a bit more on your inner corner and use orange eyeliner for your under eye. Add an orange gem under each eye to beautify even more. As the last touch, wear orange or brick-colored lipstick – lovely!
38. Stars on Purple Sky
Stars and gems seem to be the main theme of euphoria makeup looks. In order to steal this look, you can start by applying a light purple eyeshadow. As you go on, apply a darker shade of purple. On the winged part, add some star stickers to look like they're in a purple sky.
39. Chained Eyes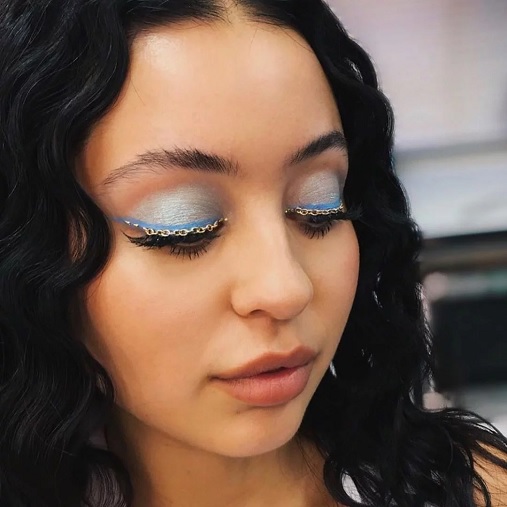 Although this euphoria makeup look is not so easy to recreate, who can say no to an artistic challenge like this? For this, you need to apply a metallic light blue eyeshadow all over your lids, no need to blend the edges. After that, apply a blue eyeliner thinly on your upper lash line. With an eyelash glue, put on the chains along your eyeliner and finish up the look with nude lips. Charming!
40. Glam with Gems
This euphoria makeup blue eyes and blue gems look is perfect for your red carpet type of events. Once you're done applying the metallic blue eyeshadow, start attaching the gems all around your eyes, even on your under eye. Since the eyes are already festive, wear a pink lipgloss and you're ready to get going.