Having dark skin tone doesn't mean you have to limit your eye makeup look. Just like other skin tones, you have the same chance to create an unlimited look. Easy eyeshadow looks for dark skin can be simple, natural, glam, or bold because you can adapt it with the mood, situation, occasion, and your mood.
The key to creating the perfect eye is by considering your eye's shape, shades, and occasion. Thus, it can help you to build your image beautifully. And here, we will present to you some easy eyeshadow look that is suitable for dark skin tone, from simple to glam look, which is a perfect choice if you get a party invitation at night.
Easy Eyeshadow Looks for Dark Dkin Tone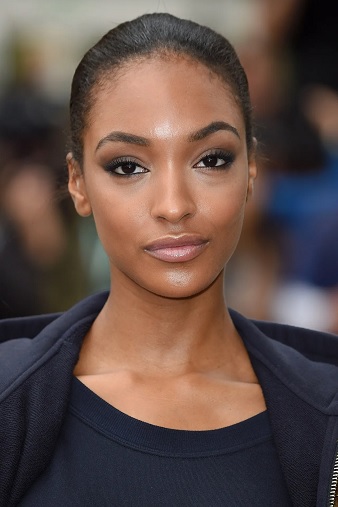 There are many easy eyeshadow looks for dark skin tone you can try. The first one is by choosing the right shades. For this point, you can choose bronze, copper, golden, purple, brown, blue, and yellow shades since those colors can create any look you desire. For the finish, there are metallic, shimmer, and matte. Next, choose the look you want, such as a natural, smokey look, subtle, glam, or you can experiment with shades.
Easy Eyeshadow Looks for Dark Skin Tone You Can Consider
Basically, you can create any eye look makeup using any eyeshadow shades. Just make sure you pair it with a suitable eyeliner to make it tidy and pop. Here we have some eyeshadow shades you can try for an easy look.
1. Deep with Intense Look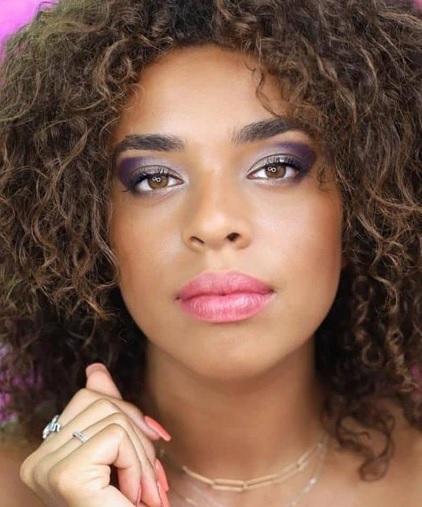 Who says you can't create smokey eyes with a bold color? Neutral shades aren't the only one eyeshadow you can choose for smokey eyes. Use plum eyeshadow for this purpose. Try Eyeshadow Palette by Revlon ColorStay since this product provides you with a beautiful and luxurious color. Even this eyeshadow can stay for 16 hours. For the dark skin tone, applying plum eyeshadow creates a subtle and soft look. In order to make your eyes look pop, sweep the eyeshadow evenly along the lower eyelash line. Your appearance can be deeper and intense when you pair it with lashes.
2. Bright is Back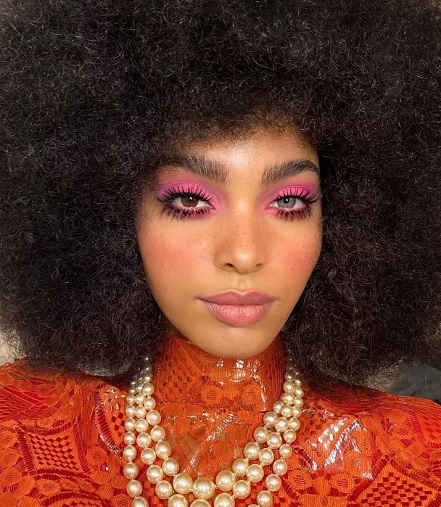 Perhaps, you avoid pink eyeshadow when you have dark skin tone. However, the rise of bright pink color is back and applying the shade offers you surprising results because the effect is perfectly chic. If you have never tried this, why don't you challenge yourself to try? At least, you will know how the pink eyeshadow looks on your dark skin tone. Then, wrap the lid with Makeup Revolution Reloaded Palette, Makeup Eyeshadow Palette and pair it with your favorite mascara for the sharp eye look.
3. Confident with Golden Shade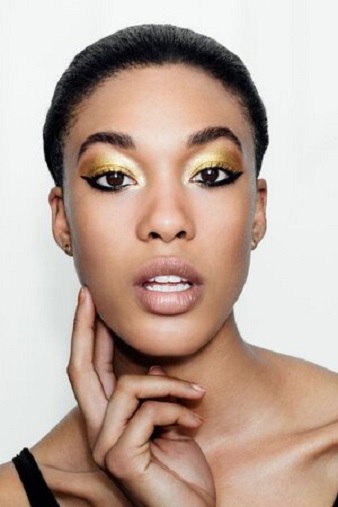 Gold is a symbol of luxury, royalty, wealth, and prosperity. If you have dark skin tone and you think you are not allowed to apply gold eyeshadow, you are wrong. That is because gold eyes can make your eyes glow and the most important thing is gold shade, like e.l.f., Liquid Glitter Eyeshadow because this is an easy eyeshadow for dark skin tone. When you have a party at night, try this shade. You can match it with orange lip color or natural lipstick. Use NYX Professional Makeup Mechanical Eyeliner Pencil to emphasize your eye makeup.
4. Make it Neutral
Brown eyeshadow is suitable for every skin tone, occasion, eye color, and eye shapes. However, if you have dark skin tone, applying brown eyeshadow is like you want a natural eye makeup, minimal, and very light look. Your look can be more minimalist when you apply nude lipstick and just curl your eyelashes. You only need to shape your eye look with eyeliner and skip the mascare for a simple appearance. Combine L'Oréal Paris Colour Riche Monos Eyeshadow and stila Stay All Day Waterproof Liquid Eye Liner for your neutral look.
5. Green isn't Scary Anymore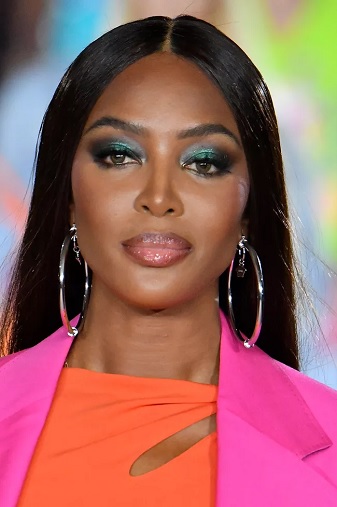 Green eyeshadow can be flattering on your eye look, regardless of the scary impression. The shade is also great for all skin tone and skin type as long as you use the suitable base. The shade, from the emerald to the olive, are a great choice, even if you have dark skin tone. Either you choose shimmering or metallic finish, be sure you apply it only on the lid area. Use dark green eye pencil Julep Longwear Eyeliner Pencil and then matte green shade Black Radiance Eye Appeal Eye Shadow Palette, Jaded on the lower lash line or the crease if you want a smokey green eyes.
6. Glam Look in One Touch
First of all, copper eyeshadow is suitable for any skin tone. So, when a neutral look is not enough and you want extra glam, try copper eyeshadow because this shade is an easy eyeshadow looks for dark skin tone. You can choose eyeshadow with a shimmer for a perfect look. Copper eyeshadow is also suitable for bright colored clothes when you decide to go on vacation in summer. Mallofusa Single Shade Baked Eye Shadow has a metallic and shimmering finish type and it has the benefit to smoothen your skin as well.
7. Smooth and Deep
Bronze is a smooth shade and can be chosen to emphasize eye makeup. When you have dark skin tone, you can use it as everyday eyeshadow because the shade is soft. If you want a smokey eyes using this eyeshadow, apply it all over the lid, or outer corner, and in crease. The result can be smooth since it doesn't look contrast to your skin. If you are looking for a stick, waterproof, shimmery, matte, and metallic finish, Julep Eyeshadow 101 Crème to Powder Waterproof Eyeshadow Stick is for you.
8. Make Your Eyes Soft
Although lavender is a light color, this shade is still suitable for dark skin tone as long as you know how to apply it. First, apply L.A. COLORS 5 Color Matte Eyeshadow underneath the lower lid. Start it from the inner corner of your eyes, then extend up along the way out into a cat-eye tail. This creation can make a soft haze with pastel color on your eyes. Next, use violet liner to add a more dramatic look on your eyes and blue mascara on lower lashes. The combination of violet, blue, and lavender can look vibrant and make your eyes pop.
9. Mysterious Characters
Dare to add more mystique for your eye makeup look? Don't be intimidated by the shade because by pairing the right eyeliner, you can make it as easy eyeshadow looks for dark skin tone to get a chic look. Some people love to use lighter shade for a smokey eye, the fact you still can use this color. For the day look, you can highlight the inner corner of the eyes to get subtle results. Consider Rimmel Magnif'eyes Eye Palette for this eye makeup look.
10. Playful Look
If you are looking for colorful shade and are able to flatter your eye makeup look, purple shade is the one you can consider. Basically, purple can be applied for anyone. So, if you are looking for easy eyeshadow looks for dark skin tone, find the right shade for you. If you want to hide the dark circle, choose violet hue. But, if you just want to add a touch of eye makeup or create a dramatic look, have fun with the purple, like LUXAZA Purple Eyeshadow Palette.
11. Warm Tone for Summer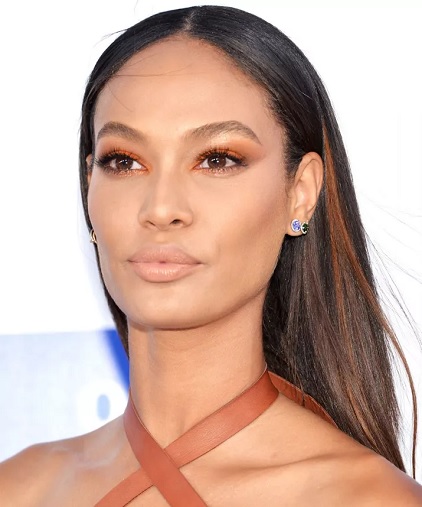 One of the amazing easy eyeshadow looks for dark skin tone is orange. This shade is also an ideal choice for hangout, party, and summer as this is a happy moment for everyone. Applying orange eyeshadow during the summer can be more eye-catching because the exposure of the sun on your dark skin tone will look more stunning. Furthermore, your appearance can be more colorful. In order to complete your look, you can choose Afflano Red Orange Eyeshadow Palette Sunset 15 Color. This eyeshadow comes in cream form with glossy, shimmer, glitter, matte, and metallic finish, which are perfect for your skin tone.
12. You're Brave
You might think that royal blue is a big no for dark skin tone. But, your thought is wrong because the idea of applying this eyeshadow is a perfect for eye makeup game. So, if you like to have a new look, brave, stunning, and stand out, this is the time for blue. Choose from shimmery finish to soft flushes of pigment and from aquamarine to deep navy. Space Blue Eyeshadow Palette DE'LANCI comes with 15 shades and this is perfect for you when you want to mix and match the shades.
13. Glam in Black Look
Black eyeshadow isn't a favorite choice, untouched shade, and only less people who dare to use it. Based on the outfit, occasion, mood, and eye makeup, basically you can try this one for a glam look. FYI, this product is a versatile product because you can create a sultry, smokey and subtle look. The key to get a perfect result is by using it by complementing it with your eye shape. You also can make a ring of blended darker shadow and complete it with nude lipstick. You can choose black eyeshadow L'Oréal Paris Colour Riche Monos Eyeshadow and COVERGIRL Perfect Blend Eyeliner Pencil for this look.
How do I Know what Eyeshadow Suits Me?
You can know the eyeshadow suits you after knowing your undertone. Warm tone can choose a warm tone, like reds, oranges, and golds to accentuate the warmth on your skin. Cool skin tone can choose purple, green, and blue to match purple pink and blue undertone in your skin. Meanwhile, neutral can go with warm and cool shade.
What is the Most Popular Eye Makeup?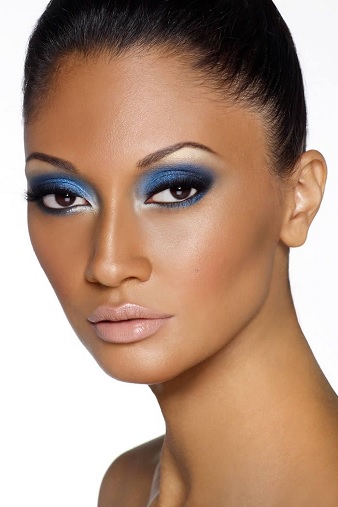 Basically, there are so many popular eye makeup in the world and it changes depending on the trend every year. But, the most popular eye makeup can be summarized, like dark and smokey eyes, winged eyeliner, natural, reverse cat-eye, bold cat-eye, full lush lashes, and minimalist makeup. You can create those eye makeup looks by choosing the right shade, finish, eyeliner or mascara to complement the look.
Why do I Look Worse with Eyeshadow?
You can look worse with eyeshadow because when you cross the line and apply too much eyeshadow, it will create harsher creases and lines. When you wear uneven application, this also makes the eyeshadow hard to blend out. Avoid it by applying a little bit and blend it well. You can build the color gradually until you get what you desire.
Can You Use One Color for Eyeshadow?
Yes, you can use one color for eyeshadow. In short, use one multitasking eyeshadow and sweep it on your lid to make it like you wear more than one color. Or, you can apply and blend it evenly all over your eyes. However, if you want to get greater results, three shades in one palette is much better than one because you can achieve a multidimensional eye look.