Some of us just aren't born with thick, luscious lashes, which is why we turn to mascara or false lashes for a little help. Mascara is great for everyday use, but it is very limiting and will eventually wear off throughout the day. False lashes, on the other hand, will get you through the entire day or night without a single smudge! Ardell is one of the top brands that offer high-quality false eyelashes, and their style range is enormous. There are plenty options of the best Ardell lashes that you can choose for various purposes.
Want to know which are the best Ardell lashes for your eye shape and occasion? Read our helpful buying guide to see what our lash experts recommend.
Tips that Will Help You Choose the Right Ardell Lashes
To avoid a lash overload, you need to make sure that you select lashes that compliment your face and eye shape.
Small Eyes. Individual lashes such as the Ardell Fashion – Individual applied to the corner of your eyes will create the illusion of larger eyes. Avoid thick and dense lashes, because it can end up making your eyes appear even smaller that they actually are.
Round Eyes. If your eyes are round, then you should also be careful with dense lashes since they can also create the illusion of smaller eyes. After all, you want to enhance them, not shrink them! For that reason, we suggest you to try the Ardell Fashion – Wispies, the Ardell Fashion-105 or the Ardell Fashion-110.
Large Eyes. For those with large eyes, you need to have more fun with the thicker and denser lashes that will help your big eyes pop. Therefore, the Ardell Fashion-115 or Ardell Fashion-103 are definitely great matches for you.
Consider the Occasion
Lashes are available in so many different styles, which is why it is hard to narrow down the options when you have them all sitting in front of you.
Choosing something based on your eye shape and size is important, but you can narrow down the options even further if you consider the occasion, as well.
Everyday. For an everyday look that isn't too extreme, be sure you stick with less dense eyelashes.
Wedding. Be sure to choose something natural that will help you look like, well, you! Avoid anything too extreme and out of the norm, as you want people to focus on everything about you, from your dress, your accessories, and to your hair and makeup. Don't let your eyes steal the show! If you don't normally wear makeup or use very little, then this might be the right time to add some volume and length with lashes like Ardell Fashion-115. If you tend to wear a lot of makeup, then you might want to consider going with something a little more demure such as the Ardell Fashion-110 or the Ardell Fashion-118. You will achieve a more natural look that doesn't overpower your face.
Costume. Are you dressing up for Halloween or a costume party? If so, then let creativity be your guide. We didn't really include anything too outrageous on our list of the best Ardell lashes, but something like the 134 or the Demi Wispies in Blue can add a unique touch to any costume.
Wispies black from Ardell is perfect for daytime occasions yet still fabulous for the night out. The faux lashes are lightweight and will give you a fair natural look as well. With Ardell's Invisiband Technology, it will keep you comfortable all day long so that you will forget that you have false lashes on your eyes. Moreover, the undetectable lash band that disappears and smoothly blends with your natural lashes once you stick it on the lash. No worry about how hurt it feels the time you remove the false lashes, since Wispies black is easy to remove, with reasonable price because there are 5 pairs in one pack. Also, if you put in the storage properly, you can reuse it for the next time. 
Pros:
5 pairs in one pack
Easy to remove
Reusable
Invisible lash band
Cons: 
Not too bold for night makeup
If you are looking for supple and soft falsies that will give you all day long comfort feeling, then Naked Lashes from Ardell is the answer. It is one of the best Ardell lashes to pick, especially because the feathery and lightweight lash fibers will leave an impressive look for your eyes. Furthermore, this one will blend naturally with your real lashes, too. It is the best option for the simple and elegant look ever.
Pros: 
Lightweight
Feathery
Comfortable for a day long
Cons: 
Not suitable for bold makeup look
Not reusable
For those who dream of the celebrity gorgeous look especially for the eye makeup look, then Faux Mink Demi Wispies from Ardell will grant your wish. These falsies will create a high-impact posh aesthetic and curly lashes effortlessly. Featuring Ardell's Signature Knot-Free Invisiband, it provides an undetectable lash band with no clumsy knots that disappear and smoothly blends with your natural eyelashes. It is easy to have precise eyelashes that are easily controlled by you once you apply it.
Pros:
Bold and curl lashes instantly
Invisible band
Reusable and longer lasting if you are not add mascara on it
Cons:
The two stakes of falsies for a dark, full volume and multidimensional eyelashes. This is one of the best Ardell lashes that will be hard for people to take their eyes off of. The flirty falsies like this are made of Keratin infused with 100% Remy human hair. Moreover, the texture is also supersoft and it is completed with fine tapered fibers to give a comfortable feeling, and easy to apply.
Pros:
Reasonable price
Full volume for dramatic yet flirty look
Made of real hair
Cons:
The ultra glam look that you dreamt of can be achieved by applying this Ardell 3D Faux Mink 854. These falsies are made of satiny-soft mink-like fibers taper for seamless blending with your natural eyelashes. The texture is feathery and it gives you a full volume for a party look all night long. Moreover, the design is mimicking your real lashes since the center is shorter and the outer corner is longer for a dramatic look.  Furthermore, to get it more precise, the falsies are knotted by hand.
Pros:
Glamorous look and bold makeup
3D technology for dramatic look
Easily blend to your real lashes
Cons:
Heavier than the natural one
Not suitable for daily look or daytime occasions
Daily natural look with Ardell's Natural 110 Black Lashes is a perfect combination, because these falsies are the most popular lashes as they give the desired, natural look of full and beautiful lashes. The natural look is not only pretty to look at, but also lightweight as you apply it on the eyelashes. Since it is easy to remove, you can re-use it as long as you store it in a proper place. Also, avoid using mascara to make the falsies last longer.
Pros:
Suitable for daily look
Reusable
Lightweight
Cons:
Ardell natural demi black falsies are soft and lightweight. You can still get the gorgeous look only by adding the falsies to your finishing step. Natural demi black is very easy to apply, comfortable, and features a full curl lashes to give you the best length and volume for your eye look. The design is following the contour of your real ones, so it can blend easily once you apply it to your lashes.
Pros:
Soft and lightweight
Reusable
Cons:
Not for bold makeup
One pack only contains 1 pair
If you think that wearing one falsies is not enough, then try this Double Up Eyelashes from Ardell. The extra long length and full volume will turn your look into ultra fabulous and glam at a glance. The lash style is slightly flared with a crisscross design as the signature of Wispies style. Moreover, the feathery texture and curl falsies will make you say bye to the mascara. In addition, don't forget that the Invisband® provides an undetectable lash band and the most comfortable wear, too.
Pros:
Double up lashes
Invisband for undetectable lash band
Bold makeup look
Cons:
Might feel heavier
The flare is not too much, hence the falsies on the center is longer than the corner
Not for daily look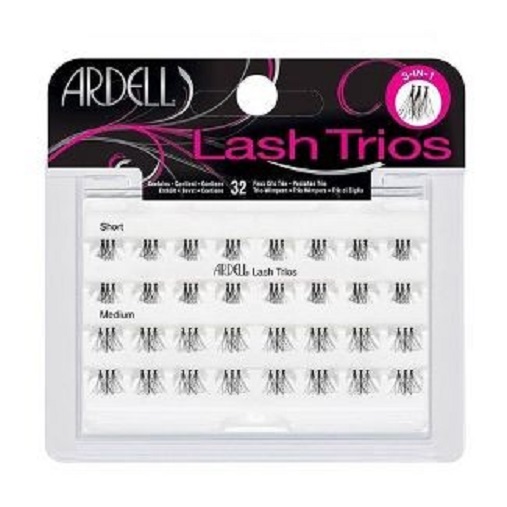 For those of you who don't like to wear the whole pair of falsies, then this is the real solution. You can add the lashes on the part that you think you'll need. Either it is on the corner or the center to fill the sparse gaps. It is time saving and also avoids too strong makeup. Also, you don't waste any part of this lash because you just wear it based on your needs.
Pros:
No waste
Easy to apply
Not too bold look
Cons:
It may take more times to apply since it is not a whole pair lashes
Need a proper experience to wear it quickly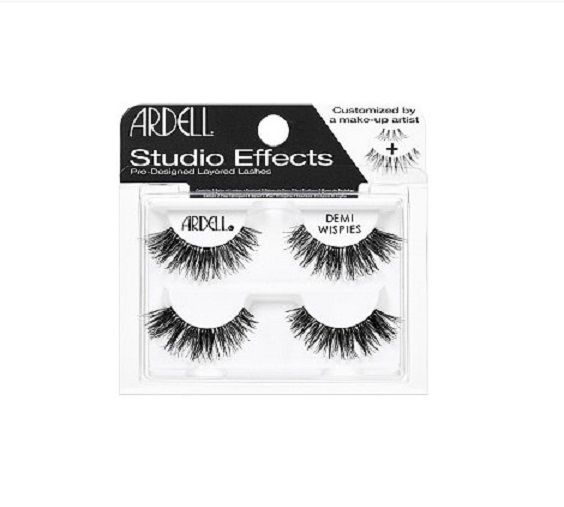 Ardell's Studio Effects Demi Wispies Twin Pack are ready to give you a glamorous look. By applying these falsies, people will think that you are brushed by a professional makeup artist. Moreover, Ardell's Studio Effects Demi Wispies are masterfully handcrafted and layered by makeup experts, too. So, you can enhance a new, bold and glamorous, eye-opening look by completing the eye look with a pair of these items. 
Pros:
Handcrafted by makeup experts
Suitable for glam makeup
Cons:
Demi Wispies often launch the design that the hairs are longer on the center
A bit heavy
The ultra revolutionary lashes with magnetic accents. Yes, you don't need any adhesive to wear the falsies anymore. Multi-magnet technology will stick to the lashes perfectly that will instantly give a fashionista look only for you. When people are still struggling about the visible band and hard to remove lashes since the adhesive is too strong, you can now skip those steps by wearing this pair. 
Pros:
No need for adhesive
One pack consists of 2 pairs
Cons:
It might be difficult at the first try
The falsies may fall off if you are not stick it in the right way.
When others think about 3D lashes, well, Ardell already came with 8D lashes that are inspired by professional lash extensions. The texture is feathery and flared, and it is completely mimicking the real lashes. The multidimensional layers will give you a full volume of lashes without leaving the heavy feeling. 
Pros:
Mimicking the real lashes
Invisiband
Multidimensional
The best lashes are the falsies that can give you a full volume but still light as air. Meet this Ardell Light As Air Lash #523. It creates a silhouette shaped with the softest texture. You will get the full volume through its length. The lightweight faux lashes will be suitable for your daily look for a day long, too.
Pros:
Lightweight as the air
Full volume
To get the eyelashes that naturally lifted, open and give a wide effect, you can try Ardell's Lift Effect lashes. The eyelashes are rounded, shorter than the other types, but with multidimensional curls. The after look for your eyes is very natural as if you don't wear any falsies at all. Also, it is a lightweight faux lashes and complete with comfortable Invisiband, too.
Pros:
Natural look as if you use lash lift mascara
Full volume
Lightweight
Cons: Not for bold makeup or night occasions
You don't need any extension lashes if you find this Ardell's extension FX Eye-Opening Effect B-Curl. This item is inspired by the latest trend of extension technology. The B-Curl Lashes are long, doll-shaped to open eyes, making it a perfect choice for you who wants a deep set eyes. When you have such dramatic lashes but in a natural way, you will also feel how silky and soft the texture of these falsies is, with tapered fibers and knot-free invisiband. 
Pros:
Extension effect
Doll-shaped
Natural look
Cons:
Quite expensive for only a pair of falsies
Not last for a day long
Are Ardell lashes reusable?
Yes, Ardell lashes are reusable as long as you place it in the proper place. Also, it is better if you do not use any mascara after applying the lashes, so that you don't have to remove the dried mascara if you want to save and reuse it again in the next few days. Don't forget to clean the adhesive after you remove the falsies from your eyes unless you want something clumpy and dirty on the faux lashes.
How long do Ardell false lashes last?
It can last up to two weeks within the proper use and storage. Therefore, if you buy one pack that consists of 5 pairs of falsies, then you don't have to buy another for around 2 months. Never think twice to change to the new lashes if you think it is already dirty or uncomfortable when you try to wear it again.