The eyes are truly the window to the soul. It is one of the first impressions we bring out when we meet people, and surely we'd like to show our best appeal when doing so. And what can be better than doing a lash extension? Aside from dramatically enhancing and giving an extra flutter to your lashes, it also brings out the color of your natural eyes. Moreover, it's giving your lashes a youthful look, and eventually making you feel more confident in general. Because when you look good, you will definitely feel good. However, sometimes having only lash extensions are not enough, and you're probably thinking about applying a mascara on your extension for maximum appearance. Well, before you do, it's better to know what happens if you put mascara on eyelash extensions.
Taking care of lash extensions is not as easy as taking care of your natural lashes. Proper care must be done so that they last for a long time. However, if you would like to add an extra kick to your lashes by adding mascara, several questions might arise; is it safe? or can I apply mascara on my false lashes? Don't worry, we're here to answer all your worries.
Can You Wear Mascara with Lash Extensions?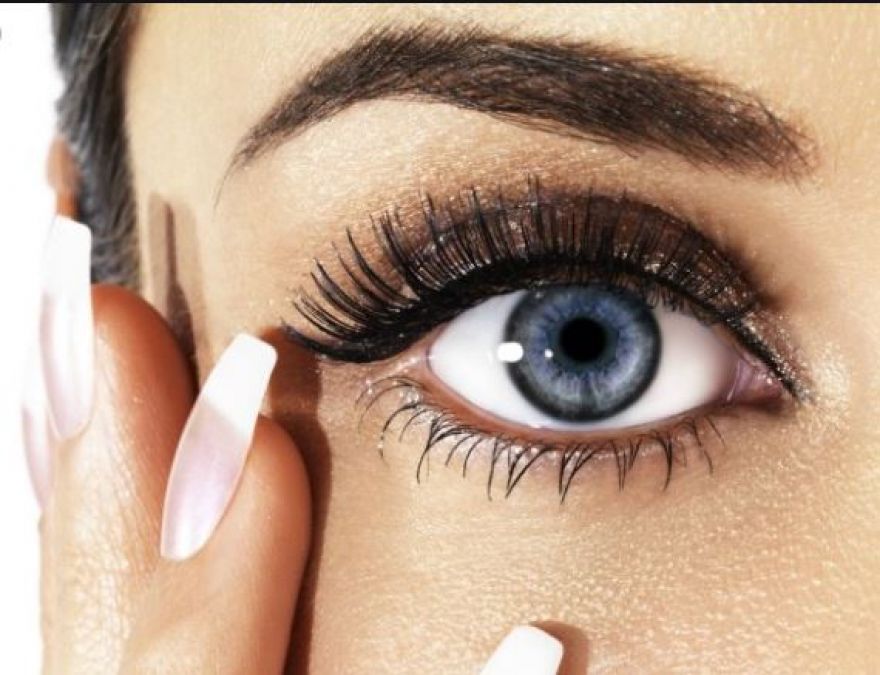 Yes, you can wear mascara with lash extensions, with a few exceptions. First and foremost, we strongly recommend you to wear mascara over classic extensions, and not over hybrid, volumized, and russian extensions. Classic extensions only apply one extension lash for every natural lash that you have, and it's the most suitable type to wear mascara on. As for volumized lashes, applying a mascara over it would only create an extra weight to your natural lashes, and this might cause your lashes to fall out prematurely. Plus, applying it in an already thickened lashes defeats the purpose of getting it done in the very beginning. So now that we've gotten past that, below we'll explain to you why you should wear mascara on your extensions and also what happens if you put mascara on eyelash extensions.
With the help of the right mascara, it will give you the extra finishing touch that you need when you go to a special occasion. Your lash extensions will be thicker, creating a bolder, and have more dramatic look.

Mascara will also nourish and condition your natural lashes, and increase the length of the lash extensions. Most of the mascara products produced nowadays are manufactured with eco-conscious ingredients such as stem cells, plant-based biotin, keratin, and many more.  Let's face it, we will never ditch mascara to give those lashes natural growth and healthier outcomes.

Filling your lashes and the extensions will help fill the holes. It helps separate the clumpier ones and bring them back nice and fresh again. So if you feel like your lash extensions are getting sparse, mascara to the rescue!
Types of Mascaras You Should Avoid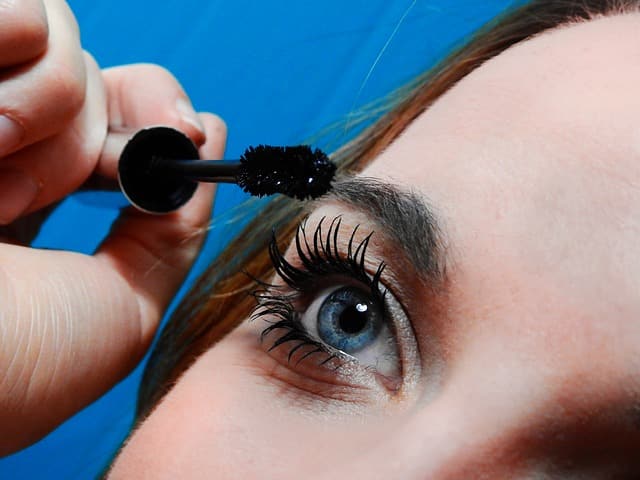 With all that being said, there are also some big no-no's when you buy mascara for your lash extensions. If you are asking about what happens if you put mascara on eyelash extensions, the answer depends on the type of mascara that you're using. Not all mascara products can be applied to your lash extensions. Here are some types of mascaras you need to avoid from wearing onto your lashes.
Oil-based mascara. Mascaras that contain any type of oil in their ingredients will ruin the adhesive that holds your lash extensions altogether. On top of that, they are also incredibly hard to remove. Avoid mascaras that contain added oils such as lanolin, eucalyptus oil, castor oil, paraffin, linseed oil, sesame oil, and so on.
Tube mascara. Tube mascara does not mean mascaras that come in tubes. It's simply a product that contains polymers, which keeps your lashes from smudging even on a hot sunny muggy day. While it's easy to remove from natural lashes, the other can be said from lash extensions. It sticks like glue and can truly be a homework on taking them off. Worst, they damage both your natural lashes and your lash extensions in the process.
Fiber mascara.

These types of mascara are latched with dry fibers (silk, rayon, nylon) that make lashes look denser and thicker. And just like oil-based mascara, these types of products are extremely difficult to remove.
What Mascara is Safe for Eyelash Extensions?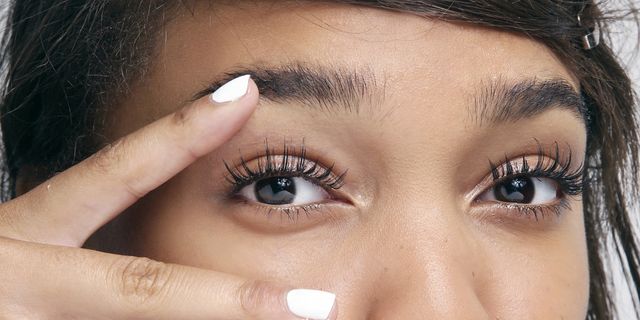 Mascaras that are safe to use for eyelash extensions are water-based mascaras, or mascaras that do not contain any added oils in their formula. Unlike oil-based mascaras, water-based mascaras do not break down the bond of your lash extensions as well as natural lashes. Water-based mascaras that have a neutral pH, organic, and free of chemicals are the most, if not the only, product you should be using for your lash extensions. They are also quick to dry, plus very easy to clean. But just because they are safe, that does not mean you can apply them just as you would a normal mascara. Extra care must be considered when applying the mascara, all the way until you remove them from the end of the day. Below are tips and tricks when using mascara over your lashes.
Applying mascara should only be done from the middle and outwards to the tip of your lashes. Avoid brushing from the roots as it may ruin the glue of the lash extensions that can cause an early fallout.

Be extremely gentle when removing your mascara. Avoid oil-based makeup removers, and avoid any aggressive movements such as rubbing and pulling your lashes.

The last and most important rule is never sleep with your mascara intact. The mascara buildup in your lash extensions, when left overnight, will be highly vulnerable to bacteria and could lead to eye infections.
Can I Put Mascara on Fake Lashes?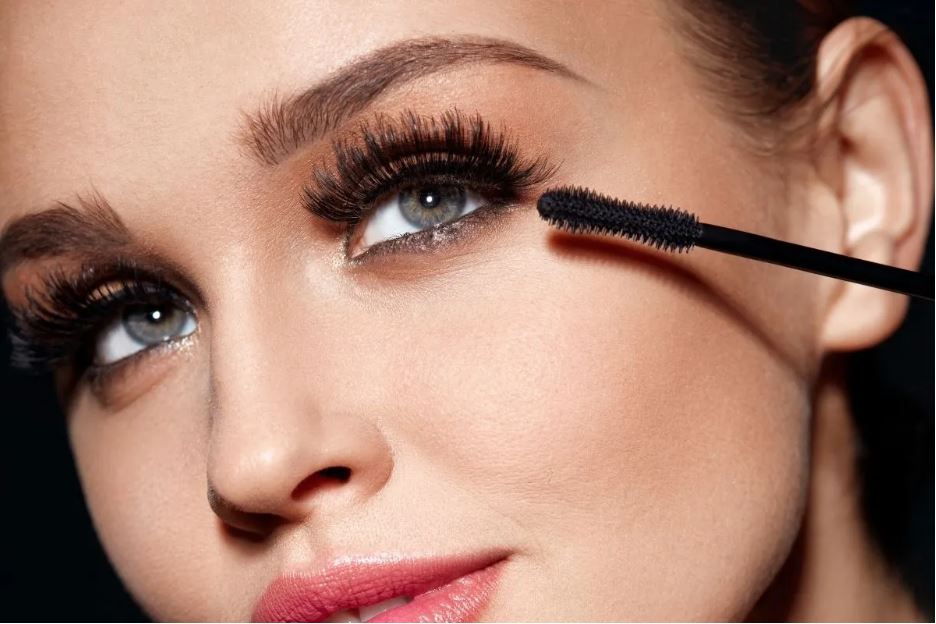 You can put mascara on fake lashes, while it isn't necessary. Not all people are born with long, natural, curly lashes. Hence, people opt to put on fake lashes. In fact, make-up artists and gurus recommend doing so. Applying mascara could even blend your natural and synthetic lashes together naturally. Therefore, we highly recommend you put on mascara after putting on your falsies, so the application process will be much easier and a lot cleaner, too. And just like lash extensions, only apply mascaras starting from the middle part until the tip of your lashes, because it will prevent the glue from breaking out.
25 Highly Rated Mascaras that are Safe for Eyelash Extensions
We have listed below the top 25 Mascara Products that are highly rated and recommended for both your eyelash extensions and also falsies. 
The COVERGIRL Lash Blast Volume Mascara is a hypoallergenic, water-based mascara that we highly recommend for lash extension wearers. It gives subtle addition of thickness and fluffiness to your lashes and its unique spin-shaped brush is made to coat each and every part of your lashes. Aside from being smudge-free, this product is also clump-free and cruelty-free. It goes an extra mile for being a water-based yet waterproof mascara, making sure that your lashes have the smudge-free and clump-free finish. The only downside for this product is its big wand, which can make it hard to reach inner lashes, as well as its availability due to high demand.
Oil-free mascara? Check. Waterproof? Check. Amazingly packaged? Double check. What feature does the Lash Sensational Sky High Waterproof Mascara lack? This product offers everything you need from a mascara. Moreover, it delivers with its flexible brush that touches each lash for maximum volume and sky high length. This mascara has been dermatologist and ophthalmologist tested. Plus, it has been proven to be suited for people with sensitive skin, too. In addition, its ingredients do not contain oil, perfume, non-comedogenic, and hypoallergenic, so you can use it with a piece of mind.
The KISSME Heroine Make is famous for its withstanding formula, which allows it to stay on your lashes for up to 10 hours. Plus, it also provides a dynamic curl lengthening effect. The fiber is lightweight, so it doesn't add additional burden to your extension lashes and still give the full volume effect. Furthermore, it's also waterproof, making it perfect for summer activities.
Add a BANG! to your lash extensions with the one and only BADGal Bang Mascara. The mascara has a lightweight, long-wearing formula and contains panthenol to not only lengthen your lashes, but also conditions them. In addition, the tube is also designed in a way to remove excess product, which will minimize the clumping in your lashes.
For over 4 decades, the Maybelline Great Lash is still one of the top best-selling mascara in America. It contains a lash-doubling formula that slides easily and safely to your eyelash extensions, making it easy to get the fully volumized look. On top of that, it is also suitable for contact lens users! They do not only stop at that, because Maybelline has always been progressively working in making their products simpler, environmentally aware, and last but not least, as natural as possible. This explains the reason why it still withstands the reputation for a very long time.
This mascara is pretty much every girl's dream. It's not just iconic, and it's not just a mascara that is eyelash extension friendly, but it is also free from all chemicals that have no business in being in your mascara. Free of sulfates SLS and SLES, formaldehydes, phthalates, retinyl palmitate, oxybenzone, coal tar, hydroquinone, triclosan, triclocarban, this mascara is environmentally friendly and barely contains synthetic fragrances. It puts out a perfect amount of product to combine both your natural and eyelash extensions, that people won't even realize you did extensions!
Extra! Extra! The Xtreme Lashes Length & Volume Mascara will bring all the extras you will ever need for your eyelash extensions. It is specifically formulated for semi-permanent lash extensions. But remember, as we've explained, this only applies for classic eyelash extensions, and not the hyper volumized and hybrid extensions. Enriched with B5 and using water-based formula, it delivers maximum efficacy, as well as nourishing, conditioning, and also rejuvenating your eyelash game.
If you are looking for a waterproof mascara for your eyelash extensions, then the Noir Mascara by Blink Lash is the answer. For a waterproof mascara, it comes as an oil-free and smudge-proof product, which will stay all day long for hours on end. Not only does it stick well to your lashes, it also contains keratin, which is an important ingredient that strengthens and restores your thin lashes to the best condition. So wait no more and grab yours now, because this is definitely a must-have item, especially if you are looking for a mascara that also acts as an aftercare product.
L'Oreal Paris Mascara works to define and thicken your extension lashes, and combines it with your natural ones, because it also resists the clumping yet keeps the softness. It adds volume for up to 5x its normal size, with smudge-free formula to create the perfect look that you need for your special occasions.
Hourglass Caution Extreme Lash Mascara has redefined their product since they first launched in 2004. They've been known as cruelty-free, as well as formulated without the harmful ingredients such as parabens, synthetic dyes, fragnance, and nanoparticles. They are fully transparent about their mascara, just another reason to add to your mascara list. Its brush delivers super length and intense volume that lasts for hours, and is also safe for your eyelash extensions.
The longer the lash, the better the game. While this saying is true, it's difficult to put into reality. With hundreds of mascara choices, choosing the right one is proven to be hard work, indeed. However, the Radical Volume Effet Faux Cils Mascara is here to tell you otherwise. This multi-functional mascara acts as a volumizing, thickening, and lifting your lash to the fullest extent. It's intensely pigmented, and it definitely won't clump, smudge, or even flake. Moreover, it is also packed with nutrients such as walnut leaf, argan oil, and also provitamin B5, which leaves your lash extension feeling lightweight and refreshed. However, it is more on the expensive side.
"Cried the entire time at a funeral and my mascara stayed perfect. No black marks under my eyes and no black tears! Most amazing waterproof mascara", says one of the top reviewers of the Definicils Waterproof High Definition Mascara, which shows you how good the mascara really is.This mascara contains water-based formula that is super friendly for contact lens wearers, as well as those with eyelash extensions. Garnering 311 five-star ratings and over 12.000 likes, this product would truly be a bang for your buck.
Lancome has been a trademark for makeup products, and the Hypnose Doll Lashes definitely stand out. Even with just your natural lashes alone, it already gives the lengthening and volumizing effect for up to 4x! Nw imagine if you are using a lash extension. The unique conical shaped brush will get to each and every lash, making sure to coat it very well, ultimately giving you that doll-lash look. Formulated without parabens, synthetic fragrances, sulfates, and phthalates, this mascara will leave your lashes fresh and healthy, and also promotes your lash extension's longevity. The only downside of this mascara is its price, which ranges at $29.
Lash Princess False Lash Effect Mascara is a straightforward, easy to use, and simple product that is relatively cheap, yet contains many benefits. It is an ophthalmological tested, cruelty-free product that is formulated without alcohol, oil, parabens, fragnance, and any animal byproducts. So if you are on a budget and looking for an extra kick for your lash extensions, this might just be the answer for you.
Heads will immediately turn when you wear the Lash Affair Mascara. It is not only suitable for your extensions, because it is also highly pigmented, and has the ability to sculpt your lashes to the maximum desired effect. It is a water-based mascara that is infused with keratin, which contains nourishing elements for your natural lashes. While it does last longer and look better, it clumps and flakes the more it stays. It is also not advisable to put more than two coats, as your lashes and extensions will stick together, and will not deliver that lifted, fanned-out lashes look.
The product says it all, an extension mascara that is suitable for any type of eyelash extensions, as well as false lashes! This mascara is ready to give you a full volume, dramatized look with just a few brushes. Moreover, it is water resistant and made out of oil free formula. So even after a long day, it is still relatively easy for you to take off. However, we do recommend to only use a single coating for the lashes because it will be even harder to remove the more product you put into your falsies.
NUDESTIX Lash Lengthening is the superstar for people who are looking for dramatic volumizing effects, while giving nourishing benefits to your lashes at the same time. It has peptides in its formula, which is a crucial ingredient to strengthen and support the growth of your natural lashes. It is eyelash extension-friendly and definitely fairly easy to remove. Last but not least, it is best for all eyes, even those with sensitive ones.
The Climax Extreme Mascara is an oil-free mascara that is highly suitable for lash extension users. Not only is it oil-free, but it is also paraben-free, fragnance-free, sulphate-free, as well as free of anti-oxidants. The wand consists of a soft fiber-like brush that is created in a way to separate clumpy lash extensions, as well as to give them a new look again. The good thing about this mascara is the price, which is relatively affordable. Without a doubt, this is definitely a mascara worth buying for its value.
The Roller Lash is a paraben and sulphate-free mascara that functions mainly to curl your lashes, and keep the flawless look for up to 12 hours. Although the price might be a bit more expensive, it does prove to be a worthy high-end mascara. Also formulated with provitamin B5 and Serin to look after your natural lashes and keep them healthy.
The Fenty Beauty product has come into the beauty world fairly recently, but it has taken up the crowd by storm, proving to be a highly competitive brand. When the Full Frontal Volume, Lift & Curl Mascara came out, makeup enthusiasts couldn't be happier, because it is an all in one mascara that is eyelash extension friendly. It serves to volumize, curl, and also lengthen your lashes. The brush features a unique flat-to-fat brush, where the fat part of the brush lifts and thickens your lashes, while the flat side volumizes and creates the curls. Ingredients are also cruelty-free and gluten-free, a trademark staple for all Fenty beauty products. 
If you are looking for a good quality, high-end mascara that will look after your eyelash extensions and nurture your lashes at the same time, the Perversion Volumizing Mascara would be the one for you. It is a highly creamy mascara that  brings out the dramatic look of your lash extensions, as well as falsies! It contains three highlighted ingredients, which are hairdensyl that acts as lash growth support. The second component is honey extract which helps nurture lashes, and the last one is marine collagen which protects lashes. And don't worry, the product is not tested on animals, and is completely free of parabens.
The Better than Sex Volumizing Mascara has been a crowd favorite for many things. First reason being, is the brushes. It's inspired by a woman's body curve and shaped into an hourglass shape, with flexible brushes that coats every single lash and giving it a thickening and volumizing effect for both your natural and eyelash extensions. Second, it contains three main ingredients such as film-forming polymer, which helps to put the curl in place, as well as acacia senegal tree extract which sets volume and collagen that gives the full plump effect. The third reason is it is free of toxic chemicals such as vegan, and it is also gluten and cruelty-free. These reasons are why this mascara has been very popular, that it even achieved the Allure Best of Beauty award winner.
GladGirl Lashe EnMasse Mascara is an eyelash extension friendly mascara that focuses on protecting them while also enhancing and volumizing, giving it a dramatic finish that will last all day. It comes in a dual brush wand with the thick brush to shape the lashes, while the brush comb helps separate them better, avoiding any clumps in the process. It is vegan and completely safe for eyelash extension users with sensitive eyes.
Another great mascara for your eyelash extensions is the Alluring Mascara. It is an oil-free product that is formulated to volumize gently, making it safe for everyday wear. It also contains nourishing ingredients such as panthenol and inositol, which in turn strengthen your natural lashes. Last but not least, it is very easy to remove with warm water because it is water-based.
The last but definitely not the least in our list is the Alluring Max 2 Water Based Special Mascara. It is accredited as one of the safest go-to mascara for your eyelash extensions, ensuring a fierce look with just a few brushes. Not only is it environmentally sourced, it also contains a royal jelly and herbal extracts that will leave your lashes nurtured in the long run.