Under eye eyeshadow is trending everywhere these days. People keep on coming up with creative and cool ways to draw their lower lash. For all the trendy beauties who feel a little overwhelmed following the fast-changing trends, don't worry, this makeup expert is here for you! I have 15 under eye eyeshadow trends and ideas for our trendy beauties so you will not miss this one.
As a professional Makeup Artist with years of experience of handling client's different features, I would love to share some tips for when you are doing this trend. Some do's and don'ts to guide you, and more information about this trend. Keep on reading to learn more about this hot makeup style.
Can You Put Eyeshadow On The Lower Lash?
Yes, you can put eyeshadow on your lower lash. After testing various methods on my clients, I've found that adding eyeshadow on your lower lash is the best simple technique to bring more definition to your eyes. It will balance the eye makeup and make your eyes look bigger and more attractive. You can use colorful eyeshadows to play with your creativity or a soft brown eyeshadow if you just want to give more definition to the shape of your eyes.
Eyeshadow Brushes For Under Eyes
Below are some of my favorite types of eyeshadow brushes that will work wonderfully to apply eyeshadow on the lower lash. Seriously, these types of brushes are the best for the under eye area. Just keep on reading!
| – | Type of brush | Why It's good |
| --- | --- | --- |
| | Angled Shader Brush | The angled tip of the brush hugs the curve of the under-eye area, thus making it perfect to apply eyeshadow to the area. |
| | Small Tapered Blending Brush | This type of brush is very precise and applies eyeshadow in the exact area. Great for blending pigments. |
| | Shader Brush | The tip is perfect to build and blend color in precise areas. |
| | Flat-Tip Eyeshadow Brush | Used to create lines under the eye for an edgy makeup look. The stiff tip is best at giving even application and picking up color. |
| | Detailed Blender Brush | The brush can blend eyeshadow with precision and detailed finish quickly. |
How To Line Under Eyes With Eyeshadow
If you want to know how to line your under eye, I have some useful information that I can share with you based on my professional experience. First, you definitely want to use eyeshadows that are packed with intense pigment so the color will show when you draw a line under your eyes. What I, and most professional MUA, would do when eyeshadow won't give the color pay off that was expected is to wet the brush the eyeshadow with a little water or setting spray. Second, you will need the right brush to apply your under eye eyeshadow. I usually use a flat-tip eyeshadow brush to pick up the color. Third, use a small shader brush to blend the eyeshadow so there will not be any harsh line.
A Quick Lower Lash Eyeshadow Tutorial
When my client wants to create a simple smokey lower lash, my favorite trick is to take a black pencil eyeliner and line it on their lower lash line. Then, I will take a small blending brush that's a little stiff and smudge the eyeliner a little. Next, I blend the eyeliner with eyeshadow. You can pick any eyeshadow color that you want; I always match them with the dress that the client will be wearing that night. I finished the look with fake bottom lashes or mascara to make it look more dramatic and finish the rest of their makeup. If you need a more detailed explanation, you can check out this tutorial on YouTube.
The Do's And Don'ts
There are some do's and don'ts to follow when you are applying eyeshadows on lower lash. As a professional with years of experience, I would love to share these rules to help you save your eye makeup. You definitely want to follow these rules so your under eye eyeshadow will not look bad.
1. Do's: Blend the eyeshadow!
The key to flawless makeup look is by blending all colors until there are no ugly sharp edges shown on the face. Soft and fluffy brushes are the best at doing this job. I always use a small size brush to get a detailed finish and precise smudge on my under eye.
2. Don't: Using big eyeshadow brush
Sure, big eyeshadow brushes are great. They can pick up more product and blend it quickly. But, I only use a big eyeshadow brush to apply color on the lid or crease. Lower lash needs smaller brushes that can give us more detailed finish. Using a big brush on them will drag my eyeshadow literally everywhere and make my under eyes look dirty instead.
3. Do's: Use pencil eyeliner for a little help
If you need a product to help you to create a hot smokey look, grab your pencil eyeliner. This is one of my favorite quick techniques to do on my client's eyes. Swipe a line on your under eye using the pencil liner then smudge it with a brush. You have to do it quickly since it can dry pretty soon. Then, take an eyeshadow of the same color and apply it on top of the eyeliner for a more dramatic and intense finish.
4. Don't: Using black liquid eyeliner for the lower lash line is always a no-no
I believe every makeup beginner has made this mistake; using liquid eyeliner to line the lower lash line. It will make the under-eye look bad and very unattractive. I always stick with only gel or pencil eyeliner if I want to line my under eyes. You should, too.
5. Don't: Use cotton buds to apply eyeshadow
Yes, cotton buds can pick up colors. But trust me, it can only do that far. When it comes to applying and blending colors, the result will be far from the flawless finish that brushes can give you. Use cotton buds to clean up your makeup mistakes only.
Under-Eye Eyeshadow Trend
It's super fun to see how people on social media come up with creative ways to do their under eye makeup. I have some trends that you can follow. You don't want to skip this one.
The bright and shimmery green eyeshadow is such a pretty color to add on your under eye. Especially for our green eyed beauties out there. This color will make your eyes brighter and it's perfect for any occasion. You can add glitter on top of the green eyeshadow to make your lower lash pops even more.
This is an upside-down version of cat eye. I think the reverse cat eye eyeliner is such a sexy look to try when you are about to go out for a party at night. It flatters all eye shapes, especially hooded eyes, because the wings create a lifted effect that makes the eyes appear larger. You definitely do not want to skip this trend.
Pink and yellow eyeshadow
If you are looking for a fresh color combination, try using this one. The mix of pink and yellow eyeshadows is so pretty and striking. I personally love using pink eyeshadow first on the bottom lash line before going in with yellow eyeshadow. If the yellow eyeshadow is not so pigmented, I would use yellow eyeliner. I also make an effort not to overblend the yellow so it won't mix with the pink. Definitely not a boring under-eyeshadow look to do.
Honestly, zodiac inspired everything is always trending. That is why people on social media never run out of zodiac inspired makeup looks. Like this aquarius inspired makeup, where the makeup artist uses glitter on her under eye to create a water-like effect. Very creative and cool!
Yes, colorful gems for makeup are still trending. a good thing since we are not sick of them yet. Using colorful little gems on your undereyes is a great option when you are bored with the same makeup look every day. It is suitable for every eye shape and pretty easy to do once you get the hang of it. I especially love adding little gems when I go shopping or dinner to add a little drama to my minimal makeup.
Ombre eyeshadow is one of the eyeshadow trends that never dies. This trend uses more than one color to create a beautiful ombre on the eyes. If your lids are small, like mine, I suggest you do the cut-crease technique first using concealer to give the appearance of larger and deeper eyes. This is a cool look for a festival or for a photoshoot session.
Cool runway style eyeliner
Runway makeup is always about the skin. That is why eye makeup is usually made simple with one or two colors. If you need an edgy runway inspired look for your instagram picture, I think this one is a pretty cool look to recreate. Use a black pencil eyeliner to draw a line from the tail of your eyebrow, down to the lower lash until it almost touches your nose. Though I don't suggest you take a walk in a park when doing this look. We don't want to make the kids cry.
Don't we just adore the rock 'n' roll chic vibe that Barbara Palvin gave off with this look? I love doing this look when I want a strong eye without putting too much effort into blending my eyeshadows. Use a black pencil eyeliner on the bottom line, blend it a little with a brush, and I'm ready to go. Though if you have small eyes, you want to stay away from this look since applying black eyeliner on the lower lash line like this will make your eyes appear smaller.
This is an easy, sunset-inspired under-eye look that you can try. Using only bright orange eyeshadow and pastel blue eyeliner on the lower lash line. It is easy and pretty simple to recreate. Plus, it flatters every eye shape because the light blue eyeliner creates the illusion of larger eyes. It's an ideal look for a summer lunch with friends.
To create this look, you will need pastel rainbow-colored eyeshadow. Then, apply highlights with colors that suit the eyeshadows on top of them. This is another cool makeup look for a photoshoot. Although it's pretty tricky to recreate this one, hey, practice makes perfect, right?
Half eyeliner look is used to create the illusion of almond shaped eyes. Usually it's used for women with hooded lids and round eyes. It also makes their eyes look bigger and wider. You can do it for any occasion, during the night or day, with bold or natural eyeshadow. Honestly, I just love this simple look.
A subtle pop of purple color
A subtle pop of purple on your lower lash will give a beautiful twist to your soft glam look. It will draw attention to your eyes and take the monotony out of your makeup. With this smokey look, I think it's the best to do when you're going out at night.
This is another cool way to use glitter around the eyes. The result of heavy silver and baby blue glitters on the lower lash added with sharp eyeliner is out of this world. If you want to use this look for a formal party, I suggest you not apply too much glitters on the lower lash. This is a beautiful eye look that suits every eye shape.
The runways never run out of unboring ways of using eyeshadow under their models' eyes. Like this cool blue eyeshadow that applied on the model's under eyes. Such an easy and eccentric under eye eyeshadow style to try.
Another cool runway inspired look
I know, this one looks like an under eye shield that we use when applying eyeliner. But applying pink eyeshadow on your under eyes like this makes your cheekbones look higher. Plus, it gives that lifted eye and longer face effect. I'm not saying you should do this for your everyday look, but it might look cute on your Instagram posts.
Tips when applying eyeshadow on lower lashes
I have some tips that I would love to share with you. Try them when applying your under eye eyeshadow to get a better result. You can thank me later!
Wet your brush and don't be afraid to build the color
You can use setting spray or water to wet your brush. Spray just enough of it to your brush, not too much. After the tests that I've done, I have found that wet brush will pick up more color than dry brush.
Prep your under eyes with lots of translucent powder
Remember to always prep your under eye first with translucent powder. Translucent powder will help the color to last longer and does not move during the day. Especially if you are using a wet or creamy type of eyeshadow and eyeliner.
Invest your money on good quality brushes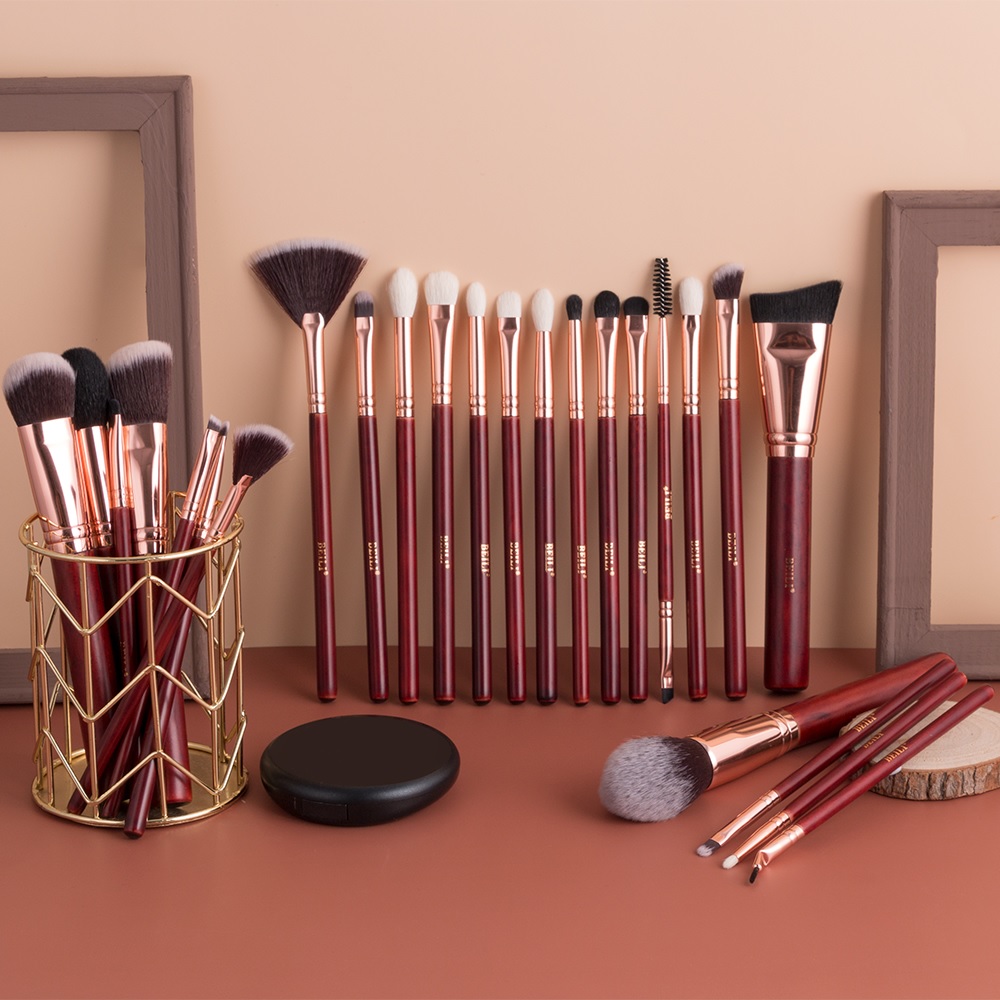 This is a tip that I've heard from most Professional Makeup Artists; invest your money on good quality brushes. Good quality brushes will help you to work with even the worst product to create a beautiful finish. But, a bad quality brush will make your makeup look bad even when you are using high quality and luxurious makeup products.
What does putting eyeshadow under your eyes do?
What putting eyeshadow under your eyes will do is make your eye makeup look more balanced. Your eyes will look bigger and more defined. It is a step that you cannot skip when applying your makeup.
How to apply under eye eyeshadow?
To apply the under eye eyeshadow, you will need small eyeshadow brushes. These brushes will give you a detailed and clean finish. Use soft colors if you just want to give definition to the eyes, or build the colors to get a more intense finish.
How do you blend under eye shadow?
To blend your under eye shadow use a back and forth motion with your brush. Do not give too much pressure since the skin around your under eye is sensitive. Keep the pressure light and blend your eyeshadow until it looks good.
How do you keep eyeshadow under your eyes?
To keep the eyeshadow under your eyes, you can use primer before applying concealer. After that, use tons of translucent powder on it. Then, you can start applying colors. This is how to keep the intensity of your under eyes eyeshadow.
Why do people put eyeshadow under their eyes?
Why people put eyeshadow under their eyes is because it will make their eyes pop out even more. Plus, it is fun to experience when it comes to make up. That is also why this makeup style is on trend on social media. In fact, you can find many tutorials online on how to apply it.
Why do people put red eyeshadow under their eyes?
Why people put red eyeshadow under their eyes is because the color is very pretty especially for those who have blue, brown, green, or hazel eye color. The color is very eye-catching. You can go edgy or dramatic with this lovely color
Summary
Adding eyeshadow on the bottom lash will define your eyes and make them look bigger when you do it right. But, when you're doing it wrong it will make your under eyes look smaller and dirty. To draw a pretty line using eyeshadow on your lower lash line, you will need the right brushes, such as the flat-tip brush and small shader brush. Remember to always use a smaller brush to get a precise and detailed finish. You can wet the brush first using setting spray or just regular water to get a more intense color. In conclusion, I think it is a fun trend that you should try.