Cosmetic products, especially eyeshadow has the power to make you get any look you desire, either natural or glamor look. So, if you are looking for natural eyeshadow looks for dark skin, the market has overwhelming products for you. Pairing the right eyeshadow and dark skin tone perfectly can make you look gorgeous.
Some colors, like bright and metallic can look fantastic for dark skin. But, what are the certain shades you should consider as the best natural eyeshadow looks for dark skin tone? Keep reading this article to find out more about it and the recommended products we suggest for you.
What is the Best Natural Eyeshadow Looks for Dark Skin?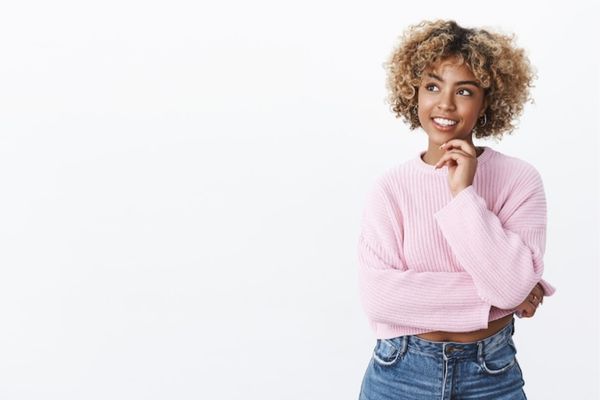 The color of bronze, copper, and gold can be the perfect eyeshadow shades for dark skin with a natural look. You can also pick emerald and plum colors since those shades can match your skin perfectly. Furthermore, there are liquid, cream, and palettes that you can choose as well. The key to finding the right shade is by seeking warm tones. Since the dark skin tone is so rich, just try to pick a bold color because those colors can help you to have a natural look. Avoid any eyeshadow with frosted or day-glow color because those colors can make your skin look ashy and dry.
Natural Eyeshadow Idea for Dark Skin
Dark skin tone is so rich in color, which can make you look natural easily. We have many eyeshadow shades you can try to make you look elegant on any occasion. Here are some recommended eyeshadows you can consider.
1. Make it Natural
Bronze shades eyeshadow can be chosen as the best natural eyeshadow looks for dark skin tone. This color is not only able to lighten dark skin tone, but it can also brighten the complexion. Picking bronze color tends to tone your skin gradually and make it look natural. Try Julep Eyeshadow 101 Crème to Powder Waterproof Eyeshadow Stick since this product is high pigmented shades, starting from metallic, shimmer, and matte. With a waterproof and blendable eyeshadow product, it will be much easier for you to smear it on your eyelid.
2. Define Your Look Smoothly
Applying copper eyeshadow on your eyes is a perfect choice for a natural look for dark skin tone. Bronze and metallic shades can help you to add definition and warmth on your lid without taking too much attention from your eyes. Although some people use copper eyeshadow to make it look natural, actually you can still use it to get a more dramatic eye look. Belé MakeUp Italia b.One Eyeshadow (#76 Copper – Shiny) can blend to the skin so well. The good news is that if you are looking for vegan and no animal testing product, this one is for you.
3. Stand Out Your Eyes with Burgundy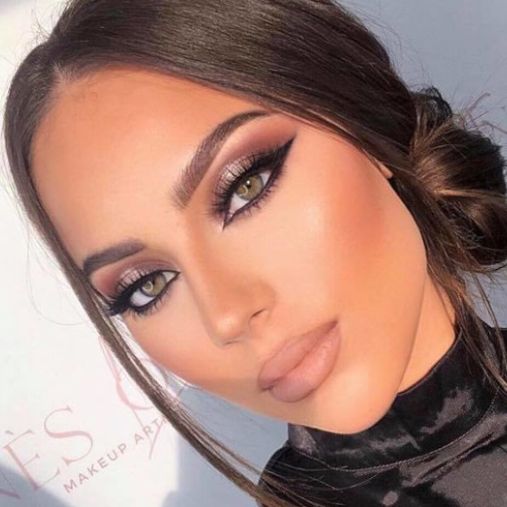 The color like balmy burgundy and deep mauve eyeshadow is the best choice to make you look stand out. This color is a kind of rich eyeshadow hue and suitable for natural eyeshadow looks for dark skin tone. Choose matte or shimmer finish to give you an edgy and sultry look. Mulberry Satin Frost Light Purple Lavender Taupe Burnt Burgundy Shimmer Pressed Powder is enriched with non-comedogenic formula so that it won't cause breakouts and clog the pores.
4. Dare with Gold Eyeshadow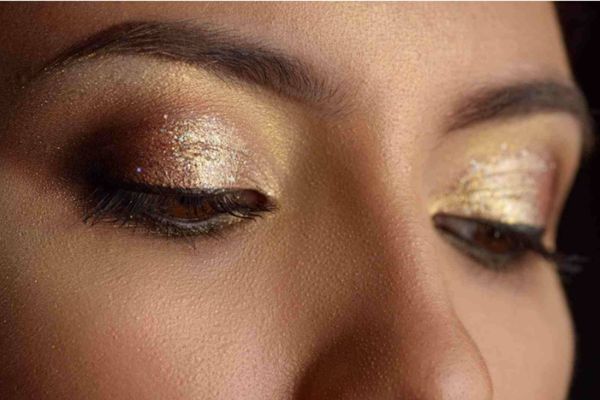 The pair of dark skin tone and gold shade perfectly match your intention to get a natural look. The rich color of gold itself helps you to flatter your skin tone. So, if you like to look simple, elegant, and natural, this is a perfect choice for you. You can also apply shimmer gold bronzer to make it perfect. One product you can try for this is Almay Shadow Squad Eyeshadow. The eyeshadow has matte finish and is suitable for dark skin tone. If you like to achieve more precision, then we would suggest that you use brushes.
5. Highlight Your Eyes
If you like to look natural and a bit bold all at once, try this tangerine color eyeshadow. As you know, dark skin tone is rich in color and you can experience something different to make your eye look more pop. The good news is that you can use this eyeshadow to highlight your skin tone and make it look stunning. Get your natural look with Docolor Eyeshadow Palette 9 Colors Gemstone Shadow Palette. This product is highly pigmented matte, long lasting, waterproof, and blendable. Make sure you pick darker shade because it helps you to achieve a natural and soft look.
6. Creating the Soft Tone in You
Plum color is a warm shade you can consider to create natural eyeshadow looks for dark skin tone. You can apply it as everyday eyeshadow since this color not only matches your skin, but can create a softer makeup look as well. If you want to use it in the daytime, try to choose the darker color because it can blend perfectly to your skin tone. OVERGIRL Trunaked Eyeshadow Palette offers you both matte and sparkling result, but subtle and not over on top. With 8 highly pigmented shades on the palette, you can create any look you want.
7. As Soft as Your Tone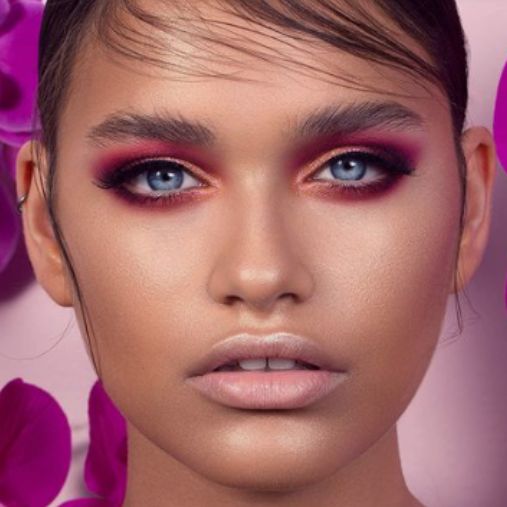 Eyeshadow with cranberry shade is an unexpected hue to achieve a natural look for dark skin tone. This shade can complement dark skin tone perfectly. Choose a shimmery cranberry because this finish can emphasize your eye look. Apply L'Oreal Paris Infallible 24HR Shadow, Glistening Garnet to get ultra intense eyeshadow and long lasting results.
8. Emerald Eyeshadow for Elegant Style
If you are invited to an evening party but still want to look natural and elegant in the daytime, emerald eyeshadow has to come to your choice. This color is not only suitable for dark skin tone, but it can also look amazing on a richer skin tone. If you have no time to retouch your makeup after office hours, choose this eyeshadow and join your friend for a party at night. Anastasia Beverly Hills Eyeshadow Single is blendable, smooth, and lasts all day. The eyeshadow comes in powder form with matte, velvet, satin, metallic, and shimmery finish.
9. Stunning and Positive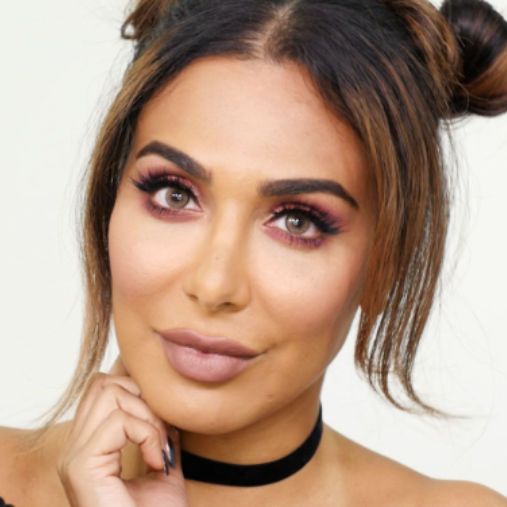 If you are looking for a sparkle look that can make you look natural at the same time, then rose gold shade is the choice. This shade is worth to try because it can make your eye look pop and luxurious. The eyeshadow from e.l.f. Cosmetics Rose Gold Eyeshadow Palette can be a perfect one because it can be used for shading, defining, and highlighting your eyes.
10. Strong Image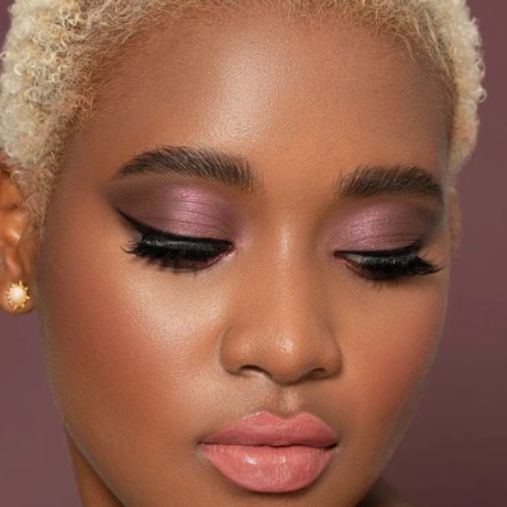 For those of you with warm skin tone, applying mauve can make your look more natural. In order to get a deeper look on your eyes, start with a lighter shade and then blend the eyeshadow with a deeper color on your lid. You also can choose Stila Suede Shade Matte Liquid Eye Shadow for this purpose. This eyeshadow is highly pigmented, having matte finish, and you don't need to apply primer.
11. Calm your Mood
Applying pink doesn't mean that it has to be cotton candy pastel or neon hot. When you add plum tone over the pink shade, it can be the best option for you who want to create cooler undertones. It is also applicable for you if you plan to play against the warmer undertone. You can make it as perfect as possible by wearing Urban Decay Naked3 Eyeshadow Palette. The eyeshadow comes with 12 shades, which will look gorgeous for dark skin tone.
12. Neutral with Simple Look
If you are going to create a natural eye look to appear simple and soft, choose a neutral palette with light brown shades. Although it can be a bit against your skin tone, the shade can still match perfectly on you. Vodisa Matte and Shimmer Eyeshadow Palette have 18 colors matte eyeshadow and 7 shimmer. The shadow is also waterproof with natural and glitter as well.
How do You Apply Makeup to Dark Skin and Look Natural?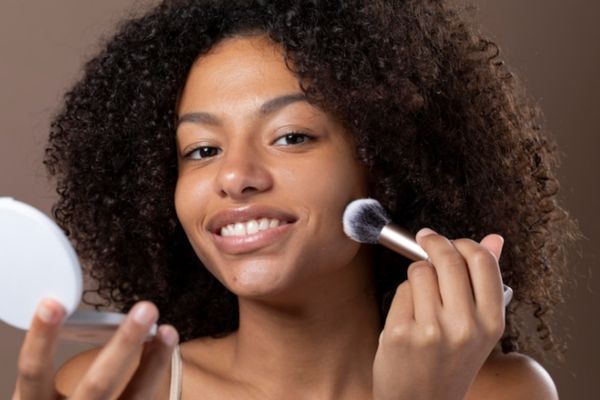 You can make your makeup look natural by doing a minimalist approach. You only need to use cosmetics to enhance the best of your features rather than apply too much makeup. Focus on your lips, eyes, and skin to make your appearance look pop and natural without applying excessive products. The advantages of creating a natural look is that it won't take too much of your time and is easy to do in the morning. We will explain to you the simple way to follow. Let's check out the complete explanation below.
Moisturizer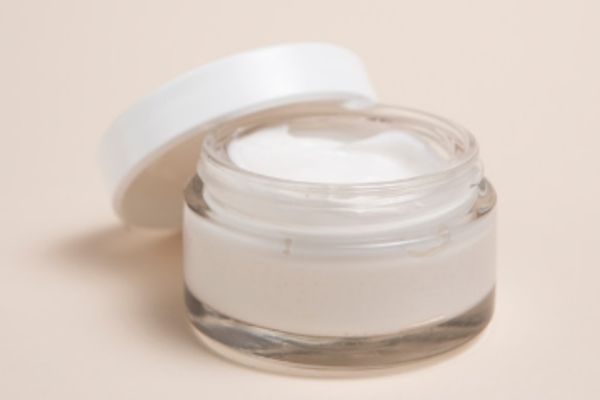 This is one step that you can't skip because you need to moist your face before applying any makeup. Choose the right product based on your skin type, like oily, dry, combination, or sensitive skin.
Foundation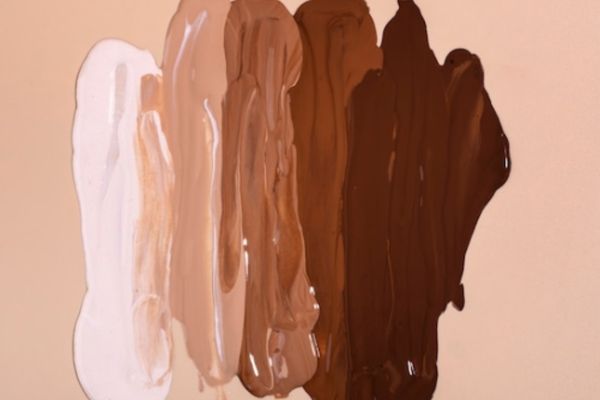 Find a foundation that is suitable for your skin type. If you have oily skin and large pore, use matte foundation because it can solve your oily problem. But, if you have dry skin, use a creamy foundation because it can keep your skin moisturized and fresh.
Eyeshadow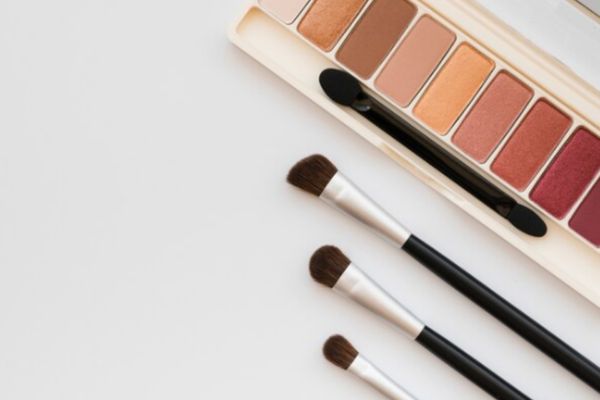 If you want to apply makeup to a dark skin tone for a natural look, you need to choose the shades that will create warmth on your skin. You can choose bronze, copper, gold, plum, and emerald shades. Use a brush and blend it on your eyelid and cover it evenly.
Blush
Choose neutral blush for dark skin tone. You can apply it under the checkbond and and smile to create a sculpt on your face. You can pick deep purples, warm pinks, warm peach and berry, and wine-toned blushes.
Lipstick
Lipstick for dark skin tone to get a natural look should have neutral color and close to your natural skin. You can choose nude, bronze, peach, chocolate brown, chopper brown, and mauve. Avoid any light-colored nudes, like pale brown or white because it doesn't make you look natural.
How to do Black Skin Makeup For beginners?
There are many steps you can do to makeup yourself. Just like other skin tones, black skin also can look gorgeous when you apply the match cosmetics. Now, let's start the makeup steps for beginners below.
Clean Your Face
This is the basic step you shouldn't skip. This way can get rid of the impurities and a clean face makes it easy to apply makeup.
Apply Moisturizer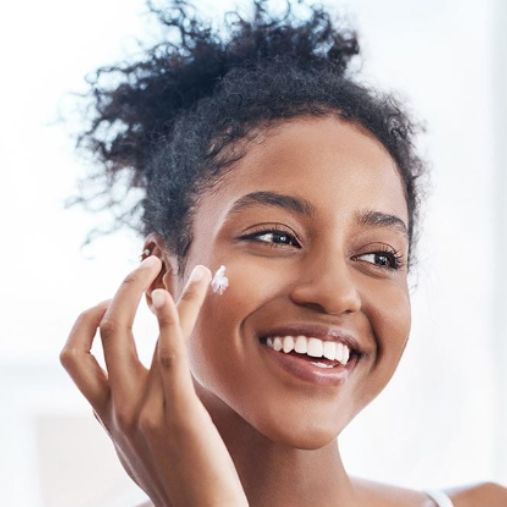 Choose the moisturizer according to your skin type. This product will help your skin keep moist. Although you have oily skin, never skip this, instead choose gel based formula moisturizer.
Foundation
Choose a foundation one or two shades lighter than your skin tone to avoid overlooking results. If you use contour or bronzer, the foundation itself can blend it together so that it will look perfect on your face. You also can pick a semi-matte finish to bring a natural glow on your face.
Concealer Under Dark Circles or Dark Spots
Use a small dot over the dark spot or under eye circles. Choose the shades as close as possible to your skin tone. This way can disguise dark spots on your face. Concealers are also able to eliminate fine lines or wrinkles so well. Then, set the moisturizer and concealer with translucent powder so that it can last longer.
Eyeshadow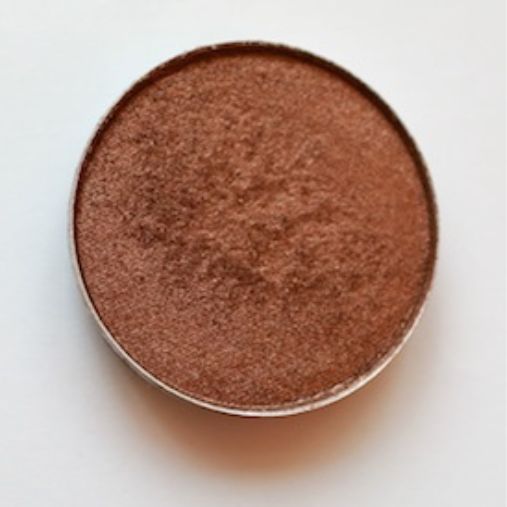 There are many shades that are suitable for black skin tone. You can try bronze, tangerine, copper, gold, emerald, and plum. You can use your finger or rounded shadow brush to apply on your lid.
Beauty the Eyes
Use brown or black eyeliner pencil, then apply it along the rim of the upper eyelash line by doing short strokes. Since you are a beginner, it can be difficult to start, but you can continue practicing from time to time. Next, you can curl your lashes and apply mascara lower and upper lashes.
Blush on Your Check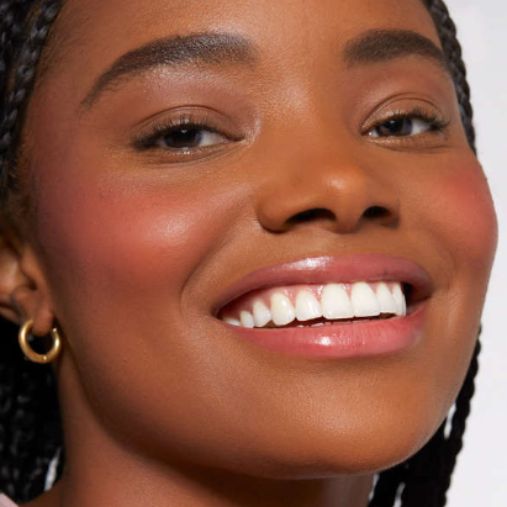 In order to get a perfect result, smile when you apply blush. Dab and blend from your check bone to temples. You can choose wine-toned blushes, berries, fiery corals, and hot pinks because those colors look perfect for melanin-rich women.
Lipstick
Basically, you need to choose the shades of lipsticks based on the look you desire. You can make yourself look natural, bold, glamor, and elegant. Think about bold and bright colors, like orange hue or bright red to get a bold appearance. However, magenta and taupe hues are a safe choice for black skin.